The Daily Agenda for Thursday, January 23
Jim Burroway
January 23rd, 2014
TODAY'S AGENDA:
Events This Weekend: Midsumma, Melbourne, VIC; BeefDip, Puerto Vallarta, JAL; Winter Rendezvous Ski Week, Stowe, VT; GayWhistler Winter Pride, Whistler, BC.
TODAY'S AGENDA is brought to you by:

The Stud lasted a decade, from 1976 to 1987, when it became Griff's. In 1994, it became the Faultline, which caters to a decidedly assertive crowd.
TODAY IN HISTORY:
FCC Backs Stations Which Aired Programs About Homosexuality: 1964. In the summer of 1962, New York City's Pacifica public radio station WBAI aired a highly controversial talk show about homosexuality (see Jul 15). It wasn't so much that the subject was homosexuality — that alone was controversial but it had been done before — but that the station would agree to include gay rights activist Randophe Wicker and several other gay men on the program. Real live gay men, talking about the difficulties in maintaining careers, the problems of police harassment, and the social responsibility of gays and straights alike.
This discussion went on for ninety minutes, on the air for everyone to hear. At least one group of listeners were fit to be tied over it. They launched a complaint with the Federal Communications Commission to challenge the station's broadcast license. That complaint was joined with two others against Pacifica stations in Los Angeles and Berkeley for their broadcasts of two poetry readings and a recording of playwright Edward Albee's "The Zoo Story." But after a lengthy investigation, the FCC unanimously agreed to renew the stations' licenses. In doing so, the FCC issued a statement which said, in part:
We recognize that as shown by the complaints here, such provocative programming may offend some listeners. But this does not mean that those offended have the right, through the Commission's licensing power, to rule such programs off the airways. Where this the case, only the wholly inoffensive, the bland, could gain access to the radio microphone or TV camera.
Commissioner Robert E. Lee addressed the specific complaints made about the WBAI broadcast. While he felt that a panel discussion featuring physicians and sociologists might be informative, "a panel discussion of eight homosexuals discussing their experiences and past history does not approach the treatment of a delicate subject one could expect from a responsible broadcaster." While the FCC stressed that the ruling did not mean that the commission endorsed the broadcasts, it nevertheless was regarded as a landmark decision upholding the broadcaster's right to determine the kinds of programs that it wishes to air.
[Source: Lawrence Laurent. "Stations' judgment backed by FCC." Washington Post (January 23, 1964): D20.]
TODAY'S BIRTHDAY:
Sergei Eisenstein: 1898-1948. Acclaimed as one of the most brilliant cinematic pioneers, Eisenstein first followed his engineer father's footsteps into the Petrograd's Institute of Civil Engineering, but when the 1917 Revolution broke out, Eisenstein joined the Red Army, broke ties with his father who fled to Germany, and joined the First Workers' Theater of Proletcult. He worked as a costume and set designer before switching to filmmaking. His cinematic debut, Strike (1924), exploded onto the world stage with his invention of the film montage, a cascading flood of imagery edited for maximum impact. His second full-length feature, Battleship Potemkin (1925), became one of the most famous films ever made, bringing him immediate worldwide acclaim. But back at home, official cinematic tastes began to change with the rise of Joseph Stalin and Soviet Realism. His next epic, October: Ten Days that Shook the World, was commissioned to celebrate the tenth anniversary of the 1917 revolution, but it got caught up in bureaucratic wrangling official censorship.
October was released in 1928, again to worldwide acclaim but official criticism at home. Eisenstein decided that perhaps the time was right to take up an offer from Paramount Pictures in Hollywood to make a film in the U.S. He arrived in Hollywood in May, 1930, but Eisentsteim's artistic approach proved iincompatible with Paramount's formulaic methods and attention to the bottom line. Five months later, Eisenstein and Paramount parted ways. Eisenstein was temporarily rescued from the prospect of returning to the Soviet Union a failure when another benefactor, author Upton Sinclair, came to his rescue and backed his next project, ¡Que Viva Mexico!. Eisentein spent the next year in Mexico and a considerable amount of money shooting nearly fifty linear miles of film, but with little to show for it when Sinclair cancelled production. Eisentstin tried to re-enter the U.S. but was blocked at the border, thanks to an expired re-entry visa and a cache of homoerotic drawings that he had been secretly producing.
Thoroughtly disgraced, Eisentsein made his way back to Moscow. Somewhat miraculously, he was able to work his way back into Stalin's good graces. He collaborated with composer Sergei Prokofiev for his first sound film, the biopic Alexander Nevsky. It's 1938 release was critically acclaimed in both the West and the Soviet Union, with Eisenstein winning the Order of Lenin and the Stalin Prize. He then began work on his next epic, Ivan the Terrible, which he envisioned as a trilogy. The first installment again won a Stalin Prize in 1944. But the second installment was heavily criticized and remained unreleased until 1958. All of the footage shot for Part 3 was confiscated and most of it was destroyed. Eisenstien's health failed, and he died of a heart attack in 1948 at the age of fifty.
Eisensten's diaries were published as Immoral Memories
in 1983, revealing his infatuations with several young men, including his unrequited love for his heterosexual assistant Gregori Alexandrov. Many of his homoerotic drawings were exhibited in 1998 for the centenary of his birth.
Gary Burton: 1943. The Grammy-Award winning jazz vibraphonist is an innovator on several fronts. He began learning to play the marimba and vibraphone while only six years old growing up in Anderson, Indiana. His father built him a platform so that he could reach the keys. By his senior year in high school, he was playing professionally at a restaurant in Evansville. While studying at the Berklee College of Music in Boston, he also began recording with several Nashville musicians, including Hank Garland, Floyd Cramer and Chet Atkins. He later began touring with Stan Getz from 1964 to 1966 as Bossa Nova became popular. Burton's innovation didn't end with the mixing of musical styles. His unique four-mallet technique has become known as the "Burton grip," which allow him to play the vibraphone in a much more pianistic style. In 1967, he formed the Gary Burton Quartet, and the group's first album, Duster, set the stage of the jazz-fusion tend in the 1970s by combining jazz, country and rock and roll. In 1968, he became the youngest musician to win Down Beat magazine's Jazzman of the Year award, and his 1972 album Alone at Last
(MP3
) won him the first of seven Grammys.
Burton came out publicly in 1992 during a radio interview with NPR's Terry Gross. " At that time I was in my early 40s," he wrote in an email to BTB. "Like many from my generation, I struggled for the first half of my life to understand my sexual identity, but finally accepted that I am gay and always was." He added: "I have always hoped that my experience might serve as a source of encouragement and enlightenment for others in my profession, who are trying to reconcile a career in the public eye while being a member of the gay community. I have been fortunate to have found acceptance from both the musical community and the public during my 30 years of being out. I have no idea what might be said when I'm not around, but I have never directly experienced any discrimination because of my identity."
By the time he came out, he was not only a successful recording artist, but he was also Dean and then Executive Vice President at Berklee College. He retired in 2003, but continues to teach some courses online. His 2012 release Hot House
(MP3
), with Chick Corea, won a Grammys for Best Improvised Jazz Solo. His latest album, Guided Tour
(MP3
) came out in August, along with his autobiography, Learning to Listen: The Jazz Journey of Gary Burton
.
Here is Gary Burton and Makoto Ozone playing "Afro Blue" at Montreaux: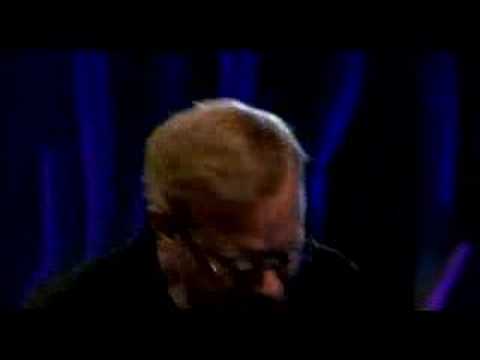 If you know of something that belongs on the agenda, please send it here. Don't forget to include the basics: who, what, when, where, and URL (if available).
And feel free to consider this your open thread for the day. What's happening in your world?
Comments