The Daily Agenda for Friday, June 13
Jim Burroway
June 13th, 2014
TODAY'S AGENDA:
Pride Celebrations This Weekend: Albany, NY; Anchorage, AK; Baltimore, MD; Bentonville, AR; Bisbee, AZ; Blackpool, UK; Boston, MA; Brooklyn, NY; Casper, WY; Chemnitz, Germany; Edmonton, AB; Grand Rapids, MI; Huntington, NY; Indianapolis, IN; Kalamazoo, MI; Key West, FL; Ljubljana, Slovenia; Luleå, Sweden; Lyon, France; Memphis, TN (Black Pride); Nanaimo, Vancouver BC; Nantes, France; Nashville, TN; Pittsburgh, PA; Portland, OR; Regina, SK; Sacramento, CA; San Mateo, CA; Shanghai, China; Sitges, Spain; Spokane, WA; Strasbourg, France; Tel Aviv, Israel; Thunder Bay, ON; Vienna, Austria; Warsaw, Poland; Wuppertal, Germany; Zagreb, Croatia; Zurich, Switzerland.
Other Events This Weekend: Lesbian and Gay Stadtfest, Berlin, Germany; Cedar Point Gay Days, Cedar Point, OH; AIDS Walk, Long Beach, CA; Out in the Vineyard Gay Wine Weekend, Sonoma, CA; Tel Aviv LGBT International Film Festival, Tel Aviv, Israel.
TODAY'S AGENDA is brought to you by:

Nomad Village's owners were unusual: a gay husband and straight wife team who bought the property in 1959 and planned to build a small resort that would appeal to families. Randall and Betty Goodwin build a dozen A-frame cottages, and a three story main building that included a store, a bar, and apartments above. But when they learned that growing numbers of gay men were coming to the area for the summer, Randall decided to open The Other Room at the Nomad as a separate gay bar so there wouldn't be any fights with his straight bar patrons. "I didn't start out to have a gay bar, but it just sort of happened." he said. "It's generally accepted that straights think I caused what was called 'the gay problem' in the area, but it's not true. Gays were already coming from Washington, DC. … it just made sense economically to open the Nomad to the gays."
Keeping the Nomad open was a constant battle for the Goodwins.  They not only had to contend with hurricanes and tornados, they also faced legal problems with their liquor license, and their property was rezoned out from under them from commercial to residential in 1972, all in a bid to drive them out from business. They spent the next decade fighting the county to get their zoning restored. They also had to contend with their children being picked on in school because of the business. But Nomad Village stayed in business and continued operating for four decades. Sometime before 2000, the Goodwins went into semi-retirement and moved to Florida, returning to Delaware in the summertime to re-open the Nomad for several more seasons. They finally sold it off around 2003, and the property was razed soon after.
TODAY IN HISTORY:
► Delaware Police Announce "Morals" Roundup: 1961. A state investigation in a "morals case" ended with the arrest of fifteen men, aged sixteen to twenty-seven years. As The Mattachine Review commented, the sixteen-year-old "unfortunately gives authorities a valid reason to conduct the investigations," although it is unclear from the Wilmington Evening Journal's article of June 13 whether that was the focus of the investigation or merely something police discovered sometime after it began. The investigation started on April 6 when police officers in Newark arrested Vance H. Middleton, 37, who "admitted participating in immoral acts." Police went to his home and "seized a mass of obscene pictures and literature and photographic equipment and original photographs. It was through these photographs that the identity of many of those in the investigation was established." Through a kind of a snowballing operation in which each contact was interrogated in order to obtain the names of other contacts, police surmised that "The Newark parties drew persons from throughout Delaware, Elkton, Philadelphia and New York" and that "most of the immoral activity centered in the Newark-Brookside area of week-ends." One man, James M.F. Short, 31, of Newark and Wilmington, was charged with "63 morals charges by state police" and was being "held for psychiatric treatment on the Newark charges."
A reader sent a copy of the Wilmington Evening Journal's article to The Mattachine Review, and added the following details.
Police pressure is terrible throughout the state, they are pressuring homosexuals that are picked up to name and identify all their acquaintances. They even go to the places where they are employed, call them off the job and not even permit them to inform their employers they are leaving. They then are held as long as the police desire to hold them and generally cost the respective employee his job (which the police clearly envision because of their actions). When they are picked up, they are taken to the station for interrogation, subjected to a contingent of police officials' questioning, and their actions and conversation filmed and tape recorded for the entirety of their stay. Their legal rights are denied on a wholesale basis, and none of them as yet has taken any action against the police.

Of course, in some towns down state, attorneys will not even defend a prospective client against the police even on charges other than homosexuality. (Proof of that statement In the Delaware State News, Dover, Delaware)

Short, one of the defendants in the case, attempted to implicate a State Trooper, so, of course, the numerous charges placed against him clearly indicate how the police plan to handle him.
[Sources: "15 Arrests in Morals Case End State's Investigation." Wilmington (DE) Evening Journal (June 13, 1961). As reprinted in the The Mattachine Review 7. no. 7 (June 1961): 27-28.]
Letter to the editor. The Mattachine Review 7. no. 7 (June 1961): 27.
Harold Call. "Calling Shots." The Mattachine Review 7. no. 7 (June 1961): 4-5.]
► LGBT Leaders Welcomed to White House With Rubber Gloves: 1995. Relations between the LGBT community and the Clinton Administration were at a low point in 1995. Instead of repealing the ban against gays in the military, the Clinton Administration negotiated "Don't Ask, Don't Tell" with conservative Democrats and Republicans. Instead of filing a Justice Department brief with the Supreme Court to weigh in on a lawsuit challenging Colorado's Amendment 2 which would have banned civil rights protections for gay people, Attorney General Janet Reno sat on her hands. But with the White House beginning to cast an eye toward the 1996 elections, they realized that they needed to do something to try to placate a seriously pissed off constituency.
So on June 14, the Clinton Administration invited 40 gay leaders, including state senators and representatives, city council members, judges and other elected officials from around the country, to a special White House meeting. The meeting's purpose was to announce that Marsha Scott, a deputy assistant to President Clinton, was being named as White House liason officer for gay and lesbian issues. They were also there to learn about a new 30-member presidential advisory council on HIV/AIDS. But before the meeting even got started, things got off on the wrong foot when the LGBT leaders were greeted at the White House by Secret Service agents who had put on rubber gloves before granting them access. The activists were furious when agents told them they were wearing the gloves to protect themselves from HIV. "For that to even happen at the White House shows they haven't a clue about AIDS," said Act-Up spokesman Steve Michael. "It just shows where they're at."
What was supposed to be a grand kiss-and-make-up session quickly turned into yet another embarrasment for the administration. Secret Service director Eljay Brown issued a statement saying that he regretted "the unfortunate actions" taken by his agents. "It is not the policy of the Secret Service to wear gloves merely based on known sexual preference." The Treasury Department, which had jurisdiction over the Secret Service, was asked to investigate. White House press secretary Mike McCurry said, "It's safe to say the chief of staff (Leon Panetta) and others were distressed by that and believe it to be an error of judgment."
TODAY'S BIRTHDAY:
► Paul Lynde: 1926-1982. He studied drama at Northwestern University in Evanston, Illinois with fellow students Cloris Leachman, Charlotte Rae, Patricia Neal, Jeffrey Hunter and Claude Akins. Imagine what that class must have been like. After graduating in 1948, he moved to New York and became a stand-up comic and a Broadway actor. In 1960, he appeared in Broadway's Bye Bye Birdie, as well as in its film adaptation in 1963. But most of his work was in television, where he appeared in numerous sitcoms (he was Uncle Arthur in Bewitched) and lent his voice to animated cartoons. He is probably best known as the "center square" for the game show Hollywood Squares with host Peter Marshall, where Lynde became famous for his one-liners and double entendres. They say his sexual orientation was an open secret in Hollywood. It's hard to imagine any secret being more open than his. Especially considering Hollywood Squares answers like these:
Peter Marshall: In the Wizard of Oz, the lion wanted courage and the tin man wanted a heart. What did the scarecrow want?
Paul Lynde: He wanted the tin man to notice him.
Marshall: Is the electricity in your house A.C. or D.C.?
Lynde: In my house it's both.
Marshall: What do you call a man who gives you diamonds and pearls?
Lynde: I'd call him "darling"!
Marshall: It is the most abused and neglected part of your body– what is it?
Lynde: Mine may be abused but it certainly isn't neglected!
Marshall: Paul, in what famous book will you read about a talking ass who wonders why it's being beaten?
Lynde: I read it, "The Joy of Sex."
Marshall: Paul, why do Hell's Angels wear leather?
Lynde: Because chiffon wrinkles too easily.
Marshall: According to the old song, what's breaking up that old gang of mine?
Lynde: Anita Byant!
And here are a couple more: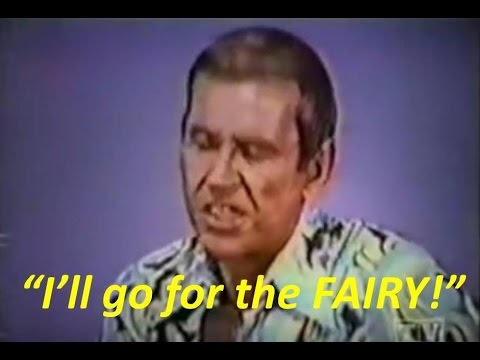 Lynde was enormously popular, but several attempts to give him his own shows invariably ended in low ratings and swift cancellations. Audiences loved him, but only in small doses. This will give you an idea of how powerful his presence was: we may remember his appearances on Bewitched, but he only appeared on that show ten times throughout its eight year run.
Also working against him were skittish TV executives, who were concerned his homosexuality and his worsening alcoholism and substance abuse. When he was sober, he was well-loved by his fellow performers. When Lynde won an Emmy for Entertainer of the Year in 1976, he immediately turned the statue over to host Jackie Gleason, who had never won an Emmy, saying that Gleason was "the funniest man ever." But when he was drunk, he was one of the most out-of-control drunks to inhabit the planet. In 1965, he was partying with a young actor (and alleged lover) in Lynde's room at San Francisco's Sir Francis Drake hotel when the actor fell from the eighth-floor window to his death. That tragedy was hushed up, which saved Lynde's career but did little to sober him up. He was repeatedly arrested for his drunken behavior, including one arrest in1978 outside of a gay bar in Salt Lake City which led to his being dropped from a guest appearance on the Donnie and Marie show.  That same year, he was banned from the campus of Northwestern University after unleashing a horrendously racist tirade at a black professor in a nearby Burger King.
Lynde left Hollywood Squares in 1979 (some say he was fired for being drunk and belligerent on the set), but came back a year later, clean and sober. He also started living a much quieter life outside the studio, hosting dinner parties at home and apologizing to friends and co-workers. But a lifetime of hard living had already taken its toll and he died of a heart attack in 1982 at the age of 55.
If you know of something that belongs on the agenda, please send it here. Don't forget to include the basics: who, what, when, where, and URL (if available).
And feel free to consider this your open thread for the day. What's happening in your world?
Comments