The Daily Agenda for Tuesday, June 24
Jim Burroway
June 24th, 2014
TODAY'S AGENDA is brought to you by:

Chicago's House of Landers was owned by the African-American drag performer Roby Landers, and operated in the 1972-1974 time frame. One performer remembered:
Benji describes Roby off stage as a 'quiet, mild-mannered Black man with close-cropped hair.' According to the article, Roby was born in San Francisco and went to college at Berkeley, and though interested in theater, he never became a theater major. Roby did a brief stint as a Lieutenant in the Army Medical Corps, and so he always had a job to fall back on if the drag fell through. He was a registered nurse.
The House of Landers's building abutted the Brown Line of Chicago's El. Another recalled:
"When the train went past it felt like the place was coming down. I was thought it was kind of charming myself, but some of the performers were saying, 'That fucking train …'"
Landers sold the bar and the location re-opened in 1975 as the Zolar disco, but it closed five months later after a devastating fire. The location today is now a hair salon.
TODAY IN HISTORY:
► 32 Killed in Arson Fire At New Orleans Gay Bar: 1973. It was a Sunday. The UpStairs Lounge, a second floor gay bar in New Orleans's French Quarter, had hosted members of the local Metropolitan Community Church who attended a beer bust following church services. Most of the bar's patrons had gone home, but those who remained, about sixty or so, gathered around a piano to sing tunes, as they often did that time of night. The evening was still early, not quite eight o'clock when the bartender heard the door buzzer downstairs ring, a sound that usually meant that a cab was outside the take a patron home. What he didn't know was that someone had thrown a molotov cocktail into the staircase that led up to the bar's door on the second floor. And so when another bar employee went to open the door, a massive backdraft drew the flames into the lounge like a flamethrower.
The bartender, Buddy Rasmussen, led about twenty or thirty people through an unmarked exit which led to the roof, and they were able to hop onto other buildings and make their escape. But more than thirty others in the lounge ran to the windows instead, only to discover they were barred. By the time one of the patrons managed to squeeze through the bars, his body was already in flames and he died right after landing in the street below. Another patron escaped, but when he realized his boyfriend didn't make it out, he went back in to find him. Fire crews later discovered their burned bodies holding each other. MCC pastor Rev. Bill Larson clung to the bars at a window where he died, his body melted into the window frame. His charred body remained visible from the street below all the next day as the fire department conducted its investigation and couldn't be bothered with the simple decency of covering his body. Twenty-nine people died that night, and three more died later from their injuries.
The UpStairs Lounge fire was the deadliest in New Orleans' history, and may very well have been the worst mass murder of gay people in American history. But aside from the first day's coverage, New Orleans could barely muster a yawn. Newspaper photos of Rev. Larson's charred body against the window frame came to symbolize the city's apathy t0ward the tragedy. Talk radio hosts told jokes ("What will they bury the ashes of queers in? Fruit jars."), and a cab driver callously quipped, "I hope the fire burned their dresses off." Not only did the New Orleans Police Department barely investigate the crime, they could hardly be bothered to identify the victims. Major Henry Morris, chief detective of the New Orleans Police Department said, "We don't even know these papers belonged to the people we found them on. Some thieves hung out there, and you know this was a queer bar." Churches refused to allow families to hold funerals on their premises. Other families refused to claim their dead sons' bodies. Four unidentified bodies ended up being dumped in a mass grave. Although there was a firm suspect in the case, no one was ever charged.
Here are two news reports of the fire, a lengthy film report from CBS news, and a shorter one from NBC: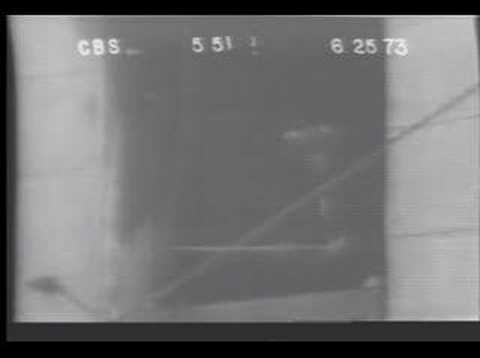 You can read the New Orleans Times-Picayune's original coverage of the fire here (PDF: 4.4MB/2 pages), and its 20th anniversary coverage here (PDF:5.9MB/2 pages). Earlier this month, MacFarland Press released Clayton Delery-Edwards's heavily-researched account of The Up Stairs Lounge Arson: Thirty-Two Deaths in a New Orleans Gay Bar
.
► Sydney Police Block Pride Parade: 1978. This was supposed to be Sydney's first Gay Pride Parade, known locally as Mardi Gras, and was planned as a night-time celebration after a morning march and commemoration of the Stonewall riots. (You can see film of the morning march taken with a super-8 camera here.) While homosexuality was still against the law in New South Wales, organizers had obtained all the necessary permits for the celebration beforehand. The evening celebration began simply, with a small crowd walking down Oxford Street on a chilly Australian winter day. The idea was to encourage people to come out from the bars and join the fun. But the crowd aroused suspicions of the police, which had gathered around the group.
By the time the small crowd, estimated at between five hundred and a thousand, reached the end of the street, the police confiscated the sound system, removed their identification badges and turned on the crowd. One participant recalled, "There was, you know, pretty serious bashing and kicking and all sort of things going on. It was a real riot." Fifty-three marchers were arrested. One marcher recalled that while in police custody, he was beaten so badly he began to convulse on the floor.
"They took me along a long corridor in the police station through a U-shaped route into a room and then just beat the hell out of me. There were two police officers who did that – one in particular – bashing me with their fists in the head and saying 'you're not so smart now are you'." Mr Murphy said he was beaten solidly until a blow to the solar plexus floored him. He was thrown into a solitary cell where he could hear protesters gathered outside chanting his name. "They tried to break my leg but fortunately the bones didn't snap," he said. "I was (literally) pissing my pants."
Although most of the charges were dropped, the Sydney Morning Herald published the full names of everyone who was arrested, outing many to their family, friends and employers. Many lost their jobs. Thirty-five years later, surviving marchers are still waiting for an official police apology.
If you know of something that belongs on the agenda, please send it here. Don't forget to include the basics: who, what, when, where, and URL (if available).
And feel free to consider this your open thread for the day. What's happening in your world?
Comments