Professional heterosexual Jeff Johnston takes non-Biblical position on Facebook gender options
Daniel Gonzales
February 13th, 2014
Facebook has updated their site to allow users to select options for their gender beyond "male" and "female."  In a surprise to no one Focus On The Family is worked up about this and trotted out their resident ex-gay-for-pay Jeff Johnston to provide quotes for an AP story:
"Of course Facebook is entitled to manage its wildly popular site as it sees fit, but here is the bottom line: It's impossible to deny the biological reality that humanity is divided into two halves – male and female," Johnston told the AP.
Except the Bible makes repeated reference to eunuchs* in both the Old and New Testaments.  Which gender box would Johnsnton force Heigai from the Book of Esther to choose? How about the Ethiopian eunuch in Acts 8? Or Ebed-melech who rescued Jeremiah from the well?  What box on Facebook would Johnston tell them to check?
Even Jesus spoke of eunuchs in Matthew 19:12
"For there are eunuchs who were born thus from their mother's womb, and there are eunuchs who were made eunuchs by men, and there are eunuchs who have made themselves eunuchs for the kingdom of heaven's sake. He who is able to accept it, let him accept it."
Johnston ignores a direct commandment from Jesus and Biblical record to falsely claim a two choice gender binary exists, when it clearly does not as recorded in his own holy book.  Focus seems to agree with Johnston's position since their PR team tweeted a link to the article.   It's unclear why Focus has adopted a non-Biblical position on the existence and dignity of transgender people.
*As modern medicine has given us hormones and surgery to supersede castration the term "eunuch" is rarely used today. The Biblical context of Matthew 19:12 makes it clear there are multiple reasons for a person being a eunuch beyond involuntary castration, I argue in Biblical times it is was an inclusive term much like "trans" is today. Also, one of the few continuing ancient transgender traditions are the Hijra of South Asia who still today often self identify as both eunuchs and transgender further supporting my assertion the terms are interchangeable.
Ex-gay survivors needed to testify in Virginia
Daniel Gonzales
January 15th, 2014
Virginia is attempting to join the list of states which ban ex-gay therapy on minors.  Text of the bill can be found here.  Legislative action is going to happen between now and the end of February and Virginia based survivors of ex-gay therapy are urgently needed to speak in favor of the bill.  Anyone interested can testify in person or send a written testimony to be read. The bill is being sponsored by Delegate Patrick Hope and the Alliance for Progressive Values (APV).
The APV is especially interested in anyone who was forced to undergo therapy as a minor.  Interested parties should contact Victoria Bragunier of the APV at 804-517-5206
LifeSiteNews' Ben Johnson misrepresents "Christian position" on transgender people, fails to actually cite the Bible
Daniel Gonzales
August 1st, 2013
Ben Johnson of LifeSiteNews is in a tizzy over Pat Robertson's declaration that transgender people altering their bodies is not a sin and thus he will not condemn it. Johnson cites multiple sources attempting to condemn transgender people.
Traditional Christians have condemned such actions as a form of self-mutilation since the days of the ancient church.
Well that's overly broad and has no source to back it up.
Speaking specifically of castration, the Apostolic Canons, a fourth century Syrian document, states, "If a layman mutilate himself, let him be excommunicated for three years, as practising against his own life."
The Apostolic Canons were merely church orders issued in 692, many of which were rejected by Pope Constantine.  The Apostolic Canons were written several centuries after the last books of the Bible were written.  Johnson continues to cite irrelevant sources:
More contemporary teachers uphold the Christian admonition to maintain one's biological gender and respect our bodies.

"To destroy organs purposefully that are healthy and functioning, and to try to create imitation organs which will never have the genuineness and functioning of authentic organs lacks charity," said Fr. William Saunders, professor of Catechetics and Theology at Christendom College's Notre Dame Graduate School. "Such surgery which purposefully destroys the bodily integrity of the person must be condemned."
Continuing to avoid citing the Bible at all costs, Johnson instead cites the National Catholic Bioethics Center for his final jab at trans people.  I won't bore you with a quote.
Had Johnson bothered to open his Bible he might find clarity with Matthew 19:12 which quotes Jesus:
For there are some eunuchs, which were so born from their mother's womb: and there are some eunuchs, which were made eunuchs of men: and there be eunuchs, which have made themselves eunuchs for the kingdom of heaven's sake. He that is able to receive it, let him receive it. [KJV]
Yes, the King James Version quotes Jesus as using the phrase "born that way."  I'm sure printing that would cause LifeSiteNews all sorts of problems.
Or perhaps Johnson could ask why God hasn't selected the transgender person mentioned in The 700 Club to spread the gospel.  This would be Biblically consistent with Acts 8 : 26-39 in which God selects an Ethiopian eunuch to spread His word to Ethiopia. That eunuch by the way was the modern day equivalent of Secretary of the Treasury to the queen of Ethiopia.
In fact in Biblical days eunuchs held the most powerful positions in government. In the Book of Esther eunuchs ran the royal court of King Xerxes and a eunuch by the name of Hegai personally selected Esther to ascend to the throne from the royal harem.
And I haven't even cited all the references to eunuchs in the Bible, just my personal favorites.  Transgender and gender non-conforming people play major rolls all throughout the Bible and consistently held positions of power and importance.  Rather than looking to the Bible for his article, Johnson grasps at straws to condemn them.
Email address of Attorney General prosecuting 18 year old Florida lesbian
Daniel Gonzales
May 21st, 2013
You may have heard of the 18 year old Florida senior facing criminal charges arising from a consensual relationship with her 15 year old freshman girlfriend.  The Change.org petition is wildly popular.
For those of you inclined to voice your displeasure directly, Bruce Colton the Indian River County State Attorney can be reached directly at bcolton@sao19.org .
Update by Jim B (5/21): This post is being updated to further explain what happened. Kaitlyn Hunt, now 18, began a relationship with another girl while she was seventeen and the younger girl was fourteen, which was legal under Florida law. When Hunt turned 18, she then became an adult. But according to this article, it looks as though Florida's "Romeo and Juliet" law should have covered this. The stickler is that the younger girl's parents say the relationship wasn't consensual, while Hunt's parents say that the two groups of parents had met when Hunt was still 17, and that both sets of parents knew about the relationship.
Video: Seminar for Coloradans considering a civil union
Daniel Gonzales
April 18th, 2013
Yesterday our state equality org One Colorado held a webinar / conference call to help educate Coloradans on civil unions, which will be issued starting May 1st.  The event covered issues from navigating paperwork to conceiving children once a civil union is established. Several staffers from One Colorado spoke as well as estate law and family law experts from the Colorado Bar Association.
Although this was originally a live, for record purposes I produced a video of the event couples can use in the future if they are considering entering into a civil union here in Colorado.
Colorado Civil Unions Signed Into Law
Daniel Gonzales
March 21st, 2013
After one failed referendum, two years being voted down in the House, civil unions were signed into law today with a high-five and thumbs-up from Governor Hickenlooper.
And video footage of (most of) Sen Pat Steadman's formal remarks followed by the Governor's signing.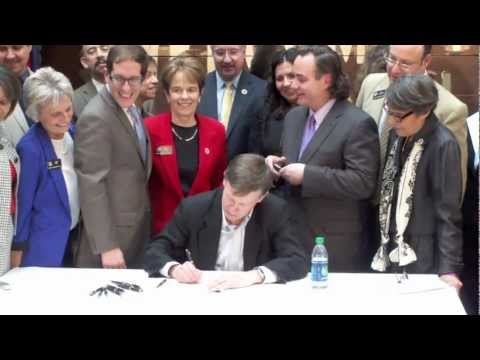 Live audio of Colorado civil union committee hearing
Daniel Gonzales
January 23rd, 2013
.
This afternoon the Colorado civil unions bill is having its first committee hearing.  I posted some background on Monday.
Here's live audio from the Colorado Channel. To follow the conversation on Twitter use hashtag #COleg or feel free to comment on this post below.
Update: The hearing has concluded.
Colorado Rep DelGrosso fundamentally misunderstands State Constitution
Daniel Gonzales
January 23rd, 2013
.
From the Colorado Springs Gazette:
In 2006, Colorado voters approved an amendment defining marriage as only between one man and one woman.

Rep. Brian DelGrosso, R-Loveland, who voted against civil union bills in committees the past two years, said he questions the constitutionality of the proposed bill.

"The voters of Colorado have clearly said this is what we expect," DelGrosso said. "How can you prove to us that what you're doing is constitutional? That you're not just changing the name of something and trying to pretend that it's something that it's not — same-sex marriage."
Brian DelGrosso seems to fundamentally misunderstand how Colorado's constitution. Our neighbors in Utah, Nebraska, Kansas and Oklahoma have all passed amendments that not only ban gay marriage but also ban civil unions. Here in Colorado our constitution says nothing of civil unions.
The authors of Colorado Amendment 43 and voters have left the door open for us to have civil unions here in Colorado.
And yes, DelGrosso represents Loveland. Oh the irony.
Stronger and more controversial Colorado civil union bill to be heard Wednesday
Daniel Gonzales
January 21st, 2013
.
Civil unions legislation has been re-introduced in Colorado and passage is near certain.  Why you ask?  Because the number of bill sponsors constitues a majority of both the House and Senate.  That's 20 sponsors in the Senate (out of 35 seats) and 38 sponsors in the House (out of 65 seats).
In a first for the bill Republican Rep Cheri Gerou all of a sudden grew balls this year and decided to sponsor the bill after declining to last year. Even OutFront Colorado published an article titled "How are we so sure civil unions will pass this year?"
How did we get to this point?  Here's some backstory…
In 2011 and 2012 Colorado had a divided legislature.  In 2012 after the bill surprisingly managed to pass intact out of a key Republican controlled committee in a desperate last minute attempt to kill the bill House Speaker Frank McNulty (R-Highlands Ranch) killed 30+ bills on the last night of the session rather than allow the civil union bill to reach the floor.
Democrats swept the November election statewide and retook control of the House along with retaining control of the Senate and Governor's Residence.  Rep Mark Ferrandino was elected by his peers to be the first openly gay Speaker Of The House.  Also during the fall recess, tragically, Dave Misner, the husband of Senator Pat Steadman, the bill's author, died of pancreatic cancer.
But there are other different things this year too.
Previous civil unions legislation had excluded [Catholic] adoption agencies from having to treat civil-unionized couples equally.  This year's bill is stronger and no longer includes such an exclusion.  Quoting the Catholic News Agency:
The 2012 Colorado Senate bill proposing to create the unions had stated that the bill "shall not be interpreted to require a child placement agency to place a child for adoption" with a couple in a civil union.

That language, however, is absent from the 2013 bill, S.B. 11.
Much as in other states Catholics are threatening to take their ball and go home.
If Colorado law forces the Colorado Springs-based agency to violate Catholic teaching, he said, "we probably would cease the operation of our adoption programs."

"That risk is always there," he said. "I think that we would try to explore every avenue available to us to provide this vital service to the community."

He said a shutdown is "very well what could happen" given precedents in other states.
In previous years rhetoric opposing the bill was downright comical.  In 2011 local grandmother (and Eagle Forum member) Rosina Kovar provided graphic testimony about the human anus.  And in 2012 two Senators quoted the Bible in floor debate, one saying "I truly believe Jesus is a better answer than Senate Bill 2."  There has even been a cameo by Paul Cameron.
This year we have a new religious fundamentalist to watch.
It's widely believed that Facebook post is reffering to Vicki Marble (R-Northern Colorado I-25 corridor) who proudly touts her AFA Action scorecard on her campaign website. Unfortunately Ms Marble's only appointments are to the Education and Local Government committees so we'll likely have to wait for the bill to reach the Senate floor for her to embarrass herself.  And in other fundamentalist news Colorado Family Action is having a "Rally and Prayer for Marriage" on Friday Jan 25.  Legislation dealing with marriage isn't being considered this year, and marriage is already defined in our state constitution, Amendment 43 so I'm not sure why Colorado Family Action is wasting their time having a rally about it.
The civil union bill's first hearing is the Senate Judiciary Committee, this Wednesday, January 23, at 1:30 p.m. in the Old Supreme Court Chambers.  Committee hearings are broadcast as audio-only on the Colorado Channel's website.
The final bill is expected to pass and be signed by mid March with the first civil union licenses issued May 1st.
Colorado: Election Results Clear Path for Civil Unions in 2013 Legislature
Daniel Gonzales
November 9th, 2012
Last legislative session Republican House Speaker Frank McNulty killed 30+ bills at the end of the session rather than allow a civil unions bill to reach the floor of the House.  At the time the Republicans held a one vote majority in the Colorado House.
Gay supporters were livid by McNulty's willingness to allow government to break down in such a way just to stop civil unions and formed a group, Fight Back Colorado dedicated to re-taking the House majority.  Fight Back targeted three vulnerable races and on Tuesday night successfully unseated all three GOP Reps.  Not only that but Dems won almost every contested seat and now control the House 37-28, in addition to retaining control of the Senate and governorship (which wasn't up this election).
McNulty was replaced yesterday by Mark Ferrandino, who is our first openly gay Speaker Of The House and also happens to represent my district.
The path has been cleared for civil unions to pass in 2013.
Love In Action documentary now on Netflix streaming
Daniel Gonzales
July 10th, 2012
For those of you who haven't been able to catch This Is What Love In Action Looks Like at a local film festival, or on Amazon, or Hulu… it's now found a home on Netflix streaming here.
Also don't forget to give it a positive review if you liked it.  Netflix has a lot of garbage in their gay and lesbian film category and This Is What Love In Action Looks Like stands out above most of the other content in there.
New independent expenditure committee formed in Colorado to target anti-civil union legislators
Daniel Gonzales
June 27th, 2012
One Colorado, along with two of their biggest donors have launched an independent expenditure committee called Fight Back Colorado designed to target and defeat state legislators who killed the civil union bill twice this year, first in our regular legislative session and a second time in a special session called by the governor. Nic Garcia at OutFront Colorado has an excellent post-session story that summarized exactly what happened and why the LGBT community is so angry at the Republican House leadership.
In an email blast sent to One Colorado supporters this morning, Executive Director Brad Clark wrote:
This independent expenditure committee is designed to hold anti-equality legislators accountable for their actions. This will be a deliberate and strategic campaign, targeting resources to defeat state legislators who killed civil unions in Colorado. Once we replace enough anti-equality representatives with pro-equality representatives, we will close up shop.
Presumably this group will target anti-civil union Representatives in the House which Republicans currently control by one vote.  If Democrats were to take control of the House in November, Rep Mark Ferrandino, the House sponsor of the civil union bill, would be made Speaker Of The House.
OutFront's Garcia published an article this morning that has many other interesting observations:
…supporters of the Colorado Civil Union Act have taken the first steps to replicate a successful strategy executed during the 2010 New York state Senate elections that paved the way to marriage equality legislation becoming law in the Empire State.

The committee, Fight Back Colorado, has taken the New York organization's moniker, website and talking points.

And it shouldn't come as a surprise. The single largest donor to Fight Back New York is Colorado activist and philanthropist Tim Gill.
It should also be noted that according to the Fight Back Colorado's website and filings with the CO Secretary of State's office the group is registered to Roger Sherman, who is listed as one of One Colorado's most elite donors.
Garcia continues:
Fight Back Colorado has not publicly announced which lawmakers they plan to attack.

"We're not going to have the resources to unseat everyone," Sherman said. "So we're going to do our research. We're going to do polling and identify the most vulnerable seats."
The group's website is http://www.fightback-co.com/.  This group is independent of One Colorado so if you want to get emails, support or donate, you need to visit their site directly and sign up. The group is on Twitter as @FightBack_CO.
Documentary highlighting flaws and abuse of Spitzer study of exgays re-released in HD
Daniel Gonzales
May 30th, 2012
The Spitzer Study of ex-gays should be dead, but it isn't.
From the very beginning the study was fatally flawed by poor methodology and after over a decade of criticism directed at the study, this month Dr. Robert Spitzer has formally apologized and renounced his study in The American Prospect and New York Times.
But as BTB editor Jim Burroway pointed out yesterday, anti-gay groups continue to cite the now retracted study.
Because of the continuing need to highlight the flaws and abuse of the Spitzer Study, I'm re-releasing a documentary I made in 2007, now in high definition.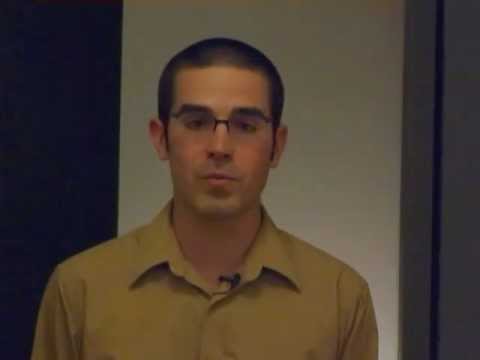 Here's direct links to the new HD version on Vimeo and YouTube.
For you technical geeks the original film was edited on a 2003 PowerBook, I retrieved all the original source footage, graphics and audio, and re-created the film on my new iMac which can handle HD with ease.  To make matters worse, at the time when I created the original 13 minute film, YouTube limited movies to 10 minutes and 200mb file size so I had to split the film into two pieces of mediocre resolution. Although my "talking head" scenes were shot in standard definition, the re-encoding and exporting at a higher resolution helped considerably, and the re-done still graphics are drastically sharper.
Colorado House leadership stalling, media attention growing, equality org holding another rally
Daniel Gonzales
May 7th, 2012
.
Last week before the big House Judiciary Committee hearing our state equality org One Colorado held a rally/press conference and late that evening SB-002, the civil unions bill, cleared the committee.
Well now it's looking like the House Republican leadership may be trying to stall the bill until the legislative session ends on Wednesday because it's clear the bill would pass if voted on by the full House.  In response One Colorado is organizing an emergency press conference and rally Tuesday morning at 10am on the west steps of the Capitol building to keep the pressure on.  (facebook event page)
But this foot dragging is not going unnoticed by the media, the New York Times published an article on civil unions and later this afternoon the Denver Post editorialized:
He [Gov. John Hickenlooper] should consider calling a special session of the legislature if key House Republicans let Senate Bill 2, which would allow same-sex couples to enter into civil unions, expire this week through parliamentary gimmicks. There is simply no excuse for obstructionist behavior on such a high-profile bill of major importance.
Colorado needs your urgent action in last minute push for civil unions
Daniel Gonzales
May 7th, 2012
The legislative here session ends on Wednesday and if House Speaker Frank McNulty (R, HD-43, Highlands Ranch) doesn't schedule the civil unions bill for a floor debate by Tuesday then the bill will die the Denver Post writes today:
The bill must have what is called a second reading, or its debate, before the full floor by Tuesday so it can be officially voted on Wednesday, which is the last day of the session. If that doesn't happen, the bill is dead.
This is the last hurdle and we need all the help we can get.  If you support civil unions for the people of Colorado please contact Rep McNulty and urge him to schedule the bill for floor debate ASAP.
Twitter: @RepMcNulty
Email: fmcnulty@comcast.net and frank.mcnulty.house@state.co.us
Facebook: Frank McNulty
Phone: 303-866-2346