How to follow today's happenings in Colorado
Daniel Gonzales
May 3rd, 2012
A number of activists will be live-tweeting the rally at noon as well as the House Judiciary Committee hearing at 1:30. The most common twitter hash tag by far is #COleg with #LGBT and #civilunions also sometimes used.
The Colorado Channel does not stream live video of committee hearings, it has audio only for those. Also the CO Channel doesn't much care for Firefox so dust off your copy of Safari or Internet Explorer. The hearing will be held in the Old Supreme Court Chambers — audio streams are organized by room name.  I believe this or possibly this is the link you'll want for audio starting at 1:30. (if neither audio stream is working email Jim since I'll be in the committee hearing by then)
And remember, Colorado is in the Mountain time zone. We're the often forgotten bastard child squeezed in there between Pacific and Central.
OutFront Colorado urging participation in tomorrow's civil union rally
Daniel Gonzales
May 2nd, 2012
UPDATE: Location of the rally has been changed to the front of Denver City & County Building at 1437 Bannock Street (still at noon).
.
As I mentioned in yesterday's post the Colorado civil unions bill is headed to a crucial showdown in the House Judiciary Committee tomorrow afternoon (Thursday).
State equality org One Colorado is holding a rally before the hearing. The rally will be at noon on the east steps of the Capitol in the front of Denver City & County Building at 1437 Bannock Street. (facebook event page)
Colorado's oldest and most respected LGBT publication OutFront editorialized today urging Coloradans to attend the rally and committee hearing in support of the bill. Quoting OutFront:
Once again your community needs you.

Yes. You.
OutFront continues:
A little more than a year ago, we asked you to join hundreds of your brothers and sisters at a similar rally to make your desire for equal rights known through the hollowed halls of the Colorado Capitol. More than 300 supporters showed up. And despite the community's best effort, a Republican controlled committee killed the legislation that would have granted more than a dozen rights and responsibilities to hard working, tax paying, Coloradans — both gay and straight.

So, you might think there's no point in showing up again. They've already told us "no."

But that is exactly why we must stand taller, fight harder, scream louder.

The Colorado Civil Union Act has a real chance of becoming a reality.
OutFront continues:
"Is there hope?" one of our Twitter followers asked us.

There's always hope. And this time hope's name is Rep. Brian DelGrosso of Loveland. DelGrosso, unlike other Republicans on the committee, has vocalized the possibility his 'nay' can become an 'yea.'
Again, please consider contacting the members of the House Judiciary Committee to show your support for civil unions. I've posted their contact information here.
CO civil union bill going to committee Thursday, here are the Reps that need to hear from you
Daniel Gonzales
May 1st, 2012
SB-2 the civil union bill here in Colorado has been scheduled for a hearing by the House Judiciary Committee this Thursday (May 3).  This committee is generally regarded as the most important hurdle in the process because if the bill makes it to a floor vote in the House it will likely pass.
So Thursday's Judiciary Committee hearing is a bit of a showdown.  It's where the bill died last year after hours of passionate testimony failed to overcome a one vote Republican majority on the committee.
Here's a list of the Republicans who sit on Thursday's committee.  I would encourage you to contact them and speak compassionately, persuasively, and respectfully about the need to protect committed gay and lesbian families here in Colorado.
Rep. Brian Delgrosso, HD-51 Loveland
brian@briandelgrosso.com
303-866-2947
Facebook profile

Rep. BJ Nikkel, HD-49 Loveland
rep.nikkel@gmail.com
303-866-2907

Rep. Mark Waller, HD-15 Colorado Springs
mark.waller.house@state.co.us
303-866-5525
Facebook profile
Rep. Jerry Sonnenberg, HD-65 Sterling
jerry.sonnenberg.house@state.co.us and Jerry@RepSonnenberg.com
303-866-3706
Facebook profile
Rep. Mark Barker, HD-17 Colorado Springs
mark.barker.house@state.co.us and mark@markbarker.org
719-339-8265 and 303-866-3069
Facebook profile
Rep. Bob Gardner, HD-21 Colorado Springs
bob.gardner.house@state.co.us
303-866-2191

Civil unions bill clears Colorado Senate despite theocratic opposition
Daniel Gonzales
April 27th, 2012
Thursday SB-2 (civil unions) passed out of the Colorado Senate with a vote of 20-12 with 3 Republicans joining Dems in support.
In last year's campaign video I shot of a grandmother who provided graphic testimony about the human anus came to represent the bill's opposition.
This year two particularly religious Republican Senators have provided some amusing debate.  Here's a clip of highlights I assembled from today's floor debate.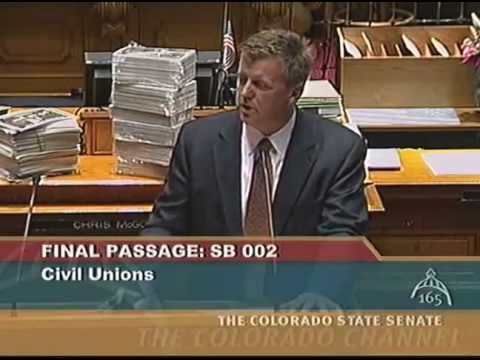 The bill now moves on to the House, which is controlled by Republicans by a single vote.  Although openly gay sponsor Mark Ferrendino has enough votes in the House to pass the bill, it's generally believed the House Judiciary Committee where the bill died last year will again be the largest challenge.
This American Life to feature John Smid, former director of the nation's largest and oldest ex-gay program Love In Action
Daniel Gonzales
April 9th, 2012
Here's the preview of next week's show that appeared at the very end of this week's broadcast.
Audio clip: Adobe Flash Player (version 9 or above) is required to play this audio clip. Download the latest version here. You also need to have JavaScript enabled in your browser.
At first I didn't recognize the voice but John's billboard story appears on his website here.
To be clear this episode will air the weekend of April 13th (exact date/time varies by your local NPR affiliate).
Focus launches "religious liberty" ballot amendment in Colorado
Daniel Gonzales
March 16th, 2012
Somehow both OutFront Colorado and I missed not one but two articles last week announcing Focus On The Family with the help of Alliance Defense Fund, intends on creating a coalition to pass a ballot amendment in 2012 to "protect" the religious freedoms of individuals and religious groups.
Here's the proposed wording: (source withheld)
(1) The right to act or refuse to act in a manner motivated by a sincerely held religious belief may not be burdened unless the government proves it has a compelling governmental interest in infringing the specific act or refusal to act and has used the least restrictive means to further that interest.

(2) A burden includes indirect burdens such as a withholding of one or more benefits, assessing one or more penalties, exclusion from one or more government programs, and/or exclusion from one or more government facility.
This is a seemingly new strategy and we don't have any other states to look to for precedent where such things have been enacted. However North Dakota will vote on a similar amendment in June of this year. (The proposed Colorado amendment would be voted on in November).
As of recently Focus' CitizenLink has had a bee in their bonnet about so called religious liberty as it pertains to reproductive freedom and health care reform here, here, here, here, here, here, and here, this week alone. In my opinion contraception mandates is merely the political flavor of the month, animus towards LGBT people is in season year round with Focus and friends. Joe.My.God has an eloquent take on the proposed amendment:
Focus On The Family has launched a ballot petition drive that, if successful, will ask Colorado voters to make it legal to deny housing, employment, and services to any person on the basis of religious objections. (Gosh, who COULD they be talking about?)
State equality org One Colorado is already responding by forming a coalition with Planned Parenthood of the Rocky Mountains and Interfaith Alliance of Colorado. One Colorado posted an official statement this morning which reads in part:
The initiative's language, which focuses on "religious liberty" is incredibly deceptive. It doesn't make clear the widespread implications of enacting this law. Implications that don"t just impact LGBT people, but all Coloradans.

Imagine a law that allows a pharmacist to refuse to fill a birth control prescription. A law that permits an employer to refuse to hire people on the basis of sexual orientation or gender identity and expression. A law that gives protection to teachers who refuse to teach sex education or evolution. All for the sake of so-called religious freedom.

At One Colorado, we believe that everyone has a right to their own religious beliefs. But no one should be above the law. And we shouldn't create a two-tiered society where the law applies only to some and not others.
One Colorado also announced they will be mounting a legal challenge to the proposed amendment, that will occur when the final wording comes before the Secretary of State's Title Board which has the power to reject proposed ballot items. If you wish to donate to the legal fund click here, One Colorado has set a goal of collecting the $5,000 needed by Monday.
Nobody has much to say from a legal perspective yet. OutFront's article included comment from the GLBT Community Center of Colorado's legal director:
Mindy Barton also noted text of the measure is very broad and the potential applications are unclear.

"We are unsure of what the proposed ballot initiative means, and we are interested to hear if Focus on the Family, whose Senior Vice President is listed as one of the proponents, will explain the intent behind it," Barton said.
As a lay-person let's have a look at the amendment's wording. If allowed to actually take effect, it seems the amendment would allow someone with a "sincerely held religious belief" to disobey any law they see fit based on those beliefs.  Sometimes a person breaks the law by doing something, an example of this would be a Rastafari using marijana (a Schedule I narcotic) in a religious ceremony. Other times a person would break the law by not doing something, an example of this would be "sovereign citizens" who sincerely believe they are exempt from paying taxes. Virtually any law it appears could be challenged, and the government would be obligated to justify they have a "compelling governmental interest" in enforcing it. It could be decades of legal chaos as our courts subject thousand of laws to the compelling interest test to determine if they are trumped by "religious liberty."
But ultimately that could work to our advantage. When the public views ballot measures as vague or creating chaos, voters tend to error on the side of rejecting them.
The Friendly Atheist blogged about the proposed North Dakota amendment back in 2010 noting how blatantly unconstitutional its implications are, citing the federal Religious Freedom Restoration Act (RFRA) which was stuck down in Boerne v. Flores. He also has a fabulous quote from an opinion by Antonin Scalia in Employment Division v. Smith in which a Oregon man was denied unemployment benefits after using peyote in a religious ritual  Wrote Scalia:
We rejected the claim (in Reynolds v. United States) that criminal laws against polygamy could not be constitutionally applied to those whose religion commanded the practice. "Laws," we said,

are made for the government of actions, and while they cannot interfere with mere religious belief and opinions, they may with practices. . . . Can a man excuse his practices to the contrary because of his religious belief? To permit this would be to make the professed doctrines of religious belief superior to the law of the land, and in effect to permit every citizen to become a law unto himself.
That sums it up perfectly, Focus' "religious liberty" amendment would allow "every citizen to become a law unto himself."
Amazon taking pre-orders for "This Is What Love in Action Looks Like"
Daniel Gonzales
March 2nd, 2012
If you haven't been able to catch a festival screening of "This Is What Love in Action Looks Like" and wanted to see it then you're in luck. Amazon just listed the film for sale with orders shipping on May 8th at a price of $24.99
.
If you're not familiar with the film you can read my review here, I've seen a lot of films about the ex-gay movement and this one is by far the best and most compelling.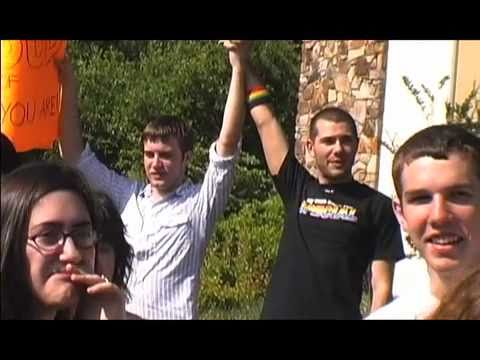 A crumbling empire
Daniel Gonzales
January 30th, 2012
A few weeks ago Ex-Gay Watch reported Exodus is in a dire financial crisis.  But there are other pressures on the exgay movement; the voices of survivors coming forward to speak out about abuses and harms experienced, and are joining together to form support communities for ex-gay survivors.
Now via The Village Voice:
But now the flow of information has become virtually impossible to control, and as a result, the empire shows signs of crumbling. With the aid of the Internet, those inside and outside the organizations that make up the [church organization] can easily find and communicate with each other, and realize that there are others who share their views and concerns. Records of past abuses in the form of documents and personal testimony are but a few short clicks away using a search engine. Virtual communities online have sprung up and flourished, and real-life actions have been recorded and displayed online for all to see, producing new conditions of mutual knowledge about what has been going on in past years, and what's going on now.
Except this quote isn't about Exodus, it's about the Church of Scientology.
In 2009 I penned a two part series comparing the "unrealistic life changes" promised by both groups.  Now it appears both movements are being brought down by their own survivors.
Campaign for civil unions gets underway in Colorado
Daniel Gonzales
January 15th, 2012
Colorado's legislative session began last Wednesday and while most of the excitement was in Denver, equality org One Colorado held their civil union campaign kickoff in Colorado Springs that evening.  It was a low profile event, not designed for the media but rather for community members who's excitement and passion is an absolute must in the effort to get civil unions passed into law.
.
Since last year's effort Public Policy Polling has reported support for civil unions has grown from 71% to 76%.  That makes civil unions more popular than even Tim Tebow who polls at 59% favorability.  And that support for civil unions is not confined to urban centers like Denver, in advance of Wednesday's legislative kickoff the Durango Herald editorialized in support. Also attracting positive media attention is a new group of Republicans for civil unions called Coloradans for Freedom which approaches the issue from traditional GOP philosophies of individual liberty and fiscal responsibility.
But back to One Colorado's kickoff – speakers included:
.
.
.
.
.
.
After the event attendees enjoyed light refreshments and lingered to chat — I was able to reconnect with several people I hadn't seen since last year's campaign.  One Colorado is setting a decidedly different tone in this year's push for civil unions.
Oh I should add that the following day in his state-of-the-state address, Governor John Hickenlooper endorsed civil unions, saying:
"We don't believe we should legislate what happens inside a church or place of worship, but government should treat all people equally," Hickenlooper said. "It's time to pass civil unions."
If you're interested in adding your voice to call for civil unions feel free to sign One Colorado's petition here.
Pat Robertson seemingly baffled by someone else's Thanksgiving food tradition
Daniel Gonzales
November 23rd, 2011
Given Right Wing Watch's scare quotes around "black thing" in the video title I think I'm supposed to be offended by Pat's confusion regarding a tradition of mac and cheese served at Thanksgiving celebrations in many black families.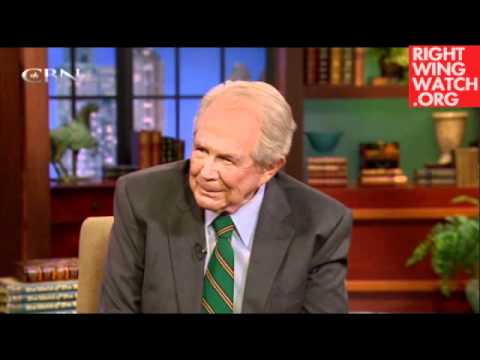 My dad's family is from Las Cruces, NM and every Thanksgiving we serve New Mexico red chile and corn tortillas with our dinner.
It's totally a "New Mexico thing" and I'm proud of that.  Would I expect it to befuddle a person with an incredibly narrowly focused cultural and world-view like Pat Robertson?  Duh.  He's probably still confused by women who wear pants.
Feel free to start a discussion in the comments about your own family's cultural food traditions at Thanksgiving.
Red chile photo via the food blog Girl With Spoon
Film Review: "This Is What Love In Action Looks Like"
Finally an ex-gay documentary that's not simply a collection of interviews about the past, but one that's centered around a compelling event and story as it's unfolding.
Daniel Gonzales
August 29th, 2011
In 2005, 16 year old Zach Stark was sent by his parents, against his will, to the residential ex-gay program Love In Action. Protests and nationwide attention ensued.  It was probably the biggest ex-gay news story since Exodus board member/spokesman John Paulk was caught in a Washington DC gay bar.
Local filmmaker Morgan Jon Fox was there from the start of the protests, capturing it all and has spent the last six years creating his finished product of This Is What Love In Action Looks Like, a new independent film currently on the festival circuit.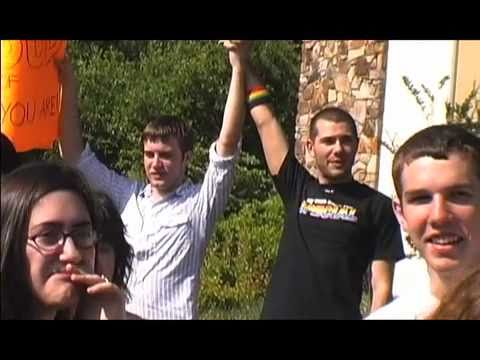 I've spent years writing for various websites that track and monitor ex-gay issues, and in that time I've reviewed a number of films about the ex-gay experience. Too often documentaries consist mainly of head-and-shoulder interviewees talking about their time in ex-gay programs years, if not decades, in the past.  This Is What Love In Action Looks Like is different, filmmaker Fox was there shooting events as they unfolded and shooting interviews with key players while memories and feelings are still fresh.  The finished product is stitched together to tell the story with a logical flow and progression which will allow the general public, unknowledgeable of ex-gay issues, to follow the story.
Head-and-shoulders interviews, a necessary evil, are used sparingly and effectively.  Those scenes are well composed and often set in locations more far dynamic than a subject's living room sofa.  Keystone interviews are even shot with multiple cameras allowing Fox to cut to tight zooms at appropriately intense moments.
Fox scored some rather crucial interviews, Zach Stark (the 16 year old sent to the program) as well as John Smid (ran Love In Action while Zach was there and has since stepped down).  Since the controversy in 2005 Smid's views have changed (I won't reveal how) and shows incredible courage for making himself as open, honest and vulnerable as he does during his interviews.  However I must criticize Fox for not asking Smid challenging questions.  In fact the only person Fox challenges is an anti-gay Alliance Defense Fund lawyer during a sidewalk press conference.  There are a lot of difficult questions interviewers can ask of the ex-gay movement, and Fox fails in this respect.
Zach's father (who sent him to the program) and Alan Chambers (president of Exodus, a national gay group) declined interviews and so their stories are told with extensive incorporation of broadcast TV footage. The other footage that most contributes to the uniqueness of the film are some very raw feeling shots of the actual street protests outside Love In Action's facility in 2005.
The film opens with a satisfyingly long interview of Zach talking about coming out to his parents and preparing to be sent off to the program.  As the story and protests unfolded Zach's life inside the program remained a total mystery to the gay community outside protesting. Fox smartly replicates this feeling by focusing on other details and choosing only to show Zach with long-lens and grainy footage, as if we the film viewer are with protesters on the sidewalk seeing Zach from afar, wondering what is happening to the young man in the program.
My biggest gripe is that when the film is concluding Zach's "after" interview is frustratingly short.  Zach comes across as having grown into a beautiful, vibrant young man.  After becoming invested in the activists who held a daily vigil outside Love In Action protesting for Zach I don't feel enough emotional payoff in Fox's interview with Zach.  I would strongly encourage Fox to revisit his source footage and include more meaningful and satisfying moments in that final interview. (Author's note: Fox was kind enough to respond to this issue after my review was first posted, see his quote at the bottom of the post)
My remaining criticisms of the film are somewhat minor so I'll list them here at the end:
While I adore the MySpace inspired title graphics, graphic styles throughout the body of the film are wildly inconsistent.  Some TV footage is shown in a "streaming internet video" style border, while other footage is shown full screen, sometimes that footage is full color, other times it has a tone/filter applied.  Also printed material (copies of ex-gay program rules and such) shown on screen has no stylistic consistency.
Insufficient disclosure of people appearing on screen who are involved in the film's production.  When filmmaker Fox appears on screen his title is simply "filmmaker" which I'm not sure all viewers will take to mean his is the filmmaker for this very film.  Also Peterson Toscano has a producer credit for the film but this is not disclosed at all with on screen titling.
A couple soundtrack selections are hit or miss during the first half.  The worst tracks sounded like a wind up music box composition from royalty free music websites.  As the movie progresses however the music selection greatly improves and begins to compliment the emotion of the film.
There are a few instances at the beginning of the film where former clients of Love In Action are dropping bombs about the program.  Insufficient time is left after these things are said for the emotional impact to settle properly.
But the above listed criticism have no effect on my recommendation to see the film, they are more for Fox's benefit should the movie hopefully be picked up by a distributor and is re-cut for distribution as independent films regularly are.  The novelness of this film sets it apart from every ex-gay documentary done before it.  When this screens in your city I strongly suggest you go and support it.
—
Filmmaker Fox addressed my criticism of Zach's seemingly brief interview segment via email the afternoon my review was posted:
When we approached Zach about the interview he made it clear that he was willing to tell his story about what happened during the months that he was in Refuge and during the media firestorm, mostly to lend his account of that, and leave it to rest.

[Fox continued…] So when he requested that his current life not be pried into or pondered over or talked about, I completely understood. He wants his privacy now. Zach is a private person who quite accidentally fell into a huge spotlight and I mostly wanted to document the events of 2005 and how friends of his felt it necessary to stand up and try and make a difference, attempt to help one of their peers. I never felt it was my job to pry to pull things from Zach story and I think it took a lot of courage for him to speak out at all and I'm very grateful he lent his version of the events of that Summer of 2005.
One Colorado addresses veiled bullying of Focus' "Day of Dialogue"
Daniel Gonzales
April 17th, 2011
In 2004 on the annual pro-gay Day Of Silence, Poway High School sophomore Tyler Chase Harper modified his tee shirt to read "Be Ashamed" and "Homosexuality is Shameful."  School officials asked Harper to remove the message, he refused, and was pulled from classes from the remainder of the day.  Harper immediately became a celebrity in the anti-gay movement, filed a lawsuit against the school  (which he would eventually lose) and became the poster-twink for the following year's anti-gay "Day Of Truth."  Since that time the Day Of Truth has been run by Harper's lawyers at the Alliance Defense Fund, Exodus International, and this year Focus On The Family which has renamed the event "Day Of Dialogue."
But no matter what form this day takes, the message to gay youth remains the same; your sexuality is shameful and you must pray yourself straight.
In the current climate of bullying-awareness Colorado's equality org, One Colorado has chosen to frame the anti-gay Day Of Dialogue as a form of bullying gay youth will be subjected to.  One Colorado's executive director Brad Clark has penned an open letter to Focus On The Family in today's Denver Post:
I hope that the Day of Dialogue is about having a real dialogue—one that appreciates a diversity of viewpoints, including those of the American Medical Society, an esteemed organization which has concluded that being LGBT is not a disease or defect. Or the position of the American Psychological Association, which opposes any attempt to try to change one's sexual orientation or gender identity.
If the Day of Dialogue is not truly a dialogue but a day when Focus followers will be empowered and encouraged to say hurtful things to vulnerable LGBT students—it is simply a new form of bullying. One that doesn't punch or shove—but that takes a psychological toll on youth who deserve the same respect and dignity as any other student.
Full text of my Colorado House committee testimony on civil unions
Daniel Gonzales
March 31st, 2011
.
The Colorado House is holding a crucial committee hearing on the civil unions bill today and I will be testifying.  In 2006 Colorado voters both rejected a referendum to enact civil unions and amended the state constitution to ban gay marriage.  These events of 2006 have become a favorite talking-point for those legislators wishing to oppose civil unions here in 2011.  Gay rights are one of the fastest changing opinions among voters and multiple polls in Colorado have shown that voters here have changed their views drastically since 2006.
My name is Daniel Gonzales.

I need to publicly apologize to my community because before I came out of the closet, I voted in favor of my home state's marriage ban amendment.

But I'm not alone, the issue of equal protections for gays and lesbians is one of the most rapidly shifting opinions among voters in our nation right now.

Yet when this bill was in the Senate your peers kept bringing up Ref i and Amendment 43, as if Coloradans are an exception and haven't reconsidered the issue since these votes in 2006.

That's clearly not the case.

Three different polls conducted this year and last have all shown support for civil unions exceeding 72% among Coloradans.

So yes, Colorado voters, including people in your district, have changed their minds on this issue, and I count myself among them.

The citizens of Utah, Nebraska, Kansas and Oklahoma have seen fit to pass amendments banning not just marriage but also civil unions.  Yet the people of this state have not done so.  The people of Colorado have left the door open for us to have civil unions.

Amendment 43 bans marriage.  Civil unions and marriage are not the same thing.  Colorado voters know that. That's why the two poll at drastically different levels of support.

I ask you to please work within the bounds of our constitution to give our relationships some basic dignity through civil unions.

I ask that you realize and acknowledge that the voters of Colorado and I have changed our thinking on this issue.

My own coming out took three years, it was a gradual process. And in that time my existing beliefs and preconceptions were challenged and I began to think about what sort of life and what sort of family I might one-day have.

I'm not here to try and change your personal religious convictions or get some sort of moral stamp of approval.

But I am saying that the voters of Colorado and I have changed our thinking on this issue and I would ask that you too begin to challenge your preconceived feelings about people you might think are so different than you.

Perhaps some of the tearful testimonies earlier have demonstrated that the hopes, dreams and fears of our families are not that much different than yours.

Today you have an opportunity to improve the lives of families in our state. I urge you to take it.
Colorado Springs & Loveland districts vital this week in civil unions campaign
Daniel Gonzales
March 29th, 2011
Last week the Colorado civil unions bill cleared the Senate and moved on to the House where Republicans hold a 1-vote majority. Some have taken it as a encouraging sign that the bill was not immediately sent to a "kill committee" but rather has been sent to the House Judiciary Committee where those opposed to the bill claim it will receive "a fair hearing"
Via the Colorado Independent:
The members of the Republican majority bloc sitting on the House Judiciary Committee don't seem like the kind of conservatives who would be persuaded by Laura Bush or Cindy McCain, however. Nor do they seem to much reflect civil-unions-friendly Colorado.

Three of the six committee Republicans are Colorado Springs social conservatives

[snip]

GOP House Speaker Frank McNulty has said on several occasions that he is committed to giving the bill a fair hearing. Ferrandino has also said he believes he has enough Republican votes to pass the bill in the House and Republican representatives have begun to go on record as supporters.

On Friday, most of the GOP members of the Judiciary Committee told the Denver Post that, like McNulty, they're also committed to "giving the bill a fair hearing," even if they are personally opposed to civil unions.

Committee Chairman Bob Gardner, R-Colorado Springs, told the Post he opposes civil unions but that he is "certainly hearing from both sides" on the issue.

Rep. Mark Barker, R-Colorado Springs, said he also was committed to a fair hearing, before adding that he was a Southern Baptist.

Nikkel said she hadn't read the bill but of course she would also give it a fair hearing.
It's vitally important for this bill that if you have friends or loved ones who live in Colorado Springs or Loveland that you have them contact their House Representative (click here) in the next few days. Given the makeup of The Springs it's a safe assumption that these representatives have been hearing plenty from anti-gay religious folks like Rosina Kovar.
The House committee hearing is Thursday starting at 1:30pm in the Capitol's Old Supreme Court Chambers, second floor, north end of the building.
I will be testifying again.
Post update: I've learned that Reps Nikkel and Delgrosso from Loveland also sit on the committee.
Sen Scott Renfroe falsely claims gay parents are inferior to straight parents
Daniel Gonzales
March 24th, 2011
Today before final passage of the civil unions bill, the Colorado Senate held more floor debate on SB 172. (It now goes on to the House.) We have video of thanks to The Colorado Channel.
Much of what Senator Scott Renfroe said is true, that children do best in committed, stable, two parent households – the American Psychological Association (APA) has stated this repeatedly (source) and I testified about gay parenting to a Senate committee a few weeks ago. Quoting the APA:
"All else being equal – children do better with two parenting figures rather than just one."
However the APA is well aware people like Sen Renfroe will try and mis-use this research to claim gay families are inferior. The APA goes on to addresses this:
"The specific research studies typically cited in this regard do not address parents' sexual orientation."
Furthermore nearly every mental health group in the country has come to the conclusion gays and lesbians raise children just as well as straight people do.  If Sen Renfroe has a source for his claim, it certainly wasn't presented today since I was sitting in the Senate gallery and heard his entire speech.  Misuse of research and junk science like this have no place in my statehouse.