The threat to DADT repeal may come from Obama rather than McCain
Timothy Kincaid
June 20th, 2010
Two news reports offer an odd turn of events.
From the anti-gay uber-conservative Washington Times
No filibuster on gays

There will be no filibuster of the pending defense budget bill that contains a repeal of the military's gay ban — at least not from Sen. John McCain of Arizona, who is leading the fight to preserve the ban.

Contrary to a smattering of press reports, the top Republican on the Senate Armed Services Committee is not trying to find the votes to block the bill, which may reach the floor next week. A filibuster takes 60 votes to override.

"Sen. McCain is not filibustering the bill," his spokeswoman Brooke Buchanan told special correspondent Rowan Scarborough.
However that does not mean that the repeal will go through. From the AP
Defense Secretary Robert Gates says President Barack Obama could end up vetoing legislation that would lift the ban on gays serving openly in the military.
…
But Gates tells "Fox News Sunday" that Obama probably still would veto an upcoming spending bill that includes the repeal — if the bill also contains money for defense projects he says are wasteful.
If the bill is vetoed, the legislature will either override the veto or begin the process of revising the bill. It seems unlikely that there are adequate votes or political will to override the President. So political horse trading will resume.
Some legislators want to keep the spending in the bill so as to protect interests in their community. And DADT may become a bargaining chip because, let's face it, very few legislators give our interests much priority.
Obama authorizes benefits for federal employees
Timothy Kincaid
June 2nd, 2010
President Barack Obama is limited by federal law from treating the domestic partners of federal employees as spouses. However, his counsel has identified specific benefits which he can elect, as Executive, to offer.
Today the President issued a memo directing that such benefits be provided. (Reuters)
Obama said he had directed government agencies to offer a number of new benefits to the families of gay and lesbian federal employees, including family assistance services, hardship transfers and relocation expenses.

His directive builds on a move he made last year to offer healthcare benefits, sick leave and medical evacuation for same-sex partners of federal employees.
Obama, Congressional leaders meet on DADT
Timothy Kincaid
May 24th, 2010
This morning President Obama, Congressional leaders, Pentagon leaders, and gay rights groups had various meetings to discuss Don't Ask, Don't Tell. I wish that I could report that the President has whole-heartedly given his endorsement to the Congressional effort to overturn the discriminatory policy this week.
But unfortunately, it appears that Obama called in Congress to get concessions that will delay implementation of the change in policy and which will not actually overturn the ban but simply return the decision about implementation to the Pentagon. (Washington Post)
Any repeal would take effect only after President Obama, Defense Secretary Robert Gates and Joint Chiefs of Staff Chairman Adm. Mike Mullen review the Pentagon study and certify that the new law can be implemented without a negative impact on military readiness, recruitment and retention, according to the sources.
This may be the best we can get. Should the President oppose the effort to lift the ban on open service in the Military, or even fail to signal acceptance of the change, this could trigger defeat. The vote count is very close.
It is important that the vote occur before any change in Congressional membership. It is very possible that one or both houses of Congress could be turned over to Republican control, and it is unlikely that Republican Party leadership would bring the bill to a vote regardless of the conclusions of the study.
And while I would prefer that Congress tell the Military that is will not discriminate on the basis of sexual orientation whether it finds that restriction to be minorly inconvenient or not, that may not be an option.
UPDATE: The NY Times confirms the details:
Under the deal, lawmakers could vote soon to repeal the contentious 17-year-old policy, which bars gay men and lesbians from serving openly in the armed services; the House Democratic leaders are considering taking up the measure as soon as this week. But the policy would not change until sometime after Dec. 1, when the Pentagon completes a review of its readiness to deal with the new policy. President Obama would also be required to certify that repeal would not harm military readiness.
…
In a letter to Mr. Obama on Monday evening, Mr. Murphy, Mr. Lieberman and Senator Carl M. Levin, the Armed Services Committee chairman, asked the White House for its "official views" on the proposal.

But Capitol Hill aides said the letter was pro forma; Mr. Obama's budget director, Peter R. Orszag, quickly replied with the White House's assent.
It is encouraging to know that when backed into a corner without any way of saving face, the President is our fierce advocate. But hey, I'll take it and be happy.
Obama's "repeal DADT this year" pledge now seems disingenuous
Timothy Kincaid
April 22nd, 2010
Some members of the gay community may wonder why it is that Get Equality and other activists are not content to rely on President Obama's pledge – as announced in the State of the Union Address – to end Don't Ask, Don't Tell by the end of the year. Some may question the wisdom of aggressively challenging the administration instead of allowing the military review process to dictate the timing.
The answer may be that these activists rightly recognize that this President has little to no intention of ending DADT this year, and probably never has.
On January 27, 2010, President Obama addressed the
Abroad, America's greatest source of strength has always been our ideals. The same is true at home. We find unity in our incredible diversity, drawing on the promise enshrined in our Constitution: the notion that we are all created equal, that no matter who you are or what you look like, if you abide by the law you should be protected by it; that if you adhere to our common values you should be treated no different than anyone else.

We must continually renew this promise. My Administration has a Civil Rights Division that is once again prosecuting civil rights violations and employment discrimination. We finally strengthened our laws to protect against crimes driven by hate. This year, I will work with Congress and our military to finally repeal the law that denies gay Americans the right to serve the country they love because of who they are. [emphasis added]
Four days later, on February 1, the White House met with national gay leaders. And the promise had lost a lot of it's renewal in that short time. (The Advocate)
Yet just days after the January 27 speech, White House officials convened a meeting on February 1 with LGBT advocates in which they said the policy would not be included in the president's recommendations for this year's Department of Defense authorization bill, according to multiple sources with direct knowledge of the meeting.

"It was a definitive shut-down from [Jim] Messina," said a source, who was present at the meeting and agreed to speak on the condition of anonymity, referring to the White House deputy chief of staff. "He said it would not be going into the president's Defense authorization budget proposal." The news was a blow to activists since the Defense funding bill is the best legislative vehicle for including a measure to overturn the policy. "It almost seemed like the bar on the hurdle got raised two or three times higher," said the source.
Strategically, including the change in the military defense budget is the safest and easiest way for the law to change. Once incorporated by committee, it would require every Republican Senator plus one third of the Democratic Senators to remove it from the bill, a rather unlikely scenario.
The President is a powerful ally and when it comes reelection time it can be a tremendous help if he thinks you are in line with his wishes. If the President want the change it in the budget, it will go into the budget.
From all evidence, he does not.
But more frustrating than the knowledge that this president has played us for the fool, is the knowledge that some national gay groups were complicit in the deceit. If this report is true, the Human Rights Campaign lied about the administration's intentions in order to give the President cover – and they appear to be continuing to do so.
Rushing to refute the Advocate's story was Robert Raben, a paid strategist for the Human Rights Campaign.
Raben said Messina relayed that advisers were still discussing different options with the president. He added that the main area of focus for the meeting was the Senate Armed Services Committee hearing that would be taking place the next day with Defense secretary Robert Gates and Joint Chiefs chair Admiral Mike Mullen.
And then he promptly changed the subject.
"It's even more wrenching in the immigration context," he said. "The president gave that a line the State of the Union too. It's April 22, where's the bill?"
Other sources are saying that the administration was less "shutting down" than it was "vague" and "non-committal" in the meeting. But whether dismissive or vague, it clearly was a different message than the one announced by the President in his public speech four days earlier. And, from my perspective, it has stayed so ever since.
It is rapidly becoming my impression that this President has no intention on repealing DADT, or at least not if it requires even the slightest expenditure of political capital. In fact, while his public position is supportive, his administration is fighting tooth and toenail to keep the ban on open service in place. I think that Obama sees the potential difficulties in dealing with some annoyed military personnel as having greater importance than the promise that "you should be treated no different than anyone else."
And it is rapidly becoming my impression that those who represent themselves as our community's leadership in Washington, DC, and so enjoying being part of the party in power that they are placing their own access and the agenda of the Democratic Party ahead of the reasons we entrust them with our voice and support their organizations.
But while President Barack Obama said many things in his State of the Union Address that appear calculated in hindsight and suggest either a lack of integrity or a lack of commitment, the words he spoke just a few paragraphs after his pledge to end DADT ring ever more true:
No wonder there's so much cynicism out there.

No wonder there's so much disappointment.
DADT opponents heckle Obama at CA fundraiser
Timothy Kincaid
April 20th, 2010
President Obama was in Los Angeles yesterday to raise funds for Senator Barbara Boxer's reelection campaign. Opponents of Don't Ask, Don't Tell took the opportunity to draw attention to that issue. (USA Today)
"Repeal 'don't ask, don't tell!" yelled several protesters at a Los Angeles fundraiser for the Democratic Party and Sen. Barbara Boxer, D-Calif., referring to the Pentagon's policy on gay servicemembers.

As the president said he agreed with the request — "we are going to do that; hey, hold on a second, hold on a second" — the protesters began echoing an Obama campaign chant: "Yes, we can! Yes, we can! Yes, we can!"

"Here we go," Obama replied. "All right — guys, guys, all right. I agree, I agree."

A little later, Obama pleaded for political solidarity on gay rights and other issues.

"When you've got an ally like Barbara Boxer and you've got an ally like me who are standing for the same thing, then you don't know exactly why you've got to holler, because we already hear you, all right?," Obama said to applause.
The problem is, of course, that the President does not appear to hear our community already. And his response at the fundraiser suggests that he is unaware – or unconcerned – about the growing discontent that our community feels from having our issues delayed or dismissed.
We are annoyed that this administration seems incapable of providing a clear, consistent answer about how and when DADT will be overturned. Instead, we hear promises offset by stalling, the Presidents say one thing only to have the Department of Justice say exactly the opposite. We have military leaders contradicting each other in front of Congress and the White House sits silently while our allies in the House and Senate beg him to lend his voice to the cause.
All of this adds to a creeping supposition that this President has little to no intention on capitalizing on a Democrat control of the legislature to fulfill his promises. It feels more and more likely that November will come without action and Republican successes will be used as an excuse to continued institutionalized discrimination for another decade.
President Obama said at one point that the hecklers should go holler at the people who disagree with them. I'm not sure they weren't doing just that.
Obama Issues Directive on Hospital Visitation and Medical Decisions
Jim Burroway
April 15th, 2010
When then-candidate Barack Obama accepted the Democratic Party's nomination, he only made one LGBT-related commitment in his acceptance speech:
I know there are differences on same-sex marriage, but surely we can agree that our gay and lesbian brothers and sisters deserve to visit the person they love in the hospital and to live lives free of discrimination.
Today, President Barack Obama followed through on that commitment. Today he issued a Presidential Memorandum ordering ordered the Secretary of Health and Human Services (HHS) to issue new rules requiring hospitals who receive Medicare and Medicaid payments to provide visitation rights to same-sex partners, and to make it easier for gays and lesbians to make medical decisions on behalf of their partners.
The President's memorandum makes a compelling case for the new rules:
[E]very day, all across America, patients are denied the kindnesses and caring of a loved one at their sides — whether in a sudden medical emergency or a prolonged hospital stay. Often, a widow or widower with no children is denied the support and comfort of a good friend. Members of religious orders are sometimes unable to choose someone other than an immediate family member to visit them and make medical decisions on their behalf. Also uniquely affected are gay and lesbian Americans who are often barred from the bedsides of the partners with whom they may have spent decades of their lives — unable to be there for the person they love, and unable to act as a legal surrogate if their partner is incapacitated.

For all of these Americans, the failure to have their wishes respected concerning who may visit them or make medical decisions on their behalf has real consequences. It means that doctors and nurses do not always have the best information about patients' medications and medical histories and that friends and certain family members are unable to serve as intermediaries to help communicate patients' needs. It means that a stressful and at times terrifying experience for patients is senselessly compounded by indignity and unfairness. And it means that all too often, people are made to suffer or even to pass away alone, denied the comfort of companionship in their final moments while a loved one is left worrying and pacing down the hall.
This has been a very real problem and persistent problem. In February 2007, Miami's Jackson Memorial Hospital denied Janice Langbehn access to her partner of eighteen years, Lisa Marie Pond, who had collapsed due to a brain aneurysm while preparing to board a cruise ship. For hours, hospital staff refused to allow Janice access even after a legal power of attorney was faxed to the hospital. It was finally a priest who had been called to give last rites who made sure Janice could say her final goodbyes. A social worker at the hospital defended the hospital's actions, saying that Florida was an "anti-gay state."
This evening, President Obama called Janice from Air Force One to say he had been moved by her case:
"I was so humbled that he would know Lisa's name and know our story," Ms. Langbehn said in a telephone interview. "He apologized for how we were treated. For the last three years, that's what I've been asking the hospital to do. Even now, three years later, they still refuse to apologize to the children and I for the fact that Lisa died alone."
The memorandum directs HHS to begin the process to issue new rules for hospitals to comply to or risk being denied Medicare and Medicaid payments. The rule-making process could be a lengthy one, requiring the creation and publication of new proposals, a period for public comment and additional approvals. The weakness of this process is that it could be overturned by a future administration, but that overturning would also have to undergo the same lengthy process — creation and publication of a new set of regulations, public comment period, etc. While it is not as immediate as an Executive Order, it is much more robust and durable. And because this proposed rule would provide that any patient — gay or straight — could designate anyone — a partner, trusted friend, a relative who is not necessarily the next of kin — to have access for hospital visitation and make medical decisions on their behalf, it's hard to see that there would be a significant impetus to overturn this rule.
President Obama rebutted by his own Justice Department on DADT
Timothy Kincaid
April 13th, 2010
The Log Cabin Republicans are the plaintiffs on one of the few active cases opposing the legality of the Military's Don't Ask, Don't Tell policy. And they have developed approaches that other plaintiffs more sympathetic to the President might not have employed.
One method was to try and establish that the Justice Department's arguments were in direct contradiction with positions articulated by the President. This two-pronged approach either leaves the DOJ without much defense for an obviously discriminatory law, or embarrasses and pressures a President who is increasingly seen as having campaigned on promises that he has little interest in keeping.
And yesterday they were successful.
Log Cabin had been attempting to get the DOJ to answer yes or no questions so as to be on the record about whether the policy was bad for national defense. Obviously, if the Justice department admits that the policy is counter-productive, then there is little basis to defend it. So the DOJ fought having to answer.
But finally, after a direct order from the judge, they have stated their opinion. And their Response to Request for Admissions admits that the Obama Administration's Department of Justice is basing their defense on arguments that completely contradict statements made by President Obama both in meetings with the gay community and in his State of the Union address.
They try to quibble that the Executive and Legislative Branches are in disagreement. They state that they are compelled to defend the law even if the Executive wishes it repealed.
And that may be correct. But they are not compelled to take specific factual conclusions that are contradictory to those espoused by the Executive Branch and yet that is exactly what they are doing.
The President of the United States, who formulates the policy of the Executive Branch, has stated, including in his State of the Union Address on January 27, 2010, that 10 U.S.C. § 654, the statute enacting "Don't Ask Don't Tell" ("DADT"), should be repealed. The President has further said that DADT does not contribute to, and indeed weakens our national security, and he has stated that "[w]e cannot afford to cut from our ranks people with the critical skills we need to fight any more than we can afford – for our military's integrity – to force those willing to do so into careers encumbered and compromised by having to live a lie."
But nonetheless, their answers are:
3. Admit that DAD'T does not contribute to our national security.

Response: Deny.

4. Admit that DADT weakens our national security.

Response: Deny.

5. Admit that discharging members pursuant to DADT weakens our national security.

Response: Deny.
As a matter of legal fact, the Obama Adminstration's Department of Defense has stated that the President was not speaking the truth. As Dan Woods, a partner at White & Case, Log Cabin's law firm put it
Using President Obama's exact words, Log Cabin's lawyers then asked the government to admit that what the President said was true. Justice Department lawyers objected, Log Cabin filed and won a motion to compel the government to answer the questions, the government appealed, and the court rejected the appeal. Consequently, on Monday, April 12, 2010, the government finally had to answer the questions and, when the Justice Department lawyers answered, they denied the truth of what the President had said.
This puts the President in a difficult position. He is talking out of both sides of his mouth. His Department of Justice speaks for him. It makes legal arguments that are consistent with the principles and factual conclusions of his administration.
Which is it, Mr. President?
Obama's "Short List" pick for SCOTUS might be anti-gay marriage
Timothy Kincaid
April 12th, 2010
ABC News is reporting that President Obama has at least one person on his "short list":
As speculation swirls about candidates on the president's list, administration officials have confirmed that at least one of the president's top picks is a former State Supreme Court justice who would be the first African-American woman to sit on the country's high court.

Former Georgia Supreme Court Justice Leah Ward Sears, an expert in family law and the first African-American woman to serve as a State Supreme Court chief justice, was on Obama's short list last year. A member of the left-leaning American Constitution Society, she is also a friend of conservative Justice Clarence Thomas.
While Sears is believed by some to be gay-supportive, her true passion is as an advocate for (heterosexual) marriage. And, as such, she has made statements, built alliances, and contributed to efforts in the past which suggest that she may not completely value equality for our community.
Writing in a Washington Post op-ed in October 2006, Sears made "the case for marriage". And she identified allies in her quest to have people "get married, stay married".
I am not alone. For example, "Reconceiving the Family," a new book published by Cambridge University Press critiquing the ALI's "principles," has contributions from 27 family law scholars, including two other state supreme court chief justices. The Institute for American Values recently published a statement, signed by many legal and family scholars, that concluded that "a prime goal of family law should be to identify new ways to support marriage as a social institution so that each year more children are protected by being raised within the marital unions of their parents." Moreover, the supreme court in my state just established a Commission on Children, Marriage and Family Law with an important goal: to find ways to reduce unnecessary divorce and unmarried childbearing. [emphasis added]
If the Institute for American Values sounds familiar, it is because it is the brainchild of David Blankenhorn, the chief witness on the anti-gay side in Perry v. Schwarzenegger. The book Reconceiving the Family is available at his site, and the following is from the synopsis of the statement that Sears commends:
Unfortunately, the recent trend in family law as a discipline and practice has been just the opposite. Family law as a discipline has increasingly tended to commit two serious errors with regard to marriage: (a) to reduce marriage to a creature of statute, a set of legal benefits created by the law, and (b) to imagine marriage as just one of many equally valid lifestyles. This model of marriage is based on demonstrably false and therefore destructive premises. Adopting it in family law as a practice or as an academic discipline will likely make it harder for civil society in the United States to strengthen marriage as a social institution.

As scholars and as citizens, we recognize a shared moral commitment to the basic human dignity of all our fellow citizens, black or white, straight or gay, married or unmarried, religious and non-religious, as well as a moral duty to care about the well-being of children in all family forms. But sympathy and fairness cannot blind us to the importance of the basic sexual facts that give rise to marriage in virtually every known society: The vast majority of human children are created through acts of passion between men and women. Connecting children to their mother and father requires a social and legal institution called "marriage" with sufficient power, weight, and social support to influence the erotic behavior of young men and women.

We do not all agree on individual issues, from the best way to reform unilateral divorce to whether and how the law should be altered to benefit same-sex couples. We do agree that the conceptual models of marriage used by many advocates are inadequate and thus contribute to the erosion of a marriage culture in the United States. We seek to work together across the divisive issue of gay marriage to affirm the basic importance of marriage to our children and to our society. We call on all the makers of family law—legislators, judges, the family law bar, and legal scholars who create the climate in which other players operate—to develop a deeper understanding of and commitment to marriage as a social institution.

A prime goal of marriage and family law should be to identify new ways to support marriage as a social institution, so that each year more children are protected by the loving marital unions of their mother and father.[Emphasis added]
It is immediately obvious that whatever values are being discussed and whatever disagreement there may be over "whether and how the law should be altered to benefit same-sex couples", there was absolute agreement that same-sex marriages are "destructive" and "contribute to the erosion of a marriage culture." In fact, by the time that Sears commended Blankenhorn, he had become best known for his opposition to marriage equality.
Sears has also teamed up with Blankenhorn to sponsor his marriage debates with Jonathan Rouch, and to further the visibility of her own campaign to support heterosexual marriage. (Law.com)
Chief Justice Leah Ward Sears said that the 48-foot-wide, 14-foot-tall billboards are one of the few things a jurist can do to battle high crime rates, high divorce rates and low numbers of fathers raising their kids.

Along with the "Get Married, Stay Married" slogan, each sign shows a happy-looking mother, father and child and one of two messages: "Children do better with parents together" or "For Children's Sake."

"We paid $50,000 to get about $500,000 worth of billboard space to send this vital message," Sears said, noting that the costs of the billboards themselves were paid by the Georgia Bar Foundation and "not state money." The billboard space was donated by the Outdoor Advertising Association of Georgia, which donates unused billboard space to charitable, civic and governmental organizations.

Sears' comments came in an interview last week at a more substantive part of her crusade — a two-day conference on marriage for about 250 lawyers, social workers, clergy people and therapists. The event was sponsored by the high court's commission and the New York-based Institute for American Values, which calls itself a "private, nonprofit, nonpartisan organization that contributes intellectually to strengthening families and civil society in the U.S. and the world."
While Sears appears to value Blankenhorn and his premises, she has been coy on her own position on the issue. Opponents of Sears claimed that she supported gay marriage in an effort to discredit her elections, but this is not immediately evident from her writing.
Writing in the New York University Law Review in 2007, she said
Finally, before I go any further, I would like to comment briefly on the scope of this Lecture, particularly as it relates to the subject of same-sex marriage. This topic remains a deeply polarizing one for large numbers of Americans, regardless of their sexual orientation. If I were to stake out a legal position on this subject, my comments would hopelessly overshadow anything else I might say about marriage and family fragmentation. More importantly, it would be inappropriate for me, as a sitting judge, to do so. Therefore, this Lecture addresses the more basic question of whether the law should support marriage as an institution at all. The national debate over same-sex marriage raises a host of important issues, and those issues must ultimately be resolved. But as we struggle to work out a consensus, we must not put off the job of reflecting on marriage as we now have it.
Yet one cannot read any of her perspectives on marriage without immediately recognizing that Sears believes that 1) marriage is about children, 2) parents are defined as the natural biological father and the natural biological mother, 3) biological mother/father/child families deserve preference, and 4) other socially recognized structures are destructive to the special status that heterosexual marriage deserves.
We do not, of course, know the extent to which her personal views will color her decisions. But we do know that in 2006, her positions on the constitutional ban on same-sex marriage in the State of Georgia left her on both sides of the issue.
She (and one other justice) opined that the one-sentence amendment was too vague to be put on the ballot because it did not adequately warn voters that civil unions were also being banned. Yet, after the election when a judge struck down the amendment, she voted with the rest of the Georgia Supreme Court to reinstate the ban.
More may come up on Judge Sears which will alleviate my concerns. But until it does, I am troubled by her perspectives on marriage, family, and children and fear that she may prove on the Highest Court to be a life-long opponent to marriage equality.

(hat tip to reader Matt, who brought this to our attention)
Some proud President days
Timothy Kincaid
February 15th, 2010
When it comes to ensuring the equality of all citizens, especially gay citizens, it can seem that Presidents lag far behind legislators, judges, and society at large. It would be easy to compile a large litany of abuses that Presidents have heaped on the non-heterosexual community. But there have also been days in which Presidents took action that is laudable and to their credit. And, just some steps that I included because they amuse me.
Here are a few (but certainly not all) moments in which Presidents and our community interacted:

February 23, 1778 – Baron Friedrich von Steuben arrived to offer his services General George Washington (not yet President) and his Continental Army. Steuben was probably Washington's best military asset, as he provided the training and structure that had been up until then missing from the Americans. Steuben's methods would be utilized for the next century and a half. Although Washington officially did not tolerate homosexual acts (drumming out an officer caught in the act of, um, fraternizing), Steuben's reputation – and accompaniment of handsome men – did not dissuade the General from placing him in authority. One could even suggest that "don't ask, don't tell" was the military policy from the start.
March 4, 1857 – President James Buchanan was sworn into office. Buchanan was a bachelor who had lived for 15 years with Alabama Senator William Rufus King (King had died in 1852, after serving as Vice President for less than a month). While evidence of the two as a couple is not overwhelmingly conclusive enough to convince those who are inclined to dismiss any historical inclusion of non-heterosexuality (the nieces of the two men burned their correspondences), contemporaries certainly seemed to think of them in this manner. Buchanan was our only bachelor President, a sin that would certainly be seen as a liability today.
March 5, 1861 – President Abraham Lincoln was sworn into office. While rumors about Lincoln were less pronounced than those about his predecessor, his space sharing was even more intimate than that of Buchanan. In his late 20's he met Joshua Speed, moved in with him, and shared his bed for the next four years. The two exchanged flowery letters expressing devotion, and C. A. Tripp, in The Intimate World of Abraham Lincoln, argued that Lincoln was primarily same-sex attracted. Dissenters argue that sharing beds was common in an era in which beds were scarce. However, they are a bit less adamant about a shortage of beds in the White House when Lincoln shared his bed with David Derickson, his bodyguard, when Mary Todd Lincoln was away. Whether, indeed, Lincoln was primarily homosexual in orientation, he was certainly unconventional in his bed-mate patterns and worthy of mention.
November 1, 1978 – The Briggs Initiative was on the California ballot, for a November 7 vote. If passed, it would have banned gay man and women from working in California's public schools. Ronald Reagan, the prior Governor and soon to be President, wrote an editorial in the Los Angeles Herald-Examiner opposing the bill, saying "Whatever else it is, homosexuality is not a contagious disease like the measles. Prevailing scientific opinion is that an individual's sexuality is determined at a very early age and that a child's teachers do not really influence this." This was an official follow-up on a September interview in which he expressed his opposition, and the timing of the editorial is closely associated with a massive shift from strong support to overwhelming opposition. In January 1981, the decorators for Nancy Reagan are the first known gay couple to spend the night in the White House.
January 20, 1993 – President Bill Clinton was sworn into office. Clinton was the first President elected with a campaign which included specific gay rights provisions and shortly into his term, Clinton sought to fulfill his promises by lifting the ban on open service of gay personnel. He ran into immediate opposition in Congress and ultimately signed off on the "compromise" that became Don't Ask, Don't Tell as well as the Defense of Marriage Act, both of which still haunt us. But for a brief shining moment the world looked full of promise. In October 1997, Clinton nominated James Hormel, an openly gay man and significant contributor, to be Ambassador to Luxembourg. After a year and a half of opposition from conservative Senators, Clinton employed a recess appointment in May 1999 and Hormel was sworn in the following month.
February 23, 1996 – Former President Jimmy Carter, writing in the LA Times, called for a rejection of "the politics of hate." He stated, "We must make it clear that a platform of 'I hate gay men and women' is not a way to become president of the United States." On April 5, 2004, in an interview with the American Prospect, he set himself in opposition to George Bush's election campaign against same-sex couples. "I personally, in my Sunday-school lessons, don't favor the religious endorsement of a gay marriage. But I do favor equal treatment under the law for people who differ from me in sexual orientation." In December of the following year, he reiterated, "My own belief is that there should be a distinction between so-called gay marriages, which I look upon as a possibility of a church- ordained blessing of God on a union, which I think should be between a man and a woman. But at the same time, that people who do have gay union in a court or in secular terms not relating to religion, should be treated with complete equality."
September 18, 2001 – Michael Guest was sworn in as Ambassador to Romania. Unlike James Hormel, this George W. Bush appointment was based on civil service record and received Senate confirmation. This early in W's first term, there was considerable optimism that he would oversee an inclusive administration.
October 29, 2001 – Reporter Deb Price ran an article based on an interview with former President Gerald Ford. To her surprise, Ford endorsed non-discrimination and declared that gay couples should have the same tax and Social Security rights as married heterosexuals. "I think they ought to be treated equally. Period." That year Ford joined the Republican Unity Coalition, an organization dedicated to making sexual orientation a non-issue in the Republican Party, thus becoming the only President to engage in pro-gay activism. Shortly before his 2006 death, Ford discussed with his Episcopal priest the divisions in the denomination over the place of gay congregants in the church. In his homily, his pastor noted, "He said he did not think (such inclusive steps) should be divisive for anyone who lived by the Great Commandments and the Great Commission — to love God and to love neighbor." Ford was the only President who was not elected to any position by the American voters at large. He was sent to Congress by the people of Grand Rapids. After the resignation of Vice-President Spiro Agnew, Ford was selected as a replacement based primarily on his reputation for honesty and integrity, and he become president upon the resignation of Richard Nixon.
The current President has promised to be a fierce advocate for our community. And history will advise us of the most favorable action that President Barack Obama will take in his administration. To date, we are thankful for statements made during the election cycle, for Bishop Robinson's inaugural prayer, for several gay appointments, and for current efforts to reverse the ban on open service in the military. Let's hope we have much for to celebrate next Presidents' Day.
Undoubtedly, I've omitted several milestones, for which I apologize. Feel free to praise Presidents in the comments section (for today, let's try and keep it to praise. We'll start the criticism again tomorrow.)
Ugandan Ethics Minister to Obama: "Ouch!!! Stop That!"
Jim Burroway
February 4th, 2010
With unprecidented speed, Uganda's Ethics and Integrity Minister James Nsaba Buturo quickly lashed out at President Barack Obama's denunciation of the Anti-Homosexuality Bill that is now before Uganda's Parliament. President Obama called the bill "odious" earlier today during an address at the National Prayer Breakfast. Buturo very quickly shot back that Obama's statement was "unacceptable" interference:
"Somebody should tell President Obama that the parliament is doing its legislative duty in the interest of the people of Uganda," James Nsaba Buturo, Ugandan minister of ethics and integrity, told AFP.

…"Members of parliament have a constitutional duty to choose between what the people of Uganda want and what others want, and I am sure they will choose what the people of Uganda want," he said."
President Obama finished his remarks at the National Prayer Breakfast at 9:25 am, Washington, D.C. locak time. Kampala is eight hours ahead, which would be about 5:25 pm local time there. The AFP's report came out "seven hours ago" as I write this, which would put this report at about ten-ish am Washington time, or six-ish pm Kampala time, perhaps 7:00 pm at the very latest. That's not much time for Buturo to hear Obama's remarks, react to it to a reporter, and have the reporter file his story with AFP. That kind of quick reaction is extremely rare, which can only mean one thing: Obama's statement landed a solid blow. It may not be a fatal hit, but Uganda's political leadership definitely felt it.
Click here to see BTB\'s complete coverage of recent anti-gay developments in Uganda.
Obama Calls Uganda's Anti-Gay Bill "Odious"
Jim Burroway
February 4th, 2010
Update: Secretary of State Hillary Clinton also denounced the bill. See below.
President Barack Obama, speaking today at the National Prayer Breakfast, denounced the draconian Anti-Homosexuality Bill that is currently before Uganda's Parliament as "odious." In prepared remarks, in which Obama talked about the essential role of civility in a functioning democracy, Obama said:
We may disagree about gay marriage, but surely we can agree that it is unconscionable to target gays and lesbians for who they are — whether it's here in the United States or, as Hillary mentioned, more extremely in odious laws that are being proposed most recently in Uganda.
Uganda's proposed anti-gay law is sponsored by MP David Bahati, who has ties with the secretive Evangelical group known as the Family, the same group that organizes the National Prayer Breakfast. Since those connections to Bahati became known, the Family has been scrambling  to distance itself from the legislation.
Update: One feature of the National Prayer Breakfast is that the main speakers are always the President of the United States and an unannounced surprise keynote speaker. This year, that keynote speaker was Secretary of State Hillary Clinton. She also used that platform to denounce Uganda's proposed legislation:
Every time I travel, I raise the plight of girls and women, and make it clear that we expect to see changes. And I recently called President Museveni, who I have known through the Prayer Breakfast, and expressed the strongest concerns about a law being considered in the Parliament of Uganda.
Think Progress has posted video excerpts from C-SPAN Obama's and Clinton's remarks: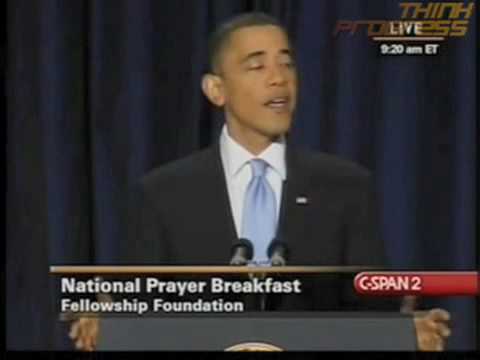 Click here to see BTB\'s complete coverage of recent anti-gay developments in Uganda.
Obama: Finally Repeal "Don't Ask, Don't Tell"
Jim Burroway
January 27th, 2010
The President's State of the Union address, I thought, was one of the finest addresses ever given. He chastised the largest majority in recent history for its failure to get substantial work done, and he challenged the minority to live up to its responsibility to offer solutions if it is going to insist that a 60-vote super-majority will be required to get anything done in the Senate. This is a fighting spirit that has been missing from the White House over the past year. I frankly hope the President recognizes that change requires leadership from 1600 Pennsylvania Avenue, leadership which won't come from the mob on Capital Hill.
But hope and reality are two different things. And given what we've seen over the past year, it's  hard to get too excited over this particular part of the President's address:
My Administration has a Civil Rights Division that is once again prosecuting civil rights violations and employment discrimination. We finally strengthened our laws to protect against crimes driven by hate. This year, I will work with Congress and our military to finally repeal the law that denies gay Americans the right to serve the country they love because of who they are.
The Servicemembers Legal Defense Network calls for a sense of urgency:
We applaud the President tonight for his call to Congress to repeal "Don't Ask, Don't Tell" this year. We very much need a sense of urgency to get this done in 2010. We call on the President to repeal the archaic 1993 law in his defense budget currently now being drafted, that is probably the only and best moving bill where DADT can be killed this year. As Rep. Patrick Murphy and Sen. Gillibrand have made clear, this is the year to repeal the law. What is also needed is more attention and leadership to win repeal. The American public, including conservatives, is overwhelmingly with the commander in chief on this one.
Richard Socarides: Obama and DADT
Jim Burroway
January 25th, 2010
Richard Socarides was Pres. Bill Clinton's special assistant and senior White House adviser on gay rights from 1997 to 1999. In an op-ed in this morning's Wall Street Journal, he asks whether President Barack Obama is more interested in the constitutional rights for Guantanamo detainees than for LGBT citizens serving the military fighting terrorism:
What is especially troubling, however, is Mr. Obama's oversensitivity to a dwindling minority of bigots on this issue. Hundreds of military careers have been destroyed on his watch for no valid reason. The country has been deprived of the talents of these service members and has wasted millions of dollars on their training.

Many wonder when their president will show the same kind of concern for the constitutional rights of gay American service members as he has for enemy combatants held at Guantanamo Bay. Many wonder what the administration's willingness to treat gay Americans as second-class citizens says to Uganda and other countries that are considering laws that would subject gays to imprisonment and even death.

Gay Americans have been among the president's most ardent supporters. Their enthusiasm, and that of their families and friends, could be crucial in this year's elections. The president's action—or inaction—on Don't Ask Don't Tell will be noticed.
Ninety US Congress Reps Denounce Uganda's Anti-Gay Bill
Jim Burroway
January 21st, 2010
Rep. Tammy Baldwin (D-WI) issued a press release announcing that more than ninety colleagues in the House of Representatives, including Barny Frank (D-MA) and Jared Polis (D-CO), have sent separate letters to President Barack Obama (PDF: 2 MB/6 pages) and Ugandan President Yoweri Museveni (PDF: 5 pages/1.7 MB ) calling the proposed Anti-Homosexuality Bill "the most extreme and hateful attempt by an African country to criminalize their LGBT community." According to the press release:
In the letters, the Members of Congress call the Ugandan Anti-Homosexuality Act of 2009 "the most extreme and hateful attempt by an African country to criminalize their LGBT community." The Members asked President Obama to use his "personal leadership, and that of our country, in seeking to deter these legislative proposals," and warned President Museveni that, "Should the bill be passed, any range of bilateral programs important to relations between our countries and, indeed, to the Ugandan people inevitably would be called under review."
Rep. Baldwin called the proposed legislation "an appalling violation of human rights," and calls on President Obama to "use the full force of his office to oppose this hateful and life-threatening legislation." Rep. Polis said, "This is nothing more than the institutionalization of hatred and bigotry and it must be stopped," while calling on Obama and Museveni "to do everything in their powers to prevent it from becoming law."
Rep. Frank said, "Having accepted debt relief from the international community only a few years ago, Uganda has an obligation to show some respect for basic human rights. He also warned that "Vicious unleashing of persecution of gay, lesbian, bisexual and transgender people should and will be an obstacle to any future Congressional initiative to provide aid to that country."
Click here to see BTB\'s complete coverage of the past year\'s anti-gay developments in Uganda.
Click here to read the letters sent to President Barack Obama and Ugandan President Yoweri Museveni.
Congressmen request data on DADT discharges
Timothy Kincaid
December 22nd, 2009
Today ninety-six Congressmen, 22% of the House, requested that the Pentagon provide documentation on discharged gay servicemen. (press release)
Today, ninety-six members of Congress sent a letter to Defense Secretary Robert Gates requesting all 2009 "don't ask, don't tell" discharge data in an effort to ready their arguments for the impending 2010 debate on the gay ban. The letter was authored by Congressman Jim Moran (D-VA), a member of the House Defense Appropriations subcommittee and was signed by Rep. Patrick Murphy (D-PA), lead sponsor of the bill to repeal "don't ask, don't tell." Members are requesting up-to-date information on the number of service members discharged in 2009 under the Obama Administration as well as information about their job specialties, years of service and branch in which they served.
It seems that this Congressional caucus will not be allowing discharges to be conducted without scrutiny or notice. (letter)
To increase transparency on the effects the DADT policy is having on our military and by extension our national defense, we request that the Office of the Secretary of Defense provide data on the current number of DADT discharges since January 1, 2009 to the present, no later than January 15, 2010. In addition, we request monthly reports thereafter to Congress detailing the number of enlisted service members and officers discharged under the policy including their job specialty (MOS), time in the service and branch of the military.
This is an effort to pressure the White House and the military to begin the process of fulfilling the President's campaign promise to reverse this discriminatory policy. Clearly, if the President chooses not to take the lead on this issue, a sizable number of delegates in his own party are willing to embarrass him.