Ugandan Ethics Minister to Obama: "Ouch!!! Stop That!"
Jim Burroway
February 4th, 2010
With unprecidented speed, Uganda's Ethics and Integrity Minister James Nsaba Buturo quickly lashed out at President Barack Obama's denunciation of the Anti-Homosexuality Bill that is now before Uganda's Parliament. President Obama called the bill "odious" earlier today during an address at the National Prayer Breakfast. Buturo very quickly shot back that Obama's statement was "unacceptable" interference:
"Somebody should tell President Obama that the parliament is doing its legislative duty in the interest of the people of Uganda," James Nsaba Buturo, Ugandan minister of ethics and integrity, told AFP.

…"Members of parliament have a constitutional duty to choose between what the people of Uganda want and what others want, and I am sure they will choose what the people of Uganda want," he said."
President Obama finished his remarks at the National Prayer Breakfast at 9:25 am, Washington, D.C. locak time. Kampala is eight hours ahead, which would be about 5:25 pm local time there. The AFP's report came out "seven hours ago" as I write this, which would put this report at about ten-ish am Washington time, or six-ish pm Kampala time, perhaps 7:00 pm at the very latest. That's not much time for Buturo to hear Obama's remarks, react to it to a reporter, and have the reporter file his story with AFP. That kind of quick reaction is extremely rare, which can only mean one thing: Obama's statement landed a solid blow. It may not be a fatal hit, but Uganda's political leadership definitely felt it.
Click here to see BTB's complete coverage of recent anti-gay developments in Uganda.
Obama Calls Uganda's Anti-Gay Bill "Odious"
Jim Burroway
February 4th, 2010
Update: Secretary of State Hillary Clinton also denounced the bill. See below.
President Barack Obama, speaking today at the National Prayer Breakfast, denounced the draconian Anti-Homosexuality Bill that is currently before Uganda's Parliament as "odious." In prepared remarks, in which Obama talked about the essential role of civility in a functioning democracy, Obama said:
We may disagree about gay marriage, but surely we can agree that it is unconscionable to target gays and lesbians for who they are — whether it's here in the United States or, as Hillary mentioned, more extremely in odious laws that are being proposed most recently in Uganda.
Uganda's proposed anti-gay law is sponsored by MP David Bahati, who has ties with the secretive Evangelical group known as the Family, the same group that organizes the National Prayer Breakfast. Since those connections to Bahati became known, the Family has been scrambling  to distance itself from the legislation.
Update: One feature of the National Prayer Breakfast is that the main speakers are always the President of the United States and an unannounced surprise keynote speaker. This year, that keynote speaker was Secretary of State Hillary Clinton. She also used that platform to denounce Uganda's proposed legislation:
Every time I travel, I raise the plight of girls and women, and make it clear that we expect to see changes. And I recently called President Museveni, who I have known through the Prayer Breakfast, and expressed the strongest concerns about a law being considered in the Parliament of Uganda.
Think Progress has posted video excerpts from C-SPAN Obama's and Clinton's remarks: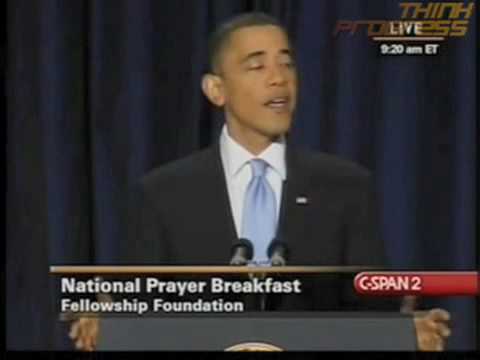 Click here to see BTB's complete coverage of recent anti-gay developments in Uganda.
Obama: Finally Repeal "Don't Ask, Don't Tell"
Jim Burroway
January 27th, 2010
The President's State of the Union address, I thought, was one of the finest addresses ever given. He chastised the largest majority in recent history for its failure to get substantial work done, and he challenged the minority to live up to its responsibility to offer solutions if it is going to insist that a 60-vote super-majority will be required to get anything done in the Senate. This is a fighting spirit that has been missing from the White House over the past year. I frankly hope the President recognizes that change requires leadership from 1600 Pennsylvania Avenue, leadership which won't come from the mob on Capital Hill.
But hope and reality are two different things. And given what we've seen over the past year, it's  hard to get too excited over this particular part of the President's address:
My Administration has a Civil Rights Division that is once again prosecuting civil rights violations and employment discrimination. We finally strengthened our laws to protect against crimes driven by hate. This year, I will work with Congress and our military to finally repeal the law that denies gay Americans the right to serve the country they love because of who they are.
The Servicemembers Legal Defense Network calls for a sense of urgency:
We applaud the President tonight for his call to Congress to repeal "Don't Ask, Don't Tell" this year. We very much need a sense of urgency to get this done in 2010. We call on the President to repeal the archaic 1993 law in his defense budget currently now being drafted, that is probably the only and best moving bill where DADT can be killed this year. As Rep. Patrick Murphy and Sen. Gillibrand have made clear, this is the year to repeal the law. What is also needed is more attention and leadership to win repeal. The American public, including conservatives, is overwhelmingly with the commander in chief on this one.
Richard Socarides: Obama and DADT
Jim Burroway
January 25th, 2010
Richard Socarides was Pres. Bill Clinton's special assistant and senior White House adviser on gay rights from 1997 to 1999. In an op-ed in this morning's Wall Street Journal, he asks whether President Barack Obama is more interested in the constitutional rights for Guantanamo detainees than for LGBT citizens serving the military fighting terrorism:
What is especially troubling, however, is Mr. Obama's oversensitivity to a dwindling minority of bigots on this issue. Hundreds of military careers have been destroyed on his watch for no valid reason. The country has been deprived of the talents of these service members and has wasted millions of dollars on their training.

Many wonder when their president will show the same kind of concern for the constitutional rights of gay American service members as he has for enemy combatants held at Guantanamo Bay. Many wonder what the administration's willingness to treat gay Americans as second-class citizens says to Uganda and other countries that are considering laws that would subject gays to imprisonment and even death.

Gay Americans have been among the president's most ardent supporters. Their enthusiasm, and that of their families and friends, could be crucial in this year's elections. The president's action—or inaction—on Don't Ask Don't Tell will be noticed.
Ninety US Congress Reps Denounce Uganda's Anti-Gay Bill
Jim Burroway
January 21st, 2010
Rep. Tammy Baldwin (D-WI) issued a press release announcing that more than ninety colleagues in the House of Representatives, including Barny Frank (D-MA) and Jared Polis (D-CO), have sent separate letters to President Barack Obama (PDF: 2 MB/6 pages) and Ugandan President Yoweri Museveni (PDF: 5 pages/1.7 MB ) calling the proposed Anti-Homosexuality Bill "the most extreme and hateful attempt by an African country to criminalize their LGBT community." According to the press release:
In the letters, the Members of Congress call the Ugandan Anti-Homosexuality Act of 2009 "the most extreme and hateful attempt by an African country to criminalize their LGBT community." The Members asked President Obama to use his "personal leadership, and that of our country, in seeking to deter these legislative proposals," and warned President Museveni that, "Should the bill be passed, any range of bilateral programs important to relations between our countries and, indeed, to the Ugandan people inevitably would be called under review."
Rep. Baldwin called the proposed legislation "an appalling violation of human rights," and calls on President Obama to "use the full force of his office to oppose this hateful and life-threatening legislation." Rep. Polis said, "This is nothing more than the institutionalization of hatred and bigotry and it must be stopped," while calling on Obama and Museveni "to do everything in their powers to prevent it from becoming law."
Rep. Frank said, "Having accepted debt relief from the international community only a few years ago, Uganda has an obligation to show some respect for basic human rights. He also warned that "Vicious unleashing of persecution of gay, lesbian, bisexual and transgender people should and will be an obstacle to any future Congressional initiative to provide aid to that country."
Click here to see BTB's complete coverage of the past year's anti-gay developments in Uganda.
Click here to read the letters sent to President Barack Obama and Ugandan President Yoweri Museveni.
Congressmen request data on DADT discharges
Timothy Kincaid
December 22nd, 2009
Today ninety-six Congressmen, 22% of the House, requested that the Pentagon provide documentation on discharged gay servicemen. (press release)
Today, ninety-six members of Congress sent a letter to Defense Secretary Robert Gates requesting all 2009 "don't ask, don't tell" discharge data in an effort to ready their arguments for the impending 2010 debate on the gay ban. The letter was authored by Congressman Jim Moran (D-VA), a member of the House Defense Appropriations subcommittee and was signed by Rep. Patrick Murphy (D-PA), lead sponsor of the bill to repeal "don't ask, don't tell." Members are requesting up-to-date information on the number of service members discharged in 2009 under the Obama Administration as well as information about their job specialties, years of service and branch in which they served.
It seems that this Congressional caucus will not be allowing discharges to be conducted without scrutiny or notice. (letter)
To increase transparency on the effects the DADT policy is having on our military and by extension our national defense, we request that the Office of the Secretary of Defense provide data on the current number of DADT discharges since January 1, 2009 to the present, no later than January 15, 2010. In addition, we request monthly reports thereafter to Congress detailing the number of enlisted service members and officers discharged under the policy including their job specialty (MOS), time in the service and branch of the military.
This is an effort to pressure the White House and the military to begin the process of fulfilling the President's campaign promise to reverse this discriminatory policy. Clearly, if the President chooses not to take the lead on this issue, a sizable number of delegates in his own party are willing to embarrass him.
White House Condemns Uganda's Anti-Homosexuality Bill
Jim Burroway
December 12th, 2009
Kerry Eleveld at The Advocate reports that the White House has issued a statement condemning Uganda's proposed Anti-Homosexuality Bill:
"The President strongly opposes efforts, such as the draft law pending in Uganda, that would criminalize homosexuality and move against the tide of history," read the statement that came late Friday in response to an inquiry from The Advocate.
Click here to see BTB's complete coverage of the past year's anti-gay developments in Uganda.
Obama Signs Hate Crimes Act Into Law
Jim Burroway
October 28th, 2009
President Barack Obama today signed the Matthew Shepard Hate Crimes Act into law. This act, which adds sexual orientation and gender identity to the previously existing categories of race, religion and ethnicity for protection against violent bias crimes, is the culmination of  a decade of persistence by Dennis and Judy Shepard and LGBT advocacy groups.
The Matthew Shepard Foundation released the following statement:
When Dennis and I started calling 10 years ago for federal action to  prevent and properly prosecute hate crimes against gay, lesbian and transgendered Americans, we never imagined it would take this long," said Judy Shepard, Matthew's mother and the president of the Matthew Shepard Foundation Board of Directors.

"The legislation went through so many versions and so many votes that we had to constantly keep our hopes in check to keep from getting discouraged," she continued. "But with President Obama's support and the continually growing bipartisan majorities in the House and Senate lining up behind the bill this year, it became clear that 2009 was the year it would finally happen."
White House Opposes Anti-Gay Ballot Measures
Jim Burroway
October 16th, 2009
Kerry Eleveld at The Advocate is reporting that the White House has come out against efforts in Maine and Washington state to strip LGBT Americans their marriage and partnership rights:
In response to an inquiry from The Advocate, the White House issued the following statement regarding President Barack Obama's position on same-sex relationship recognition voter referenda in Maine and Washington.

"The President has long opposed divisive and discriminatory efforts to deny rights and benefits to same-sex couples, and as he said at the Human Rights Campaign dinner, he believes 'strongly in stopping laws designed to take rights away.' Also at the dinner, he said he supports, 'ensuring that committed gay couples have the same rights and responsibilities afforded to any married couple in this country.'"
Update: This statement builds on what President Barack Obama said at the HRC dinner last weekend:
Will we uphold the ideals on which this nation was founded:  that all of us are equal, that all of us deserve the same opportunity to live our lives freely and pursue our chance at happiness?  I believe we can; I believe we will. And that is why I support ensuring that committed gay couples have the same rights and responsibilities afforded to any married couple in this country.   I believe strongly in stopping laws designed to take rights away and passing laws that extend equal rights to gay couples.
Candidate Obama Addresses HRC
This commentary is the opinion of the author and may not necessarily reflect those of other authors at Box Turtle Bulletin.
Jim Burroway
October 10th, 2009
When he becomes President, he's going to sign the Matthew Shepard Hate Crimes Act, he'll sign the Employment Non-Discrimination Act if it ever sees the light of day, and sometime during his presidency he's going to end Don't Ask, Don't Tell. Oh, and he's gonna appoint a gay ambassador or two, and we're all invite to the big Easter Egg roll.
Seriously, I guess it was a good speech — a great one considering that it reflects the sentiment of a sitting president. "My commitment to you is unwavering," he said, and I actually believe it as far as the speech goes. Which makes it a home-run of a speech when compared to previous Presidents' speeches I can name. And I really like the way he promised to stand behind his LGBT appointees against a blistering attack by the right.
And we must not lose sight of the fact that he is appearing before a major LGBT advocacy group. Please correct me if I'm wrong, but I don't recall a president speaking before, say, Focus On the Family or at the Values Voter Summit. Obama's presence at the HRC made for about an hour's worth of video tape which can be used by his opponents in 2010 and 2012. Meanwhile his remarks will be discussed on Sunday morning talk shows and news outlets across America among the larger American audience who really hasn't been much engaged in these issues. The topics he raised went out to a much broader audience, and not just to the LGBT people and their allies in that room. These are no small things. Let's take a moment to be grateful for it.
..
..

Okay. Moment's over. I think we've all heard this speech before. It's an oldie but goodie. I'll never tire of hearing it. But the great thing about being President is that he can do a whole lot more than just give speeches to the diehard faithful. Now that, you know, he's actually President, he has a tremendous bully pulpit with Congress — and with voters in Maine and Washington (which, by the way, he didn't mention). There are some Executive Orders he can sign on DADT, and some DOJ briefs on DOMA he can influence. You know, Presidential executive-type stuff. Action-type stuff.
I hope this time next year, we'll get to hear from President Obama, not Candidate Obama.
Rewarding Intentions
Timothy Kincaid
October 9th, 2009
President Barack Obama has won the Nobel Peace Prize.
Some around the world objected to the choice of Obama, who still oversees wars in Iraq and Afghanistan and has launched deadly counter-terror strikes in Pakistan and Somalia.

The Norwegian Nobel Committee countered that it was trying "to promote what he stands for and the positive processes that have started now." It lauded the change in global mood wrought by Obama's calls for peace and cooperation, and praised his pledges to reduce the world stock of nuclear arms, ease American conflicts with Muslim nations and strengthen the U.S. role in combating climate change.
If we are now presenting awards based on intentions and promises rather than on actions and accomplishments, then no doubt the Human Rights Campaign will be awarding the President on Saturday with the Fierce Advocate Award.
CNN on Obama's LGBT Record
Jim Burroway
October 9th, 2009
And in the second half of this clip, Cleve Jones gives a great interview on this weekend's National Equality March in Washington, D.C.
Obama To Speak At HRC Dinner
Jim Burroway
October 5th, 2009
It's eleven months after the election, and we still don't have hate crimes protection. That was supposed to be the easy one. Now even that is in doubt. But we're still gonna gather at his feet and be thankful for the crumbs, aren't we?
President Obama will speak to a gathering of gay rights activists this weekend, a day before thousands of people are expected to march on Washington in a demonstration calling for greater legal protections for gays, lesbians and transgendered Americans.

Mr. Obama's appearance on Saturday at the annual dinner for the Human Rights Campaign, a leading gay rights advocacy group, represents a significant show of support for gay rights at a time when many prominent gay and lesbian activists have been questioning the president's commitment to their issues.
"Significant show of support"? How about something tangible we can really use, besides a great speech and a Salisbury steak.
Obama's Accomplishments
Jim Burroway
October 5th, 2009
He killed a fly. Remember that?
Obama Administration May Lift Ban on HIV+ Travel and Immigration
Timothy Kincaid
September 24th, 2009
During the waning days of the Bush Administration, the President came to recognize that the country's ban on travel and immigration for HIV positive persons was counter-productive and cruel. And, in a rare moment of compassion, he shepherded a bill through Congress allowing Health and Human Services to remove the ban.
Sadly, this change was included in the blanket reversal of last-minute policies when President Obama took office. But now it appears that the ban may finally be lifted. (Miami Herald)
Yesterday, the U.S. Citizenship and Immigration Services issues a memo which instructs USCIS officers to place a hold on any green card applications which would otherwise be denied simply due to the applicant's HIV status. The hold is pending release of the final HHS rule change which will completely eliminate the ban.

The memo signals that the administration is very close to final repeal of the ban, and is now instructing agencies to be ready for the change. USCIS is clearly expecting guidance from HHS very soon, and has decided to hold applications by HIV-positive applicants rather than deny them, as the new rule will no longer prohibit their entry into the country.
Harvey Milk, Billie Jean King To Receive Presidential Medal of Freedom
Jim Burroway
July 31st, 2009
The White House yesterday announced "sixteen agents of change" to recieve the Presidential Medal of Freedom, the nation's highest civilian honor. Among the sixteen are Harvey Milk and Billie Jean King. Focus On the Family, predictably, is having a complete meltdown over it.
Obama To NAACP: "Our Gay Brothers And Sisters Still Denied Their Rights"
Jim Burroway
July 17th, 2009
Moscow Protest By LGBT Advocates Called Off
Jim Burroway
July 6th, 2009
Russian gay activists have cancelled a planned July 7 protest in Moscow which was intended to coincide with a visit by President Barack Obama. Moscow authorities banned the protest in front of the U.S. Embassy, but that's not why organizers called it off. Organizer Nikolai Alekseev cited increased security and safety fears as factors:
He said: "In the context of another unlawful ban by the authorities on a public event as well as the special measures taken in the Russian capital during the visit by U.S. President Barack Obama, we have decided to cancel the event due to concerns over the safety of our members."
Moscow had banned an earlier Pride march that was set to coincide with the Eurovision Song Contest taking place in Moscow in May. That peaceful Pride march went ahead, but was quickly broken up within minutes by riot police.
DoD: Looking for Flexibility in DADT
Timothy Kincaid
June 30th, 2009
The American Forces Press Service is reporting that the President and Defense Secretary Gates are looking for ways to find flexibility in the Don't Ask – Don't Tell law that bans openly gay servicemembers. (transcript)
"What we have is a law, not a policy or regulation," Gates said. "And as I discovered when I got into it, it is a very prescriptive law. It doesn't leave a lot to the imagination or a lot of flexibility. So one of the things we are looking at is, Is there flexibility in how we apply this law?"

Gates cited the example of someone who's been "outed by a third party," possibly the result of blackmail or a jilting.

"Does that force us to take an action?" he questioned. "I don't know the answer to that. I don't want to pretend to. But that is the kind of thing we are looking at."
It sounds as though the community's very vocal and visible disgust with the administration may be beginning to give impetus to some action. If nothing else (and it is a bare minimum) the administration may be acting on the demands of 77 members of Congress who wrote a letter insisting that the military honor the "Don't Pursue" part of the law and that witch hunts not be initiated based on "tip", slurs, and insinuations from people outside of the military.
And if there's one more thing the President can do, it is this:
1. Pick up the telephone and call Rep. Ellen Tauscher Rep. Patrick Murphy. Tell her him you'll support HR1283, the Military Readiness Enhancement Act and that he should move forward.
2. Call a meeting with Rep. Taucher Murphy, Senate Majority Leader Reid, and Speaker of the House Pelosi and tell them that it's time to pass this bill.
3. Announce in a press conference that you've heard the will of the people, Democrat and Republican, Liberal and Conservative, all of whom support overturning the ban. Use language about discrimination and the best interest of the military. Tell the stories of the men and women who were linguists and medical personnel who were sorely needed but sacrificed to bigotry.
Come to think of it, if you go that route you don't have to worry about flexibility at all.
(hat tip Stefano)
Update: The lead on this bill has been assigned to Rep. Patrick Murphy
The President Gave A Very Good Speech
Jim Burroway
June 29th, 2009
The speech, the transcript of which is included below, was very good but also of little note. There's not much there that President Barack Obama hasn't said before when he met with some 250 to 300 LGBT guests in the East Room of the White House today. That gathering was billed as a commemoration for the 40th anniversary of the Stonewall Rebellion.
The President acknowledged Frank Kameny, who was fired in 1957 from the Army map service because he was gay. Later in the speech, he acknowledged the estimated 272 servicemembers who have been fired by the Pentagon since the start of his administration when he renewed his promise to repeal "Don't Ask, Don't Tell":
Someday, I'm confident, we'll look back at this transition and ask why it generated such angst, but as Commander-in-Chief, in a time of war, I do have a responsibility to see that this change is administered in a practical way and a way that takes over the long term.  That's why I've asked the Secretary of Defense and the Chairman of the Joint Chiefs of Staff to develop a plan for how to thoroughly implement a repeal.

I know that every day that passes without a resolution is a deep disappointment to those men and women who continue to be discharged under this policy — patriots who often possess critical language skills and years of training and who've served this country well.  But what I hope is that these cases underscore the urgency of reversing this policy not just because it's the right thing to do, but because it is essential for our national security.
The President also acknowledged the impatience of the LGBT community:
And I know that many in this room don't believe that progress has come fast enough, and I understand that.  It's not for me to tell you to be patient, any more than it was for others to counsel patience to African Americans who were petitioning for equal rights a half century ago.

But I say this:  We have made progress and we will make more.  And I want you to know that I expect and hope to be judged not by words, not by promises I've made, but by the promises that my administration keeps.  …  We've been in office six months now.  I suspect that by the time this administration is over, I think you guys will have pretty good feelings about the Obama administration.
He also addressed the Defense of Marriage Act, saying:
I've called on Congress to repeal the so-called Defense of Marriage Act to help end discrimination — (applause) — to help end discrimination against same-sex couples in this country.  Now, I want to add we have a duty to uphold existing law, but I believe we must do so in a way that does not exacerbate old divides.  And fulfilling this duty in upholding the law in no way lessens my commitment to reversing this law.  I've made that clear.
He says he wants to "uphold existing law" in a way "that does not exacerbate old divides." He apparently failed to understand that it was that very DOMA brief that exacerbated old divides. Maybe there's only one side of the divide he wants to avoid exacerbating, but not the other.
That said, I thought it was an excellent speech overall. But speeches are relatively unimportant. It's actions that matter.
But there were, I hope, some speeches in that room that will be more important than the President's. Those guests were given the opportunity to meet with and exchange a few words with the President afterward. If any speech will matter in the long run, it will be their stories, pleas and promises, not the President's. Let's hope they took advantage of that opportunity.
Click here to see the transcript of the President's remarks.