Ugandan Television Coverage of David Kato's Memorial Service
Jim Burroway
January 26th, 2012
It was one year ago today when Ugandan LGBT advocate David Kato was brutally murdered in his home. Today, NTV Uganda has posted this news report on a memorial service which was held on the grounds of the Emerald Hotel in Kampala.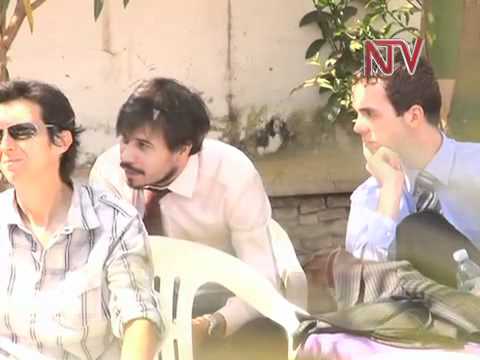 There has been a great deal of discussion over the past several years about the influence American pastors have had in stoking the flames of homophobia in Uganda. Against that backdrop, it was very refreshing to see an American pastor, Rev. Joseph Tolton of Rehoboth Temple Christ Conscious Church in New York City, speaking at the memorial. Also speaking at the memorial was Kato's mother and retired Anglican bishop Christopher Senyonjo.
Ugandan Gay Advocate's Alleged Murderer Sentenced To 30 Years
Jim Burroway
November 10th, 2011
Daily Monitor, Uganda's largest independent newspaper, reports that Sydney Nsubuga Enoch, who had plead guilty to murdering LGBT advocate David Kato, was sentenced to thirty years in prison. The African blog Behind the Mask also reports.
Justice Joseph Mulangira sentenced Nsubuga, on his own plea of guilty, for the murder of the gay rights activist on January 26, 2011 at his home in Mukono district.

Nsubuga pleaded guilty to both the police and before a magistrate, before he was committed to the High Court to stand trial.

Under Uganda's judicial systems capital offences such as murder, rape and defilement are only heard by the high court, although suspects are brought before magistrates and charges are read to them as investigations go on.
Nsubuga had been arrested in February, just a week after Kato's death. At the time, many LGBT activists in Uganda expressed doubts about the police investigation leading to the arrest. But in this article at Behind the Mask, Kato's layer, Francis Onyango, expressed satisfaction with the unusually speedy trial and conviction of Nsubuga, which seems to have caught everyone off guard. "Even the witnesses, lawyers and families of the man never knew he was convicted and sentenced. But this is normal in a criminal trial," he said.
Meanwhile, the account in Daily Monitor mirrors the story which had been spread by editors of the notorious Rolling Stone tabloid (no relation to the U.S. publication by the same name), which sought to place the blame on the murder of Kato himself. In this latest account from Daily Monitor, "The police issued a statement to the effect that Kato's killing was no way related to his campaign for gay rights." LGBT activists in Uganda disputed that assertion.
The suddenness of today's proceedings before anyone was even notified of the trial and sentencing only added to those doubts. Frank Mugisha, who is in Washington, D.C. to receive the Robert F. Kennedy Human Rights Award today, posted on his Facebook page, "It is disheartening that this trial happened secretly and hurriedly with out any one knowing about it and leaves many questions unanswered."
Davik Kato Kisule, the Advocacy and Litigation Officer for Sexual Minorities Uganda, was found in his home on January 26, 2011, after having been beaten in the head with a hammer or blunt object. Residents told police that they saw a man entering David's house, and then they saw him leaving dressed in the David's shoes and a jacket that covered part of his face. Later, they became suspicious and went to check on David but found the door locked. After they forced their way in, they found him and rushed him to Mulago Hospital, but he died on the way.
The attack occurred a few months after David's face appeared on the front page of the Ugandan tabloid Rolling Stone (no relation to the U.S. publication by the same name) under a headline that demanded "Hang Them!" Kato and others sued the paper, seeking damages and a permanent injunction against the paper's "outing" campaign. Kato and the other plaintiffs prevailed, and Rolling Stone ceased publication shortly after.
KC Vigil To Tell Lou Engle to Stop Exporting Hate to Uganda
Jim Burroway
February 17th, 2011
Soulforce and the Human Rights Campaign have announced a vigil this Sunday morning outside of the International House of Prayer in Kansas City, to ask fundamentalist pastor Lou Engle to "abandon his hateful and dangerouls anti-LGBT rhetoric and actions."
The vigil appears prompted by the recent murder of Ugandan LGBT advocate David Kato. Last summer, Engle traveled to Uganda where he voiced his support for the draconian Anti-Homosexuality Bill that would impose the death penalty of LGBT people under certain circumstances. He denied supporting the death penalty itself, but he did confirm that he does support the criminalization of consensual same-sex relationships between consenting adults. According to an updated press release from Soulforce and HRC, Engle has agreed to meet with the group "at a date to be determined."
Click here to read the full press release from Soulforce and HRC
Wikileaks Posts Cables from US Embassy in Uganda Concerning Anti-Homosexuality Bill
Jim Burroway
February 17th, 2011
[Update: As Paul Canning points out, these cables were originally released more than a week ago on the Spanish daily El Pais.]
The Guardian (UK) today posted cables provided by Wikileaks from the U.S. embassy in Uganda concerning that nation's consideration of the draconian Anti-Homosexuality Bill. In an accompanying article, The Guardian highlighted murdered LGBT rights advocate David Kato's reluctant participation in a UN-sponsored debate in December, 2009, in which he was mocked during his speech. According to the cables,
(Kato) delivered a well-written speech against the bill, but his words were almost inaudible due to "his evident nervousness". Throughout his talk a member of the Ugandan Human Rights Commission "openly joked and snickered" with supporters of the bill, the diplomat claimed in the cable.
The Christmas Eve, 2009 cable provide more context:
Bahati's late arrival delayed the event for more than an hour, and the UHRC failed to seat any representative of those opposed to the legislation at the head table, despite seating Bahati and – for unexplained reasons – Uganda's most outspoken anti-gay activist Martin Ssempa. A comment by an audience member later prompted the UHRC to correct this imbalance by inviting a clearly hesitant and nervous SMUG leader, David Kato, to sit beside Ssempa on the dais. Ssempa proceeded to shake Kato's hand while striking absurd poses for the assembled press corps.

Bahati's remarks mirrored his private statements to PolOffs. Bahati also attacked the White House statement opposing the bill, saying that he admires President Obama, that President Obama ran on a platform of change, and that Uganda's message to him is that "homosexuality is not a change but rather an evil that we must fight." At this point the room erupted in loud applause, led by Ssempa pounding his hand on the head table, and Bahati observed that oil revenues will free Uganda of foreign entanglements. At other points in Bahati's tirade against homosexuality, Ssempa registered his support by issuing audible sounds of disgust.
U.S. diplomat wrote of Bahati's "isolation" following Saddleback Church pastor Rick Warren's condemnation of the bill. The diplomat wrote:
Recent condemnations by Warren and other U.S. based individuals have further isolated Bahati. His homophobia, however, is blinding and incurable. Bahati, Buturo, and particularly Ssempa's ability to channel popular anger over Uganda's socio-political failings into violent hatred of a previously unpopular but tolerated minority is chilling. XXXXXXXXXXXX described Ssempa as an anti-homosexuality "extremist." XXXXXXXXXXXX said he opposes the legislation not because he favors homosexuality, but because legalizing persecution of homosexuals is the first step toward state sponsored persecution of other minority groups.
It's not just other minority groups which were concerned, but the political opposition to President Yoweri Museveni's 25-year rule as well:
In September, Otunnu accused state security services of running a smear campaign about his sexual orientation and HIV status to discredit a potential presidential bid (ref. D). XXXXXXXXXXXX speculated that Uganda could run a similar smear campaign against Besigye, forcing him to curtail presidential campaign activities.

XXXXXXXXXXXX said the opposition FDC fears Uganda will use the anti-homosexuality legislation against Besigye, and recalled government efforts to hobble Besigye's 2006 presidential campaign by arresting him on spurious charges of rape, terrorism, and treason. XXXXXXXXXXXX speculated that Uganda could disrupt Besigye's 2011 campaign with phony homosexuality allegations.
In a second cable dated February 10 and released by The Guardian, the U.S. diplomats in Uganda describe a meeting with local human rights activists whose names are redacted. The White House and the State Department had already by then condemned the bill. Activists expressed concerns that the Anti-Homosexuality Bill was part of a larger effort to tilt tomorrow's elections in favor of the entrenched ruling party:
XXXXXXXXXXXX placed the anti-homosexuality bill in the context of a general trend toward restricted human rights and democratic freedoms in Uganda. He said the anti-homosexuality bill is one of many regressive legislative initiatives that are not in the interests of all Ugandans and are intended to tilt the February 2011 presidential elections in the government's favor. XXXXXXXXXXXX cited draft legislation to expand the Security Ministry's monitoring of electronic communications, expanded and perhaps politically motivated enforcement of the 2002 Anti-Terrorism Act, the recently passed Land Amendment Act (ref. A), reduced press freedoms, and the slow pace of electoral reform as pressing human rights concerns. He encouraged the U.S. to treat these issues in the same manner as the anti-homosexuality bill, and said the anti-homosexuality issue is a government "gimmick" to divert attention away from other assaults on human rights and democratic freedoms that will ultimately undermine the integrity of the 2011 elections.
Uganda's elections will be held tomorrow.
The cables go on to describe some of the fear and intimidation that the proposed legislation aroused in Uganda. The fear and intimidation extends beyond the beleaguered gay community, but goes into the political class as well:
XXXXXXXXXXXX said Members of Parliament who privately oppose the bill fear losing their seats if they speak out against the legislation, and therefore support the bill in public and will vote for it should it ever reach the parliamentary floor. XXXXXXXXXXXX said Bahati is blaming homosexuals for the spread HIV/AIDS, pornography, and increasing incidents of rape and defilement, and that the legislation is a diversionary ploy intended to steer attention away from real issues like corruption and the 2011 elections.

…Both XXXXXXXXXXXX and XXXXXXXXXXXX said local XXXXXXXXXXXX activists are using cellphones, blogs, and the internet to the extent possible, but stressed concerns about government monitoring of electronic communications. XXXXXXXXXXXX said one local human rights NGO had to switch its domain name after someone hacked its email address, and XXXXXXXXXXXX and XXXXXXXXXXXX said they and other activists have been forced to switch telephones and restrict electronic communications to avoid harassment and eavesdropping.
See also:
Feb 17, 2011: Wikileaks Posts Cables from US Embassy in Uganda Concerning Anti-Homosexuality Bill
Feb 17, 2011: More Wikileaks Cables on Uganda's Anti-Homosexuality Bill
Sep 10, 2011: Wikileaks: Ugandan First Lady "Ultimately Behind" Anti-Homosexuality Bill
Sep 11: 2011: More On Ugandan First Lady's Support For Anti-Homosexuality Bill
Sep 11, 2011: Wikileaks: Vatican Lobbied Against Uganda's Anti-Homosexuality Bill
Sep 12, 2011: Wikileaks on Uganda's Homosexuality Bill: Museveni "Surprised" and Buturo "Obsessed"
Sep 12, 2011: Ugandan Presidential Aide Confirms Wikileaks Conversation
Sep 23, 2011: Ugandan First Lady Affirms Support For "Kill The Gays" Bill
David Kato's Obituary in The Economist
Jim Burroway
February 12th, 2011
My mother was in town for the past two weeks helping me celebrate my 50th. My partner and I dropped her off at the airport this morning for her return back to Ohio, and we then went to a bookstore for coffee. That's where I saw this very moving and poingant obituary in this week's The Economist for David Kato:
Young men continued to mill around his house. One of them was a thief well known in the area: a rough part of town, with 15 iron-bar attacks in two months. Police assumed that when Mr Kato was bludgeoned to death with a hammer, on the afternoon of January 26th, he was just another victim in the series. Gay groups blamed the tabloids for incitement. Neighbours, hanging about, noticed with surprise that his blood on the walls looked much the same as theirs.
Pro-LGBT Ugandan Bishop Issues Open Letter to Anglican Communion
Jim Burroway
February 9th, 2011
Retired bishop Christopher Senyonjo was the second person (along with murdered LGBT advocate David Kato) whose photograph was featured on the front page of the Ugandan tabloid Rolling Stone (no relation to the U.S. publication by the same name) under the headline tagged with "Hang Them!"
Following Kato's murder, Bishop Senyonjo was among the mourners who attended David's funeral, which was marred by the homophobic rantings of an Anglican priest. According to a statement sent by Rev. Canon Albert Ogle of the St. Paul Foundation for International Reconciliation, Bishop Christopher "walked with the mourners, said the blessing and comforted the community at the graveside."
Today, the bishop has issued his first public statement on Kato's murder, in the form of an open letter to Archbishop Rowan Williams, head of the worldwide Anglican Communion, and to the bishops of the communion. In the letter, Bishop Senyonjo calls on the Anglican Church to be more aggressive in the protection of human rights, particularly in Africa where the church has expressed support for certain aspects of that draconian Anti-Homosexuality Bill. Bishop Senyonjo wrote:
If Anglicans in one country dehumanize, persecute and imprison minorities, we must be true to the Gospel and challenge such assaults on basic human rights. The key to our ministry must be to educate our people and encourage LGBT people to tell their stories and the impact of homophobia in their lives. Listening to the stories of LGBT people was the beginning of my own transformation.
Bishop Senyonjo retired ten years ago, and opened a counseling center in Kampala where he began to encounter LGBT people who went to him for help. Working with those clients led him to become an advocate for the LGBT community, a move that brought with it serious consequences for the bishop and his family. The bishop received several death threats, and he had to leave the country in 2001 for six months for his own safety. But after considering whether he should apply for political asylum in the United States, Bishop Senyonjo decided that his work was needed in Uganda. And that has become the basis of his ministry since then. As the bishop wrote in today's letter:
Many African countries imprison LGBT people because of who they are. As a bishop in the midst of those countries, I am now a shepherd caring for the lost sheep that are persecuted by the Church and threatened by a pending anti-homosexual draconian bill in Uganda. I preach the new covenant of Jesus Christ sealed in love as we read in John 15:12. This is the heart of the Gospel-the Good News. This sacrifice of Love is mocked when sister churches tolerate or promote the violation of basic human rights. Life and liberty are at risk and we must hold each other accountable. A loving Anglican Communion should not keep quiet when the Rolling Stone tabloid in Uganda openly supports the "hanging of the homos," including a fellow bishop who pleads for their inclusion and non-discrimination! Silence has the power to kill. We have witnessed its destruction this past week in the tragic and cruel murder of David Kato.
Last year, I had the pleasure of meeting with the bishop and speaking with him when he was on tour in Southern California. You can read about that here, here and here. He and others in Uganda are trying to raise funds for safe houses and attorneys. Donations can be made via the U.S.-based St. Paul's Foundation for International Reconciliation, which is working closely with Bishop Christopher's St. Paul's Centre for Equality and Reconciliation.
Ugandan Government Follows "Rolling Stone" Script for Gay Panic Defense in David Kato's Murder
Jim Burroway
February 9th, 2011
Uganda's Media Centre, which acts as the official press office of the Ugandan government, has issued an official statement on its "investigation" of the motives behind LGBT Advocate David Kato's murder. The details from the statement match very closely a conspiracy theory posted by the managing editor of a Ugandan tabloid which conducted a "Hang Them!" campaign last October featuring Kato's picture on the front cover.
According to the official statement, Enock Nsubuga purportedly confessed to murdering Kato because Kato refused to pay Nsubuga for sex. The Police Inspector General,  Maj. Gen. Kale Kayihura says their "investigation" presents "no indications that the deceased' campaign against Homosexuality Bill, that is before Parliament was a contributing factor to his death. The police has not received any information pointing to a hate crime apart from speculation from the public." He also warned against public vigilante campaigns in Ugandan media and denounced the recent "Hang them!" campaign waged by the tabloid Rolling Stone (no relation to the U.S. publication by the same name) that was waged last fall. He also cautioned against inflammatory statements by clergy.
Kayihura's statement indicates that Nsubuga was arrested on February 2, which is nearly a full week after Rolling Stone managing editor Giles Muhame posted a nearly identical conspiracy theory surrounding Kato's death on Facebook. Muhame named "Eden" Nsubuga as  the "DESPERATE prisoner whom (Kato) attempted to force into a cruel sex bang." Muhame also alledged that "the embassies have been giving Kato dollars which he has been flashing around to seduce young boys" and that "it's estimated he sodomized about 300 boys in his regime as ;king of sodomy honchos' in the country."
Ugandan officials came up with their similar explanation for Kato's murder — which just happens to match Muhame's outrageous theories — before they even brought Nsubuga in for questioning, which raises several red flags as to the integrity of the police investigation. Corruption runs rampant in Uganda, and the police are generally reviled both for their corruption and incompetence. In 2010, Uganda was ranked at number 127 out of 178 countries by  Transparency International, a ranking that placed Uganda below Egypt, Kazakhstan and Mexico.
Last October, Kato's face was emblazoned on the front page of the Ugandan Tabloid Rolling Stone. The story on the inside pages featured the headline, "Hang them: They Are After Our Kids!" David Kato, who was a spokesperson for Sexual Minorities Uganda (SMUG), was one of the plaintiffs (or applicants) in the successful lawsuit seeking a permanent injunction against the Rolling Stone, preventing the further revelations of names, employers and residences of private LGBT people in Uganda.
It is unclear who provided the funds for Rolling Stone to publish. The 24-page publication contained almost no advertising. In the November 1, edition, Managing editor Giles Muhame taunted in an editorial, "I wish you knew who is behind us!! You would stop barking." There are several indications that anti-gay pastor Martin Ssempa is, at the very least, behind several of the stories published in the paper. Muhame and advertising manager Cliff Abenaitwe both attend Ssempa's Makerere Community Church.
Official endorsement of Muhame's conspiracy theory neatly solves several problems for the Ugandan government. First, it gives them an explanation that allows them to defend the country against charges of endorsing violent homophobia against its LGBT citizens. It is also an explanation that allows Nsubuga to walk free whether he is innocent or guilty. If Nsubuga really is guilty, then the police have  pre-manufactured a defense for him which, in Uganda's courts, is not only a virtual guarantee that he will walk away free, but he will be deemed a hero. And worse, if Nsubuga is actually innocent, his role as scapegoat for Kato's murder will leave him relatively unscathed: he will still walk free and so will the real killer. Everybody's off the hook, and everyone wins. Except justice.
Scott Lively endorses anti-gay violence in Uganda
Timothy Kincaid
February 3rd, 2011
It is not by coincidence that the three organizations with which anti-gay activist Scott Lively is associated are all deemed by the Southern Poverty Law Center to be Hate Groups. Lively has earned that well-deserved designation. And his latest commentary is not an exception. (RyanSorba)
Having accused gays of orchestrating Hitler's Nazi regime and being responsible for genocide in Rwanda, it certainly isn't beyond him to take the opportunity of David Kato's horrific murder to declare that it is "lavender Marxists" that are murdering Uganda.
Uganda is being murdered. The nation once called "The Pearl of Africa" by Winston Churchill, a lush and beautiful country as fertile as the Nile Delta.

It is the nation that retained its self-rule through centuries of African colonialism, the society that survived even the atrocities of the cannibal cultist Idi Amin, the culture that has been thriving in Christian revival for over a dozen years.

This great and honorable nation, alone in Africa to have all but conquered the scourge of AIDS through abstinence – and whose First Lady led a holy gathering of thousands of believers on the eve of the millennium, dedicating her homeland "to Jesus Christ for a thousand years" – this Uganda, a shining light in the Dark Continent, is being murdered.
But while this nonsensical rhetoric is troubling, even more so is Lively's endorsement of anti-gay violence in Uganda:
It is as if the militant ranks of "Code Pink" were transported back to 1890s America to agitate for "sexual freedom." Our great grandparents would not have countenanced this. There would have been violence, as there has now been in Uganda. [emphasis added]
Lively claims that it is the gays themselves, "agents provocateur", who deliberately goad naive innocents to murder them so as to "poison the gullible against the Ugandans." It's all a George Soros sponsored plot.
So violence is justified. Murder is justified. Pogroms are justified. Such things aren't evil, just "reactions" to the murderous gays.
There is indeed evil in Uganda today, but it is not the reaction of Christian and Moslem citizens to the rape of their culture. It is the pink-gloved hand of western powers that are cutting the throat of Africa's most God-fearing country, and one of the world's most promising Christian democracies.
David Kato Murdered Again
Jim Burroway
February 3rd, 2011
As Timothy reported yesterday, Ugandan police have arrested a "suspect" in the murder of LGBT activist David Kato. Even though they had yet to interrogate him, police are certain that they already know the suspect's motives and certain defense in court:
"We have taken him to Mukono Magistrate's Court to record an extrajudicial statement," the source said. "He told us that he killed Kato after he failed to give him a car, a house and money he promised as rewards for having sex with him," the source said.

Kato is alleged to have bailed the suspect out of Kawuga Prison on January 24, where he been remanded on charges of theft of a mobile phone. The suspect told police that he stayed with Kato for two days. He accused the deceased of having sex with him and promising to pay him during the period.

The suspect allegedly told the police he got tired of having sex with Kato but the latter would not have any of his excuses. "The suspect said he left the bedroom, went to a store and picked a hammer which he used to hit him [Kato] while he was still in bed," the source said. The death of Kato was condemned by the international community as an attack on the gay community.
Anyone who has been watching events in Uganda over the past few years can easily spot the national anti-gay mythology in action: The chimera that gays have immense wealth, provided by foreigners, that they can use to coerce and recruit unsuspecting straight people into homosexuality. It's a common propaganda that is regularly exploited by American anti-gay Evangelicals in their rallies and conferences in Uganda: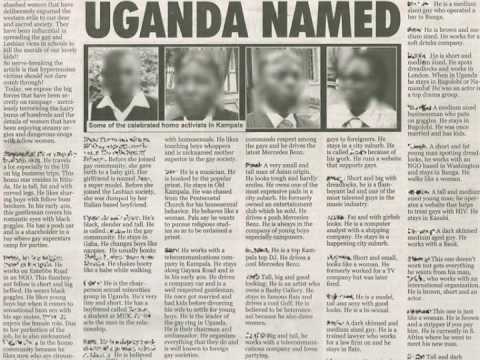 The ex-gay narrative fits neatly into the propaganda as well. According to the ex-gay narrative, homosexuality is nothing more than behaviors (criminal behaviors in Uganda, at that) which can be stopped as simply as deciding not to rob a bank on a given day. That, too, is a common message, that "homosexuality can be learned and unlearned," despite all of the well-established scientific evidence to the contrary.
But facts be damned. When coupled with rampant corruption — Uganda was ranked at number 118 in transparency in 2010, worse than Zimbabwe, Belarus, Yemen and Kazakhstan — all of this propaganda makes for a very deadly brew.
And all of this doesn't even begin to approach the question of whether the suspect actually had anything to do with Kato's murder. Given Uganda's abysmal corruption, the possibility that those arrested were just easy scapegoats cannot be taken too lightly. But for those arrested, whether they are guilty or easy targets, are low-risk arrests for them. The s0-called "gay panic defense" often makes conviction of open-and-shut cases of cold-blooded murder difficult here in the U.S. In Uganda, this defense not only guarantees freedom, but will confer upon the suspect hero status.
When we see the national mythology become the official police line, we can be assured that no actual investigation is taking place and that the stage has now been set to blame Kato for his own murder. Which means that it is business as usual in Uganda.
Arrest made in Kato murder
Timothy Kincaid
February 2nd, 2011
Last week the police in Uganda were certain that the murder of gay activist David Kato was a robbery gone wrong and arrested his driver. Now they have a brand new explanation and a brand new suspect under arrest. (Reuters)
"The prime suspect, Nsubuga Enock, was arrested today at around 4pm when he went to visit his girlfriend," police spokesman Vincent Ssetake told Reuters.

"He has confessed to the murder. It wasn't a robbery and it wasn't because Kato was an activist. It was a personal disagreement but I can't say more than that."
Frankly, I think the new story is about as believable as the last.
Uganda is a country run by a corrupt government which has a vested interest in downplaying the possibility that Kato, who has been targeted by anti-gay death threats, was murdered for his activism. It's hard to take anything the police present as credible.
Action Alert from Sexual Minorities Uganda
Jim Burroway
January 31st, 2011
Frank Mugisha of Sexual Minorities Uganda sent out this action alert, offering practical advice of actions you can take in the wake of David Kato's murder. I think one of the most salient pieces of advice he can give is this: In whatever you do, please, please not spread misinformation. "A highly political and delicate investigation is underway in a dangerous environment in Uganda," he writes, "and therefore misinformation could be seriously damaging."
Several resources are available to help you avoid inadvertently spreading disinformation. Val Kalende has an excellent update on the events and background surrounding David Kato's murder. (Val was bravely featured in this Ugandan newspaper article here.) You can also review our own coverage of events in Uganda from 2009 through the Spring of 2010.  For more recent events, you can follow our tags for Uganda and David Kato. Warren Throckmorton also has excellent coverage under his Uganda category.
ACTION ALERT
HOW GLOBAL ALLIES SHOULD RESPOND TO THE MURDER OF DAVID KATO
29 JANUARY 2011
Our dear friend and colleague, David Kato, was brutally murdered on Wednesday, the 26th of January 2011. David was the advocacy officer of Sexual Minorities Uganda (SMUG) and a longtime leading activist for lesbian, gay, bisexual and transgender (LGBT) human rights.
The condolences and offers of support from the global community have been tremendous. On behalf of David's family, colleagues and friends, we thank all of you.
We fully understand that many of you are full of sadness and anger and would like to take action on David's behalf. However, we believe that first and foremost Ugandan civil society must be respected in leading and coordinating events and actions over the coming weeks and months. We also believe that it is crucial that we as Ugandans are able to document the national and international response to David's brutal murder, which requires your regular communication with us.
WHAT ACTION TO TAKE
Send letters urging the Government of Uganda (contact information below) to take the following steps:

Publicly condemn David's murder;
Carry out a full and fair investigation into David's murder;
Prosecute the perpetrator(s) to the fullest extent of the law;
Investigate David's hacked email account in the days preceding his death;
Assume that, until proven otherwise, David's death was motivated by homophobia and not routine or arbitrary violence;
Communicate frequently with LGBT leaders throughout the investigation into David's murder;
Ensure that members of Uganda's LGBT community have adequate protection from violence;
Take prompt action against all threats or hate speech likely to incite violence, discrimination or hostility toward LGBT Ugandans;
Eliminate any possibility of consideration or passage of the Anti-Homosexuality Bill.

Contact your own governmental authorities and urge them to communicate these concerns to the Ugandan authorities in direct and private advocacy.
Continue to expose and denounce U.S conservative evangelicals spreading homophobia in Uganda
Organize respectful and non-violent vigils at the Ugandan embassy or consulate in your country.
HOW TO TAKE ACTION:
Inform SMUG of all action you take around David's murder, so that we can monitor all developments. Send copies of your press releases, statements, audio/video recordings of vigils, pictures, and action plans on this subject to SMUG email: justicefordavidkato@gmail.com
Ensure that you do not spread misinformation. A highly political and delicate investigation is underway in a dangerous environment in Uganda, and therefore misinformation could be seriously damaging.
We call for respectful responses towards David Kato's murder and NOT to use this tragic incident for fund raising campaigns. We thank and encourage everyone who has supported SMUG's work to continue with us in the fight for LGBT rights.
CONTACT INFORMATION FOR THE UGANDAN GOVERNMENT:
President of The Republic of Uganda H.E Yoweri Museveni
Parliament Building
PO Box 7168
Kampala, Uganda
Email: info@govexecutive.net
Fax: + 256 414 346 102
Salutation: Your Excellency
Inspector General of Police Major Kale Kayihura
Police Headquarters
PO Box 7055
Kampala, Uganda
Fax: + 256 414 255 630
Salutation: Dear Major
Minister of Justice Hon. Makubuya Kiddu
Parliament Building
PO Box 7183
Kampala, Uganda
Email: info@justice.go.ug
Fax: + 256 414 234 453
Salutation: Dear Minister
SMUG Contacts:
Frank Mugisha: fmugisha@sexualminoritiesuganda.org
Val Kalende: mailto:fmugisha@sexualminoritiesuganda.org
Pepe Julian: mailto:fmugisha@sexualminoritiesuganda.org
In solidarity together as one
Frank Mugisha
Executive Director
SMUG
Scott Lively responds to David Kato's murder
Timothy Kincaid
January 28th, 2011
If you ever questioned whether holocaust revisionist, anti-gay activist Scott Lively is a truly reprobate man, consider this explanation of David Kato's murder:
CNN is reporting that money and clothing had been stolen from his house, which would suggest a run-of-the-mill criminal intent. There is also the possibility that he was killed by a "gay" lover, as was the case with another homosexual activist two weeks ago in New York. Carlos Castro was castrated with a corkscrew by his boyfriend and bled to death in his hotel room.
Even after all this time, I'm still shocked when confronted by pure evil.
Scuffle Breaks Out at David Kato's Funeral
Jim Burroway
January 28th, 2011
A scuffle broke out midway through David Kato's funeral today when the Anglican priest Thomas Musoke burst out with an anti-gay rant. The funeral drew about 300 people, including 100 LGBT friends and colleagues. No one was hurt in the fighting, but LGBT advocates report that they had recieved threats that that their cars would be stoned as they left the service.
Reuters desribed the scene this way:
The world has gone crazy," the pastor told the congregation through a microphone. "People are turning away from the scriptures. They should turn back, they should abandon what they are doing. You cannot start admiring a fellow man."

Gay activists, wearing T-shirts featuring Kato's face with sleeves coloured with the gay pride flag, then stormed the pulpit and grabbed the microphone.

"It is ungodly," the pastor shouted, before being blocked from sight.
After the scuffle was calmed, villagers refused to bury Kato's coffin, so it was left to Kato's friends, most of them gay, to carry him to his grave and bury him themselves.
Pepe Julian Onziema of Sexual Minorities Uganda was at the funeral, and was very upset at what she saw:
After we had read statements from everybody, including Obama, after all the nice things friends said about David, that this man could stand up and throw dirt at someone who should be resting in peace. It's just disgusting.
Ugandan TV Coverage of David Kato's Murder
Jim Burroway
January 28th, 2011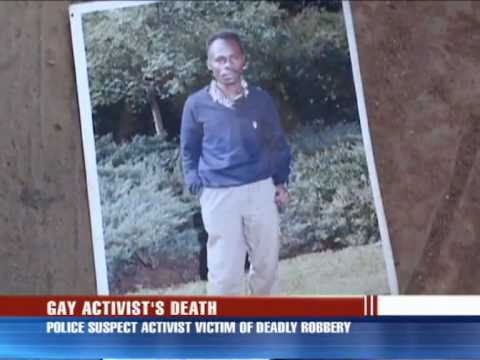 Police are attributing David Kato's murder to robbery. We've seen it often enough elsewhere in Europe and America where local authorities are loathe to investigate hate crimes. The mere fact that items are missing doesn't mean that a hate crime did not occur. If a homophobe is burning a gay man to death, for example, why not take a watch as a trophy and money to party with later? Yet that's often enough for police to quickly try to eliminate the stigma of a hate crime in the local community. If police in this country are very resistant to investigate crimes as hate crime even when the evidence for those charges are overwhelming, how can we expect anything different in Uganda?
And as for the man in custody undergoing interrogation, don't believe for a minute that the kind of interrogation he's going through is anything like what you see on Law and Order.
Uganda's Daily Monitor's Most Remarkable Editorial
A commentary.
Jim Burroway
January 28th, 2011
An editorial posted online for this morning's edition of Kampala-based Daily Monitor addresses the brutal murder of LGBT advocate David Kato. While noting that police have not officially determined the motive for his killing, Daily Monitor editors say this murder "reminds us of the homophobia that is widespread in our country and society – and the deadly consequences of not dealing with it." The editorial goes on to touch briefly on several salient points: the deterioration of the overall atmosphere following the introduction of the Anti-Homosexuality Bill, the role that "foreign actors" play in the debate, and the "extreme positions of moral self-righteousness."
But the editorial makes the mistake of presenting both sides as though there were an equivalency between the two. The editors ignore the overwhelming disparity of power and influence between the two sides, with one side wielding the power of state, culture, faith and media; and the other side scrounging for whatever scraps of safety and dignity they can muster. Instead, they pretend that there is some sort of equivalency or parity between the two side. We've seen this before, not only in Africa but here in the U.S. and in Europe. This editorial is not particularly remarkable in the way it tries to take a sort of a "pox on both houses" position. These notions of false equivalence intended to reinforce the fiction of two opposing and equally valid arguments do very little to shed much light on the debate.
After having set up that false equivalency, the editorial also draws this unremarkable conclusion.
People like David Kato and others who might be gay are Ugandans and enjoy the same rights and protections of the law as heterosexuals. We cannot send them into exile neither, lock them away, or hang them.
We need to have an honest discussion about how to ensure that their rights are upheld without violating the rights of other Ugandans.

Peaceful and stable societies only emerge when we understand and try to accommodate those who are different from us, or who disagree with us – not by ostracising or killing them.
And yet, this editorial is among the most remarkable editorials I've read in years. What makes this editorial remarkable is that it is being printed in Uganda's largest and most influential independent newspaper, and it expresses the need to ensure the rights of LGBT people are upheld in a nation whose leadership refuses to recognize gay people as humans beings deserving of human rights. That's remarkable, and a most welcome addition to the debate.
Update: GayUganda also sees this editorial as "a real big deal."