David Kato Murdered Again
Jim Burroway
February 3rd, 2011
As Timothy reported yesterday, Ugandan police have arrested a "suspect" in the murder of LGBT activist David Kato. Even though they had yet to interrogate him, police are certain that they already know the suspect's motives and certain defense in court:
"We have taken him to Mukono Magistrate's Court to record an extrajudicial statement," the source said. "He told us that he killed Kato after he failed to give him a car, a house and money he promised as rewards for having sex with him," the source said.

Kato is alleged to have bailed the suspect out of Kawuga Prison on January 24, where he been remanded on charges of theft of a mobile phone. The suspect told police that he stayed with Kato for two days. He accused the deceased of having sex with him and promising to pay him during the period.

The suspect allegedly told the police he got tired of having sex with Kato but the latter would not have any of his excuses. "The suspect said he left the bedroom, went to a store and picked a hammer which he used to hit him [Kato] while he was still in bed," the source said. The death of Kato was condemned by the international community as an attack on the gay community.
Anyone who has been watching events in Uganda over the past few years can easily spot the national anti-gay mythology in action: The chimera that gays have immense wealth, provided by foreigners, that they can use to coerce and recruit unsuspecting straight people into homosexuality. It's a common propaganda that is regularly exploited by American anti-gay Evangelicals in their rallies and conferences in Uganda: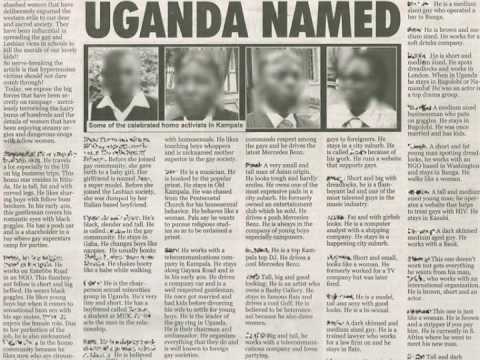 The ex-gay narrative fits neatly into the propaganda as well. According to the ex-gay narrative, homosexuality is nothing more than behaviors (criminal behaviors in Uganda, at that) which can be stopped as simply as deciding not to rob a bank on a given day. That, too, is a common message, that "homosexuality can be learned and unlearned," despite all of the well-established scientific evidence to the contrary.
But facts be damned. When coupled with rampant corruption — Uganda was ranked at number 118 in transparency in 2010, worse than Zimbabwe, Belarus, Yemen and Kazakhstan — all of this propaganda makes for a very deadly brew.
And all of this doesn't even begin to approach the question of whether the suspect actually had anything to do with Kato's murder. Given Uganda's abysmal corruption, the possibility that those arrested were just easy scapegoats cannot be taken too lightly. But for those arrested, whether they are guilty or easy targets, are low-risk arrests for them. The s0-called "gay panic defense" often makes conviction of open-and-shut cases of cold-blooded murder difficult here in the U.S. In Uganda, this defense not only guarantees freedom, but will confer upon the suspect hero status.
When we see the national mythology become the official police line, we can be assured that no actual investigation is taking place and that the stage has now been set to blame Kato for his own murder. Which means that it is business as usual in Uganda.
Comments