Human Rights Groups Petition Uganda's Constitutional Court over Anti-Homosexuality Act
Jim Burroway
March 11th, 2014
Uganda's Daily Monitor reports:
A coalition of fifty civil society organisations on Human rights today filed a petition in the constitutional court challenging the legality of Law on Homosexuality.

The activists argue that the Anti Homosexuality Act violates Ugandans' Constitutionally guaranteed right to: privacy, to be free from discrimination, dignity, to be free from cruel, inhuman and degrading treatment, to the freedoms of expression, thought, assembly and association; to the presumption of innocence, and to the right to civic participation.

In a statement issued by the Coalition Members, the petitioners said that the Act represents an effort by the Executive and Parliament to scapegoat an unpopular minority for political gain.
There are ten named petitioners, including LGBT rights activists Dr. Paul Semugoma (longtime BTB readers may know him as the formerly the anonymous blogger GayUganda), Freedom and Roam Uganda founder Jacqueline Kasha Nabagesera, transgender rights activist Julian Pepe Onziema, and Sexual Minorities Uganda executive director Frank Mugisha. The petition was also signed by Joe Oloka-Onyango, a Professor of Law and Director of the Makerere University Human Rights and Peace Centre in Kampala; Andrew Mwenda, a journalist and founder of the Ugandan news magazine Independent; and M.P. Fox Odoi-Oywelowo. Rounding out the named petitioners are the Human Rights Awareness and Promotion Forum (HRAPF) and the Centre for Health, Human Rights and Development (CEHURD).
The petition states that the Anti-Homosexuality Act was passed by parliament without a proper quorum as required by Uganda's Constitution and that it violates the Constitutions guarantees of equality and privacy. The petition also argies that "in criminalising touching by persons of the same sex, creates an offence that is overly broad and is in contravention of the principle of legality" under the Constitution. The petition then goes on to each clause of the Anti-Homosexuality Act and describes the articles of the Constitution the clause violates.
It would appear that the law itself is not yet officially in effect. The final step to make a law official is for it to be "gazetted," or published in the official Uganda Gazette. This is a common formality in a number of British Commonwealth nations, but Daily Monitor notes that the Anti-Homosexuality Act has not yet undergone that step. The petition asks the court to "permanently stay() the gazetting of the Anti-Homosexuality Act."
The petition is also calling on the court to issue an order barring media from publishing photos, names, addresses and occupations of people thought to be gay. Since President Yoweri Museveni signed the Anti-Homosexuality Act on February 24, tabloids like Red Pepper, Hello and others have been waging mass vigilante campaigns on their front pages and publishing other stories designed to incite hatred and violence. There have been reports on blogs and social media that LGBT people are receiving eviction notices from their landlords.
Ugandan LGBT Activists React
Jim Burroway
February 24th, 2014
Frank Mugisha is the executive director of Sexual Minorities Uganda:
Pepe Julian Onziema changed his Twitter name to IAMGoingNowhere:
Kasha Jacqueline heads Freedom and Roam Uganda:
Trangender Activist and Pentecostal Pastor Spar On Ugandan TV
Jim Burroway
December 20th, 2012
Pepe Julian Onziema, a transgender advocate with Sexual Minorities Uganda, appeared on a talk show on Uganda's NBS television with anti-gay pentecostal pastor Martin Ssempa, who has been one of the Anti-Homosexuality Bill's most outspoken supporters. I thought it was encouraging to see the host, reacting to Ssempa's referring to Pepe using a female pronoun, interject strongly, "Mister Onziema!" But as you can see, that hardly deterred Ssempa from producing a banana to "explain" homosexuality.
The language is mostly in English, although they switch to Luganda from time to time. But you can certainly get more than the drift. At one point, Ssempa has gotten himself so riled up that it looks like he was about to leap out of his chair. The host was able to impose a momentary semblance of order so that this exchange could take place.
Host: Pepe, how do you want society to perceive you?

Pepe: "As a human being. As a person who is part of society…

Host: But society has rejected you.

Pepe: It has not rejected me. It is the propaganda of the likes of Ssempa. My family loves me as I am.
Ssempa quickly resumed interrupting and shouting over Onziema every time he tried to speak. But Onziema got a very good dig in at the host: "I cannot believe you put me on the show with a hooligan."
As you can see, Ssempa remains bizarrely obsessed with gay sex. In January, 2010, he displayed gay S&M porn at a press conference while calling for the passage of the Anti-Homosexuality Bill. He did the same thing again the following month at a news conference in his church. His antics when viral later that summer with re-mixes of Ssempa's "Eat Da Poo-Poo" talks.
Ssempa is believed to be linked to the now-defunct Rolling Stone tabloid (no relation to the U.S. publication by the same name), which launched an infamous 2010 "Hang Them!" vigilante campaign featuring LGBT advocate David Kato on the front cover. Kato, Onziema, and Kasha Jacqueline Nabagesera sued Rolling Stone, and in a landmark ruling won an injunction barring the tabloid from any further outing campaigns. But Kato was brutally murdered just a few weeks later. Last month, was convicted by a Kampala court as part of the conspiracy to accuse a rival pastor of homosexuality.
Uganda LGBT Advocate: "To the Twitter!"
Jim Burroway
December 6th, 2012
The cry used to be "to the baracades!" But in the social media-verse that we inhabit today, it's all about Twitter. Pepe Julian Onziema posted this call to action on Facebook:
Dear Friends on Twitter: This is a Call for Urgent Web Action, we're asking you to participate in a twitter blast directed at the Ugandan Prime Minister, Amama Mbabazi. In this twitter blast, we're asking him to speak out against the Bill. Please send multiple tweets with the tags #stopthehate @AmamaMbabazi. Please be reminded to keep the tone of your tweets polite. For example: Can @AmamaMbabazi make a statement against the Anti-Homosexuality Bill in Uganda? #stopthehate
Amnesty International has also asked everyone to send emails to the Prime Minister.
Uganda Police Raid Gay Rights Meeting
Jim Burroway
June 18th, 2012
From Uganda's NTV: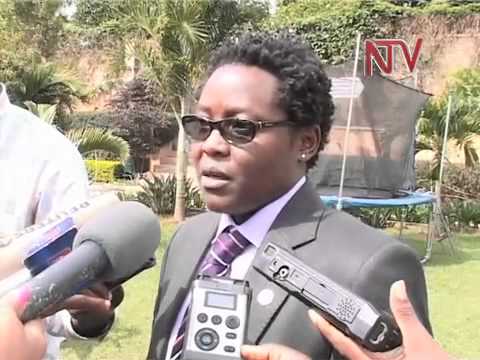 AFP is reporting that Ugandan police on Monday raided a gay rights workshop in Kampala sponsored by the East and Horn of Africa Human Rights Defenders Project. Human rights advocates from Canada, Kenya and Rwanda were questioned. Police also reportedly forced themselves into some of the activists' hotel rooms:
"This ludicrous and senseless harassment of human rights activists has no basis in law whatsoever and has to stop," Michelle Kagari, Amnesty International's deputy director for Africa, said in a statement.

"We are seeing a worrying pattern emerging whereby the Ugandan authorities engage in arbitrary activities deliberately designed to intimidate and threaten legitimate human rights work," Kagari said.
The NTV report says that they were tipped by the Ethics and Integrity Minister Simon Lokodo about the raid at the Esella Country Hotel in the Kampala suburb of Najjeera. But reporters apparently arrived a couple of hours before the police. Pepe Julian Onziema of Sexual Minorities Uganda spoke to reporters and reminded them of another raid of a human rights workshop in Entebbe last February. No one was arrested at that raid. This time, NTV reports that four were detained, but were released after their lawyers showed up at the hotel.
Ironically, the workshop's topic was on methods for monitoring human rights violations.
Ugandan TV Coverage of the Raid on Entebbe
Jim Burroway
February 14th, 2012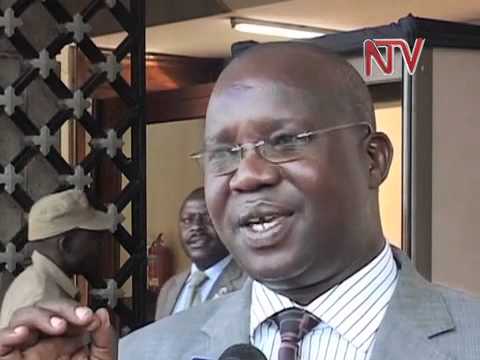 The report includes a grandstanding Ethics and Integrity Minister Simon Lokodo, who summarily declared the meeting of LGBT leaders illegal despite the absense of a law making it so.  LGBT advocate Pepe Julian Onziema counters that there is nothing illegal about what they were doing. Clause 13 of the Anti-Homosexuality Bill would make meetings like this one illegal, but it hasn't been passed by Parliament.  If Ugandan authorities can break up a private meeting without a law, imagine what would happen if the Anti-Homosexuality Bill passed?
Uganda Television Covers Opposition To Anti-Homosexuality Bill
Jim Burroway
February 8th, 2012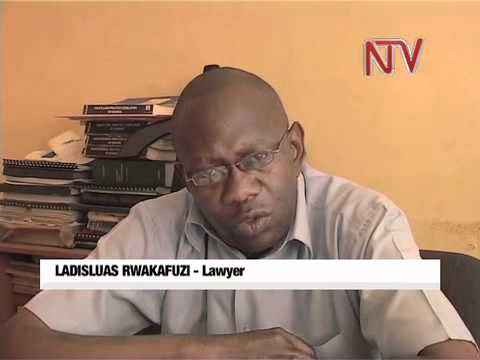 This NTV Uganda report quickly covers most of the clauses of the Anti-Homosexuality Bill, and, unusual for Ugandan media, focuses on opposition to the bill from Ladislaus Rwakafuzi, a senior human rights lawyer, and Pepe Julian Onziema of Sexual Minorities Uganda.
One interesting tidbit is the report that the Anti-Homosexuality Bill was referred again to the Legal and Parliamentary Affairs Committee. If true, that would be an interesting development. During the Eighth Parliament, the bill languished in the committee for more than a year before it was quickly rushed to the floor or Parliament with a report recommending a few cosmetic changes. 
If this bill was in fact sent back to the same committee, it could mean one of two things: It could be bottled up there again as it was before, or the committee could quickly act to bring the bill back out to the floor for a final vote based on its earlier inconsequential recommendations. There is, right now, considerable pressure inside Uganda for the latter step, if for no other reason than as an act of defiance against international condemnation.
Action Alert from Sexual Minorities Uganda
Jim Burroway
January 31st, 2011
Frank Mugisha of Sexual Minorities Uganda sent out this action alert, offering practical advice of actions you can take in the wake of David Kato's murder. I think one of the most salient pieces of advice he can give is this: In whatever you do, please, please not spread misinformation. "A highly political and delicate investigation is underway in a dangerous environment in Uganda," he writes, "and therefore misinformation could be seriously damaging."
Several resources are available to help you avoid inadvertently spreading disinformation. Val Kalende has an excellent update on the events and background surrounding David Kato's murder. (Val was bravely featured in this Ugandan newspaper article here.) You can also review our own coverage of events in Uganda from 2009 through the Spring of 2010.  For more recent events, you can follow our tags for Uganda and David Kato. Warren Throckmorton also has excellent coverage under his Uganda category.
ACTION ALERT
HOW GLOBAL ALLIES SHOULD RESPOND TO THE MURDER OF DAVID KATO
29 JANUARY 2011
Our dear friend and colleague, David Kato, was brutally murdered on Wednesday, the 26th of January 2011. David was the advocacy officer of Sexual Minorities Uganda (SMUG) and a longtime leading activist for lesbian, gay, bisexual and transgender (LGBT) human rights.
The condolences and offers of support from the global community have been tremendous. On behalf of David's family, colleagues and friends, we thank all of you.
We fully understand that many of you are full of sadness and anger and would like to take action on David's behalf. However, we believe that first and foremost Ugandan civil society must be respected in leading and coordinating events and actions over the coming weeks and months. We also believe that it is crucial that we as Ugandans are able to document the national and international response to David's brutal murder, which requires your regular communication with us.
WHAT ACTION TO TAKE
Send letters urging the Government of Uganda (contact information below) to take the following steps:

Publicly condemn David's murder;
Carry out a full and fair investigation into David's murder;
Prosecute the perpetrator(s) to the fullest extent of the law;
Investigate David's hacked email account in the days preceding his death;
Assume that, until proven otherwise, David's death was motivated by homophobia and not routine or arbitrary violence;
Communicate frequently with LGBT leaders throughout the investigation into David's murder;
Ensure that members of Uganda's LGBT community have adequate protection from violence;
Take prompt action against all threats or hate speech likely to incite violence, discrimination or hostility toward LGBT Ugandans;
Eliminate any possibility of consideration or passage of the Anti-Homosexuality Bill.

Contact your own governmental authorities and urge them to communicate these concerns to the Ugandan authorities in direct and private advocacy.
Continue to expose and denounce U.S conservative evangelicals spreading homophobia in Uganda
Organize respectful and non-violent vigils at the Ugandan embassy or consulate in your country.
HOW TO TAKE ACTION:
Inform SMUG of all action you take around David's murder, so that we can monitor all developments. Send copies of your press releases, statements, audio/video recordings of vigils, pictures, and action plans on this subject to SMUG email: justicefordavidkato@gmail.com
Ensure that you do not spread misinformation. A highly political and delicate investigation is underway in a dangerous environment in Uganda, and therefore misinformation could be seriously damaging.
We call for respectful responses towards David Kato's murder and NOT to use this tragic incident for fund raising campaigns. We thank and encourage everyone who has supported SMUG's work to continue with us in the fight for LGBT rights.
CONTACT INFORMATION FOR THE UGANDAN GOVERNMENT:
President of The Republic of Uganda H.E Yoweri Museveni
Parliament Building
PO Box 7168
Kampala, Uganda
Email: info@govexecutive.net
Fax: + 256 414 346 102
Salutation: Your Excellency
Inspector General of Police Major Kale Kayihura
Police Headquarters
PO Box 7055
Kampala, Uganda
Fax: + 256 414 255 630
Salutation: Dear Major
Minister of Justice Hon. Makubuya Kiddu
Parliament Building
PO Box 7183
Kampala, Uganda
Email: info@justice.go.ug
Fax: + 256 414 234 453
Salutation: Dear Minister
SMUG Contacts:
Frank Mugisha: fmugisha@sexualminoritiesuganda.org
Val Kalende: mailto:fmugisha@sexualminoritiesuganda.org
Pepe Julian: mailto:fmugisha@sexualminoritiesuganda.org
In solidarity together as one
Frank Mugisha
Executive Director
SMUG
Uganda's High Court Ruling Against "Hang Them" Tabloid Campaign
Jim Burroway
January 3rd, 2011
As we reported earlier this morning, Uganda's high court released a ruling permanently prohibiting the tabloid Rolling Stone (no relation to the venerable U.S. publication by the same name) from continuing its public vigilante campaign against that country's LGBT community. We now have the text of that ruling (PDF: 1.3 MB/10 pages), which was signed on December 30 by Judge Musoke Kibuuka.
Judge Kibuuka found that the actions of Rolling Stone violated the privacy rights of LGBT Ugandans, and as well as the right to human dignity and protection from inhuman treatment. Of the latter, Judge Kibukka wrote:
Upon that objective test, court would easily conclude that by publishing the identities of the applicants and exposing their homes coupled with the explicit call to hang them because "they are after our kids", the respondents extracted the applicants from the other members of the community who are regarded as worthy, in equal measure, of human dignity and who ought to be treated as worthy of dignity and respect. Clearly the call to hang gays in dozens tends to tremendously threaten their right to human dignity. Death is the ultimate end of all that is known worldly to be good. If a person is only worthy of death, and arbitrarily, then that person's human dignity is placed at the lowest ebb. It is threatened to be abused or infringed.
For the objective test, the court cited a Canadian case from 2002, when a man published an advertisement showing four scriptural passages next to an image of two stick men holding hands inside a circle with a line through it. The CBC notes that the decision was overturned by the Saskatchewan Court of Appeal in 2006. It's unclear whether the grounds for that 2006 decision would have any bearing on the Ugandan case.
The court rejected Rolling Stones argument that because homosexuality is illegal in Uganda, the applicants were not eligible for protection because they were criminals:
It must be noted that this application is not about homosexuality per se. it is about fundamental rights and freedoms. However, court not agrees that section 145, of the Penal Code Act renders every person who is gay a criminal under that section of the Penal Code Act. The scope of section 145 is narrower than gayism generally. One has to commit an act prohibited under section 145 in order to be regarded a criminal.
This point may serve as fodder for those who support the passage of the proposed Anti-Homosexuality Bill. That bill greatly expands the definition of what constitutes homosexual behavior far beyond the sex act. It will also criminalize advocacy on behalf of LGBT people and make criminals of family members who refuse to report their loved ones to police. If that bill were to become law, merely bringing this case to court and arguing in defense of LGBT people could be taken as "promotion" of homosexuality, leading to fines and a sentence of between five to seven years. The bill may be brought to a vote during a lame-duck session of Parliament following the February 18 elections.
The court issued a permanent injunction against Rolling Stone, "their servants and agents, from any further publications of the identities of the persons and homes of the applicants and homosexuals generally." The order only applies to Rolling Stone, but human rights advocates believe that it may serve as a precedent for other tabloids to follow. Red Pepper and Onion (also no relation to the U.S. satirical newspaper by the same name) have also engaged in vigilante campaigns in recent months.
The judge awarded each applicant 1,500,000 Uganda Shillings (US$650) for damages, plus court costs.
Giles Muhume, Rolling Stone editor, remained defiant in the face of the court ruling. In a press release, he said that "homos had a short-lived smile today" but that Rolling Stone would appeal the decision. Calling the ruling a risk to media freedom, Muhume added, "The newspaper will fight homos on different fronts. Our supporters should remain strong –- the agents of the devil shall be defeated."
Click here to read the Ugandan High Court's decision.
Australia's SBS Television Focuses on Uganda
Jim Burroway
September 8th, 2010
Australia's SBS network, which fills a role similar to that of PBS in the United States, delved into Uganda's Anti-Homosexuality Bill last Sunday in a segment of the documentary program Dateline by Canadian journalist Aaron Lewis. The non-embeddable video is available online at the Dateline web site, along with a full transcript.
This documentary explores similar ground covered in other documentaries on Uganda that have appeared in the U.S. and Britain. Regular readers of BTB are unlikely to learn many new facts, but this documentary does a wonderful job of re-telling the story in different contexts. As with the other documentaries, Lewis obtained interviews with M.P. David Bahati, chief sponsor of the Anti-Homosexuality Bill, and Ethics and Integrity Minister James Nsaba Buturo, one of the bill's most ardent supporters in Uganda's Cabinet. It also features brief appearances from pastors Martin Ssempa and Solomon Male, who both have been involved with hurling accusations of homosexuality toward rival pastors during last year's vigilante campaign.
Among the things this documentary covers that we've seen before is Bahati's assertion that many American evangelical leaders privately tell him that they support the Anti-Homosexuality Bill bill:
We have friends who are evangelicals in the US and they are being supportive. Some confidentially supporting this, others, very few openly, in support of this because of the fear to be blamed back home and we truly accept that.
But where this documentary truly excels is in covering the impact the debate over the the Anti-Homosexuality Bill has had on Uganda's LGBT community. Frank Mugisha, head of Sexual Minorities Uganda, said that since the bill has been introduced, life has become much more difficult:
Many Ugandans have taken the law into their own hands and started attacking homosexuals, beating them up. Landlords have thrown people out of their houses because they are saying "If this legislation is passed and I have a homosexual who is a tenant, then I become a criminal, so it is better I throw you out now before the law is passed".
Pepe, a transgender advocate for SMUg, agrees:
Kampala is one of the places that is known for mob injustice – anything can happen. You can move on the street and someone can say "Look, the homosexual is doing something" – just that word alone is going to draw attention and something can happen so that we live in fear of all the time.
More compelling is this recounting of a case of "curative rape," a common threat against lesbians throughout Africa.
SHEILA MUGISHA: At the age of 12 I had a friend at home – and actually these things are done by friends. I had always told him my stories, my secrets, my encounters in bed. So, he would tell me, "You know what? I want to teach you how to play with boys, not with girls." He put his leg here, and here, and then he got into my body, into my vagina, and I screamed because I'd never had any sex, I'd never known, you know, any of those practices. "So, from now, you are going to learn how to play with boys."

As a result of the rape, Sheila became pregnant at the age of 12. Her family took her to have the child aborted but the effects of the rape continued.

SHEILA MUGISHA: I went to a certain AIDS information centre in Mengo with a friend – I took a test – and it was positive.
Sheila has been living with HIV for almost twenty years. When the reporter told Minister for Ethics and Integrity James Nsaba Buturo about Shiela, the cabinet minister who has been one of the anti-gay bill's staunchest supporters said that the entire story is a lie:
I have never heard of that, actually. But they lie a lot. Lies. They use that as a major tool because you see that's the only way they garner sympathy from all over the world. Now the idea that in Uganda we have plans to kill gays you know, that the bill of Honourable Bahati is intended to kill homosexuals – that is the view that the entire world has got, yet it is not the case.
But what has to be the most interesting element of the documentary for me is that for the first time we get to hear from Stanley Nduala, who writes for the notorious tabloid Red Pepper. He has been in the forefront of that tabloid's outing campaigns. Apparently, making life miserable for LGBT people pays very well in Uganda; we see Nduala driving around Kampala in a late model Mercedes. Incredibly, he claimed that he, too, would fall under the bill's provisions against "promoting" homosexuality:
STANLEY NDUALA, JOURNALIST 'RED PEPPER': For them, they believe that anything you write about homosexuality is promotion. So they think that I'm working with the activists to promote homosexuality in Uganda. So it is quite strict.

Far from promoting homosexuality, 'The Red Pepper' goes so far as to out homosexuals in its most popular section. No-one is spared.

FRANK MUGISHA: I know very many people who were outed in that tabloid who lost their jobs, who lost their families, who lost friends. I know people who were even bashed, I know people who were beaten. I know people who were harassed because they were outed in 'The Red Pepper'.

REPORTER: Do you feel that you are persecuting a minority?

STANLEY NDUALA: I don't know why they believe like that. We are just being journalists – True journalists.

Stanley tells me that the reason for such interest is that no crime is as hated as homosexuality here.

STANLEY NDUALA: When you commit homosexuality, they think all these other things, like rape, what, are just minor. If you have done that one, you could do everything.

REPORTER: So here in Uganda, being a rapist is minor compared to being a homosexual?

STANLEY NDUALA: Yes, to the public eye
Lawyer Lad Rekefuzi confirms that rapists and murderers fare better in Uganda's courts than do gay people.
Also making a brief appearance is retired Bishop Christopher Senyonjo, a brave man who I had the distinct pleasure of meeting last May in Southern California. This documentary is a great addition to the body of work being done all over the world to call attention to the deplorable treatment of LGBT people in Uganda.