Martin Ssempa's Pornographic Demons
Jim Burroway
January 25th, 2010
Ugandan Pastor and staunch "kill-the-gays" supporter has recently gotten a lot of attention over the disgust he generated when he held a porn-laced presentation that did more to turn his audience against his message than it did against LGBT people. According to Uganda's independent Monitor, the presentation was a "flop."
Ssempa appeared to be puzzled by the reaction, and I doubt that he will be fazed by it. A week earlier, he had appeared on Ugandan state-owned UBC television to talk up the Anti-Homosexuality Bill, and he took that time to try to stigmatize gay people with a similarly lurid description of what gay people supposedly do.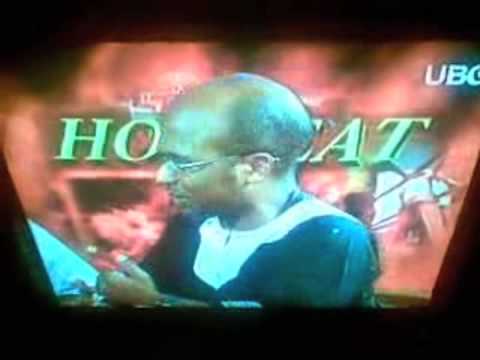 (The video is closed-captioned. The video was captured by an anonymous BTB reader in Uganda using his mobile phone at great personal risk.)
As you can see, Charles Musana, host of the UBC program "Hot Seat," was pretty skeptical throughout the program, leading the over-excited Ssempa to close the show with trying to cast out the demon of homosexuality from his host.
The Monitor reported:
Pastor Martin Ssempa on Tuesday plumbed the depths of notoriety when he offered graphic images of gay sex as proof of the need for tough penalties against homosexuals.

In the immediate aftermath of the presentation, which ended prematurely, Pastor Ssempa said he did not regret his actions. The press conference, the latest in a series of events he is holding in support of the 2009 Anti-Homosexuality Bill, had been called to unveil two Ugandans, a man and a woman, who say their homosexuality has been rehabilitated.

One man, who was part of a group of American students invited to the press conference by Rubaga North MP Beti Kamya, was seen crying, his colleagues consoling him as the group left the National Theatre.

But midway through his presentation, saved on a computer, most of his audience walked out, some visibly disturbed, leaving him to wonder if he had done anything wrong. The cleric seemed genuinely rattled when he asked: "Why should I be traumatised?"
It looks like Ssempa is trying to become the "Porno Pete" of East Africa.
[Video courtesy of an anonynmous BTB reader in Uganda]
Click here to see BTB\'s complete coverage of recent anti-gay developments in Uganda.
Comments