Video: Seminar for Coloradans considering a civil union
Daniel Gonzales
April 18th, 2013
Yesterday our state equality org One Colorado held a webinar / conference call to help educate Coloradans on civil unions, which will be issued starting May 1st.  The event covered issues from navigating paperwork to conceiving children once a civil union is established. Several staffers from One Colorado spoke as well as estate law and family law experts from the Colorado Bar Association.
Although this was originally a live, for record purposes I produced a video of the event couples can use in the future if they are considering entering into a civil union here in Colorado.
Colorado Civil Unions Signed Into Law
Daniel Gonzales
March 21st, 2013
After one failed referendum, two years being voted down in the House, civil unions were signed into law today with a high-five and thumbs-up from Governor Hickenlooper.
And video footage of (most of) Sen Pat Steadman's formal remarks followed by the Governor's signing.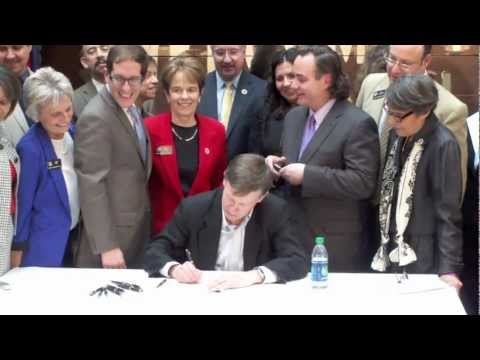 Civil Unions pass in Colorado
Timothy Kincaid
March 12th, 2013
The Civil Unions bill in Colorado has passed. The bipartisan vote in the House was 39 to 26 and, having already cleared the Senate, it goes to Governor John Hickenlooper for his expected signature.
Rep. Cheri Gerou, R-Evergreen, and Rep. Carole Murray, R-Castle Rock, joined all 37 Democrats to advance equality.
Cyprus moves towards couple recognition
Timothy Kincaid
February 20th, 2013
Cyprus is a oddity. It is a member state of European Union and is ethnically about three quarters Greek. But it is geographically in the Middle East, bout 50 miles south of Turkey and within 100 miles off shore of Syria and Lebanon.
While there is a Turkish Muslim minority, Cyprus prides itself as one of the earliest Christian outposts, evangelized by Paul. Most Cypriots are Greek Orthodox and the nation is very religious.
However, Cyprus provides a slightly bizarre service to one of its other close neighbors.
In Israel, marriage is controlled by the official religious institutions which, if you are Jewish, is the orthodox Israeli rabbinate. And if you don't qualify for a traditional halakhah wedding – or aren't particularly religious – your options are limited. However, Israel registers foreign marriages without much question (including same-sex marriages), so many mixed-faith or non-religious Israelis travel out of the country to marry. Most go to Cyprus.
And it is against this background that Cyprus is beginning the process of allowing same sex couples to have some form of legal recognition. (CyprusMail) They've been discussing it since 2010 (though the news tended to translate as "marriages" at that time) but it looks as though a bill is finally going forward.
HUMAN rights group ACCEPT-LGBT yesterday hailed the Cabinet's recent decision to pass a draft bill on civil partnership in order to enable couples to be legally recognised outside of marriage.
The process has several more steps, but as best I can tell it has support from most of the political power structure. It's fascinating to watch as the nations on the borders between East and West begin to address issues of equality.
Colorado Senate votes for civil unions
Timothy Kincaid
February 11th, 2013
Today the Colorado Senate voted for a civil unions bill (Denver Post)
A bill allowing gay couples to form civil unions passed the Senate on Monday morning on a 21-14 with Sen. Ellen Roberts of Durango providing the lone Republican "yes" vote.
All Democrats voted for the bill. On Monday the bill goes to the House where it is expected to pass easily. The bill is expected to become effective in May.
Colorado Civil Unions Clear Senate Committee
Jim Burroway
January 24th, 2013
A bill to grant civil unions to Colorado's same-sex couples cleared its first hurdle yesterday when the Senate Judiciary Committee voted 3-2 on straight party lines to approve the bill. The bill's next stop is the Appropriations Committee before moving to the full Senate.
There were a number of people testifying against the bill. Among them were Mark Rohlena, of Catholic Charities of Central Colorado, who complained that unlike previous versions of the bill, this one doesn't have a religious conscience exemption clause which would allow adoption agencies to refuse to place children with same-sex couples. But Sen. Pat Steadman (D-Denver), the bill's sponsor, noted that when the exemption was in previous versions of the bill Catholic leaders testified against it anyway, so he decided not to include it in the bill this year. An attempt to add the amendment to the bill failed.
Live audio of Colorado civil union committee hearing
Daniel Gonzales
January 23rd, 2013
.
This afternoon the Colorado civil unions bill is having its first committee hearing.  I posted some background on Monday.
Here's live audio from the Colorado Channel. To follow the conversation on Twitter use hashtag #COleg or feel free to comment on this post below.
Update: The hearing has concluded.
Colorado Rep DelGrosso fundamentally misunderstands State Constitution
Daniel Gonzales
January 23rd, 2013
.
From the Colorado Springs Gazette:
In 2006, Colorado voters approved an amendment defining marriage as only between one man and one woman.

Rep. Brian DelGrosso, R-Loveland, who voted against civil union bills in committees the past two years, said he questions the constitutionality of the proposed bill.

"The voters of Colorado have clearly said this is what we expect," DelGrosso said. "How can you prove to us that what you're doing is constitutional? That you're not just changing the name of something and trying to pretend that it's something that it's not — same-sex marriage."
Brian DelGrosso seems to fundamentally misunderstand how Colorado's constitution. Our neighbors in Utah, Nebraska, Kansas and Oklahoma have all passed amendments that not only ban gay marriage but also ban civil unions. Here in Colorado our constitution says nothing of civil unions.
The authors of Colorado Amendment 43 and voters have left the door open for us to have civil unions here in Colorado.
And yes, DelGrosso represents Loveland. Oh the irony.
Stronger and more controversial Colorado civil union bill to be heard Wednesday
Daniel Gonzales
January 21st, 2013
.
Civil unions legislation has been re-introduced in Colorado and passage is near certain.  Why you ask?  Because the number of bill sponsors constitues a majority of both the House and Senate.  That's 20 sponsors in the Senate (out of 35 seats) and 38 sponsors in the House (out of 65 seats).
In a first for the bill Republican Rep Cheri Gerou all of a sudden grew balls this year and decided to sponsor the bill after declining to last year. Even OutFront Colorado published an article titled "How are we so sure civil unions will pass this year?"
How did we get to this point?  Here's some backstory…
In 2011 and 2012 Colorado had a divided legislature.  In 2012 after the bill surprisingly managed to pass intact out of a key Republican controlled committee in a desperate last minute attempt to kill the bill House Speaker Frank McNulty (R-Highlands Ranch) killed 30+ bills on the last night of the session rather than allow the civil union bill to reach the floor.
Democrats swept the November election statewide and retook control of the House along with retaining control of the Senate and Governor's Residence.  Rep Mark Ferrandino was elected by his peers to be the first openly gay Speaker Of The House.  Also during the fall recess, tragically, Dave Misner, the husband of Senator Pat Steadman, the bill's author, died of pancreatic cancer.
But there are other different things this year too.
Previous civil unions legislation had excluded [Catholic] adoption agencies from having to treat civil-unionized couples equally.  This year's bill is stronger and no longer includes such an exclusion.  Quoting the Catholic News Agency:
The 2012 Colorado Senate bill proposing to create the unions had stated that the bill "shall not be interpreted to require a child placement agency to place a child for adoption" with a couple in a civil union.

That language, however, is absent from the 2013 bill, S.B. 11.
Much as in other states Catholics are threatening to take their ball and go home.
If Colorado law forces the Colorado Springs-based agency to violate Catholic teaching, he said, "we probably would cease the operation of our adoption programs."

"That risk is always there," he said. "I think that we would try to explore every avenue available to us to provide this vital service to the community."

He said a shutdown is "very well what could happen" given precedents in other states.
In previous years rhetoric opposing the bill was downright comical.  In 2011 local grandmother (and Eagle Forum member) Rosina Kovar provided graphic testimony about the human anus.  And in 2012 two Senators quoted the Bible in floor debate, one saying "I truly believe Jesus is a better answer than Senate Bill 2."  There has even been a cameo by Paul Cameron.
This year we have a new religious fundamentalist to watch.
It's widely believed that Facebook post is reffering to Vicki Marble (R-Northern Colorado I-25 corridor) who proudly touts her AFA Action scorecard on her campaign website. Unfortunately Ms Marble's only appointments are to the Education and Local Government committees so we'll likely have to wait for the bill to reach the Senate floor for her to embarrass herself.  And in other fundamentalist news Colorado Family Action is having a "Rally and Prayer for Marriage" on Friday Jan 25.  Legislation dealing with marriage isn't being considered this year, and marriage is already defined in our state constitution, Amendment 43 so I'm not sure why Colorado Family Action is wasting their time having a rally about it.
The civil union bill's first hearing is the Senate Judiciary Committee, this Wednesday, January 23, at 1:30 p.m. in the Old Supreme Court Chambers.  Committee hearings are broadcast as audio-only on the Colorado Channel's website.
The final bill is expected to pass and be signed by mid March with the first civil union licenses issued May 1st.
Colorado: Election Results Clear Path for Civil Unions in 2013 Legislature
Daniel Gonzales
November 9th, 2012
Last legislative session Republican House Speaker Frank McNulty killed 30+ bills at the end of the session rather than allow a civil unions bill to reach the floor of the House.  At the time the Republicans held a one vote majority in the Colorado House.
Gay supporters were livid by McNulty's willingness to allow government to break down in such a way just to stop civil unions and formed a group, Fight Back Colorado dedicated to re-taking the House majority.  Fight Back targeted three vulnerable races and on Tuesday night successfully unseated all three GOP Reps.  Not only that but Dems won almost every contested seat and now control the House 37-28, in addition to retaining control of the Senate and governorship (which wasn't up this election).
McNulty was replaced yesterday by Mark Ferrandino, who is our first openly gay Speaker Of The House and also happens to represent my district.
The path has been cleared for civil unions to pass in 2013.
Gay Son Speaks Of Father's Failed Leadership In Killing Colorado Civil Unions
Jim Burroway
May 16th, 2012
When the Colorado House's State, Veterans and Military Affairs Committee voted on a 5-4 party line vote to kill a civil unions bill, Rep. Don Coram (R-58) acknowledged that his vote to defeat the bill was also a bill against his own gay son. Today, Coram's son, Dee Coram, has come forward to speak out against his father's vote:
"He was given an opportunity here to actually be a leader and I guess he didn't take that leadership role. It's disappointing to see something like this that he said should have gone to a house floor for a vote. Essentially, he prevented that from happening," Dee Coram said.
Colorado House in Special Session Kills Civil Unions
Jim Burroway
May 14th, 2012
When Republican Colorado House Speaker Frank McNulty declared that the special session called by Democratic Gov. John Hickenlooper was a "reset" on the legislation, he wasn't kidding. Defying the will of the majority in the House, McNulty sent the civil unions bill to House State, Veterans and Military Affairs Committee, despite the bill having passed through three House committees during the legislature's regular session. But in sending the bill to the third committee, McNulty carefully selected a destination where the bill was sure to die.
And so die it did. The House committe tonight killed the civil unions bill on a straight party-line vote of 5-4. Rep. Don Coram (R-58) felt compelled to vote against his own gay son to kill the bill. That's how badly House leadership wanted this bill dead.
Update: Daniel Gonzales, who attended the hearing, sends this account:
Rep. Coram had not previously been public about his gay son until his pre-vote remarks when he went public. Also seated next to him was Rep. Lois Court (D-Aurora) who in her pre-vote remarks had to alternate between restraining herself from crying and swearing.
Update: Daniel Gonzales has also posted this video of Rep. Mark Ferrandino's formal statement to the media following the death of his civil unions bill in The House State, Veterans, and Military affairs Committee tonight.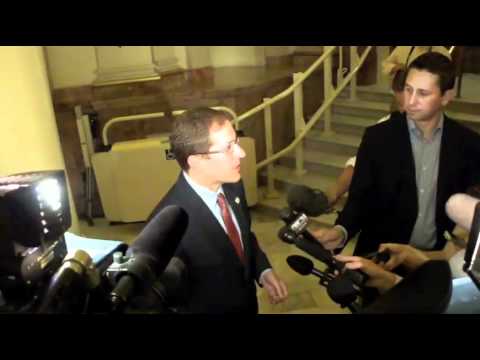 Colorado Governor Calls Special Session for Civil Unions
Jim Burroway
May 9th, 2012
Noting the mountain of unfinish business when Colorado House Speaker Ralph McNulty abruptly called a recess to prevent a straight up-or-down vote on a civil unions bill, Governor John Hickenlooper today called for a special legislative session:
"We need to have an open discussion of the issue and at least work toward a final resolution," Gov. Hickenlooper said. "We (will) allow people a chance to vote on it, and move forward."
Colorado Republican Leadership Thwarts House Majority, Runs Out the Clock on Civil Unions
Jim Burroway
May 9th, 2012
If you need any more evidence for the irrational and unethical lengths — not to mention the sheer douchebaggery — that anti-gay politicians will go through to thwart the will of the majority, you need look no further than the Colorado House of Representatives' Speaker, Frank McNulty (R, HD-43, Highlands Ranch), who abruptly called a recess when it became evident that a majority of the House wanted to pass a bill granting civil unions to same-sex couples in Colorado.
To shouts of "same on you," McNulty allowed some thirty bills to die rather than allow a vote on the measure. The bill had the support of three Republicans who joined Democrats in a house where Republicans hold a slim 33-32 lead. When Democrats used a procedural move to try to and a fillibuster on the bill, Republicans abruptly stopped floor work and called a recess which lasted through midnight, when the House session officially ended.
Among the other bills that died were $20 million worth of water projects around the state and a measure setting standards for driving while under the influence of marijuana. Colorado is a medicinal marijuana state. Which means that same-sex couples with cancer can smoke pot, but they may not be a allowed to bury each other if that cancer proves fatal.
During the recess, opponents and supporters held dueling press conferences on the house floor: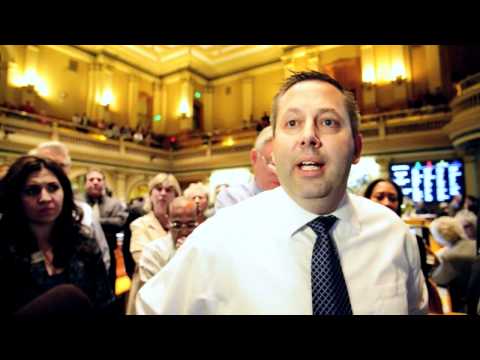 Jace Woodrum, Deputy Executive Director for One Colorado, spoke to supporters after the session ended.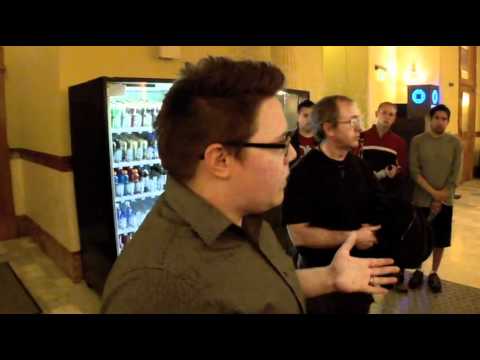 What's Going On With Colorado's Civil Unions Bill?
Jim Burroway
May 9th, 2012
Tonight is the night. After midnight Mountain Time, the Colorado legislature becomes a pumpkin, killing the proposed Civil Unions bill with it. House Speaker Frank McNulty (R, HD-43, Highlands Ranch)has been trying to run out the clock, but there now seems to be a full-blown rebellion in the House, where Republicans hold a narrow 33-32 lead, but two Republicans have joined the Democratic minority in calling for the Civil Unions bill for a vote. As I write this, it is just a little past 10:00 p.m. McNulty has called a recess at about 8:45 while lawmakers haggle and argue.
BTB's Daniel Gonzales is at the Capitol now, live-Tweeting the blow-by-blow. You can also follow the hashtag @COLeg.