Colorado House Finance Committee Approves Civil Unions Bill
Jim Burroway
May 4th, 2012
That vote was 7-6, with support from Rep. Don Beezley (R-Broomfield) casting the deciding vote. It faces one more committee vote next week in the House Appropriations Committee, where it will require the support of one more Republican representative  before reaching the House floor for final approval.
It's a race against the clock, as the legislative session is scheduled to end on Wednesday. There is some concern that Republican House Speaker Frank McNulty may try to run out the clock in scheduling the bill for a vote. According to the Associated Press, he issued a pointed warning from the House Podium "cautioning lawmakers against questioning others' motives if they don't like what happens with legislation before the session ends."
But while Republicans only hold a slim one-vote lead in the House, Breezley now makes two Republicans supporting Civil Unions. Republican Rep. BJ Nikkel cast the deciding vote to advance the civil unions bill in the Colorado House Judiciary Committee yesterday. (Perhaps significantly, neither Republican is running for re-election.) The bill has already been approved by the state Senate, and Democratic Gov. John Hickenloope has voiced his firm support for the bill.
Colorado House Judiciary Committee Advances Civil Unions Act
Jim Burroway
May 4th, 2012
BTB's Daniel Gonzales live-tweeted this evening's (May 3) session of the Colorado House Judiciary Committee, which voted 6-5 to advance the Civil Unions Bill. The bill now goes on to the House Finance Committee before reaching the House floor, where it is expected that there is enough GOP support in the Republican-controlled chamber to pass the bill. The Senate passed the bill last week with bipartisan support. Democratic Gov. John Hickenlooper has promised to sign the bill if it reaches his desk.
OutFront Colorado urging participation in tomorrow's civil union rally
Daniel Gonzales
May 2nd, 2012
UPDATE: Location of the rally has been changed to the front of Denver City & County Building at 1437 Bannock Street (still at noon).
.
As I mentioned in yesterday's post the Colorado civil unions bill is headed to a crucial showdown in the House Judiciary Committee tomorrow afternoon (Thursday).
State equality org One Colorado is holding a rally before the hearing. The rally will be at noon on the east steps of the Capitol in the front of Denver City & County Building at 1437 Bannock Street. (facebook event page)
Colorado's oldest and most respected LGBT publication OutFront editorialized today urging Coloradans to attend the rally and committee hearing in support of the bill. Quoting OutFront:
Once again your community needs you.

Yes. You.
OutFront continues:
A little more than a year ago, we asked you to join hundreds of your brothers and sisters at a similar rally to make your desire for equal rights known through the hollowed halls of the Colorado Capitol. More than 300 supporters showed up. And despite the community's best effort, a Republican controlled committee killed the legislation that would have granted more than a dozen rights and responsibilities to hard working, tax paying, Coloradans — both gay and straight.

So, you might think there's no point in showing up again. They've already told us "no."

But that is exactly why we must stand taller, fight harder, scream louder.

The Colorado Civil Union Act has a real chance of becoming a reality.
OutFront continues:
"Is there hope?" one of our Twitter followers asked us.

There's always hope. And this time hope's name is Rep. Brian DelGrosso of Loveland. DelGrosso, unlike other Republicans on the committee, has vocalized the possibility his 'nay' can become an 'yea.'
Again, please consider contacting the members of the House Judiciary Committee to show your support for civil unions. I've posted their contact information here.
CO civil union bill going to committee Thursday, here are the Reps that need to hear from you
Daniel Gonzales
May 1st, 2012
SB-2 the civil union bill here in Colorado has been scheduled for a hearing by the House Judiciary Committee this Thursday (May 3).  This committee is generally regarded as the most important hurdle in the process because if the bill makes it to a floor vote in the House it will likely pass.
So Thursday's Judiciary Committee hearing is a bit of a showdown.  It's where the bill died last year after hours of passionate testimony failed to overcome a one vote Republican majority on the committee.
Here's a list of the Republicans who sit on Thursday's committee.  I would encourage you to contact them and speak compassionately, persuasively, and respectfully about the need to protect committed gay and lesbian families here in Colorado.
Rep. Brian Delgrosso, HD-51 Loveland
brian@briandelgrosso.com
303-866-2947
Facebook profile

Rep. BJ Nikkel, HD-49 Loveland
rep.nikkel@gmail.com
303-866-2907

Rep. Mark Waller, HD-15 Colorado Springs
mark.waller.house@state.co.us
303-866-5525
Facebook profile
Rep. Jerry Sonnenberg, HD-65 Sterling
jerry.sonnenberg.house@state.co.us and Jerry@RepSonnenberg.com
303-866-3706
Facebook profile
Rep. Mark Barker, HD-17 Colorado Springs
mark.barker.house@state.co.us and mark@markbarker.org
719-339-8265 and 303-866-3069
Facebook profile
Rep. Bob Gardner, HD-21 Colorado Springs
bob.gardner.house@state.co.us
303-866-2191

Civil unions bill clears Colorado Senate despite theocratic opposition
Daniel Gonzales
April 27th, 2012
Thursday SB-2 (civil unions) passed out of the Colorado Senate with a vote of 20-12 with 3 Republicans joining Dems in support.
In last year's campaign video I shot of a grandmother who provided graphic testimony about the human anus came to represent the bill's opposition.
This year two particularly religious Republican Senators have provided some amusing debate.  Here's a clip of highlights I assembled from today's floor debate.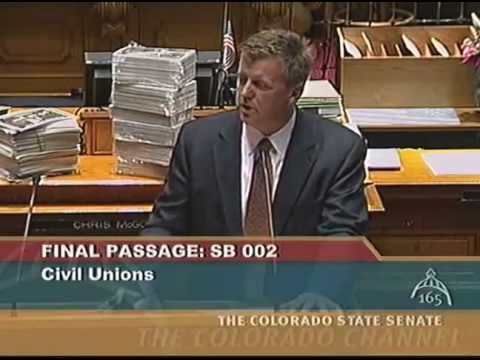 The bill now moves on to the House, which is controlled by Republicans by a single vote.  Although openly gay sponsor Mark Ferrendino has enough votes in the House to pass the bill, it's generally believed the House Judiciary Committee where the bill died last year will again be the largest challenge.
Campaign for civil unions gets underway in Colorado
Daniel Gonzales
January 15th, 2012
Colorado's legislative session began last Wednesday and while most of the excitement was in Denver, equality org One Colorado held their civil union campaign kickoff in Colorado Springs that evening.  It was a low profile event, not designed for the media but rather for community members who's excitement and passion is an absolute must in the effort to get civil unions passed into law.
.
Since last year's effort Public Policy Polling has reported support for civil unions has grown from 71% to 76%.  That makes civil unions more popular than even Tim Tebow who polls at 59% favorability.  And that support for civil unions is not confined to urban centers like Denver, in advance of Wednesday's legislative kickoff the Durango Herald editorialized in support. Also attracting positive media attention is a new group of Republicans for civil unions called Coloradans for Freedom which approaches the issue from traditional GOP philosophies of individual liberty and fiscal responsibility.
But back to One Colorado's kickoff – speakers included:
.
.
.
.
.
.
After the event attendees enjoyed light refreshments and lingered to chat — I was able to reconnect with several people I hadn't seen since last year's campaign.  One Colorado is setting a decidedly different tone in this year's push for civil unions.
Oh I should add that the following day in his state-of-the-state address, Governor John Hickenlooper endorsed civil unions, saying:
"We don't believe we should legislate what happens inside a church or place of worship, but government should treat all people equally," Hickenlooper said. "It's time to pass civil unions."
If you're interested in adding your voice to call for civil unions feel free to sign One Colorado's petition here.
Colorado Republicans start pro-civil unions group
Timothy Kincaid
January 9th, 2012
With very high support for civil unions in Colorado – including from one in five Republicans – a new group has formed to give voice to that support. (Colorado Statesman)
"Coloradans for Freedom" enters the scene less than one year after a bill to legalize civil unions was voted down by Republicans on party lines in the state's House Judiciary Committee last March.

Coloradans for Freedom spokesman Mario Nicolais, a Jefferson County attorney who served as a Commissioner on the Colorado Reapportionment Commission, said the group exists primarily to serve as a resource for Republicans and anyone else interested in a conservative argument for civil unions.
I wish them well.
How Same Sex Marriage Leads To Incest
Jim Burroway
November 3rd, 2011
Step 1: Pass a law allowing gays to marry.
Step 2: Hold new elections, changing the composition of the state legislature.
Step 3: Propose a ban on same-sex marriages.
Step 4: Drop the proposed ban and go instead for a repeal of same-sex marriage, replacing it with a proposal to institute civil unions for everyone regardless of gender — and regardless of whether they are already related to each other.
So you see? NOM was right. Same-sex marriage does lead to state recognition of incest.
Nine
Jim Burroway
August 17th, 2011
That's how many couples that have entered into civil unions since Rhode Island began offering them in July. There was a time when news of a new state offering civil unions was loudly cheered. But when marriage equality — which was seen as very doable earlier this year — was ditched in favor of a very pale hint of an imitation, it landed with a thud. And as a result, Rhode Islanders have stayed away in droves:
"If it had been marriage people would have been lining up," said Dawn Euer, a spokeswoman for Marriage Equality Rhode Island. "People are holding out for marriage. They want true equality, not a made-up, bureaucratic, second-class status."

…Give it time," said Rep. Peter Petrarca, D-Lincoln. "It's summer. I'm sure we'll see an uptick once people start figuring it out and deciding what they want."
Uh-huh. Funny, but it was also summer in New York and nobody had to ask anyone there to just "give it time."
One third of gay employees have access to partner benefits
Timothy Kincaid
July 27th, 2011
In the first comprehensive count of domestic partner benefits by a federal government agency, the Bureau of Labor Statistics found that about one-third of all workers had access to health care benefits for same-sex partners.

Bureau officials added two questions about domestic partner benefits for same-sex couples to the National Compensation Survey, a sample of 17,000 businesses and local governments, as a response to growing public interest in the topic, said Philip Doyle, assistant commissioner at the agency. The results were made public on Tuesday.
This report is based on data from March 2011 and would not include recent changes made to couple recognition which were not enacted at that time: marriage in New York and civil unions in Illinois, Hawaii, Delaware, and Rhode Island.
Additionally, as companies recognize the same-sex spouse of a New York employee, many will be inspired at that time to adopt partner benefit programs for employees in states that do not have a vehicle for partner recognition. Otherwise, for example, Dunder Mifflin may find that the morale in its Scranton branch suffers.
Chilean President proposes couple recognition
Timothy Kincaid
July 12th, 2011
During the last presidential campaign in Chile, candidates sought to outdo each other in their displays of support for gay Chileans. At the time, we wondered whether or how this would translate into legislation after the election.
As it turns out, conservative Chilean President Sebastian Pinera, who as a candidate ran prime-time ads with gay men holding hands and lesbians kissing each other, is prepared to take action on the issue. It appears to be comparable to a Domestic Partnership (but will probably be called "civil unions" in English-speaking press).
From La Tercera (as translated by Google)
According to a draft summary of the currency delivered in recent days representatives of the Alliance, which agreed the Third, this will allow unmarried couples, heterosexual and homosexual, to register with the Registrar if they meet some requirements, including a period of coexistence of more than one year.

Although the agreement between the cohabitants must subscribe before a notary, as a way to avoid a ceremony that may resemble that of a civil marriage, the contract must be validated within 15 days, with an inscription to the Civil Registry .

In line also with the idea of differentiating the new institution of marriage, it would be called "non-marital cohabitation agreements" (ACNM), and "will not alter or marital status of the contractor or establish kinship by affinity relatives of the other. "
If I read this correctly, you get couple recognition and legal rights, but no in-laws.
If this proposal passes, Latin America will have the following forms of couple recognition:
Argentina recognizes marriage and Mexico recognizes marriage provided that they occur in Mexico City. Brazil, Uruguay, and Ecuador recognize civil unions. Chile will recognize whatever form ultimately results from the legislation, and Colombia recognizes common-law marriage.
Chafee signs civil unions
Timothy Kincaid
July 3rd, 2011
Rhode Island's governor on Saturday signed into law a controversial bill legalizing same sex civil unions, but said it does not go far enough toward legalizing gay marriage.

GovernorLincoln Chafee, an independent who supports gay marriage, nonetheless signed the measure with the promise that it would move Rhode Island closer to the ultimate goal of legalizing gay marriage.
I think Chafee did the right thing.
Yes there are overly broad religious exemptions (and Chafee noted them). Yes some people will use these exemptions to unfairly discriminate.
But some Rhode Island couples very much need the protections that are provided – and honored by honorable people. We cannot stop here. Now we move forward – with the Governor – to correct the broad language and to enact true marriage equality.
Couple recognition, state by state, mid-2011 update
Timothy Kincaid
June 29th, 2011
The first half of this year has seen some victories and some defeats; and even some which are hard to categorize. But, there certainly has been change.
The status of the various recognition mechanisms is as follows (2011 additions are in italics):

Marriage on the same terms as heterosexual marriage – 11.5% of US Population:
Massachusetts
Connecticut
Iowa
Vermont
New Hampshire
District of Columbia
New York

Civil Unions – all rights except the name – 8.2% of US Population:
New Jersey
Illinois
Hawaii
Delaware
Rhode Island
Domestic Partnerships with nearly all the rights except the name – 16.3% of US Population
California
Oregon
Washington
Nevada
Limited recognition of same-sex couples – 5.8% of US Population
Colorado – Reciprocal Benefits
Wisconsin – Domestic Partnerships
Maine – Domestic Partnerships
Maryland – Domestic Partnerships
In addition, the state of Maryland (and perhaps New Mexico) will give full recognition to same-sex marriages conducted where legal.
So about 41.8% of all US residents live in a state in which some measure of recognition is given to same sex-couples. In addition, another 7.3% of the population lives in one of the dozens of cities which offer some form of recognition and protection for same-sex couples.
LGBT Groups Urge Veto of Rhode Island Civil Unions Bill
Jim Burroway
June 29th, 2011
A broad coalition of LGBT advocacy groups are urging Rhode Island governor to veto the fatally flawed Civil Unions Bill which passed the state Senate earlier today. According to a press release sent out by two of those groups:
On the heels of a marriage victory in New York, marriage advocates including Freedom to Marry and the Gay & Lesbian Advocates & Defenders (GLAD) sent a letter late yesterday evening to Rhode Island governor Lincoln Chafee calling on him to veto the civil union bill currently under consideration if it comes to his desk in its present form.  The bill contains a provision that would allow   religious organizations and their employees to disregard couples' civil union status, creating unprecedented, onerous and discriminatory hurdles for same-sex couples seeking to take care of one another.

"This flawed civil union bill undermines a crucial principle that Rhode Island has always stood for — respecting the separation of church and state," said Marc Solomon, National Campaign Director for Freedom to Marry.  "Not only does the bill propose a separate-and-unequal status instead of ending the denial of marriage itself, it grants an unprecedented license to discriminate against same-sex couples and their families. Governor Chafee should veto this defective bill and work with the legislature to enact a marriage bill that ends discrimination while preserving religious and personal freedom on equal terms for all."

The letter, which was signed by groups including Freedom to Marry and GLAD, reads: 
This amendment could allow individuals, who are legally required to recognize everyone else's legal commitments, to opt out of doing so only for gay and lesbian people.   In practical terms, this law could allow religiously affiliated hospitals to deny a civil union spouse's right to be by his spouse's side and make medical decisions for him, and could allow religiously affiliated agencies to deny an employee's right to leave in order to care for his civil union spouse under Rhode Island Family and Medical Leave.

To read the full letter and see the full list of signers, click here.

"The Corvese amendment actually diminishes protections already available under Rhode Island law, and is seriously damaging to Rhode Island's gay and lesbian families. If it becomes law, there is trouble ahead for Rhode Island's same-sex couples," said Karen Loewy, Senior Staff Attorney for Gay and Lesbian Advocates and Defenders.
Signatories to the letter include: American Civil Liberties Union, Family Equality Council, Gay & Lesbian Advocates & Defenders (GLAD), Freedom to Marry, Human Rights Campaign, Lambda Legal Defense and Education Fund, Marriage Equality Rhode Island, National Center for Lesbian Rights, and the National Gay and Lesbian Task Force.
When New York lawmakers negotiated that state's marriage equality bill, particular focus was on a set of provisions which would provide an exemption for religious groups and organizations from being required to recognize same-sex marriage. New York's exemptions were narrow and carefully crafted, giving very little away from what was already constitutionally guaranteed under the First Amendment. Those limits were carefully placed around churches, religious schools, and housing provided for members of a particular faith.
But the exemptions in Rhode Island's civil unions bill, as it currently stands, pretty much allows virtually anyone to ignore a couple's civil union:
15-3.1-5. Conscience and religious organizations protected. –

(a) Notwithstanding any other provision of law to the contrary, no religious or denominational organization, no organization operated for charitable or educational purpose which is supervised or controlled by or in connection with a religious organization, and no individual employed by any of the foregoing organizations, while acting in the scope of that employment, shall be required:

(1) To provide services, accommodations, advantages, facilities, goods, or privileges for a purpose related to the solemnization, certification, or celebration of any civil union; or

(2) To solemnize or certify any civil union; or

(3) To treat as valid any civil union; if such providing, solemnizing, certifying, or treating as valid would cause such  organizations or individuals to violate their sincerely held religious beliefs.

(b) No organization or individual as described in subsection (a) above who fails or refuses to provide, solemnize, certify, or treat as valid, as described in subdivision (a)(1), (a)(2) or (a)(3) above, persons in a civil union, shall be subject to a fine, penalty, or other cause of action for such failure or refusal.
Civil Unions pass Rhode Island Senate
Timothy Kincaid
June 29th, 2011
Less than a week after same-sex marriage was legalized in New York, the Rhode Island State Senate on Wednesday evening approved a bill allowing not marriage, but civil unions for gay couples, despite fierce opposition from gay rights advocates who called the legislation discriminatory.
Governor Chaffee is expected to sign the bill.
Mr. Chafee told reporters on Wednesday that he would probably sign the bill even though he thought the religious protections were overly broad.

"We're taking incremental steps forward, as other states have," he said. "We want to get on the path to full equality, and this is a step on the path."
We will continue our fight for equality. And it appears that the first step will be to get State Senate President, M. Teresa Paiva Weed (D – Jamestown), somehow replaced. She now stands as the single biggest obstacle to civil equality in the state.