Ex-Gay Survivors Talk About Love In Action and other Ex-Gay Ministries
Jim Burroway
February 22nd, 2008
It's been a very long day here in Memphis, where several of us have gathered for the Beyond Ex-Gay Mid-South Regional Gathering taking place this weekend. Earlier today, we had a press conference to talk about the experiences of those who had participated in ex-gay ministries and therapies, and to talk about the Love Won Out ex-gay conference taking place here on Saturday.
I'm posting the videos of that press conference a bit out of order because I really want to highlight Jacob Wilson's comments. Jacob was a client at Love In Action, the residential ex-gay program in Memphis made famous by Zach, the sixteen-year-old blogger who was forced into the program against his will. Listen as Jacob describes his experience there, especially the infamous "friends and family weekend," which was an integral part of the program. If you don't watch any other video in this post, you must at least see this one: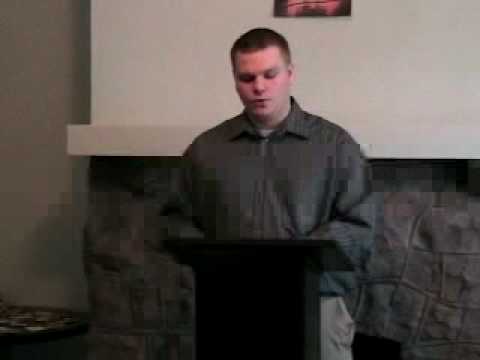 I was standing near another former client of Love In Action as Jacob spoke. He described his experience at a different "friends and family weekend" which was very nearly identical to Jacob's. I cannot imagine a more outrageous form of abuse short of physical abuse than to force anyone to speak like this in front of their parents. Coupled with Love In Action's bizarre rules, we would be calling this outfit a brain-washing cult if it weren't being operated as a "Christian ministry." Christians everywhere should be outraged.
Other videos from the press conference, in order of appearance:
Yours truly, talking about what was said at Love Won Out, and how real live parents who were attending responded to what they said: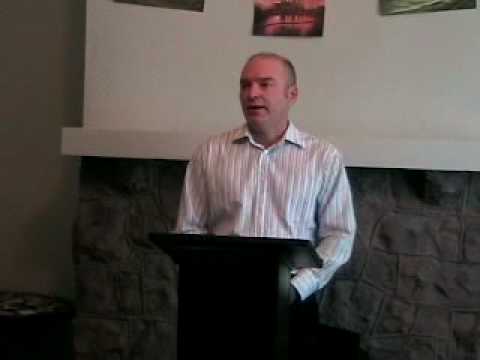 Brandon Tidwell went into Love In Action six years ago, soon after coming out to his parents: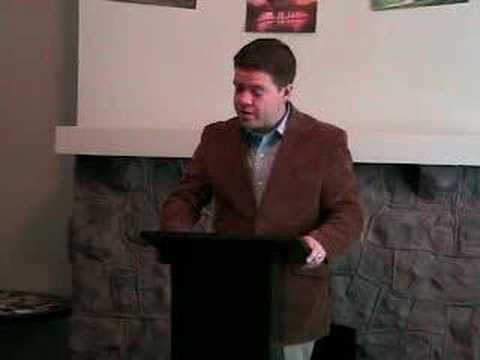 After Brandon and Jacob spoke, John Holm talked about the collages which ex-gay survivors put together to describe their personal experiences which they will share tomorrow morning at the Love Won Out conference:

And finally, the hardest working woman in the whole program, Christine Bakke took reporters on a tour of the art show that she oversaw at the Memphis Gay and Lesbian Community Center.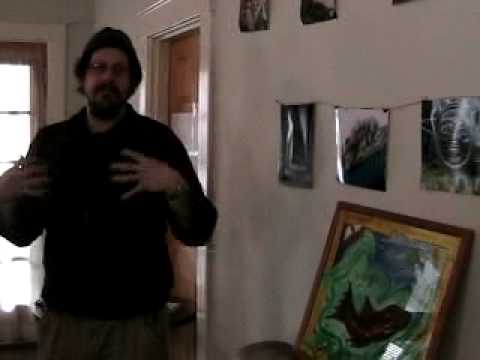 John Smid's Vagina Monologue
Jim Burroway
February 19th, 2008
I've wanted to post about this ever since I attended the Exodus Freedom Conference last summer. But to be perfectly honest, I was so flabbergasted by Love In Action Director John Smid's workshop on masturbation that I was never able to figure out how to approach it.
Watch this, especially at the point about halfway through the video when he talks about respecting his wife while talking about her vagina. When someone like this projects so many of his issues onto everyone else, do you think he's qualified to teach anyone about sexuality?
So now that you've heard that, read the rules that the residential clients at Love In Action are expected to follow. It takes your breath away, doesn't it?
The Burden of Blame: How Love In Action Harms Parents
Jim Burroway
February 19th, 2008
I've written before about the cruel messages that parents often pick up from the ex-gay movement, messages which say that parents are to blame for their child's homosexuality. Several people have questioned me about whether this is true or not. All I can do is report what I heard from talking to parents themselves. Former ex-gays have come forward to talk about their experiences, but so far few parents have spoken up.
Ex-gay surviver Peterson Toscano has posted a very poignant video in which he recounts his parents' devastation after attending a "Family and Friends" weekend at the Love In Action residential ex-gay program in Memphis, Tennessee. It was a message which Peterson's mom carried with her for the rest of her life. Watch it: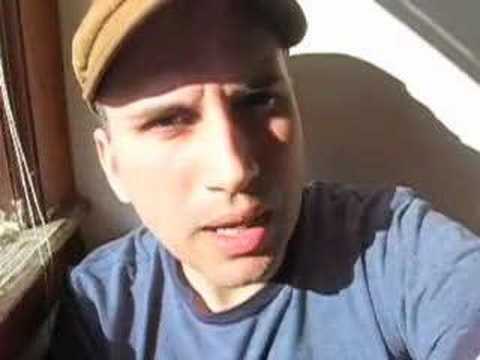 Peterson talked later with someone at Love In Action about his parents experience and received an unbelievably callous response:
But when I spoke with someone … about all that happened with my mom and the years of doubt and torment she suffered, he shot back, "Healthy people ask for what they need." I said, "Wait, what!?" He continued, "If your mom was having problems, she should have gotten some help." But my mom had already been burnt by "experts," and I know she didn't want to expose herself to more hurt. But even if she could of or should of talked to someone to help her understand the issues better, what a pitiful response from this Christian leader.
Love In Action bills themselves as Christians, professionals, and experts. But with actions like these, they defile all three labels. We'll have more on Love In Action later.
Memphis Commerial Appeal on Ex-Gay Survivors
Jim Burroway
February 17th, 2008
Jacob Wilson was just nineteen when he was involved with Love In Action's residential adult program at the same time that Love In Action was in the national spotlight. A few years ago, LIA gained notoriety when a teenager named Zach wrote on his mySpace page about being forceed by his parents into LIA's now-closed Refuge program for youth.
Zach's supporters protested outside of LIA, but Wilson says the men and women inside were told not to make eye contact with the protesters and not to read their signs.

After Wilson left LIA, he found out what the protesters had wanted him to know.

"These people weren't doing it to be activists, they were doing it to show that we weren't alone, that we were loved … It crushes me that that message was cut from us."
The Memphis Commercial Appeal reports this morning on Jacob Wilson's experience at Love In Action as he struggles to pay off the huge credit card debt from that failed effort. There's also more information about this week's Beyond Ex-Gay Mid-South Regional Gathering on Feb 22-24 in Memphis.
"This is What Love in Action Looks Like" In Post-Production
Daniel Gonzales
December 11th, 2007
Peterson Toscano reports queer filmmaker Morgan Fox is in need of additional funding to assist with editing and licensing of his upcoming film about Love In Action. Peterson (along with Bruce Garrett) is an associate executive producer on the film.
If you wish to donate money you may do so at the film's blog.
And, in case you live on Mars and haven't seen the trailer yet, here it is.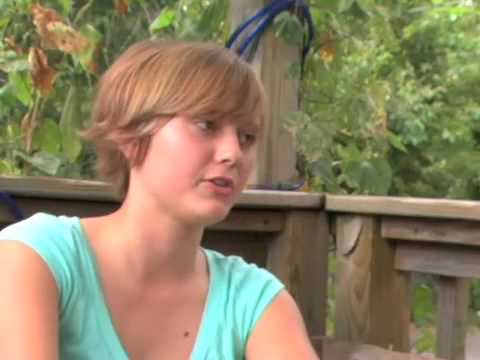 "How Can Lies Be Truth? – Second Edition"
Video exploring the ex-gay promoting "Day of Truth" is re-released with prologue covering changes since video was originally released.
Daniel Gonzales
November 6th, 2007
Since I first created a youtube film examining the "Day of Truth" a great deal has changed at Love In Action and a great deal has not changed at Exodus International and at the Alliance Defense Fund. Since my video is one of the few internet resources available on the "Day of Truth" I have decided to updated it by adding a prologue explaining developments since it was originally released.
I present "How Can Lies Be Truth? – Second Edition"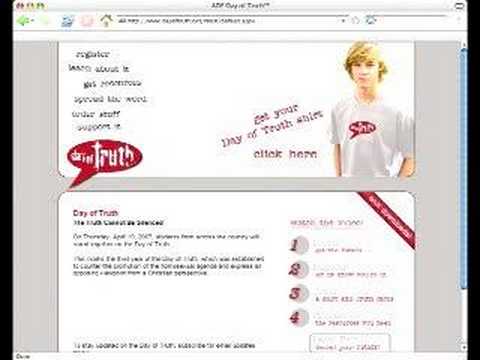 Peterson Toscano Presents Outline Of Harms Done By Ex-Gay Programs
Daniel Gonzales
October 17th, 2007
We ex-gay survivors are able to list the individual ways our lives have been affected by our ex-gay experiences but it's good to see Peterson Peterson has compiledan outline categorizing all the forms of harm in a logical fashion. His basic categories (many of which have sub-categories) are:
Emotional Harm
Psychological Harm
Spiritual Harm
Relationship Harm
Financial Harm
Career Harm
Physical Harm
Sexual Harm
Developmental Harm
Peterson invites commenters to share either on the post itself or at BeyondExGay.
Love In Action "Refuge" Youth Program Shut Down
Jim Burroway
July 1st, 2007
Remember Zach, the 16-year-old whose MySpace blog revealed that he was about to be involuntarily committed to Love In Action's youth live-in program "Refuge" in 2005? He was committed to a two-month stay in the residential program, and his plight spawned international outrage along with unprecedented protests in Memphis. It also inspired filmmaker Morgan Fox to begin filming the documentary, "This Is What Love In Action Looks Like," set for release in January 2008.
This evening at the Ex-Gay Survivor Conference in Irvine, California, we screened short excerpts of several documentary films including Fox's unfinished work. Just before Fox's extended trailer was shown, we learned that he had to make a very quick last-minute change to the ending today. And when we saw that ending, the crowd erupted in both cheers and tears as we saw that Love In Action Director John Smid confirmed that the "Refuge" youth program has been "dissolved."
There were many cathartic moments at the Ex-Gay Survivor Conference, but for me at least, this surprise announcement was the most satisfying. I hope this will finally bring to an end any ideas that holding youth against their will for counseling they neither need nor desire is acceptable in a civilized country. This is a great step forward.
Peterson Toscano shares his personal thoughts here.