"How Can Lies Be Truth? – Second Edition"
Video exploring the ex-gay promoting "Day of Truth" is re-released with prologue covering changes since video was originally released.
Daniel Gonzales
November 6th, 2007
Since I first created a youtube film examining the "Day of Truth" a great deal has changed at Love In Action and a great deal has not changed at Exodus International and at the Alliance Defense Fund. Since my video is one of the few internet resources available on the "Day of Truth" I have decided to updated it by adding a prologue explaining developments since it was originally released.
I present "How Can Lies Be Truth? – Second Edition"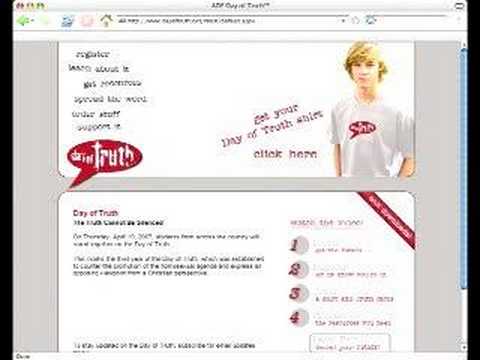 Peterson Toscano Presents Outline Of Harms Done By Ex-Gay Programs
Daniel Gonzales
October 17th, 2007
We ex-gay survivors are able to list the individual ways our lives have been affected by our ex-gay experiences but it's good to see Peterson Peterson has compiledan outline categorizing all the forms of harm in a logical fashion. His basic categories (many of which have sub-categories) are:
Emotional Harm
Psychological Harm
Spiritual Harm
Relationship Harm
Financial Harm
Career Harm
Physical Harm
Sexual Harm
Developmental Harm
Peterson invites commenters to share either on the post itself or at BeyondExGay.
Love In Action "Refuge" Youth Program Shut Down
Jim Burroway
July 1st, 2007
Remember Zach, the 16-year-old whose MySpace blog revealed that he was about to be involuntarily committed to Love In Action's youth live-in program "Refuge" in 2005? He was committed to a two-month stay in the residential program, and his plight spawned international outrage along with unprecedented protests in Memphis. It also inspired filmmaker Morgan Fox to begin filming the documentary, "This Is What Love In Action Looks Like," set for release in January 2008.
This evening at the Ex-Gay Survivor Conference in Irvine, California, we screened short excerpts of several documentary films including Fox's unfinished work. Just before Fox's extended trailer was shown, we learned that he had to make a very quick last-minute change to the ending today. And when we saw that ending, the crowd erupted in both cheers and tears as we saw that Love In Action Director John Smid confirmed that the "Refuge" youth program has been "dissolved."
There were many cathartic moments at the Ex-Gay Survivor Conference, but for me at least, this surprise announcement was the most satisfying. I hope this will finally bring to an end any ideas that holding youth against their will for counseling they neither need nor desire is acceptable in a civilized country. This is a great step forward.
Peterson Toscano shares his personal thoughts here.