Moscow Police Break Up Pride March, 40 Arrested
Jim Burroway
May 27th, 2012
LGBT advocates attempted two Pride demonstrations in Moscow today. The first outside a city council building was blocked by Russian Orthodox opponents and broken up by police.  The second demonstration by city hall was also broken up by police, who arrested about 40 LGBT advocates and a small number of Orthodox opponents. According to the Washington Post:
Gay activist Galina Kaptur criticized city authorities for treating homosexuality as a contagious disease that would be spread through society if gays were allowed to hold a parade.

"It's as if they thought that if all left-handed people held a parade, then afterward everyone would become left-handed," Kaptur said. "This is wrong."

Among the opponents of gay rights was Dmitry Tsarionov, who spoke to the crowd in front of a sign that said "Moscow is not Sodom."

"I will not allow perverts to bring the wrath of God onto our city," he said. "I want our children to live in a country where a sin that so awfully distorts human nature is not preached in schools."
Gay rights advocate Nicolai Alexeyev was among those arrested.
17 Arrested Under St. Petersburg "Don't Say Gay" Law
Jim Burroway
May 1st, 2012
According to the St. Petersburg, Russia web site Coming Out, seventeen LGBT advocates were arrested for carrying rainbow flags as part of the May 1st civil rights and freedom march on Nevsky Prospect, the city's main boulevard. The LGBT advocates were participating in the city-sanctioned march as part of a larger group of democratic and civil society gropus. According to Coming Out:
5 minutes into the march, police requested removal of rainbow flags. When activists refused, they were forcefully detained and are now facing charges of "propaganda of homosexuality" and non-compliance with the police. One activist was detained for holding a sign "homophobia is illegal."

17 activists are still being held by the police. Among those detained are Igor Kochetkov, chairman of the Russian LGBT Network, Mikhail Belodedov of Coming Out, Sergey Kondrashov, lawyer and straight ally, and Elena Popova, director of St. Petersburg organization "Soldier's mothers", defending rights of draftees.
The so-called "gay propaganda law" bars groups, publications, events and other so-called "promotion" of LGBT rights, was passed in St. Petersburg in February. The Russian Parliament and Moscow City Council may take up similar proposals.
Russian Parliament To Consider Bill Banning Gay "Propaganda"
Jim Burroway
March 30th, 2012
Last month, the St. Petersburg city government enacted a law banning public advocacy for LGBT people. Now a similar bill is being considered in Russia's lower house of Parliament. The proposed bill, which was introduced by Novosibirsk regional lawmakers, includes fines for up to 500,000 rubles (US$16,500) for "public activities that promote homosexuality as normal behavior." It also calls for a fine of 1 million rubles (US$33,000) for publish material promoting pedophilia. Like the St. Petersburg law, the new proposal would effectively link homosexuality with child sexual abuse.
In addition to St. Petersburg, similar laws have also been enacted in Ryazzan, Arkhangelsk and Kostroma regions.
St. Petersburg Legislature Passes Anti-Gay Bill
Jim Burroway
February 29th, 2012
Via the Russian LGBT web site Anti-Dogma comes word (Google Translate) comes word that the legislature of St. Petersburg, Russia, gave its approval on the third reading of a bill prohibiting the "promotion" of homosexuality. As Anti-Dogma put it:
For educated people, it is obvious that any propaganda of homosexuality does not exist in nature. This means that the law is needed for something else. In particular, for the creation of obstacles to human rights organizations.

The same legislative speculators who want to curry favor with the authorities, with the same zeal can take, and for other minority religious, ethnic, etc. And those who now applauds "the triumph of traditional values," very soon may be surprised to find himself among the "forbidden".
According to Anti-Dogma, twenty-nine deputies voted for the bill, five against, and one abstained. According to earlier reports, the bill prohibits organizations and individuals from engaging in "public actions aimed at propaganda of pederasty, lesbianism, bisexuality, and transgenderism among minors." he bill has a separate but identical provision banning advocacy for pedophilia, thus equating it with homosexuality in the public debate. During the bill's second reading earlier this month, the penalties were significantly increased. Individuals convicted under the law will be fined 5,000 rubles (US$173) and organizations will be fined 500,000 rubles (US$17,285), a figure which will effectively shut down St. Petersburg's LGBT organizations. Similar measures have been enacted in Ryazan, Kostroma and Arkhangelsk Oblasts.
St. Petersburg Russia Approves Second Reading of "Ban-The-Gay" Bill
Jim Burroway
February 8th, 2012
The St. Petersburg city legislature passed the second of three readings today a bill which prohibits "public actions aimed at promoting sodomy, lesbianism, bisexuality, and transgender minors" and the "uncontrolled dissemination of public information" including "misconceptions about the social equivalence of traditional and nontraditional marriage." On the second reading, the bill approved today includes fines that are significantly higher than those provided in the original bill. Individuals convicted under the law will be fined 5,000 rubles (US$167) and organizations will be fined 500,000 rubles (US$16,698), a figure which will effectively shut down St. Petersburg's LGBT organizations including a prestigious international film festival. The vote was 31-6.
US Pushes Hard on LGBT Rights Around the World
Jim Burroway
December 6th, 2011
The Obama administration has issued a flurry of documents and Secretary of State Hillary Clinton gave a groundbreaking speech on the need for protecting the human rights of LGBT people around the world. It began this morning with the White House memorandum directing American international agencies to take action in countries where LGBT abuses are taking place. That was followed by fact sheets from the White House and the State Department outlining the new policies as well as past accomplishments. Of particular interest is the State Department's description of its engagement in Uganda over concerns about the proposed Anti-Homosexuality Bill:
Alongside Ugandan civil society's strong and sustained outreach to parliamentarians and the Uganda Human Rights Commission, and advocacy of other governments, U.S. Government advocacy against Uganda's proposed Anti-Homosexuality Bill established a precedent for the United States, the international donor community and civil society to collaborate to counter efforts to criminalize same-sex conduct. [Emphasis mine]
While activities in Uganda are mentioned, Africa was not alone in receiving the State Department's attention over the past few years. Also mentioned are Jamaica, Slovakia, Indonesia, Guinea, Serbia, and India. Meanwhile, Secretary Clinton gave what has been described as a groundbreaking speech in Geneva in advance of Human Rights Day this Saturday. I wasn't able to see the speech and hope to have the transcript as soon as possible. (Update: It's here, and it's a doozy.)
It remains to be seen how the actions today will be reported in the popular media and what the response will be in countries which stand to be affected by today's announcements. But past events does give us a clue as to how today's developments are likely to be received in world capitals where LGBT persecution is either official policy or the social norm. Russia had earlier denounced American diplomatic protests over a proposed bill in St. Petersburg which would prohibit LGBT advocacy in public, and Deputy Prime Minister Dmitry Kozak followed that with a suggestion that the St. Petersburg proposal could be made a federal law. In Africa, following comments from British Prime Minister David Cameron warning that countries which prosecute LGBT people could see their foreign aid cut (a warning that was later modified to say that the aid would be redirected to NGO's instead), African leaders, including those who oppose LGBT oppression, warned that the statement could backfire on efforts to head off legislation which would severely increase penalties against LGBT people. African LGBT advocates also warn that if changes in foreign funding force cutbacks in governmental services, the local LGBT communities would feel the brunt of the blame, making the work of LGBT advocacy much more difficult in countries where the prevailing belief is that homosexuality is a Western import.
None of that is to say that these pronouncements from the US and IK aren't unwarranted or improper. But every action has an equal and opposite reaction, and as they say in Africa, when elephants fight, the grass suffers. Since Cameron's announcement in October, there has been a measurable uptick on African newspaper articles mentioning homosexuality popping up through November and December in my Google Alerts for the continent, and those articles are rarely positive. The Ugandan Parliament revived the Anti-Homosexuality Bill by the end of October, and the Nigerian Senate greatly increased the penalties in a bill which makes same-sex unions a felony in November.
Now to be clear, neither action was a response to Britain's announcement; both events almost certainly have occurred anyway. But if anyone had been inclined to speak out against those two bills before, the current politics now makes that all but impossible. No African politician has ever lost influence by standing up to "meddling" by foreign and (especially) colonial powers. And no politician anywhere in the world — east, west, north or south — has survived the taint of being accused of colluding with foreign governments, no  matter how manifestly untrue, unjust, or an irrelevant distraction those accusations may be.
In the short term, these announcements are likely to exacerbate the situation. That is just a simple fact of life, but pointing that out isn't to say that this is not a good change in direction. It is merely to say that we will need to be forewarned and prepared for the inevitable reaction which will come of it. Fasten your seat belts.
Russian Deputy PM Suggests "Homosexual Propaganda" Bill Can Be Made Federal
Jim Burroway
December 2nd, 2011
The Interfax News service reports that Deputy Prime Minister Dmitry Kozak has suggested that the proposed bill in St. Petersburg which would ban the "promotion" of homosexuality could be made a federal law:
"Probably, we should consider this topic at the federal level," Kozak told a press conference in St. Petersburg on Friday. Any propaganda regarding non-conventional sexual relations is "an abominable thing to do," he said.
The bill also includes a ban on the promotion of pedophilia — is there a problem with this in Russia? — and therefore uncritically links homosexuality with pedophilia in the public debates taking place over the bill.
St. Petersburg City Legislature Punts Anti-Gay Bill Vote
Jim Burroway
November 30th, 2011
In a surprising development, LGBT advocate Polina Savchenko of St. Petersburg-based LGBT organization Coming Out reports that the city legislature completed its session today without voting on the bill which would ban "public actions aimed at propaganda of pederasty, lesbianism, bisexuality, and transgenderism among minors." With this delay, the bill will not be adopted before the elections scheduled for this weekend. The danger that the bill could resurface in the next government, however, remains very real, according to the statement from Coming Out.
The Daily Agenda for Wednesday, November 30
Jim Burroway
November 30th, 2011
TODAY'S AGENDA:
Ban on LGBT Advocacy Scheduled For Vote: St. Petersburg, Russia. The St. Petersburg City Duma is expected to give the third and final reading today for a bill which would ban all LGBT advocacy with a fine of up to $1,600 for organizations engaging in "public actions aimed at propaganda of pederasty, lesbianism, bisexuality, and transgenderism among minors." The fine for individuals would be about $100. The U.S. State Department has expressed "deep concerns" about the proposed legislation and called on Russian officials " to safeguard these freedoms, and to foster an environment which promotes respect for the rights of all citizens." The Russian Foreign Ministry has, in turn, denounced the State Department's comments. "We view with bewilderment the American side's attempts to interfere, what's more, publicly, in the lawmaking process."
Local LGBT advocates fear that the measure would provide another tool for police crackdowns, not only on Pride events, but also on the numerous conferences, meetings and film festivals which take place in the city each year. What's more, the bill's very vagueness leaves open the question of what constitutes "public actions." Two women holding hands in public or one man with a rainbow lapel pin may run afoul of the new law. Similar laws have already been passed in Arkhangelsk and in the Ryazan region, and the St. Petersburg bill is expected to pass as well. After all, elections are only four days away.
If you know of something that belongs on the Agenda, please send it here. Don't forget to include the basics: who, what, when, where, and URL (if available).
As always, please consider this your open thread for the day.
St. Petersburg Anti-Gay Bill Delayed One Week
Jim Burroway
November 23rd, 2011
The proposal in St. Petersburg, Russia, to ban all advocacy for LGBT rights was expected to sail through its second reading and become law today, but The Moscow News now reports that the bill has been delayed a week "to clarify all legal definitions connected to this law."
Russian Cities Weigh Laws Banning LGBT Advocacy
Jim Burroway
November 23rd, 2011
Two Russian regions have already passed laws prohibiting all forms of LGBT advocacy, and now the city governments of St. Petersburg and Moscow are considering similar measures.
Earlier this year, Ryazan and Arkhangelsk oblasts passed laws banning what they call "gay propaganda," which include public speech and advocacy on behalf of gay and transgender people. The St. Petersburg proposal includes a fine of up to $1,600 for organizations engaging in "public actions aimed at propaganda of pederasty, lesbianism, bisexuality, and transgenderism among minors." The fine for individuals would be about $100.The bill doesn't define what constitutes "public actions," leaving LGBT advocates concerned that the law would be yet another tool for police to use to crack down on gay pride events. The bill has a separate but identical provision banning advocacy for pedophilia, thus equating it with homosexuality in the public debate. The bill, which is backed by the ruling United Russia party, passed the first of three required readings last week with a 27-1 vote, with one abstention.
Shortly after the bill passed its first reading in St. Petersburg, a Moscow-based newspaper reports that a similar bill is in the works in the Moscow Duma. There is also talk that Russian state legislators may take up similar measures. One delegate says the proposal however would not go far enough:
If this [law against gay propaganda] is meant for our state's security, this is all good. Only the people who break that law should not be fined;instead, they need to receive punishment under the criminal code", said deputy Ekaterina Lahova.
Russia decriminalized homosexuality in 1993 under President Boris Yeltsin.
Slavic Pride Attacked By Police, 14 Arrested
Jim Burroway
June 25th, 2011
Despite the ban imposed by St. Petersburg city hall, Russian LGBT advocates held a Slavic Pride demonstration near the monument to Peter the Great in central St. Petersburg. When Pride participants arrived at the monument at 2:00 p.m. local time, they were met by about two dozen militia police. Within minutes, police broke up the march and arrested eleven Russians and three Belarusians.
One LGBT advocate Alexey Kiselev, was reportedly beaten by police at the station. Another advocate, Alexander Sheremetev, was beaten by a skinhead. He has been taken to a hospital under police custody. The attacker was arrested and later released, but the LGBT advocates who were arrested will being held overnight. There is no word on his condition. They are being charged with organizing an illegal action and resisting a police order.  This second charge could lead to a 15-day prison sentence. It appears most of the activists are being held in the same cell and were able to keep their cell phones. They are tweeting and texting from inside their cell. But there is growing concern over trans rights activist Anna Komarova, who is being kept in a separate cell without access to a mobile phone.
My existence is not a violation of your rights
Timothy Kincaid
November 3rd, 2010
I am becoming increasingly frustrated by the notion of "balance" that some in the anti-gay industry are espousing.
I support the right of those who believe that homosexual acts are sinful and wish to encourage abstinence to have their voices heard. And those who think that the social acceptance of same-sex couples in society reduces public morality and will lead to social ills should be given the space to present their case.
But the false equivalencies that have been presented lately do not speak to an exchange of ideas, but rather to the assumptions of entitlement to which anti-gay activists think they are due.
The counterbalance to "I wish to advocate for gay rights" is not "you must be kept silent." And there is no moral equivalency between "I wish to live unharmed" and "I wish to beat you to submission." Yet these are not greatly exaggerated from that which we see presented.
Take, for example, Russian gay rights protesters who sued their country in the European Court after being denied the right to assemble. The court found last month that their rights had been violated and ordered that Russia allow for future gay rights demonstrations and assigned compensation.
The response to this decision by the Russian Orthodox Church is astonishing. (Interfax Religion)
"The decision made in Strasbourg essentially constitutes violence against the feelings and morals of the majority of [Russian] society. That will hardly help achieve the stated purpose to cultivate tolerance and achieve accord, mutual understanding and peaceful co-existence," Father Filaret said in an interview with Interfax-Religion.
Peaceful assembly is depicted by the church as "violence against the morals and feelings of society." The real violence enacted against the physical bodies of gay people in Russia was given less concern by the church than the "violence" against anti-gays feelings.
Or take note of the equivalencies assigned by the school board in Howell, Michigan. (Livingston Daily)
On October 20, Jay McDowell wore a purple shirt to class to express solidarity with students who are bullied for being (or being perceived as) gay or lesbian. This led to a discussion about bullying and why it should be opposed.
One student, who had come to class with a Confederate Flag belt buckle was asked by McDowell to remove the item (she did).
In response, a male student declared that he opposes rainbow flags because, "I don't accept Gays. It is against my religion. I am Catholic."
McDowell attempted to explain how "I don't accept" followed by any group was disruptive and when the student refused to back down, suspended him and another student from the class for the day.
As the Michigan Messenger describes it:
That student … and another student, were kicked out of McDowell's Economic class after debating with the teacher about a third student's Confederate flag belt buckle. The student questioned why it was OK for students to wear clothing to support LGBT issues, but not for a student to wear a Confederate flag.
In other words, why isn't "I support" equivalent to "I don't accept"? Shouldn't both positions be given the same prominence and legal and moral weight?
No. Perhaps in some settings, but not this one.
Because the context of the debate was over the bullying of children. And in that context, "I don't accept gays" is an implicit endorsement of bullying of school children. When speaking of bullying, "I don't accept" is a justification for bullying.
Yet the school board found that McDowell violated the rights of these two boys to their free expression and reprimanded him. And in doing so, they made the following comparison:
You also state you routinely do not allow [the Confederate Flag] in your classroom because it offends you, and you personally connect this symbol to a list of oppressions and atrocities. You do, however, allow the display of the rainbow flag, to which some of your students have voiced opposition.
McDowell actually does not display the rainbow flag. (And, indeed, if McDowell did use his class space to advocate for specific (or even general) political positions to the exclusion of other positions, I would agree that this was unfair.) But irrespective of that inaccuracy, consider what it means that the school board administration compared the two:
On one hand the Confederate Flag has a traceable history and an identifiable connection with acts of violence and advocacy of discrimination and intolerance towards people based on their racial and religious identity. In fact, in this particular high school it was linked to a Facebook Hate Group which, in 2009, used the flag as its profile picture and students have been required to remove the symbol from their cars. The Confederate Flag at Howell High was directly connected to a threat against some students.
On the other hand, the rainbow flag is linked with a set of social positions with which some students disagree. At most, it exists as a challenge to the beliefs of some students. But in the minds of this school board administration, a challenge to their beliefs is equivalent to – or worse than – a physical threat against others.
And so they accused McDowell of bullying the students, of denying their right to "not accept" their fellow students. In response to his defense of gay students from being bullied (or "not accepted"), they order him to "cease from engaging in the promotion of your personal social issues."
For refusing to accept statements of intolerance in his classroom, the board accused McDowell of being intolerant.
Nonsense. Contrary to what anti-gay activists claim, tolerance is not defined by the extent to which it allows intolerance to prevail.
But perhaps most troubling is this instruction to McDowell: "Where controversial issues arise, be sure all sides of the controversial issue be explored without emotion and bias." Think back to the originating situation, the reason for McDowell's decision to wear purple: the suicide deaths of a number of gay and presumed-gay children.
What, I wonder, are "all sides" of the "controversial issue" that gay students should not be bullied to death?
European Court on Human Rights Rules That Moscow Gays Have Right To Pride
Jim Burroway
October 21st, 2010
In a historic ruling today in the case of Nikolai Alexeev v. Russia, the European Court of Human Rights ruled that Russia violated the European Convention on Human Rights with the banning of the 2006, 2007 and 2008 Moscow Prides. The court awarded 12,000 euros in damages to Moscow gay rights advocate and Pride organizer Nikolai Alexeev and a further 17,500 euros in costs.
Alexeev told Moscow News, "This is the first ever decision of the European Court of Human Rights which concerns freedom of assembly in Russia. It guarantees everyone freedom of expression without special permission."
In a statement released earlier this morning, Alexeev hailed today's verdict as cause for celebration. "We declare October 21, the Russian LGBT Liberation Day and we will celebrate it every year from now on with public demonstrations," he said.
The European Court ruled that Russian authorities violated three specific articles of the European Convention, namely Article 11 (freedom of assembly and association), Article 13 (right to an effective remedy) and Article 14 (prohibition of discrimination). Of the last violation, the court wrote:
It has been established above that the main reason for the ban imposed on the events organised by the applicant was the authorities' disapproval of demonstrations which they considered to promote homosexuality. In particular, the Court cannot disregard the strong personal opinions publicly expressed by the mayor of Moscow and the undeniable link between these statements and the ban. In the light of these findings the Court also considers it established that the applicant suffered discrimination on the grounds of his sexual orientation and that of other participants in the proposed events. It further considers that the Government did not provide any justification showing that the impugned distinction was compatible with the standards of the Convention.
On the issue of freedom of assembly, the court took a particular slap at former Moscow Mayor Yuri Luzhkov:
The mayor of Moscow, whose statements were essentially reiterated in the Government's observations, considered it necessary to confine every mention of homosexuality to the private sphere and to force gay men and lesbians out of the public eye, implying that homosexuality was a result of a conscious, and antisocial, choice. However, they were unable to provide justification for such exclusion. There is no scientific evidence or sociological data at the Court's disposal suggesting that the mere mention of homosexuality, or open public debate about sexual minorities' social status, would adversely affect children or "vulnerable adults". On the contrary, it is only through fair and public debate that society may address such complex issues as the one raised in the present case. Such debate, backed up by academic research, would benefit social cohesion by ensuring that representatives of all views are heard, including the individuals concerned. It would also clarify some common points of confusion, such as whether a person may be educated or enticed into or out of homosexuality, or opt into or out of it voluntarily. This was exactly the kind of debate that the applicant in the present case attempted to launch, and it could not be replaced by the officials spontaneously expressing uninformed views which they considered popular. In the circumstances of the present case the Court cannot but conclude that the authorities' decisions to ban the events in question were not based on an acceptable assessment of the relevant facts.

The foregoing considerations are sufficient to enable the Court to conclude that the ban on the events organised by the applicant did not correspond to a pressing social need and was thus not necessary in a democratic society.
The Moscow Times also notes that this ruling comes on the first day in which Moscow's new mayor, Sergei Sobyanin, replaced outgoing mayor Yuri Luzhkov, who was fired last month by Russian President Dmitry Medvedev. Luzhkov had previously denounced Gay Pride parades as "Satanic" and vowed that he would never allow one to take place during his administration.
Russian Court Rules St. Petersburg Must Allow Pride Marches
Jim Burroway
October 13th, 2010
A court in St. Petersburg ruled this week that Russia's second largest city cannot prohibit Gay Pride marches.
St. Petersburg city officials, like those in Moscow, had repeatedly banned Pride marches. When city officials refused to allow a march to go ahead last June, organizers took the city to court. The court ruling gave city officials until November 1st to change its direction and allow organizers to conduct a march.  City officials say they will comply with the order.
Moscow LGBT advocate Nikolai Alekseev said that they had already experienced one small victory in Moscow last week, when they held the first city-sanctioned gay rally with police protection following the firing of Moscow's anti-gay mayor Yuri Luhzkov by Russian President Dmitry Medvedev. On Thursday, a Moscow Appeals Court is expected to hold a hearing on the ban on this year's Moscow Pride, and the European Court of Human Rights is also expected to issue a ruling on the Moscow ban soon.
Russian LGBT Activist Arrested Again, This Time At Moscow Rally
Jim Burroway
September 22nd, 2010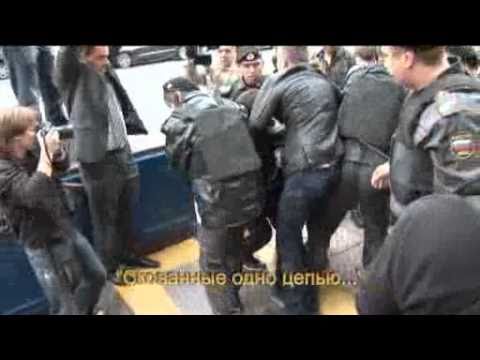 LGBT Activist Nikolai Alekseev has had a busy week this week. He was among eleven activists who were arrested yesterday during a banned protest outside of Moscow City Hall. All eleven activists have been subsequently released. The activists were protesting against Moscow mayor Yuri Luzhkov, whose recent remarks about "faggots" were ruled by a Moscow court as not being hate speech. The protesters had chained themselves to a railing outside of city hall.
Luzhkov abruptly left Moscow to "vacation" at a home in Austria. He is under widespread pressure to resign his post amid widespread allegations of corruption and incompetence. Independent observers believe that some in Russia's central government see Luzhkov's power base in Moscow city government as potential threat.
Alekseev has recently been released following a bizarre kidnapping by Russian security forces at week at Moscow's Domodedovo International Airport as he was about to board a flight to Geneva. He was held for two days as his captors demanded that he withdraw his lawsuits against Russia lodged at the European Court of Human Rights. They also demanded that he cancel yesterday's protest at city hall. At one point, his captors used his mobile phone to put out false text messages that Alekseev had fled to Belarus and demanded political asylum. You can read about Alekseev's account of his ordeal here.
Russian Activist's Whereabouts Still Unknown
Jim Burroway
September 16th, 2010
The web site of GayRussia.ru, which reported that Moscow-based LGBT activist Nikolai Alekseev has been detained by the FSB (the former KGB) appears to have been crippled as of this writing, possibly as a result of some some sort of attack. Meanwhile, several of us have received an email from Alekseev's email account saying that he is "relatively free" somewhere outside of Moscow and is safe. However, it is believed that the FSB has access to his computer and email address list, so such messages are being taken with a huge grain of salt.
UK Gay News was able to obtain an English translation of a note that had been posted to GayRussia.ru before the web site became crippled. The entire translated note has been posted on UK Gay News:
MOSCOW, September 16, 2010 (GayRussia)  –  Russian authorities have detained the organiser of Moscow Gay Pride, Nikolai Alekseev, and are requiring him to abandon a picket, demanding the resignation of Moscow Mayor Yuri Luzhkov.

The authorities are also demanding that he withdraws lawsuits lodged with the European Court of Human Rights over the banning of Moscow Gay Prides over the past five years.

"They demanded of me to give up on the picket Luzhkov and withdraw a complaint by the gay pride of European court" Mr. Alekseev said today at 6:00 am.

Later, at 8 am, he clarified that he is no longer held in Domodedovo Airport, where he was detained at the airport yesterday evening.

"I cannot say where [I am], but not in Moscow," he said when asked about his whereabouts.
It is unclear from that post how Alekseev was able to communicate the GayRussia.ru reporter. One Russian-language news report says that Alekseev is being held in Minsk.
LGBT activist Nikolai Baev suggested that Alekseev's detention is linked to announced plans to hold a demonstration calling for the resignation of Moscow mayor Yuri Luzhkov. who has consistently denied the group permission to hold Gay Pride rallies for the past several years. Luzhkov has denounced homosexuality as "Satanic" and insists that there will never be a gay pride march in Moscow. Russian activists have lodged a lawsuit with the European Court of Human Rights over the parade bans.
Alekseev was detained yesterday at Moscow's Domodedovo International Airport as he was about to board Swiss Air flight LX 1337 to Geneva. According a news report conveyed by the LGBT website Anti-Dogma, Russia's Interior Ministry told ITAR-TASS that Alekseev was detained by airport security following an incident that he supposedly instigated at the airport. Baev told GayRussia.ru that he suspects that Alekseev may be undergoing psychological pressure and possible torture in an attempt to get him to drop the lawsuits.
Nikolai Alekseev Believed Held By Russia's Secret Police
Jim Burroway
September 15th, 2010
In an update to our earlier report concerning Russian LGBT-advocate Nikolai Alekseev's detention, the following notice was posted on GayRussia.Ru's web site:
Nikolai Alekseev was arrested tonight at the Domodedovo Airport in Moscow where he was supposed to board the flight LX 1337 from Swiss Air Lines to Geneva.

His arrest took place right after the passport control. The border police asked Swiss Air Lines to cancel his boarding pass and to offload his luggage from the plane.

He had time to call a friend as well as the news agency Interfax. Reports of his arrest have been republished in the evening through the Russian media.

As he told his friends and the media, no explanation was given to him on the motive of his arrest.
Airport security and Moscow police both deny holding Alekseev. One office told Alekseev's friends that Alekseev may have been held by FSB agents (the successor to the former Soviet-era KGB) for interrogation at its headquarters in Lubyanka in central Moscow.
Activists at GayRussica applied for a permit yesterday to hold a demonstration on Sept 21 on under the title of "Luzhkov — Gomiki." That is in reference to Moscow mayor Yuri Luzhkov, who has consistently denied the group permission to hold Gay Pride rallies for the past several years. "Gomiki" is the Russian word that translates roughly as "faggot." Russia's officially controlled news channels have lately accused Luzhkov of corruption, leading to speculation that he may be forced to step down.
This latest development with Alekseev's detention is worrying. According to GayRussia.Ru, the Russian government recently passed a law reviving FSB detention practices that had been routine during the KGB era. The FSB has reportedly declined to comment on whether they are detaining Alekseev.
Russian Police Arrest LGBT Advocates at St. Petersburg Pride
Jim Burroway
June 26th, 2010
Defying a ban on gay rights marches by city authorities, several LGBT advocates were arrested at a Pride demonstration in front of the State Hermitage Museum. According to Reuters, two to three dozen advocates showed up in front of the famous landmark with banners and chanted, "Homophobia is the country's shame." At least five people were arrested (six, according to the Associated Press).
St. Petersburg authorities had denied permission to hold a Pride demonstration for five different locations. In order to try to get around the ban, LGBT advocates used stealth tactics similar to those used in Moscow last month in an attempt to avoid the police. The media were not informed until the very last minute.
Immediately following the march's breakup, a small group of ultra-right activists arrived at the square to attack the protesters. A small number of them were arrested for "hooliganism" as well.
Moscow Pride Elude Police, Pride March Goes Ahead Undisturbed
Jim Burroway
May 29th, 2010
In defiance of yet another ban against holding a Gay Pride march by Moscow city authorities, and in yet another display of LGBT activists' incredible organizing abilities, a march by LGBT advocates and allies took place this afternoon on Moscow's main Leningradsky Avenue undisturbed. Pride organizer Nikolai Alexeyev pulled off this feat after luring hundreds of riot police and undercover officers to a different location:
"We want to show that the peaceful march of gays and lesbians in this city is possible," Alexeyev told AFP after the protest. "You saw we didn't disrupt any traffic, we didn't disrupt any rights of other citizens."

"Unfortunately we are obliged to do some kind of military operation to make sure that this event takes place."

A single police car arrived ten minutes after the protest ended and no-one was arrested.

Organisers had changed the location at the last minute and bussed reporters on a twisting two-hour route to evade a heavy police presence in central Moscow.

In a diversion tactic, Alexeyev on Wednesday told journalists the protest would be held outside the European Commission's office in central Moscow. Police and riot police gathered at the announced location, organisers said.