Refendum 71 Results
Timothy Kincaid
November 3rd, 2009
9:15
Approved (pro-gay): 506,936 – 51.13 %
Rejected (anti-gay): 484,567 – 48.87 %
All counties are now reporting. However there are still about 340,000 ballots to process. About a third of those are from King County which so far has approved the enhanced DP rights 66% – 34%.
8:51
Approved (pro-gay): 464,471 – 51.95 %
Rejected (anti-gay): 429,581 – 48.05 %
Although there are ballots to be counted in every county, the only significant county as yet unreported is Pierce County (Tacoma).
8:42
Approved (pro-gay): 444,336 – 51.90 %
Rejected (anti-gay): 411,882 – 48.10 %
8:28
Accepted (pro-gay): 436,801 – 52.09 %
Rejected (anti-gay): 401,700 – 47.91 %
8:19 (PST)
Accepted (pro-gay): 153,615 – 44.72 %
Rejected (anti-gay): 189,868 – 55.28 %
The Push Is On For Equality
Jim Burroway
October 28th, 2009
We are just one week away from a very important election in three states. We are hearing that the National Organization for Marriage is making last-minute dumps of huge amounts of cash in Washington and Maine, while Kalamazoo, Michigan is facing a tremendous onslaught of misleading ads against their non-discrimination ordinance, which is also up for a vote. Not only can you contribute, but you can help out with phone banking — right from your own home or wherever you happen to be. The following message from the Courage Campaign is being carried by LGBT bloggers nationwide, including Box Turtle Bulletin. Please do what you can today and in the coming days to ensure that on November 3, there will be no regrets.
Washington:
Who we are: Approve Referendum 71 is the campaign to preserve domestic partnerships in Washington State. By voting to approve, voters retain the domestic partnership laws that were passed during this year's legislative session, including using sick leave to care for a partner, adoption rights, insurance rights, and more.
What we need: We need phone bankers to get our supporters out to vote. Washington is an all mail-in ballot state, and we need to ensure our supporters put their ballots in the mail. Also, youth turnout is a critical component of our campaign, and youth turnout historically drops in off-year elections. So we need a lot of help to turn them out.
How you do it: Sign up here to make remote calls for Approve 71. We'll then contact you for a training, and you can make GOTV calls.
Maine:
Who we are: The No On 1/Protect Maine Equality campaign is working to protect Maine's recently-passed law legalizing marriage equality for same-sex couples. Our opponents have put the issue on the ballot for Nov 3, 2009. Because of Maine's early voting election laws, people are already voting at the polls, so we need help immediately to turn out our side at the polls.
What we need: We need you to devote a few hours to Call for Equality. Call for Equality is a virtual phonebank set up so that you can call Maine voters wherever you are. Much of Maine is rural, where canvassing isn't effective, so we need to reach these voters- along with other supporters- by phone. All you need is a phone and internet connection. No experience required! We'll provide the training, and all you need is a a few hours to help get a win in Maine.
How you do it: Click here to sign up for a training and your shift. There are lots of times available for your convenience.
Kalamazoo, MI:
Who We Are: The Yes on Ordinance 1856 / One Kalamazoo campaign is working in Michigan to support the City Commission of Kalamazoo's twice approved ordinance for housing, employment, and public accommodation protections for gay and transgender residents. Opponents forced a public referendum on the ordinance so dedicated local volunteers, led by former Stonewall Democrats Executive Director Jon Hoadley, are working to ensure voters say YES to fairness and equality and keep Ordinance 1856.
Why The Urgency: In the final weeks, the opposition has gone all out with aggressive disinformation and misleading red herrings to try to defeat the ordinance. This includes signs that say "No to Discrimination" (even though voting No actually supports continued discrimination of GLBT residents), transphobic door hangers and fliers, and now radio ads that falsely suggest that criminal behavior will become legal when this simply isn't true. The Yes on Ordinance 1856 supporters are better organized but many voters who want to vote for gay and transgender people are getting confused by the opposition.
How To Help:
1) Help the One Kalamazoo campaign raise a final $10,000 specifically dedicated to fight back against the lies on the local TV and radio airwaves and fully fund the campaign's final field and GOTV efforts.
Give here: http://www.actblue.com/page/3-2-1-countdown
2) If you live nearby and can physically volunteer in Kalamazoo sign up here. If you know anyone that lives in Kalamazoo, use the One Kalamazoo campaign's online canvass tool to remind those voters that they need to vote on November 3rd and vote YES on Ordinance 1856 to support equality for gay and transgender people.
Contact voters: http://www.onekalamazoo.com/tellfriends2
Stephen Colbert on Washington's Referendum 71
Jim Burroway
October 27th, 2009
UW Poll: Good News on Ref 71
Timothy Kincaid
October 27th, 2009
From Seattle PI:
The Washington Poll, which interviewed a total of 724 voters, brings very good news for supporters of same-sex domestic partnerships.

Referendum 71, where an "approved" vote upholds the state's new expanded gay rights law, garners 57 percent 'yes' to 38 percent 'no' with 5 percent undecided. Among voters who say they've already mailed in ballots, R-71 was carrying by a 55-45 margin.
However, Proposition 8 taught us to be cautious in believing polling numbers. So let's not slow down or relax in our efforts.
Starbucks Says Approve Ref. 71
Jim Burroway
October 24th, 2009
This comes to us via SLOG:
In a statement, the company said that approving R-71 "ensures that basic benefits and important protections are not taken away from committed couples, so they are able to take care of each other, especially in times of crisis." Starbucks wants voters to approve the measure "because it is aligned with our business practices, providing domestic partner benefits, and one of our core values of treating people with respect and dignity." [emphasis in SLOG's post]
Starbucks hasn't contributed to the campaign, but they did send this message out to their employees. Starbucks has 3,000 employees in its Seattle headquarters and maintains 667 stores in Washington state, and each of them got this statement. That's quite a venti.
Starbucks' endorsement follows similar appeals from Microsoft, Boeing, Nike, and many other companies that employ large numbers of people in the Pacific Northwest.
With all the attention being paid to Maine, Washington's LGBT citizens are feeling ignored. Karen Ocamb says they're sweating bullets because they may well lose their hard-won Domestic Partnerships. Please show them your love by donating to Approve Ref. 71 today.
New Washington Ref 71 Ad
Jim Burroway
October 21st, 2009
Charlene Strong's partner Kate Fleming, died in 2006. While Kate was in the hospital, Charlene was initially denied access to see her. This is why approving Washington's Referendum 71 is so important, and it's why it's important that this ad goes on the air.  Please do your part today.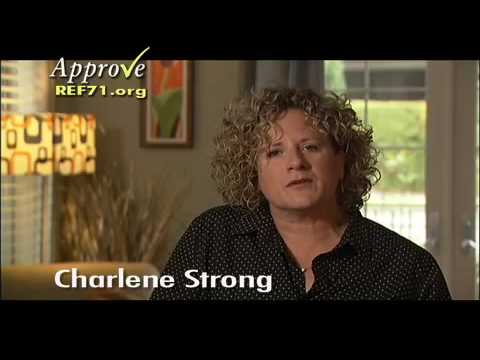 Supreme Ct. Justice Blocks Release of Ref 71 Petition Names
Jim Burroway
October 19th, 2009
Last week we reported that a three-judge panel of the Ninth U.S. Court of Appeals authorized the state of Washington to release the namesof those who signed the petition to put Referendum 71 on the ballot. Today, Supreme Court Justice Anthony Kennedy temporarily blocked the release while considering a request from Protect Marriage Washington to reverse the appeals court ruling.
Protect Marriage Washington had circulated a petition to put Washington's Domestic Partnership Registry before the voters. If Referendum 71 passes, the Domestic Partnership Registry will be preserved. In September, U.S. District Judge Benjamin Settle temporarily barred state officials from releasing the identities of those who signed the referendum petitions, saying that releasing the names could chill the First Amendment rights of petition signers. The Appeals court disagreed, saying that the petition process is a legislative process that is subject to the state's open records laws.
White House Opposes Anti-Gay Ballot Measures
Jim Burroway
October 16th, 2009
Kerry Eleveld at The Advocate is reporting that the White House has come out against efforts in Maine and Washington state to strip LGBT Americans their marriage and partnership rights:
In response to an inquiry from The Advocate, the White House issued the following statement regarding President Barack Obama\'s position on same-sex relationship recognition voter referenda in Maine and Washington.

"The President has long opposed divisive and discriminatory efforts to deny rights and benefits to same-sex couples, and as he said at the Human Rights Campaign dinner, he believes 'strongly in stopping laws designed to take rights away.\' Also at the dinner, he said he supports, 'ensuring that committed gay couples have the same rights and responsibilities afforded to any married couple in this country.\'"
Update: This statement builds on what President Barack Obama said at the HRC dinner last weekend:
Will we uphold the ideals on which this nation was founded:  that all of us are equal, that all of us deserve the same opportunity to live our lives freely and pursue our chance at happiness?  I believe we can; I believe we will. And that is why I support ensuring that committed gay couples have the same rights and responsibilities afforded to any married couple in this country.   I believe strongly in stopping laws designed to take rights away and passing laws that extend equal rights to gay couples.
Names of Ref 71 Petition Signers To Be Made Public
Jim Burroway
October 15th, 2009
A three-member panel of the Ninth U.S. Court of Appeals has reversed a decison by U.S. district judge who blocked the release of the names of those who signed the petitions putting Referendum 71 on the Washington Ballot. Referrendum 71 asks voters to approve or reject Washington's domestic partnership law.
Washington's Public Records Act requires names of petitions to be part of the public record. Last month, Judge Ben Settle in Tacoma set aside that law and approved Protect Marriage Washington's request to keep the names hidden. Washington's Atturney General's Office argued that the law is important to ensure transparency in government and the release of these records is a vital part of that transparency.
What Happened to That Mormon Ad for Washington's Ref 71?
Jim Burroway
October 14th, 2009
A reader writes:
Jim – do you know what happened to the ad that you linked to this post? Was it a hoax? Or was it the real thing and got laughed off the air? I can never tell when I'm dealing with Mormons -which is too often since half my family is LDS. Did anyone get a copy of the ad before it was pulled?
Sure enough, that ad — complete with an LDS copyrighted image — was pulled from YouTube. Poof! Gone. Like it was never even there.
Washington's First Ref 71 Ad
Jim Burroway
October 12th, 2009
The first commercial calling for approval of Washington's Referendum 71 is out, but I hear it's not on television. That takes money. Please give generously today.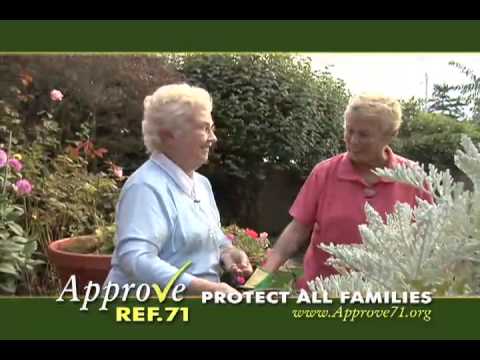 Poll: Referendum 71 "Close"
Timothy Kincaid
October 7th, 2009
From King5.com
Another KING 5 News / SurveyUSA poll of 548 likely voters finds 45 percent plan to vote for approval of Referendum 71. Forty-two percent are voting to reject it and 13 percent remain undecided.
We have less than a month, folks. Contribute or volunteer.
Mormons Unleash New Ad Against Washington's Ref 71
Jim Burroway
October 7th, 2009
Okay, technically the ad is by Protect Marriage Washington, but the imagery is heavily Mormonism — copyrighted Mormonism at that.
The second image you see flashing on the screen, of Adam and Even in the Garden of Eden, is a copyrighted image from the Church of Jesus Christ of Latter-Day Saints. You can find a copy of that image on their web site as part of their Gospel Art Picture Kit. Another one found on a web page titled, "What Do Mormons Believe About Adam and Eve." It's interesting reading, since it hints at a fallible God — or at least a God that gives conflicting instructions and it's up to us to decide which set of instructions to follow.
But the best part of this ad is that it confirms everything we've ever warned about. It really is their ultimate goal to impose, by coercion, their religious beliefs on everyone else.
I hope they show this ad on every television in Washington. Maybe dreams really do come true!
Thank You, Microsoft
Timothy Kincaid
October 6th, 2009
Microsoft Corp. has donated $100,000 to Washington Families Standing Together, the campaign seeking through Referendum 71 to retain the latest expansion of the state's domestic partnership law, up for a public vote on Nov. 3. The domestic partnership law extends marriage-like state benefits to gay and some senior couples.
Ken Hutcherson must be having a conniption.
9th Circuit to Hear Appeal of Special Treatment for Referendum 71 Signatories
Timothy Kincaid
September 22nd, 2009
Last month, U.S. District Judge Benjamin Settle in Tacoma decided that public petitions to change legislation in the State of Washington were protected by a veil of secrecy. He declared that the First Amendment protected the anonymity of those who signed Referendum 71, an effort to deny rights to gay couples.
Anti-gay activists had argued that gay people and those who support them might deny their business to those who wanted to harm gay folk and therefore their identities must be kept secret so as to ensure that they could engage in anti-gay activism without any negative consequences.
The State, with an interest in open processes, has appeal to the Ninth Circuit, claiming that open government is in the best interest of the people. (Seattle PI)
The 9th U.S. Circuit Court of Appeals has granted Attorney General Rob McKenna's request for a fast-track appeal. A hearing is scheduled for Oct. 14 in Pasadena, Calif.