Marriage Opponents Lose Pursuit Of Special Rights
Jim Burroway
October 21st, 2011
It's been a bad week for the National Organization for Marriage. Two separate courts this week ruled against NOM's attempt to enshrine a special right to flout laws intended to lend transparency to the electoral process. The first loss came on Monday when Federal Judge Benjamin Settle ruled in Doe v Reed (PDF: 112KB/34 pages) that the state of Washington must disclose the names of citizens who signed the petition putting Referendum 71 on the ballot. Protect Marriage Washington, a NOM affiliate, sued to block the release in a bid to stake a special exemption to Washington's campaign disclosure laws, claiming that signatories would be subject to threats and harassments. Judge Settle rejected that claim:
While Plaintiffs have not shown serious and widespread threats, harassment, or reprisals against the signers of R-71, or even that such activity would be reasonably likely to occur upon the publication of their names and contact information, they have developed substantial evidence that the public advocacy of traditional marriage as the exclusive definition of marriage, or the expansion of rights for same sex partners, has engendered hostility in this state, and risen to violence elsewhere, against some who have engaged in that advocacy. This should concern every citizen and deserves the full attention of law enforcement when the line gets crossed and an advocate becomes the victim of a crime or is subject to a genuine threat of violence. The right of individuals to speak openly and associate with others who share common views without justified fear of harm is at the very foundation of preserving a free and open society.

The facts before the Court in this case, however, do not rise to the level of demonstrating that a reasonable probability of threats, harassment, or reprisals exists as to the signers of R-71, now nearly two years after R-71 was submitted to the voters in Washington State.
That was on Monday. To bookend the week perfectly, Federal Judge Morrison England, Jr., today issued a bench ruling denying ProtectMarriage.com and NOM's quest for a special right to withhold the release of campaign finance records related to the passage of Propositon 8 three years ago. Judge England said that the groups failed to prove that they should be exempt from campaign finance laws which are designed to protect the public during expensive initiative campaigns.
Judge England is expected to issue a written ruling later.
Anti-gays back to court again to shield Ref 71 names
Timothy Kincaid
July 20th, 2010
From Seattle PI
Last month, in an 8-1 decision, justices ruled against Protect Marriage Washington. That decision dealt with claims by foes of the new gay rights law that disclosing their names would violate their First Amendment rights. However the justices said the plaintiffs could try to get a specific exemption on other grounds.

The secretary of state's office said the conservative group is again taking their arguments to Judge Benjamin Settle, who last September blocked release of the names of people who signed Referendum 71 petitions.
UPDATE: Not quite yet:
So, the bottom line is that, contrary to the challengers' previous announcement, there will be no Friday hearing. We will keep you posted as developments warrant. In the meantime, we remain under a state ban that does not allow us to release R-71 petitions – or any other initiatives and referenda.
Thanks, Lindoro Almaviva :)
Anti-gay petition names made public
Timothy Kincaid
June 24th, 2010
Within the past few years there has been a push to publicize the names of those who sign anti-gay petitions. This does not sit well with anti-gay activists who count on anonymity to collect signatures and get propositions on ballots.
People are less likely to add their name if they think that their neighbor, the lady who bags their groceries, or the guy who mows their law will know that they did so. It is far easier to harm those around you if can do so secretly.
So when the state of Washington was ready to release the names of the signatories for Referndum 71, a petition to block domestic partnership rights, anti-gay activists sued. They claimed that they have a first amendment right to free speech and that they have the right to make this speech anonymously. The state countered that they need transparency in elections and that those who seek to legislate laws must be visible and accountable.
Much of the argument on the part of anti-gays was that the identities of those who signed the petition must be kept secret to shield them from the ookie-spookie gays who are hostile and violent. They claimed that they might lose customers if those customers learned that they wanted to deny them equality or that they might face disapproval from neighbors or others who learned of their efforts to enshrine discrimination.
It now appears, however, that the US Supreme Court did not find that argument convincing. (SeattlePI)
The Supreme Court ruled Thursday that the names of people who signed petitions in an attempt to overturn a new gay rights law in Washington must be made public, a victory for state officials who said the case was a test of open government laws.
So soon the names will be available. Use them responsibly and with restraint.
Update (Jim Burroway): If I read the decision correctly (PDF: 383KB/67 pages), it looks like the Supreme Court only ruled on whether the requirement for disclosure violates the first amendment:
But the question before the Court at this stage of the litigation is whether disclosure of referendum petitions in general violates the First Amendment. Faced with the State's unrebutted arguments that only modest burdens attend thedisclosure of a typical petition, plaintiffs' broad challenge to the PRA (the Washington Public Records Act) must be rejected. But upholding the PRA against a broad-based challenge does not foreclose success on plaintiffs' narrower challenge inCount II, which is pending before the District Court.
According to the Supreme Court Opinion, "Count II of the complaint alleges that '[t]he Public Records Act is unconstitutional as applied to the Referendum 71 petition because there is a reasonable probability that the signatories of the Referendum 71 petition will be subjected to threats,harassment, and reprisals.'" That challenge appears to still be working its way through the lower courts.
Court hearing doesn't go well for Washington anti-gay petition signatories
Timothy Kincaid
April 28th, 2010
Last year anti-gay activists in Washington State collected signatures to get a referendum on the ballot challenging the legislature's domestic partnership laws. The people subsequently voted to keep the laws recognizing gay couples.
But one of the issues that arose from that action was the question as to whether signatures on petitions – specifically anti-gay petitions – were public information or or protected anonymous political speech. Supporters of the petition argued that they were skurrrred of the evil gays who might take their business to a more supportive company or might frown at them in the supermarket.
And so a judge blocked the releasing of the info. The Secretary of State appealed the decision arguing that the State had an interest in open air laws. The decision was overturned, appealed again, and now is being argued in front of the Supreme Court of the United States. Anti-gay activists want all public disclosure laws declared to be unconstitutional and to conduct their animus behind the veil of anonymity.
But today did not go well for them. Justices, including at least one who is inclined to be sympathetic to conservative causes, were not much impressed by their arguments. (AP)
Several justices questioned whether people who voluntarily signed a petition asking for a public referendum could then expect privacy. They were concerned that keeping the names of petitioners private might invalidate other vital open records like voter registration rolls or lists of donors to political candidates.

"Running a democracy takes a certain amount of civic courage," said Justice Antonin Scalia, who also called the arguments to keep the names private "touchy-feely."
On the other hand, Justice Alito was there to go to bat for the anti-gays.
But Justice Samuel Alito questioned Washington's attorney general, Robert McKenna, on whether his office was willing to give out the home address of its lawyers so people could show up and have "uncomfortable conversations" with them after-hours.

McKenna said office addresses and telephone numbers of his lawyers were public.
But Alito appeared to be in the minority (Wall Street Journal)
Justice Ruth Bader Ginsburg questioned the relevance of that precedent. She and Justice Sonia Sotomayor suggested that making public the names of petition signers could allow people to verify whether the signatures were real.

Chief Justice John Roberts suggested the court was unlikely to strike down the law on its face, but might find that in some circumstances names should be withheld if the signers could show they faced a threat.
I would hope that this would be a real threat, not an irrational fear based on imagined concerns.
SCOTUS to decide if WA's Referendum 71 signatories to be made public
Timothy Kincaid
January 16th, 2010
Although the voters in the state of Washington have long since elected to reaffirm the legislature's decision to provide Domestic Partner benefits equal to marriage to same-sex couples, the issue over whether the signatories are public information is still unresolved. On Friday the Supreme Court announced that it would take up the issue. (LA Times)
The high court will consider whether Washington state officials can release more than 138,500 names on a petition seeking a vote on overturning the state's domestic partnership rights.

Protect Marriage Washington, which unsuccessfully opposed the law giving gay couples expanded rights, wants to shield from disclosure the signers of the petition for a referendum on that law. The group says it fears harassment by gay rights supporters, some of whom have vowed to post signers' names on the Internet.
The objection to making the names public is based on the often asserted but rarely supported reports of "threats", "intimidation", and "retaliation".
In case you don't speak the lingo of anti-gay activists, "retaliation" is when gay customers find out that the profits from their purchases are being used to take away their rights and freedoms and refuse to continue to patronize the business establishments that harm them. "Intimidation" is when gay citizens, their friends, and their families discover that their neighbors want to harm them and consequently snub, shun, or speak disparagingly to those who are actively trying to harm their lives.
"Threats" tend not to exist at all outside of vague and highly improbable internet venting or solely in the fevered imagination of those who want to see themselves as victims.
Anti-gays genuinely believe that gay people should be barred from knowing who seeks to do them harm and, if they should find out, are not entitled to object.
Referendum 71 Update – 11/5
Timothy Kincaid
November 5th, 2009
As of today at 6:30 pm,
Approved: 697,032 – 52.05 %
Rejected: 642,176 – 47.95 %
There are presently about 220,000 unprocessed ballots and a more postmarked by Tuesday may come in over the next few days.
Several news sources are calling it a win.
Washington Ref 71 Update
Jim Burroway
November 4th, 2009
Returns continue to trickle in for Washington's vote-by-mail election, in which voters are asked to uphold that state's Domestic Partnership registry. The Washington office of Secretary of State reports as of 5:47 pm PST:
Approve: 573,698 — 51.82%
Reject: 533,488 — 48.18 %
According to the Seattle Times, about 600,000 ballots remain uncounted, with about half of them from King County (Seattle), where Referendum 71 is winning by a 2-1 margin.
The Day After Election Day
Jim Burroway
November 4th, 2009
Feelings will be running raw this morning. Having yet another state placing a portion of its own citizenry in the second-class column is never easy to take. There will be plenty of time for post-mortems; I guess you could say I've already gotten a jump on mine before the campaign was over.
But I think it's very important to keep in mind what Protect Maine Equality has been able to do. They have put together one of the most outstanding grass-roots efforts I've ever seen in a political campaign, and for that they've provided a road map for future campaigns to follow. Nobody has done a better job at motivating thousands of individuals to give of their time, and nobody has put together a better get-out-the-vote effort. The fact that the vote was this close is a testament to those great accomplishments.
Meanwhile, we have an important victory in Kalamazoo, where the religious right pulled out all the scare tactics at their disposal to try to defeat a non-discrimination ordinance. It didn't work. The ordinance was upheld by 7,671 to 4,731 — 62% voted for equality in Kalamazoo, which is now the sixteenth city in Michigan with a non-discrimination ordinance.
Meanwhile, Washington's Referendum 71 is holding on by a razor-thin margin. The Seattle Times says that it looks promising, since most of the outstanding votes are in areas where the measure was passing. Washingtonians vote by mail, and since the law requires that ballot be postmarked by election day, they will continue to trickle in during the days to come.
In Houston, openly lesbian mayoral candidate Annise Parker will go up against Gene Lock for a December 12 runoff. Openly gay Mark Kleinschmidt was elected mayor of Chapel Hill, North Carolina, and Charles Pugh garnered the highest number of Detroit city council votes among all the city-wide at-large candidates to become that city's first gay city council president. And in New Jersey, New York, and the District of Columbia, legislative battles are heating up for marriage equality.
There are steps forward and steps back. The struggle isn't over. We lost this one, but we pick ourselves up and go on to the next one. Our community has forged a unique strength that way, and we've learned to do this in ways we didn't want to, whether it was to respond to Governmental censorship, employment bans, Anita Bryant, the AIDS crisis when nobody else could be bothered, or these state-by-state ballot initiatives. They do wear us down, but they don't wear us out. We pick each other up, dust ourselves off, and we go on to the next battle. It's what we do.
The Push Is On For Equality
Jim Burroway
October 28th, 2009
We are just one week away from a very important election in three states. We are hearing that the National Organization for Marriage is making last-minute dumps of huge amounts of cash in Washington and Maine, while Kalamazoo, Michigan is facing a tremendous onslaught of misleading ads against their non-discrimination ordinance, which is also up for a vote. Not only can you contribute, but you can help out with phone banking — right from your own home or wherever you happen to be. The following message from the Courage Campaign is being carried by LGBT bloggers nationwide, including Box Turtle Bulletin. Please do what you can today and in the coming days to ensure that on November 3, there will be no regrets.
Washington:
Who we are: Approve Referendum 71 is the campaign to preserve domestic partnerships in Washington State. By voting to approve, voters retain the domestic partnership laws that were passed during this year's legislative session, including using sick leave to care for a partner, adoption rights, insurance rights, and more.
What we need: We need phone bankers to get our supporters out to vote. Washington is an all mail-in ballot state, and we need to ensure our supporters put their ballots in the mail. Also, youth turnout is a critical component of our campaign, and youth turnout historically drops in off-year elections. So we need a lot of help to turn them out.
How you do it: Sign up here to make remote calls for Approve 71. We'll then contact you for a training, and you can make GOTV calls.
Maine:
Who we are: The No On 1/Protect Maine Equality campaign is working to protect Maine's recently-passed law legalizing marriage equality for same-sex couples. Our opponents have put the issue on the ballot for Nov 3, 2009. Because of Maine's early voting election laws, people are already voting at the polls, so we need help immediately to turn out our side at the polls.
What we need: We need you to devote a few hours to Call for Equality. Call for Equality is a virtual phonebank set up so that you can call Maine voters wherever you are. Much of Maine is rural, where canvassing isn't effective, so we need to reach these voters- along with other supporters- by phone. All you need is a phone and internet connection. No experience required! We'll provide the training, and all you need is a a few hours to help get a win in Maine.
How you do it: Click here to sign up for a training and your shift. There are lots of times available for your convenience.
Kalamazoo, MI:
Who We Are: The Yes on Ordinance 1856 / One Kalamazoo campaign is working in Michigan to support the City Commission of Kalamazoo's twice approved ordinance for housing, employment, and public accommodation protections for gay and transgender residents. Opponents forced a public referendum on the ordinance so dedicated local volunteers, led by former Stonewall Democrats Executive Director Jon Hoadley, are working to ensure voters say YES to fairness and equality and keep Ordinance 1856.
Why The Urgency: In the final weeks, the opposition has gone all out with aggressive disinformation and misleading red herrings to try to defeat the ordinance. This includes signs that say "No to Discrimination" (even though voting No actually supports continued discrimination of GLBT residents), transphobic door hangers and fliers, and now radio ads that falsely suggest that criminal behavior will become legal when this simply isn't true. The Yes on Ordinance 1856 supporters are better organized but many voters who want to vote for gay and transgender people are getting confused by the opposition.
How To Help:
1) Help the One Kalamazoo campaign raise a final $10,000 specifically dedicated to fight back against the lies on the local TV and radio airwaves and fully fund the campaign's final field and GOTV efforts.
Give here: http://www.actblue.com/page/3-2-1-countdown
2) If you live nearby and can physically volunteer in Kalamazoo sign up here. If you know anyone that lives in Kalamazoo, use the One Kalamazoo campaign's online canvass tool to remind those voters that they need to vote on November 3rd and vote YES on Ordinance 1856 to support equality for gay and transgender people.
Contact voters: http://www.onekalamazoo.com/tellfriends2
Stephen Colbert on Washington's Referendum 71
Jim Burroway
October 27th, 2009
UW Poll: Good News on Ref 71
Timothy Kincaid
October 27th, 2009
From Seattle PI:
The Washington Poll, which interviewed a total of 724 voters, brings very good news for supporters of same-sex domestic partnerships.

Referendum 71, where an "approved" vote upholds the state's new expanded gay rights law, garners 57 percent 'yes' to 38 percent 'no' with 5 percent undecided. Among voters who say they've already mailed in ballots, R-71 was carrying by a 55-45 margin.
However, Proposition 8 taught us to be cautious in believing polling numbers. So let's not slow down or relax in our efforts.
Starbucks Says Approve Ref. 71
Jim Burroway
October 24th, 2009
This comes to us via SLOG:
In a statement, the company said that approving R-71 "ensures that basic benefits and important protections are not taken away from committed couples, so they are able to take care of each other, especially in times of crisis." Starbucks wants voters to approve the measure "because it is aligned with our business practices, providing domestic partner benefits, and one of our core values of treating people with respect and dignity." [emphasis in SLOG's post]
Starbucks hasn't contributed to the campaign, but they did send this message out to their employees. Starbucks has 3,000 employees in its Seattle headquarters and maintains 667 stores in Washington state, and each of them got this statement. That's quite a venti.
Starbucks' endorsement follows similar appeals from Microsoft, Boeing, Nike, and many other companies that employ large numbers of people in the Pacific Northwest.
With all the attention being paid to Maine, Washington's LGBT citizens are feeling ignored. Karen Ocamb says they're sweating bullets because they may well lose their hard-won Domestic Partnerships. Please show them your love by donating to Approve Ref. 71 today.
New Washington Ref 71 Ad
Jim Burroway
October 21st, 2009
Charlene Strong's partner Kate Fleming, died in 2006. While Kate was in the hospital, Charlene was initially denied access to see her. This is why approving Washington's Referendum 71 is so important, and it's why it's important that this ad goes on the air.  Please do your part today.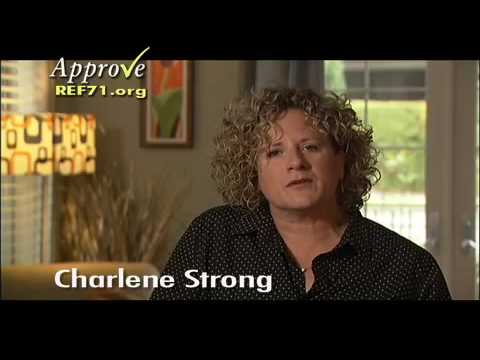 Supreme Ct. Justice Blocks Release of Ref 71 Petition Names
Jim Burroway
October 19th, 2009
Last week we reported that a three-judge panel of the Ninth U.S. Court of Appeals authorized the state of Washington to release the namesof those who signed the petition to put Referendum 71 on the ballot. Today, Supreme Court Justice Anthony Kennedy temporarily blocked the release while considering a request from Protect Marriage Washington to reverse the appeals court ruling.
Protect Marriage Washington had circulated a petition to put Washington's Domestic Partnership Registry before the voters. If Referendum 71 passes, the Domestic Partnership Registry will be preserved. In September, U.S. District Judge Benjamin Settle temporarily barred state officials from releasing the identities of those who signed the referendum petitions, saying that releasing the names could chill the First Amendment rights of petition signers. The Appeals court disagreed, saying that the petition process is a legislative process that is subject to the state's open records laws.
White House Opposes Anti-Gay Ballot Measures
Jim Burroway
October 16th, 2009
Kerry Eleveld at The Advocate is reporting that the White House has come out against efforts in Maine and Washington state to strip LGBT Americans their marriage and partnership rights:
In response to an inquiry from The Advocate, the White House issued the following statement regarding President Barack Obama\'s position on same-sex relationship recognition voter referenda in Maine and Washington.

"The President has long opposed divisive and discriminatory efforts to deny rights and benefits to same-sex couples, and as he said at the Human Rights Campaign dinner, he believes 'strongly in stopping laws designed to take rights away.\' Also at the dinner, he said he supports, 'ensuring that committed gay couples have the same rights and responsibilities afforded to any married couple in this country.\'"
Update: This statement builds on what President Barack Obama said at the HRC dinner last weekend:
Will we uphold the ideals on which this nation was founded:  that all of us are equal, that all of us deserve the same opportunity to live our lives freely and pursue our chance at happiness?  I believe we can; I believe we will. And that is why I support ensuring that committed gay couples have the same rights and responsibilities afforded to any married couple in this country.   I believe strongly in stopping laws designed to take rights away and passing laws that extend equal rights to gay couples.