Ex-Gay Therapy: "Like Throwing Spaghetti At A Wall"
A video critique of the latest ex-gay therapy paper by Bryd, Nicolosi & Potts
Daniel Gonzales
May 1st, 2008
A new paper by NARTH president A. Dean Byrd, past president Joseph Nicolosi, and Richard Potts was supposed to show what therapeutic techniques former clients of ex-gay therapy found effective. But what the paper really showed was how effectively those former patients absorbed and accepted the ex-gay movement's distortions of human sexuality.
Daniel Gonzales, a former patient of Dr. Nicolosi shares his reaction.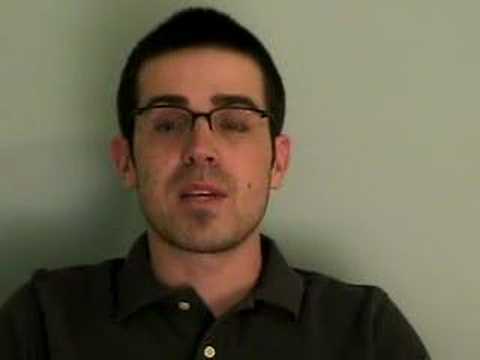 You can read our analysis of the Byrd, Nicolosi & Potts paper in our latest report, "Repeat After Me:" The Reparative Therapy Echo Chamber.
Here is the transcript to the video:
My name is Daniel Gonzales and I'm a former patient of Dr. Joseph Nicolosi who is one of the authors of this paper "Clients perceptions of how reorientation therapy and self-help can promote changes in sexual orientation." Nicolosi authored this paper along with Dean Byrd and Richard Potts.

In this paper Nicolosi sets out to show what therapeutic techniques former patients of ex-gay programs find most effective. What I took away from reading Nicolosi's paper is how across the board former patients have absorbed and accepted the exgay movement's distortions of human sexuality.

Starting on page 8 the paper quotes patient after patient who regurgitate the exgay movement's talking points about homosexuality being supposedly caused by an overbearing mother and distant father or being molested or not fitting in with the "other boys."

It would almost be laughable if there weren't actual people behind these comments who truly believed and had been told by exgay therapists that these things had caused their sexuality.

Ex-gay therapy is not about looking at your true feelings and your true self. It's about trying to fit yourself and your life into some else's mold. About being told by your therapist how your life should operate and then going along with it hoping it will make you straight.

In my first session of therapy with Dr. Nicolosi he repeatedly pressed myself and my father, who was there with me, asking us if I had been molested as a child — which I hadn't. In fact, much of that first session was focused on "digging around" for the supposed cause of my homosexuality.

This part of exgay therapy is like throwing spaghetti at a wall, the therapist throws out a bunch of antiquated gender stereotypes and something's going to stick. Especially when a patient desperately wants not to be gay and is looking for an excuse or cause for their sexuality.

That desperate desire not to be gay is what makes people think ex-gay therapy works. I wanted to change so badly I was willing to accept almost anything Dr. Nicolosi told me for the hope it would work.

And for a long time I believed I was changing and had changed. If I had been handed a survey a few months after I finished therapy I would have given glowing quotes like those in Nicolosi's paper. But like so many people who go through ex-gay therapy, months, years or in some cases decades later one comes to the realization change never occurred.

Had Nicolosi's 1996 surveys used in this report not been anonymous it would be interesting to follow up with respondents and see who still believed they had changed. Many people who go through ex-gay programs have testified to change only to later realize none had occurred. This includes two of the founders of Exodus, Michael Bussee and Gary Cooper.

Despite the indications ex-gay programs do more harm than good, and the emerging movement of "ex-gay survivors" this report testifies to Nicolosi's unwillingness to focus on anything but his echo chamber. An echo chamber of patients who are willing to absorb most everything handed down to them and then regurgitate these ideas back up on Nicolosi's survey. This paper demonstrates just how much ex-gay programs cause people to distort their own lives, distort their own families and distort their own sexuality.
Comments