LaBarbera Award: Rick Warren
Jim Burroway
December 19th, 2008
Like Peter LaBarbera, Obama's honored pastor just won't shut up. And the more he talks, the deeper the hole Saddleback Pastor Rick Warren digs. So, we're giving him a belated award.
Here's more of that interview with Ann Curry we talked about yesterday. This time, Curry asks Rick Warren, "What if homosexuality is biological?"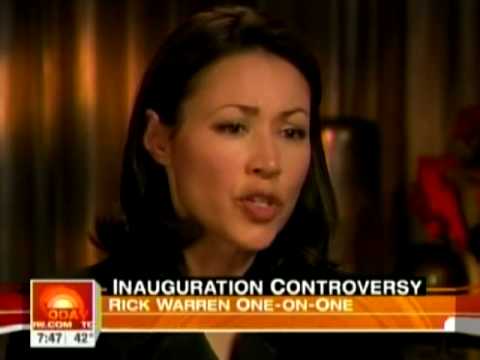 Rick Warren: If it's biological, I'd be glad to know. We all have biological predispositions. Some people struggle with anger, and some people say, "I don't struggle with anger, but I sure struggle with fear." And some people say, "Well, I don't struggle with this, I struggle with being shy."

Ann Curry: You're saying if it's part of your biology it's your job to struggle against it if in fact, it's the wrong thing.

Rick Warren: Here's what I'm saying. I've had many gay friends tell me, "Well Rick, why shouldn't I have multiple sexual partners? It's the natural thing to do." Well, just because it seems natural, doesn't mean its best for you or society. I'm naturally inclined to have sex with every beautiful woman I see. But it doesn't mean that it's the right thing to do. And why should I rein in my natural impulses. And you say well I have natural impulses toward the same sex, I shouldn't have to rein them in. Well I disagree. I think that's part of maturity. I think it's part of delayed gratification. I think it's part of character.
Actually, Rick Warren is only reining in his promiscuous urges, not his heterosexual ones. At least I presume so, since he's married. What he says here is that being gay is indistinguishable from being promiscuous. But what about non-promiscuous gay people? Unlike the standard he set for himself, he expects them to be completely celibate.
Since Warren isn't celibate, why is he mature and monogamous gay people aren't? Why don't his "many gay friends" — and yes, he brings those phantom friends back into the conversation again — delay gratification and demonstrate character, even if they're not promiscuous?
So, to add to gay relationships being no different from child rape, incest, and polygamy, we can now add promiscuous, immature, and lacking in character. Will the fun never end?
Comments