Blowback From Right Wing Extremists
Jim Burroway
June 10th, 2009
Earlier this year, the Department of Homeland Security issued a pair of security assessments warning that right wing and left wing extremists may be on the rise this year. Conservatives were particularly incensed that Homeland Security chose to discuss the rise of right-wing extremism following the election of the first African-American president. The report noted that right wing extremists were especially targeting Iraq war veterans for recruitment.
That assessment sent conservatives through the roof, charging that the report was a smear campaign against the Republican party. Newt Gingrich tweeted, "The person who drafted the outrageous homeland security memo smearing veterans and conservatives should be fired." Michelle Malkin called it a "hit job on conservatives." Of course, that would only be true if all conservatives were right-wing extremists.
But what's happened since that report was released. An abortion doctor in Wichita, Kansas was gunned down in front of his wife while attending church by Scott Roeder. The assailant was a part of the Freemen group which was part of a three-month standoff with the FBI in Montana in 1996. He was also in contact with Operation Rescue at least two years before gunning down Tiller.
Now just today, one person was killed during an attack at the U.S. Holocaust Memorial Museum in Washington, D.C. The gunman, James W. Von Brunn, has been a prolific writer for White Supremacist and neo-Nazi groups for a number of years.
When the Homeland Security issued their report, Conservative media including Fox News howled in protest and demanded an immediate apology from Secretary Janet Napolitano. With two violent actions by right-wing extremists in the space of just a couple of weeks, will those same people — Newt Gingrich and Michelle Malkin in particular — apologize to Secretary Napolitano?
It's at least encouraging to see one reporter at Fox News who is covering the scene at the Holocaust Memorial to question their prior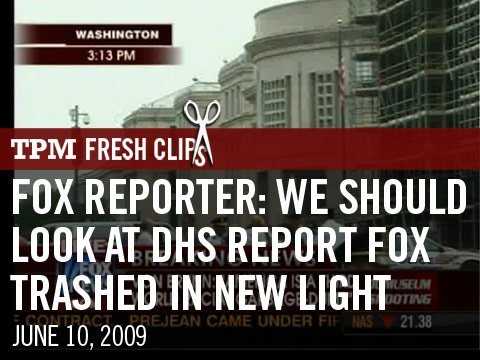 In Studio: Katherine, for the second time in as many weeks, a crime scene reminds me of a memo which you broke on the Fox Report from the government warning, look out for crazy extremists out there about to go do weirdness, and here we are.

Katherine: Well this is an excellent point to bring up because I think we have to now see those two intelligence assessments that were released by Homeland Security earlier this year — one dealt with left-wing extremists, the other dealt with right-wing extremists — you have to see them in a somewhat different light. It would appear — and I emphasize appear based on the evidence that's available to us — that it does seem to be the act of an individual who had extremist views, and if it is indeed von Brunn, someone who did have a military history — and as you remember, that was the element of the right-wing intelligence assessment which was so controversial and there was a lot of blowback on Homeland Security from that assessment.

In Studio:Yeah, there was blowback and here we are.
I bring this up for one reason only, and it's not to bash Republicans or conservatives. But it is to sound a warning. There really are extremists out there. Different extremists target their hate towards different groups, including the LGBT community. For several years now, we as a community have continued to bear the brunt of the lion's share of violent hate crimes, moreso than any other group tracked by the FBI.
We have gained tremendous ground in the past few months, with same-sex marriage now legal throughout New England and Iowa, in addition to all-the-rights-of-marriage Domestic Partnerships in Washington State. We also have a hate crimes act passed in the House and working its way through the Senate. We have seen unprecedented victories in a very short amount of time. That cannot be going unnoticed among some of the more violent-prone segments of the population. Let's be careful and vigilant out there.
Comments