Sen. Vitter Won't Comment on JP's Denial of Interracial Marriage
Jim Burroway
October 21st, 2009
You'd think that denouncing the Louisiana Justice of the Peace who refused to marry an interracial couple would be the easiest thing in the world to do.  The easiest — even in Louisiana, where virtually every other major elected public official has done so. I mean after all, Loving v. Virginia, the Supreme Court ruling has made interracial marriages legal in all fifty states — that includes Louisiana — for 42 years now. This isn't controversial anymore, right?
Well it may not be for everyone else on the planet, but Sen. David Vitter (R-LA) isn't ready to be pinned down. He not only won't go on the record, and he can't believe that every other major Louisiana elected official has. I guess he wants to keep his options open. You know, wait and see which way the wind blows: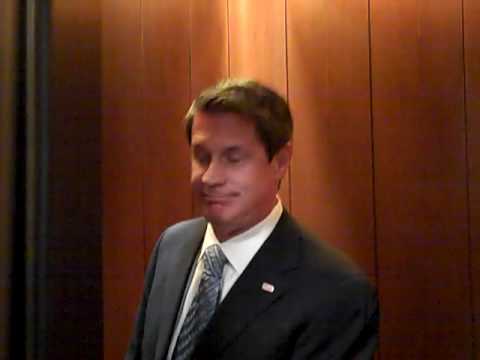 Louisiana Governor Bobby Jindal (R) and Sen. Mary Landrieu (D-LA) both want JP Keith Bardwell out, and Tangipahoa Parish President Gordon Burgess has called for his resignation. Vitter, on the other hand, smiles and nervously ducks inside an elevator.
Comments