NTV: Uganda's Cabinet Reaches Non-Compromise "Compromise"
Jim Burroway
January 22nd, 2010
According to this report from Uganda's independent NTV, the Cabinet has agreed to remove the death penalty from the proposed Anti-Homosexuality Bill, but apparently virtually nothing else.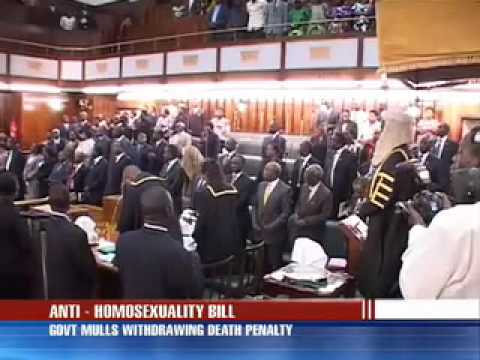 This is neither a compromise nor an improvement. Remaining is a provision to punish homosexuality with lifetime imprisonment in a dank and overcrowded Ugandan prison. Can anyone believe that this is an improvement?
The other provisions of the Anti-Homosexuality Bill would:
Expand the definitions for homosexual acts, making conviction easier. Current law requires evidence of penetration. The new law would expand the definition of homosexual activity to"touch(ing) another person with the intention of committing the act of homosexuality." Touching itself is defined as "touching—(a) with any part of the body; (b) with anything else; (c) through anything; and in particular includes touching amounting to penetration of any sexual organ, anus or mouth."
Affirm Uganda\'s lifetime imprisonment for those convicted of homosexuality.
Define a new crime of "aggravated homosexuality" for those who engage in sex with someone under the age of 18, who are HIV-positive, who is a "repeat offender" (so broadly defined as to include anyone who has had a relationship with more than one person, or who had sex with the same person more than once), or who had sex with a disabled person (consensual or not). The penalty for "aggravated homosexuality" is

death by hanging

unknown at this time.
Require anyone arrested on suspicion of homosexuality to undergo HIV testing to determine the individual\'s qualification for prosecution of "aggravated homosexuality."
Criminalize "attempted homosexuality" with imprisonment for seven years.
Criminalize "promoting" homosexuality with fines and imprisonment for between five and seven years. This overly-broad provision would criminalize all speech and peaceful assembly for those who advocate on behalf of LGBT citizens in Uganda . It would also criminalize any attempt to repeal or modify the law in the future, as those moves could also be seen as "promoting" homosexuality.
Criminalize "aiding and abetting homosexuality" with seven years imprisonment. This provision could be used against anyone extending counseling, medical care, or otherwise providing aide gay people.
Criminalize the act of obtaining a same-sex marriage abroad with lifetime imprisonment.
Add a clause which forces friends or family members to report LGBT persons to police within 24-hours of learning about that individual\'s homosexuality or face fines or imprisonment for up to three years.
Penalize people who run "brothels" with five to seven years imprisonment for renting to LGBT people. However, it defines a brothel as "a house, room, set of rooms or place of any kind for the purposes of homosexuality" instead of the more normal definition of a place where commercial sex work takes place. Anyone\'s bedroom would be a "brothel" under this definition, placing landlords and hotel owners in jeopardy for renting to LGBT people.
Add an extra-territorial and extradition provisions, allowing Uganda to prosecute LGBT Ugandans living abroad.
Void all international treaties, agreements and human rights obligations which conflict with this bill.
Click here to see BTB\'s complete coverage of recent anti-gay developments in Uganda.
Comments