American Prayer Hour vs. National Prayer Breakfast
Jim Burroway
February 3rd, 2010
Several groups are sponsoring the American Prayer Hour for tomorrow, February 4, as an alternative to the National Prayer Breakfast which will take place at the same time in Washington, D.C. The National Prayer Breakfast is organized by the secretive Evangelical group known as the Family, some of whose members are linked to Uganda's draconian Anti-Homosexuality Bill. The American Prayer Hour was conceived as a multi-city event to call on the UGandan government to withdraw the bill that Saddleback pastor Rick Warren characterized as "unjust, extreme and un-Christian toward homosexuals."
To kick off the event, APH organizers held a news conference yesterday featuring Harry Knox, Director of Religion and Faith for the Human Rights Campaign; the Rev. Elder Darlene Garner, Metropolitan Community Church pastor;  Bishop Carlton Pearson, interim senior pastor at Chicago\'s Christ Universal Temple; Bishop Gene Robinson, the first openly gay man elected bishop in the Episcopal Church; and Frank Schaeffer, son of pre-eminent conservative theologian Francis Schaeffer. More on Mr. Schaeffer later.
But the star of the event was "Moses," a Ugandan citizen who is seeking asylum in the United States. He appeared in disguise because he fears for his life if he should be forced to go back to Uganda, and his testimony shows us exactly what's at stake.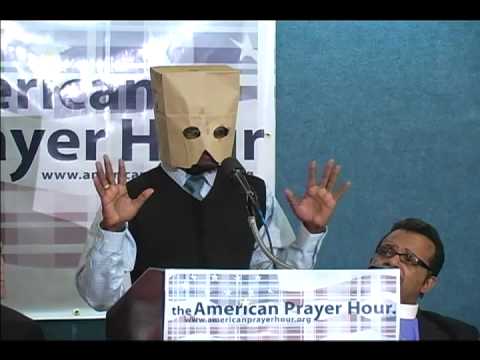 Frank Schaeffer's presence is particularly notable. His father, Frances Schaeffer, was a very influential and conservative theologian who rejected modernism in all its theological forms. His book, The Christian Manifesto is credited — or blamed — for inspiring the rise of the Christian Right as a political force, as well as the rise of Dominionism as a theological one. His son, Frank, grew up immersed in the work of his father, and in his book Crazy for God
, Frank described his own role in pushing religious leaders to tackle abortion in the 1970's and 1980's. But over time Frank became disillusioned with the movement his father helped to inspire, and came to the conclusion that the Evangelical right had distorted his father's teachings beyond recognition. He is now a critic of the very movement he and his father helped to establish.
At yesterday's news conference, Frank was quoted as saying:
"As a person who was raised in the heart of conservative Christianity, it took me years to realize that anti-gay beliefs are wrong and not inherent to Christianity. Today, fundamentalists are exporting anti-gay beliefs because fewer and fewer people here believe the lies. It\'s time to stop using gay people as political pawns and understand that we are all children of God."
Comments