Uganda's Media Picks Up More Talk About Anti-Homosexuality Bill
Jim Burroway
March 18th, 2011
Following on earlier media reports that Uganda's Parliament may begin consideration of the draconian Anti-Homosexuality Bill as early as next week, NTV, Uganda's largest independent television network, has just posted this news report featuring Stephen Tashobya, Chairman of the Legal and Parliamentary Affairs Committee: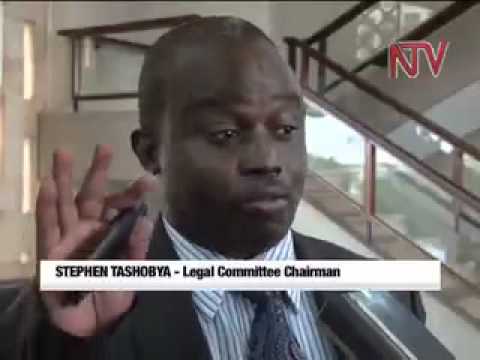 After the bill was introduced in October 2009 amid worldwide outrage, it was sent to the Legal and Parliamentary Affairs Committee for further review and report back to Parliament. It has languished quietly in that committee since then. Now that Parliamentary elections are over and Parliament is due back to complete its lame duck session (and only maybe coincidentally while the world's attention is consumed by events elsewhere in Japan, Libya, Bahrain and Yemen) the bill, which many news outlets erroneously reported to be dead, is again rearing its ugly head.
In this NTV report,  committee chairman Tashobya is shown saying:
The Anti-Homosexuality Bill has generated a lot of debate and interest in our population, both for and against. And we are sensitive about that interest.

So we shall put out public notices for all types of people, for even foreigners, let's have a [unintelligible] to come and appear before the committee and have this matter resolved once and for all.
M.P. David Bahati, the bill's sponsor, responds:
I'll be working with my colleagues to talk to other members of Parliament to ensure that this bill is debated and concluded before we close the Eighth Parliament.

We are working with religious leaders, we are working with people in the legal fraternity, we are working with parents and schools…
At this point, the NTV reporter correctly pointed out that if the bill is passed into law in its current form, the provisions barring "promoting homosexuality" would potentially punish even lawyers who defend LGBT people in court. Uganda's legal fraternity is expected to point out that the proposed law would be completely unfair. To them.
Earlier this week, the U.S. Congress's House Financial Services Committee passed an amendment with nearly unanimous bipartisan support which calls on the Treasury to make foreign aide contingent on developing nations' human rights records, including how those nations treat its LGBT citizens. Rep. Barny Frank (D-MA) sponsored the amendment and singled out Uganda as an example of a country that abuses its LGBT citizens. Bahati dismissed that threat:
In my opinion, the future of our children is more important than the money we get from abroad, and the interests of Uganda are more important than the interests of foreigners. We are a soverign state, and nobody should dictate the values we should adopt in our country.
Comments