Uganda Government Treats Opponents Like It Treats Gay People
Jim Burroway
April 15th, 2011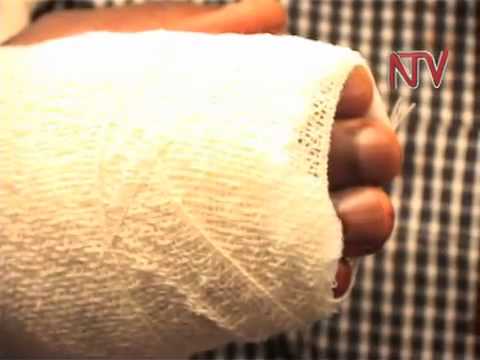 Uganda held elections recently, and as expected President Yoweri Museveni waltzed into another term in office with 68% of the vote. Whether those elections were free and fair is another matter — Museveni's cronies dominate the supposedly independent Electoral Commission and he has sharply curtailed broadcasters' from allowing opposition candidates access to the airwaves. When his next term ends, he will have been in power for 30 years, which would be a remarkable achievement if Uganda were truly a functioning democracy. He is already the longest serving leader in East Africa. Unsurprisingly, Museveni has been sharply critical of the Libya uprising.
Museveni's main rival, Kizza Besigye, has cried foul over the election results. When Museveni banned protests over the election results, Besigye responded that he wouldn't hold a protest march, but would instead just "walk to work." As a result, he has been arrested twice over the past few days. Yesterday, Besigye led a "walk to work" from his home in Kasangati to his party's office in Najjanankumbi, a 20km trek which would have taken him through the heart of Kampala. Military police responded with teargas, water canon, rubber bullets and batons.  Besigye was hit on his left hand by a rubber bullet and rushed to a hospital.
Forty-seven people were reportedly injured in the violence, some suffering gunshot wounds. A seven-months' pregnant woman's condition is described as "grave." "Walk to work" violence has also broken out throughout western and northern Uganda. At least 220 people were arrested nationwide. The ruling National Resistance Movement itself shows signs of division over the protests. At least one "walk to work" campaign in Mbala was organized by ruling party officials to protest price increases and to denounce the crackdown on the opposition. Opposition members of parliament condemned the government's crackdown, forcing an early adjournment.
The government banned live broadcasts of the events, and there are reports that Facebook and Twitter have been blocked. Daily Monitor, Uganda's largest and most reliable independent newspaper, reports that its internet access was interrupted as well. NTV Uganda, which is owned by the same media company as Daily Monitor, nevertheless continued broadcasting updates and posting video on their YouTube channel.
Since Uganda's independence in 1962, its history has been marked by a series of violent struggles between the in-caste and outcasts. As perennial outcasts, the country's beleaguered LGBT community has served as the canary in the coalmine — as LGBT communities often do throughout the world. Uganda's recent anti-gay campaigns culminating in an attempt to kill off its LGBT population serves as a reminder that a country that treats the least of its people with genocidal tendencies is not going to be a benign presence to the legitimate human rights and developmental aspirations of its larger populace. 
If there is an upside, it is that a government that is willing to go through such drastic lengths to prevent its opposition from pointing out its flaws is also the same government that appears determined not to allow its foreign aid be jeopardized by passing the Anti-Homosexuality Bill. But realistically, that's not even a slim sliver of a silver lining. William Faulkner explained the racial divisions in the Southern U.S. by saying "The past isn't dead. It isn't even past." Uganda's undead demons are still on the loose.
Comments