Huntsman on Hannity
Timothy Kincaid
June 22nd, 2011
Former Utah Governor Jon Huntsman has announced his entry into the race for Republican Presidential nominee. And, unlike many in the race, his is a serious candidacy. Also unlike the others in the race, Huntsman is taking a decidedly different approach to "the gay issue".
This is in part due to his own personal beliefs and history on the subject. While governor, Huntsman used that office to support the Common Ground Initiative, a panel of (unsuccessfully) basic gay rights bills, which was considered admirable considering the tenor of Utah politics.
But his support for civil unions caught most people by surprise. And a number of commentators wondered if it could be seen as a strategic positioning for a 2012 run, including Box Turtle Bulletin:
However, Jon Huntsman may be playing to a bigger audience than his neighbors. As a successful and popular governor, Huntsman is considered as a potential Republican Presidential nominee in 2012.

If this is part of Governor Huntsman's strategy to craft his image for Nominee Huntsman, it tells us something interesting about what a conservative Republican in a conservative state predicts American attitudes towards gay couples will be in four years. But whatever his motivation, Huntsman's support is very welcome.
It remains welcome. As one of the few credible candidates on the Republican ticket, Huntsman's positions help define the debate. In terms of national perception, the presumption is that civil unions (at least) are the consensus with the President "evolving" and a leading opponent "not open to redefining marriage", but accepting of states that do.
Huntsman is making a gamble that the Republican Party is ready to drop it mandatory hostility towards gay people. And this is a big gamble – one that John McCain was too fearful (or too foolish) to take.
Long part of the Three G's that matter to "the base" (guns, gays, and God), gay rights has been an issue on which posturing has been more important than policy. No real problems arose from appointing gay people (even to the head of the RNC) as long as you spoke a good game. A close look at administration over the past several presidencies will reveal that rhetoric was in much greater abundance than significant change in either direction. A cynic might even note that while George W. Bush is known for his nasty 2004 campaign based on supporting a Federal Marriage Amendment, his advocacy for that cause seemed to magically disappear on the day he was reelected.
Huntsman is now challenging that presumption. He is publicly positioning himself as gay-friendly, and it is not an accidental or incidental position. One of the first campaign actions was a glowing endorsement letter sent out from Charles Moran, the President of Log Cabin Los Angeles, on the night before Huntsman's announcement.
In fact, his lack of hostility towards gays may be the very first thing that sets him apart from the field and makes him recognizable to many Republican primary voters. Taking his message to the heart of "the base", Huntsman gave his first interview to Fox's far-right talking head, Sean Hannity.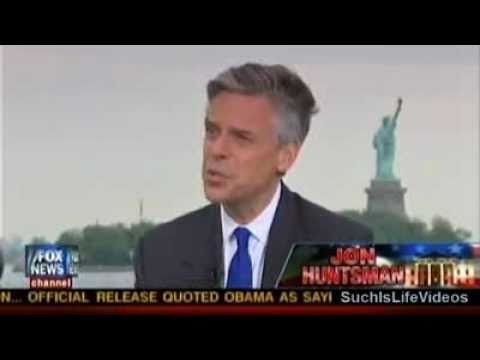 Hannity: What about some of these areas where… obviously conservative voters are a big part of the voting block in the primary. Your support of climate change which includes cap and taxes and sort of you went along with Arnold Schwarzenegger on that. Civil unions, your support for gays and lesbians, and the right of children of illegal immigrants to go to school. Those are not conservative positions. Uh, you stand by them today?

Huntsman: Cap and Trade, I do not. Cap and Trade is something that every governor looked at, every governor consulted CEOs and the experts on, many years ago. In today's economic environment, there's no way that we should be promoting anything that stands in the way of economic and business recovery. And that would.

In terms of civil unions, I am where I am on civil unions. Some will like it, some won't. I'm traditionalist when it comes to marriage, but I think subordinate to marriage we have not done an adequate job in terms of equality and fairness when it comes to reciprocal beneficiary rights.

Hannity: What about gay marriage?

Huntsman: No I'm not for gay marriage. I'm for ..

Hannity: … gay civil unions.

Huntsman: That's right.

Hannity: Okay. As you take this to conservative states, early primary states, the Iowa caucuses, South Carolina, um, those probably are not going to be popular positions. Have you thought that through?

Huntsman: Well, we've been in many of these states. We're not competing in Iowa. We're competing very aggressively in New Hampshire and South Carolina and well in Florida. And I talk about my record. Anyone who wants come up and challenge me on it, I tell them what it is and try to explain it to the best of my ability. You're not going to win over 100%, nobody ever does, but I think being true to yourself is also very important.
As the campaign season progresses, we'll see it Republican primary voters are ready to embrace a nominee that is unapologetic about supporting civil unions. And we'll also see where Huntsman comes down on a number of other issues involving our community.
But regardless of whether one eventually supports or rejects Huntsman, we are witnessing a test of the politisphere. Should Huntsman fare well in this pursuit of the nomination, we may never again see a presidential campaign that features anti-gay positions or policies as a selling point.
Comments