Bachmann: Being Gay Is "A Part Of Satan"
Jim Burroway
July 12th, 2011
Minnesota Representative and GOP candidate Michelle Bachmann spoke in 2004 at a National Education Leadership Conference: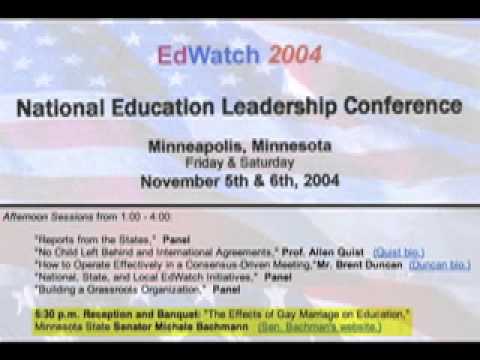 And I think something that was meant for evil was meant for good, and I think we can see that again today. Well there's something that's happening in our schools, and one of the reasons why I felt I was called to take up this issue, of bringing a constitutional amendment to the state of Minnesota before our people—I was the chief author in the MN state senate—is because of the profound impact this would have on every man, every woman, every child in the state of Minnesota. Because everyone thought this would only impact the 1.3 percent of our population that is a same-sex individual — and again, don't misunderstand. I am not here bashing people who are homosexuals, who are lesbians, who are bisexual, who are transgendered. We need to have profound compassion for the people who are dealing with the very real issue of sexual dysfunction in their life, and sexual identity disorders. This is a very real issue. It's not funny, it's sad. Any of you who have members of your family that are in the lifestyle—we have a member of our family that is. This is not funny. It's a very sad life. It's part of Satan, I think, to say this is gay. It's anything but gay. And so we are not here tonight — in fact, I wish this whole room was filled with the gay community, because we'd reach our hand out in love.

The Love Won Out conference was here not too long ago in the Twin Cities, and it's profoundly sad to recognize that almost all, if not all, individuals who have gone into the lifestyle have been abused at one time in their life, either by a male or by a female. There's been profound hurt and profound things that have happened in almost all of their lives. And this gives us great compassion. So this is not to talk about gay bashing — do we understand that? That is not what this is about. But it's to say that this new legal enforcement of a new status—homosexuality, lesbianism, bringing it into the mainstream, if you will, giving it a legitimacy if you will — that will impact not only the gay community, but every man, woman and child, particularly the schools.
Oh no, calling gay people, including one's step-sister, a "part of Satan" isn't bashing anyone at all. No siree…
In 2004, Michele Bachmann, who was then a Minnesota State Senator, gave a few opening remarks at the Love Won Out conference in the Twin Cities. According to this Christian Post press release, Bachmann said, "I know that Love Won Out will present the truth about homosexuality. I look forward to welcoming Minnesotans and residents of surrounding states to hear the message of healing that is possible." The so-called "truth" would have included a line from Focus On the Family's Melissa Fryrear, who claimed never to have met a lesbian or a gay man who had not been abused. As far as I have been able to determine, Fryrear uttered that line at every single LWO event she has ever spoken at. It was part of her standard stump speech. (She has since left Focus and is working at a church in Prescott, Arizona, and is no longer is part of the ex-gay roadshow.) When I heard her give that talk in Phoenix in 2007, I witnessed first hand the devastating impact it had on parents who were there:
The audience sat in stunned silence as Fryrear, her voice shaking, went on to talk about sexual abuse in greater detail. She later described her own sexual abuse as a child, and her talk had just followed a testimony by Mike Haley in which he described having sex with another older man beginning at the age of eleven. As far as this audience knew, there were no exceptions.

…It's not fair to say that the parents and relatives were rife with suspicions, but I was surprised at the number of suspicions that did come up — and the circumstantial nature of the "evidence" which prompted many of them. I heard ex-boyfriends and babysitters suddenly come under suspicion where there had been none before. It seemed as if many of these relatives, taking Melissa Fryrear at her word, turned several possibilities over in their minds — dismissing some, but holding others for future consideration.

Sometimes, these suspicions got the better of them. Before that day, it had never even occurred to one mother that her son might have been molested. Now after Fryrear's talk, she was momentarily certain of it. "There's no other explanation!" she exclaimed. But as she thought about it, she remembered that she had no reason to suspect this, and that the only "evidence" she had was Fryrear's statement. She was finally able to calm herself down after those around her reassured her that it probably didn't happen.
Comments