Exodus Cancels Albuquerque Ex-Gay Conference; Midland, TX, Conference Dropped from Web Site
Jim Burroway
May 4th, 2012
Exodus International took the unprecedented step of canceling a "Love Won Out" conference scheduled for Albuquerque, New Mexico on May 12. The "Love Won Out" conference (which I attended in Phoenix in 2007) is a traveling roadshow conducted four to six times a year in different cities across North America, and serves as a kind of day-long infomercial for the ex-gay movement.
In an email to those pre-registered for the conference, Exodus events director David Fountain called the cancellation "one of the most difficult decisions I've had to make." He added, "Unfortunately, due to the low number of registrations we simply were unable to justify the substantial cost of bringing the LWO Conference to the Albuquerque area."
Exodus had also scheduled a Love Won Out conference for Midland, Texas in November 2012, but that conference no longer shows up on Exodus's web site either.
In its heyday, LWO was a joint project of Exodus and Focus on the Family with additional participation from the National Association of Research and Treatment of Homosexuality (NARTH) During the early years, it was not unusual for LWO conferences to attract an audience of 2,000 or more. But when I attended LWO in 2007, the conference drew over a thousand people, already down some from its heyday, but still substantial enough to be counted as a success. But since then, we've had reports of lower attendance figures. Memphis drew only about 600 attendees in 2008, and another one in Orlando that year drew 500. Figures in the 400-600 range now appear to be the new normal. In 2009, Focus On the Family announced its withdrawal from LWO and it became the sole property of Exodus in 2010.
Last February, Exodus brought LWO to Atlanta where, as has become typical, they drew "over 500" according to Exodus. Metro Atlanta has a population of more than five million deep in the Bible belt, and is a convenient day's drive from a dozen other cities in six states. Albuquerque,on the other hand has a metro population of 900,000, and is located in a rather sparsely populated state that is not quite the haven for Evangelical Christian activism as Atlanta. It's hard to see how Albuquerque (or Midland) could draw a large crowd given their much smaller populations and very long distances from other population centers.
Last fall, there were reports that Exodus was undergoing a rebranding exercise in an effort to stave off bankruptcy. The first evidence for that exercise came in January when Exodus president Alan Chambers appeared on a surprise panel of a meeting of the Gay Christian Network and said that "99.9% of them (ex-gays) have not experienced a change in their orientation." I wanted to attend another LWO to see how that change in direction was reflected in their conference, and with Albuquerque being a very short flight from Tucson, where I live, I had already purchased airline tickets to go. It looks like those tickets will have to go somewhere else — and they won't be for Midland either.
The only LWO conference scheduled this year is in September near Harrisburg, PA, not far from Philadelphia. If that holds, it would be only the second LWO conference scheduled for this year. While that conference could concievably draw from a much larger population base (Philly, Baltimore/Washington, New Jersey, etc.), I would not be surprised to see that conference canceled as well. And if it is canceled, that could spell the end of "Love Won Out" altogether.
Plane To Fly "It Gets Better" Banner for Ex-Gay Conference, but Ex-Gays Won't See It
Jim Burroway
September 9th, 2011
Exodus International is scheduled to conduct one of its Love Won Out ex-gay infomercial's tomorrow at a Houston-area church. According to The Advocate, the It Gets Better Project will hire an airplane to fly overhead for an ex-gay conference near Houston tomorrow with a message saying that you can't simply "pray the gay away." I think that sounds like a great idea, except:
Exodus International's Love Won Out conference is taking place this Saturday at the Sugar Creek Baptist Church, located near Houston. The plane is scheduled to fly around downtown Houston at noon Saturday …
Get a map and an alarm clock, fellas. The plane may be headed for downtown Houston, but Sugar Creek Baptist is nearly 25 miles away in Sugar Land. And everyone will already be safely ensconced inside the church at that hour, while nobody will be anywhere close to downtown Houston on a Saturday at noon (the weekend forecast: a "pleasant" 95 degrees and probably 195% humidity, with an air quality alert due to high ozone). If a plane flies a banner over a deserted downtown and nobody sees it, does it still send a message?
Why can't anyone fly the plane over Sugar Land at 7:30 a.m. as people are pulling into the parking lot?
Bachmann: Being Gay Is "A Part Of Satan"
Jim Burroway
July 12th, 2011
Minnesota Representative and GOP candidate Michelle Bachmann spoke in 2004 at a National Education Leadership Conference: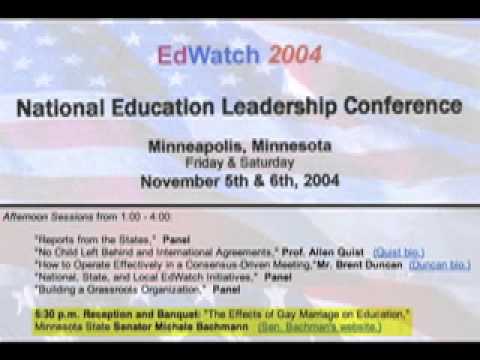 And I think something that was meant for evil was meant for good, and I think we can see that again today. Well there's something that's happening in our schools, and one of the reasons why I felt I was called to take up this issue, of bringing a constitutional amendment to the state of Minnesota before our people—I was the chief author in the MN state senate—is because of the profound impact this would have on every man, every woman, every child in the state of Minnesota. Because everyone thought this would only impact the 1.3 percent of our population that is a same-sex individual — and again, don't misunderstand. I am not here bashing people who are homosexuals, who are lesbians, who are bisexual, who are transgendered. We need to have profound compassion for the people who are dealing with the very real issue of sexual dysfunction in their life, and sexual identity disorders. This is a very real issue. It's not funny, it's sad. Any of you who have members of your family that are in the lifestyle—we have a member of our family that is. This is not funny. It's a very sad life. It's part of Satan, I think, to say this is gay. It's anything but gay. And so we are not here tonight — in fact, I wish this whole room was filled with the gay community, because we'd reach our hand out in love.

The Love Won Out conference was here not too long ago in the Twin Cities, and it's profoundly sad to recognize that almost all, if not all, individuals who have gone into the lifestyle have been abused at one time in their life, either by a male or by a female. There's been profound hurt and profound things that have happened in almost all of their lives. And this gives us great compassion. So this is not to talk about gay bashing — do we understand that? That is not what this is about. But it's to say that this new legal enforcement of a new status—homosexuality, lesbianism, bringing it into the mainstream, if you will, giving it a legitimacy if you will — that will impact not only the gay community, but every man, woman and child, particularly the schools.
Oh no, calling gay people, including one's step-sister, a "part of Satan" isn't bashing anyone at all. No siree…
In 2004, Michele Bachmann, who was then a Minnesota State Senator, gave a few opening remarks at the Love Won Out conference in the Twin Cities. According to this Christian Post press release, Bachmann said, "I know that Love Won Out will present the truth about homosexuality. I look forward to welcoming Minnesotans and residents of surrounding states to hear the message of healing that is possible." The so-called "truth" would have included a line from Focus On the Family's Melissa Fryrear, who claimed never to have met a lesbian or a gay man who had not been abused. As far as I have been able to determine, Fryrear uttered that line at every single LWO event she has ever spoken at. It was part of her standard stump speech. (She has since left Focus and is working at a church in Prescott, Arizona, and is no longer is part of the ex-gay roadshow.) When I heard her give that talk in Phoenix in 2007, I witnessed first hand the devastating impact it had on parents who were there:
The audience sat in stunned silence as Fryrear, her voice shaking, went on to talk about sexual abuse in greater detail. She later described her own sexual abuse as a child, and her talk had just followed a testimony by Mike Haley in which he described having sex with another older man beginning at the age of eleven. As far as this audience knew, there were no exceptions.

…It's not fair to say that the parents and relatives were rife with suspicions, but I was surprised at the number of suspicions that did come up — and the circumstantial nature of the "evidence" which prompted many of them. I heard ex-boyfriends and babysitters suddenly come under suspicion where there had been none before. It seemed as if many of these relatives, taking Melissa Fryrear at her word, turned several possibilities over in their minds — dismissing some, but holding others for future consideration.

Sometimes, these suspicions got the better of them. Before that day, it had never even occurred to one mother that her son might have been molested. Now after Fryrear's talk, she was momentarily certain of it. "There's no other explanation!" she exclaimed. But as she thought about it, she remembered that she had no reason to suspect this, and that the only "evidence" she had was Fryrear's statement. She was finally able to calm herself down after those around her reassured her that it probably didn't happen.
Why Did Melissa Fryrear Leave Focus On The Family?
Jim Burroway
May 12th, 2010
The Colorado Springs Gazette's "The Pulpet" blog makes note of the news that Melissa Fryrear, the longtime "senior analyist on gender issues" at Focus On the Family, is no longer with the organization. Neither Fryrear nor Focus will comment on her leaving, although Carrie Gordon Earll, Focus' senior director of issues analysis, told The Pulpet's Mark Barna that Fryrear resigned to pursue speaking opportunities.
Fryrear, you may recall, has been an integral part of the Love Won Out ex-gay roadshow, in which she consistently asserts that she has never met a gay man or woman who has not been molested or sexually abused.
Fryrear's departure comes after it was announced the Focus On the Family would no longer co-sponsor and produce the Love Won Out conferences with Exodus International. Fryrear not only directed those conferences when they were under the Focus umbrella, but she was also a keynote speaker and conducted several breakout sessions as well. Fryrear did give her keynote speech at the first all-Exodus LWO conference held in San Diego on March 6 of this year, but it appears that she did not give any of her usual workshops. Sometime after that, Fryrear was either separated, or she separated herself, from Focus On the Family. Circumstances and timing remains murkey. Fryrear is also no longer speaking at upcoming Love Won Out conference scheduled for June in Irvine, California. This led Barna to try to learn why:
Attempts to reach Fryrear at her east Colorado Springs home have been unsuccessful. Having learned of my attempts to contact Fryrear, [Focus spokesman Gary] Schneeberger told me Saturday that she won't speak to me.

Has Fryrear had a change of heart toward faith-based reparative therapy, leading to her resignation?

A ministry colleague of Fryrears doesn't believe that is the case.

Karen Keen, who operates an online site called Pursue God, writes on her blog that in conversations with Fryrear over the years she's expressed a desire to "pursue other ministry opportunities not related to homosexuality."
Commemorating the Anniversary of an Ex-Gay Conference In Uganda
Jim Burroway
March 5th, 2010
It was exactly one year ago today when three American anti-gay activists stepped before a small crowd attending a conference in the posh Triangle Hotel in downtown Kampala, Uganda. Exodus International will, err, commemorate that anniversary by holding a "Love Won Out" ex-gay conference in San Diego, in order to peddle the same junk science they helped to bring to Uganda twelve months ago.
But there will be a better commemoration of that date across town, at St. Paul's Episcopal Cathedral. I'll be there, along with former Exodus alumnus Michael Bussee, Truth Wins Out founder Wayne Besen, Straight Spouse Network founder Dr Amity Pierce Buxton, Director of the LGBT Rights Division of Human Rights Watch Scott Long, and many others. And if you're in the San Diego area, we invite you to join us:
On Saturday, March 6, 2010, a one-day event will be held at St. Paul's Episcopal Cathedral in San Diego. The 9:00 a.m. to 5:00 p.m. which will confront and challenge the "ex- gay movement" – a national movement to "convert" gay and lesbian people to heterosexuality through purported "reparative" therapy efforts. To help educate people about the truth of such claims, and the legacy of harm they leave behind, a day-long conference will be held to expose and counteract this movement.

…Morning sessions, to be held in the Great Hall of the cathedral, will feature authors, psychologists and experts in the field. These will focus on the genesis and subsequent history of the ex-gay movement, the nature of and harm done by reparative therapy, the impact of both on the struggle for the rights of lesbian, gay, bisexual and transgender people, and the ex-gay movement's connection to the looming human rights disaster in Uganda.
It was on March 5, 2009 when we watched in horror as Exodus International boardmember Don Schmierer and a relatively unknown International Healing Foundation unlicensed "counselor" Caleb Lee Brundidge joined forces with perhaps one of the most notorious anti-gay extremist, Holocaust revisionist Scott Lively. We had no idea what the fruits of that conference would be, but knowing full well the reigns of terror that the Ugandan gay community had suffered in the very recent past, we feared the worst.
But our fears for the worst turned out to be a gross underestimation of what would actually happen as a result of that conference. The "Nuclear Bomb" that Scott Lively and his cohorts delivered that day would leave a devastating fallout: public outings of gay men and women in the press, arrests at at least one suspicious death believed to be at the hands of police, and general threats of mob violence. And all of this culminated in the tabling of the draconian Anti-Homosexuality Bill before Uganda's Parliament, a bill that calls for the death sentence of gay people under certain circumstances (a penalty which could conceivably be extended to include just about anyone due to the bill's sloppy language), and the virtual criminalization of anyone who knows or comes in contact with gay people.
A year later, the "nuclear bomb" delivered by American ex-gay activists continues to spread its toxic fallout in that troubled land. We stand committed to confronting that very same danger here. If any moment can crystallize the dangers that the ex-gay movement can so callously and carelessly deliver to an unsuspecting population, this is it. And today is the day to commemorate it.
St. Paul's Cathedral is located at 2728 6th Ave in San Diego. Just Love will take place on Saturday, March 6, from 9:00 to 5:00. I look forward to seeing you there.
Click here to see BTB's complete coverage of recent anti-gay developments in Uganda.
My Prayer
Timothy Kincaid
November 6th, 2009
This weekend Focus on the Family will host their final Love Won Out ex-gay dog and pony show before washing their hands of the movement and turning it over to Exodus International. And, knowing that there will be the usual protest, Exodus Youth Director Randy Thomas is calling for prayer.
I (Randy) won't personally be at this particular event but having been to about 20 of them, every single one had some sort of protest and every single time the LWO team responds lovingly. Would you add praying for Wayne and his friends to your prayers for the conference? We'd greatly appreciate it.
I've been around long enough to know exactly what sort of prayers that will elicit. They will either be of the "smite the heathen" variety, or, more likely, of the sanctimonious "convict the heathen" stripe:
Jesus, show Wayne your love. Convict him of his sin. Deliver him from the bonds of darkness and the confusion of homosexuality that Satan has wrapped him in. He's so devoted to his sinful cause; oh how he could be a warrior for You. Jesus, tug at his heart. Bring him into a relationship with You and show him that he's wrong and we're right!!
Well, that last part is never really prayed out loud, but it is the unsaid message behind the rest of the prayer. Praying for someone else's conviction just makes you feel so good. Not only does it confirm your own certainties, but you get to be all "loving" while you are being self-affirming.
And as an extra-special bonus, you get to tell others, "Oh, that poor young man. It's so sad. I prayed for him today."
Which got me thinking.
At times I find myself telling anti-gay activists that I will pray for them. And I'm sure that they assume that if I really do pray for them that my prayers are a mirror image of those above.
But I don't pray for God to smite them or for God to change their minds. In fact, some time ago I worked out a very different prayer, one that works for me.
It goes something like this:
God, please bless Anti-gay Activist Joe.

Give Joe happiness. Bring him peace and prosperity. Take away any hurt or unhappiness or dissatisfaction with his life. In fact, fill Joe with so much joy that he has no room left over for hatred and anger and bitterness towards my community.

Fill his days with interesting things. Bring delight into his family and merriment into his friends. Make his day meaningful and fulfilling. Fill his life with so much interest and purpose that he has no time left over to spend trying to make the lives of those in my community unpleasant.

And finally, God, bring Joe close to you. Give him a complete understanding of who you are. Startle and shock him with the degree to which you love him. Fill him completely with your love, so full that he only can spill love over to all who come in contact with him. And let him know that whether I'm right, or he's right, or neither of us is right, it just doesn't matter. Because it all comes down to love.
Now I know that many of our readers don't believe in any deities or value any prayers. Many, many, many times that has been made abundantly clear. And some of you are always on the lookout for an opportunity to mock the faith of others. I'm really hoping that you'll give this one a pass and decide that this thread really isn't for you, so much.
But for those readers who do believe in God and prayer, I offer you my prayer for consideration. It may not work for you. But if it does, please consider praying for the organizers and participants at this weekend's Love Won Out Conference. I think they could use some joy, love, peace, and satisfaction.
"Love Won Out" Scales Back
Jim Burroway
October 24th, 2009
Yesterday's installment of CitizenLink gives a little more insight into the recent announcement that the Exodus International will take over the lead role from Focus On the Family for planning, producing and promoting the "Love Won Out" ex-gay conferences. That transfer of responsibilities also appears to signal a significant cutback in the scale and frequency of these conferences. According to Melissa Fryrear, who had served as director of the events:
Exodus will scale down the event and not offer as many sessions or include as many speakers.  They will, however, add sessions designed to more fully equip churches generally and pastors specifically.
She also said that the next Love Won Out event will be March 6 in San Diego, and another one will be announced in the Fall. This pace is down sharply from years past, when they normally would schedule about six Love Won Out conferences in various cities per year. Fryrear will continue to be a part of the conferences, serving as the keynote speaker.
See also:
Prologue: Why I Went To "Love Won Out"
Part 1: What's Love Got To Do With It?
Part 2: Parents Struggle With "No Exceptions"
Part 3: A Whole New Dialect
Part 4: It Depends On How The Meaning of the Word "Change" Changes
Part 5: A Candid Explanation For "Change"
Love Won Out Taken Over by Exodus
Timothy Kincaid
August 11th, 2009
The Washington Blade is reporting:
Facing a $6 million budget shortfall, Focus on the Family is shifting control of its Love Won Out conference to an outside organization.

Exodus International, a group that claims people can overcome unwanted same-sex attractions with the help of its ministry, announced Tuesday it will take control of the program starting in November.

"Exodus is the ideal organization to transition Love Won Out to," said Melissa Fryrear, director of Love Won Out. She noted that Focus on the Family and Exodus have been closely aligned for years.
Funny. I'd noticed that also.
Love Won Out to Air On GOD TV
Jim Burroway
January 14th, 2009
Focus On the Family have announced that they will air video recorded from the Love Won Out ex-gay conference held in Colorado Springs in October of last year. Seven programs were taped and will air on GOD TV over the next three weekends. Highlights include:
Friday, January 23: Understanding Male Homosexuality – with Joe Dallas. He replaces Joe Nicolosi. While Dallas offers a much kinder and gentler explanation of what "causes" homosexuality in men, it still comes down largely to one thing: It's all Dad's fault.
Saturday, January 24: Understanding Female Homosexuality – with Focus on the Family's Melissa Fryrear. She will be on hand to explain that in all of the years she has been part of an ex-gay ministry, "I never met one woman who had not been sexually violated or sexually threatened in her life. I never met one woman. And I never met one man either, that had not been sexually violated or sexually seduced in his life."
Sunday, January 25: Nancy Heche. She's the mother of actress Anne Heche. She will explain how her very powerful prayer magically changed her daughter from a homosexual to a heterosexual.
These are just three of the seven programs listed. Unfortunately, the most honest talk, in which Exodus International Alan Chambers admits to a very small, select crowd that "I choose to deny what comes naturally to me." That talk appears to be too frank for public consumption.
GOD TV isn't well distributed in the U.S. For what that's worth. GOD TV claims that they reach "almost a half a billion homes worldwide." I wonder if that "half a billion" is counted using the same methods that Exodus International uses to claim that hundreds of thousands have changed.
See also:
Prologue: Why I Went To "Love Won Out"
Part 1: What's Love Got To Do With It?
Part 2: Parents Struggle With "No Exceptions"
Part 3: A Whole New Dialect
Part 4: It Depends On How The Meaning of the Word "Change" Changes
Part 5: A Candid Explanation For "Change"
Media Coverage Of Love Won Out Protest In Colorado Springs
Daniel Gonzales
October 26th, 2008
The Colorado Springs Gazette ran an article which quotes three people involved in planning the counter protest, Nori Rost (local Unitarian pastor), Wes Mullins (local MCC pastor who is also an ex-gay survivor), and ends with a fabulous quote by yours truly:
But Daniel Gonzales has a different view. The 28-year-old Denver resident will be one of four panelists at the "Love Came Out" event, where he'll talk about embracing his sexual orientation after years of trying to change it while attending faith-based reparative programs.

"It all boiled down to trying to make up excuses for what was causing my attractions and convincing myself that my attractions had some other meaning and ultimately could be ignored or pushed aside," Gonzales said.

"If that sounds like a fancy way of saying 'repression,'" he said, "that would be exactly right."
I haven't been able to find the local Fox affiliate's coverage online but here's NBC's coverage (in case you want more of me):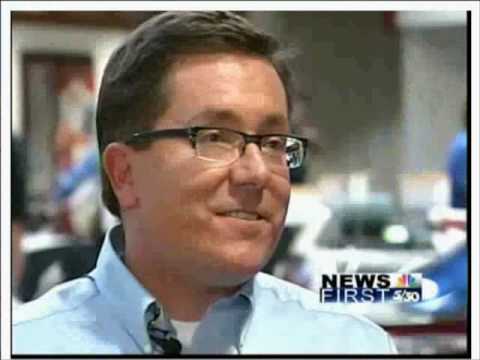 Video: Inside "Love Won Out"
In this multi-part series of videos Box Turtle Bulletin editor Jim Burroway discusses attending Love Won Out.
Daniel Gonzales
October 23rd, 2008
In honor of Saturday's Love Won Out to be held in CO Springs we're releasing more videos of Jim Burroway discussing having attended the ex-gay conference when it came to Phoenix last year.
You can't be gay and Christian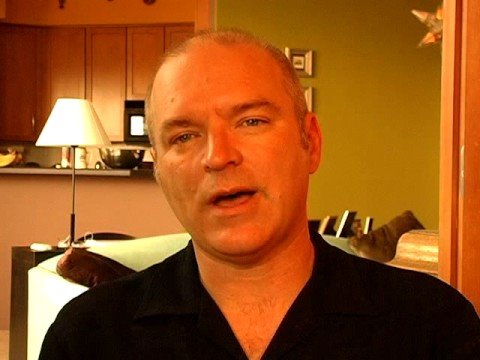 Love Won Out To Be Held Saturday In CO Springs
Daniel Gonzales
October 23rd, 2008
And a coalition of local gay organizations have planned a response which is cutely called "Love Came Out." Here's a poster for the event:
Love Won Out in Orlando
Jim Burroway
June 10th, 2008
Exodus International and Focus On the Family pulled their roadshow into Exodus' home turf of Orlando last weekend. A reported 500 people turned out for this edition of Love Won Out, which puts this attendance on the smallish side. Maybe too much competition from Orlando's Gay Days, which was going on at the same time. At any rate, the good parents and friends at PFLAG were there to greet the struggling parents of gays and lesbians with coffee and donuts.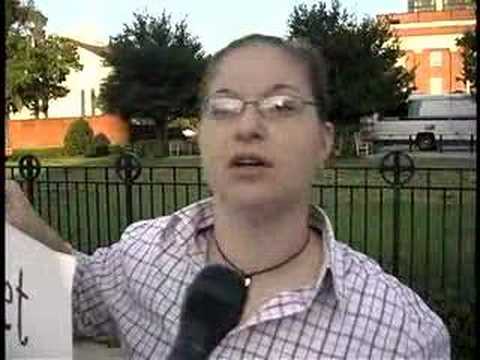 Video: Inside "Love Won Out"
In this multi-part series of videos Box Turtle Bulletin editor Jim Burroway discusses attending Love Won Out.
Daniel Gonzales
April 6th, 2008
Everyone has a personal narrative of how they would like their life to turn out. Oftentimes we have narratives for the lives of our loved-ones, including parents who have narratives for their children. When some of these children are gay and come out of the closet the narratives their parents held are oftentimes shattered. As Jim points out, Love Won Out does little to help this.
Parents' Narratives For The Lives Of Their Children

Video: Inside "Love Won Out"
In this multi-part series of videos Box Turtle Bulletin editor Jim Burroway discusses attending Love Won Out.
Daniel Gonzales
March 16th, 2008
Today's videos aren't exactly related to each other except for all being about Love Won Out. The first video looks at the language used by LWO speakers which attempts to separate a gay person from their sexuality. Jim finds it comical the term "people who are struggling with their homosexuality" is used to describe him given that he has no struggle with his sexuality. Our second video today looks at the financial cost of attending both Love Won Out and the ex-gay ministries promoted there. And our third video today examines how scientific studies such as the Spitzer Study are quoted at Love Won Out.
Separating The Person From The Sexuality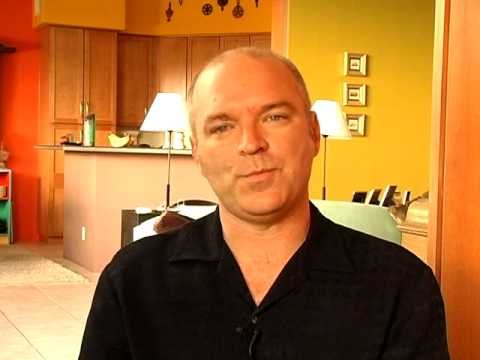 How Much Do Ex-Gay Programs Cost?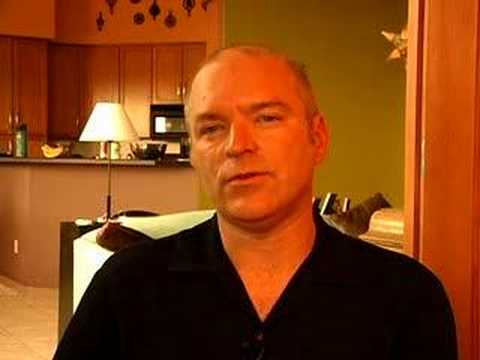 Quoting Scientific Studies