Another Former Ex-Gay Leader Recants
Jim Burroway
April 18th, 2013
John Paulk, a former board chair at Exodus International and lead spokesperson for Focus On the Family on promoting the ex-gay movement, has renounced his ex-gay past in an interview with Portland's PQ Monthly:
Paulk's emailed response to PQ's interview questions suggest that he might, in fact, be moving toward accepting who he is.

"Until recently, I have struggled all my life in feeling unloved and unaccepted," Paulk said. "I have been on a journey during the last few years in trying to understand God, myself, and how I can best relate to others. During this journey I have made many mistakes and I have hurt many people including people who are close to me. I have also found a large number of people who accept me for who I am regardless of my past, any labels, or what I do."

Paulk continued, "I no longer support the ex-gay movement or efforts to attempt to change individuals — especially teens who already feel insecure and alienated. I feel great sorrow over the pain that has been caused when my words were misconstrued. I have worked at giving generously to the gay community in Portland where I work and live. I am working hard to be authentic and genuine in all of my relationships."
Misconstrued? Which words were misconstrued? Were they the messages he promoted when in 1995 he was first elected to the chairmanship of Exodus International? Or when, as an employee of Focus On the Family, he launched a traveling series of conferences called "Love Won Out" in 1998, which travelled to a half a dozen cities per year for the next decade and a half, convincing parents and teens that he and his cohorts knew how to make them straight? Was it in 1998, when Paulk and his wife, "ex-lesbian" Anne Paulk, appeared as a happy cover in a major newspaper and billboard advertising campaign to promote the ex-gay community, a campaign which culminated in them landing on the cover of Newsweek?
Or was it in 2000 when the Love Won Out  was making a stop in Washington, D.C., and LGBT activist Wayne Besen took Paulk's photo as Paulk fled a gay bar near Dupont Circle, after Paulk was spotted flirting with patrons for more than an hour?
Anyway…
Paulk lost his chairmanship at Exodus International, but remained on its board of directors. He also, after a probationary period, continued working as head of Focus On the Family's Homosexuality and Gender division, and he remained the coordinator and a speaking for its ove Won Out conferences until 2003. Paulk left Focus On the Family and the couple moved to Portland, where John Paulk started a catering business, Mezzaluna, in 2005.
Paulk has more or less dropped off the map since then, although his wife continues to publish books and remain active in the ex-gay movement. In 2012, after Exodus International began acknowledging to that change in sexual orientation was not possible, Anne Paulk helped to form a break-away group comprised of former Exodus ministries. She now serves on the board of directors of that dissident group, Restored Hope Network. The Paulks are reportedly separated, and former employees of Paulk's catering service alleged that Paulk had engaged in inappropriate conduct with his employees. Others however defend him:
"Chef John is an amazing person to work for," said Jeremy Neel, Mezzaluna's openly gay catering captain. "He is very compassionate, friendly, caring, encouraging, and supportive…. I love my job. It is sad that some people in the LGBT community are saying negative things about him yet have not given him a chance. One's past should not define who they are."

Kurt Granzow, aka "Sister Krissy Fiction" of The Sisters of Perpetual Indulgence, has a background similar to Paulk's. "I was in the ex-gay movement and a conservative Christian minister for over a decade before I moved to Portland and came out," Granzow said. "I've been trying to support John in his process of leaving that stuff behind. I remember what it was like to look in the mirror with shame and self-loathing. The process of learning to be who you are is tough. I've just tried to be a compassionate friend."
Paulk still has his detractors. Besen has issued a list of demands, including that Paulk denounces the Portland Fellowship, an former Exodus International ex-gay ministry that is now affiliated with Restored Hope Network; embark on a speaking tour with LGBT advocates, and supporting an Oregon bill that would ban Sexual Orientation Change Efforts (SOCE) for minors. Roey Thorpe, former director of Basic Rights Oregon, told PQ Monthly:
John Paulk isn't just a conflicted man who hasn't been able to reconcile his sexuality with his faith — we are all sympathetic to that and many of us have had that struggle. This is different," Thorpe said. "Thousands of young people have been forced into religious conversion programs, shamed into believing they are sinners. Families have been encouraged to reject their children, and queer kids end up on the streets or committing suicide. Others live silently, filled with shame. This is how the Paulk family has made their living. I have dear friends who have been through hell and are still exiled from their families because of John Paulk. It's important for people to know who they are doing business with."
Commemorating the Anniversary of an Ex-Gay Conference In Uganda
Jim Burroway
March 5th, 2010
It was exactly one year ago today when three American anti-gay activists stepped before a small crowd attending a conference in the posh Triangle Hotel in downtown Kampala, Uganda. Exodus International will, err, commemorate that anniversary by holding a "Love Won Out" ex-gay conference in San Diego, in order to peddle the same junk science they helped to bring to Uganda twelve months ago.
But there will be a better commemoration of that date across town, at St. Paul's Episcopal Cathedral. I'll be there, along with former Exodus alumnus Michael Bussee, Truth Wins Out founder Wayne Besen, Straight Spouse Network founder Dr Amity Pierce Buxton, Director of the LGBT Rights Division of Human Rights Watch Scott Long, and many others. And if you're in the San Diego area, we invite you to join us:
On Saturday, March 6, 2010, a one-day event will be held at St. Paul's Episcopal Cathedral in San Diego. The 9:00 a.m. to 5:00 p.m. which will confront and challenge the "ex- gay movement" – a national movement to "convert" gay and lesbian people to heterosexuality through purported "reparative" therapy efforts. To help educate people about the truth of such claims, and the legacy of harm they leave behind, a day-long conference will be held to expose and counteract this movement.

…Morning sessions, to be held in the Great Hall of the cathedral, will feature authors, psychologists and experts in the field. These will focus on the genesis and subsequent history of the ex-gay movement, the nature of and harm done by reparative therapy, the impact of both on the struggle for the rights of lesbian, gay, bisexual and transgender people, and the ex-gay movement's connection to the looming human rights disaster in Uganda.
It was on March 5, 2009 when we watched in horror as Exodus International boardmember Don Schmierer and a relatively unknown International Healing Foundation unlicensed "counselor" Caleb Lee Brundidge joined forces with perhaps one of the most notorious anti-gay extremist, Holocaust revisionist Scott Lively. We had no idea what the fruits of that conference would be, but knowing full well the reigns of terror that the Ugandan gay community had suffered in the very recent past, we feared the worst.
But our fears for the worst turned out to be a gross underestimation of what would actually happen as a result of that conference. The "Nuclear Bomb" that Scott Lively and his cohorts delivered that day would leave a devastating fallout: public outings of gay men and women in the press, arrests at at least one suspicious death believed to be at the hands of police, and general threats of mob violence. And all of this culminated in the tabling of the draconian Anti-Homosexuality Bill before Uganda's Parliament, a bill that calls for the death sentence of gay people under certain circumstances (a penalty which could conceivably be extended to include just about anyone due to the bill's sloppy language), and the virtual criminalization of anyone who knows or comes in contact with gay people.
A year later, the "nuclear bomb" delivered by American ex-gay activists continues to spread its toxic fallout in that troubled land. We stand committed to confronting that very same danger here. If any moment can crystallize the dangers that the ex-gay movement can so callously and carelessly deliver to an unsuspecting population, this is it. And today is the day to commemorate it.
St. Paul's Cathedral is located at 2728 6th Ave in San Diego. Just Love will take place on Saturday, March 6, from 9:00 to 5:00. I look forward to seeing you there.
Click here to see BTB's complete coverage of recent anti-gay developments in Uganda.
Wayne Besen Is "Extremely Gay"
Jim Burroway
January 2nd, 2009
Mike S. Adams is one of TownHall.com's more useless columnists. In his latest post, he's working the same-sex-marriage-leads-to-polygamy theme very hard, using a FOX News debate between Wayne Besen and Robert Jeffress as fodder. Adams introduces them this way:
The debate was between Robert Jeffress, an opponent [of same-sex marriage], and Wayne Besen, an extremely gay activist.
I don't think I've ever agreed with anything Adams has ever written before, but I gotta give him this one. I've met Wayne several times and I gotta tell you — he's pretty gay.
TWO Calls Out Becket Fund in Full Page Ad
Jim Burroway
December 10th, 2008
We've already talked about the full-page ad placed by the Becket Fund in last Friday's New York Times which falsely characterized the peaceful protests against California's Proposition 8 as "mob violence." And we also provided evidence of some of that ad's cosigners' undisguised hatred against gay people.
Tomorrow, Wayne Besen and Truth Wins Out will counter that ad with a full-page ad in the Salt Lake City Tribune. TWO's ad calls attention the the Becket Fund's ad demanding an end to "anti-religious bigotry" against the Church of Jesus Christ of Latter Day Saints:
"Beginning today," they wrote, "We commit ourselves to opposing and publicly shaming anyone who resorts to the rhetoric of anti-religious bigotry, against any faith, on any side of the cause, for any reason.
TWO responds by including some rather shameful anti-religious sputterings by three of the Becket Fund ad's cosigners:
"Hollywood is controlled by secular Jewswho hate Christianity in general and Catholicism in particular." – Bill Donohue, Catholic League

"Mormonism either affirms historic Christianity, or it doesn't. Since it doesn't, it can't call itself Christianity – a fact that all the good will and public relations in Utah can't change. …"While Mormons share some beliefs with Christians, they are not Christians." –Chuck Colson, Prison Fellowship Ministries

"Most evangelicals still regard Mormonism as a cult." — Rich Cizik, National Association of Evangelicals
Here is the TWO ad. (Click on the image to see the full-size version.)
Dobson Nominated for Radio Hall of Fame
Jim Burroway
July 9th, 2008
Imagine my surprise on learning that Focus on the Family's James Dobson has been nominated to the Museum of Broadcast Communication's Radio Hall of Fame. I wonder, is Father Charles Coughlin also a member? If so, then Dobson might make good company. But no, I don't see Coughlin on the list, so I don't see how Dobson deserves the honor. Not after such gems like this:
"Homosexuals are not monogamous. They want to destroy the institution of marriage. It will destroy marriage. It will destroy the Earth."
Wayne Besen at Truth Wins Out is organizing a campaign to remove Dobson from consideration.
To fight back against this offensive decision, TWO strongly urges fair-minded people to take three actions. First, sign TWO's formal request to have James Dobson removed from consideration. Second, contact Museum of Broadcast Communications CEO Bruce DuMont directly, brucedumont@museum.tv, to express your displeasure. Third, as an option, vote for nominees other than James Dobson or Laura Schlessinger (the general public may vote, and the other nominees are Bob Costas and Howard Stern). It is urgent to act now, as voting comes to a close on July 15.
Rubber Band Therapy
Jim Burroway
November 2nd, 2007
Yes, there really is such thing as "Rubber Band Therapy." It was popularized in ex-gay circles by Bill Consiglio's book, Homosexual No More. You're suppose to wear a rubber band around your wrist and snap it whenever you see a hot guy walking by. Or whenever you imagine a hot guy walking by. Or just whenever:
Every time you catch yourself watching someone erotically or engaging in fantasy, snap the band. This will cause a moderate stinging pain, which serves as a shocking reminder of what you are doing. This should help you interrupt the spell. (p. 90)
It doesn't work. Go figure. Here's the latest from Wayne Besen's Truth Wins Out: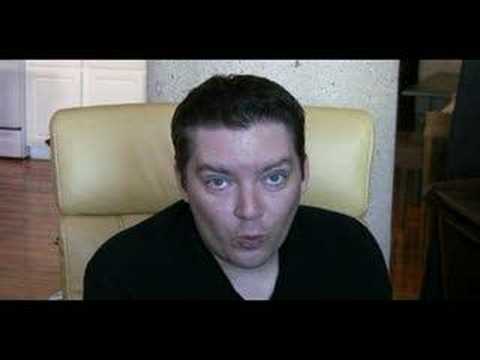 Excerpt from Consiglio's book courtesy of Wayne Besen.
Happy Valentine's Day
Jim Burroway
February 14th, 2007
A Valentine's video from Wayne Besen and Truth Wins Out:
If you are gay and Mormon, you can find help and support at Affirmation. If you are a spouse in need of support, you can find it at the Straight Spouse Network or Straight Wives.
The False Witness of Focus on the Family
Jim Burroway
June 20th, 2006
Wayne Besen, founder of Truth Wins Out, has been closely following some recent statements coming from Melissa Fryrear of Focus in the Family, who has misrepresented research twice in as many days.
Yesterday, Wayne reported on Melissa Fryrear's claims that a recent Canadian study on youth suicide links "pro-gay advocates" with a higher number of suicide attempts by gay and lesbian youths. In her press release, she says:
"Regrettably, they think they have to embrace homosexuality because pro-gay advocates told them that they were born gay," she said. "And that is absolutely not true."
Unfortunately for Ms. Fryrear, Wayne asked the researcher, Dr. Elizabeth Saewyc about Ms. Fryrear's statement, and this is what he learned:
When contacted about Focus on the Family's claims, Saewyc, the study's principal investigator, said she was "disturbed" by what "seems to be an attempt to make their opinions more credible by linking them to scientific research — even though the research doesn't support those beliefs." She said Focus on the Family draws conclusions well beyond the study results by claiming that lesbians are suicidal because they are "embracing homosexuality," as well as other inaccuracies in their article.

"Population surveys cannot determine cause and effect," Saewyc explained, "they can only suggest possible links. Even so, other researchers have not found these sorts of links, and neither have we."
The Canadian Press has since picked up the story. When they asked Dr. Saewyc for a comment, she responded:
"The research has been hijacked for somebody's political purposes or ideological purposes and that's worrisome."

In fact, said Saewyc, American studies have noted that gay teenagers are at the highest risk of suicide before they come out of the closet. After that, they do quite well unless they're harassed.

"If they're trying to kill themselves because they're embracing homosexuality, one would logically conclude they should all be suicidal," said Saewyc.
The Canadian Press then asked Ms. Fryrear to respond, and that's when she chose to misrepresent psychological research for a second time:
Some clinical studies, including one by Dr. Robert Spitzer, have linked contemplating suicide to unwanted attractions to the same sex, she said.
Now, I've read Dr. Spitzer's study, and can assure you it says no such thing. But for good measure, Wayne asked Dr. Spitzer directly, who responded:
"Unfortunately Focus on the Family has once again reported findings of my study out of context to support their fight against gay rights," said Dr. Robert Spitzer, a professor of psychiatry at Columbia University. …

"Although a third of the subjects in my study reported having had serious thoughts of suicide related to their homosexuality, not one of them blamed the gay rights movement's advocating a 'born-gay' theory of homosexuality as the cause of their suicidal thinking," said Spitzer.
Dr. James Dobson's Focus on the Family often seeks the moral high ground when exploring issues concerning the family and the broader culture. Unfortunately, his "Gender Issues Analyst" needs to brush up on the ethics of misquoting legitimate scientific research. Otherwise, it's just another False Witness in the service of bigotry.