Uganda's Dr Semugoma: Optimistic and Living With Hope
Jim Burroway
August 8th, 2012
Longtime BTB readers will recall our good friend, the anonymous blogger GayUganda. To get you caught up to date, he's no longer blogging and he's no longer anonymous. Meet Dr. Paul Semugoma: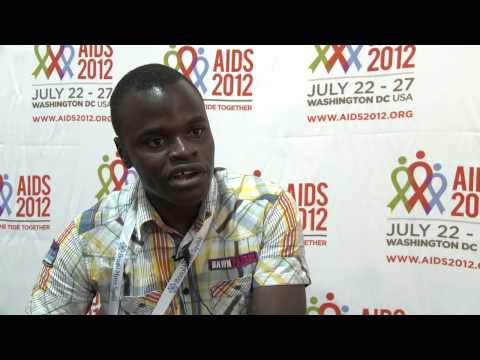 Dr. Semugoma was in Washington D.C. for the International AIDS Conference last month. In this video he talks about the barriers to AIDS prevention caused by homophobia and discrimination — a situation that he says is exacerbated by the influence of American anti-gay evangelicals in Uganda. He points out that Uganda's anti-gay laws currently are virtually identical to those of Kenya and Tanzania, both of which border Uganda and are also, like Uganda, former British colonies. Yet Kenyan and Tanzanian HIV/AIDS prevention efforts include special programs for those nations' LGBT communities, while Ugandan authorities claim, falsely, that similar efforts in Uganda are prohibited by law. Dr. Semugoma makes the case that this stance works against the interests of the entire country, not just LGBT people.
At about the 7:00 mark, Dr. Semugoma talks about his own process of coming out recently and the difficulties that poses in his country and in his practice. Before coming out, he had been using his standing as a medical doctor to provide medical-based arguements for a more inclusive approach to HIV prevention and treatment. But even doing that generated questions about his sexuality, questions that he has only recently been answering. He is also preparing to move to South Africa where he can live without the kinds of fears and stresses that he experiences in Uganda.
Toward the end of the video, he describes further the obstacles that UGanda's government places on prevention efforts. He describes the case of an HIV/AIDS clinic that recently opened in Kampala with the mission of providing care for LGBT citizens. The government moved to close the clinic because it "promoted homosexuality." Doctors in the country joined the government in saying that the clinic was not needed because they don't discriminate against LGBT people if they don't ask about sexual orientation:
At the same time, doctors were asked, Ugandan doctors, that, "Do you think this clinic is necessary?" And to them it was not necessary, and their reason was, "We do not discriminate because we do not ask patients about their sexuality." In actual fact that shows their ignorance because for a doctor to sit with their patient and to be able to counsel you about your HIV prevention needs, I need to know your sexual practices. So if you're going to talk to a gay person like you're going to talk to a heterosexual person, then you are missing the point. You're going to advise him to use condoms, while he actually needs condoms and a water-based lubricant. You're going to advise him to get married and stick to his partner when in actual fact he cannot get married in the country. You are going to advise him to be faithful and abstain, and he will think in his mind, "I abstain until when?" because he cannot get married. That is the kind of problems, structural issues, that are there.
He says that we have the medical knowhow and the tools to end the epidemic. The problem is not medical, but structural. He nevertheless closed on a note of optimism. Five years ago, the LGBT community was invisible. Now people know that it's there. "I am optimistic. I mean, I am a human being and I think we live with hope."
Comments