VIDEO: Ugandan TV Coverage of Signing of Anti-Gay Bill, Reactions from Supporters
Jim Burroway
February 25th, 2014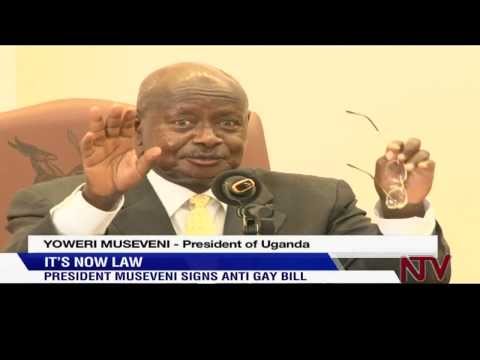 MP David Bahati, who introduced the private member's bill into Parliament, reacted to the signing:
This is a victory for the family of Uganda, the future of our children and certainly a triumph of our sovereignty as a country that got independence fifty years ago.
Ethics and Integrity Minister Simon Lokodo (a defrocked Catholic priest) dismissed the potential international fallout from the bill:
Because I know any sensible person will take this positively and say, oh, this bill as asserted their position, they've asserted their mind, and let's respect them as they are and we'll continue relating.
The NTV report erroneously states that first-time offenders against the new Anti-Homosexuality Act "would face up to fourteen years in jail." In fact, the final act as signed into law sets a penalty of lifetime imprisonment regardless if whether it is a first conviction or not.
Comments