Report: Sweden Reconsiders Foreign Aid to Uganda
Jim Burroway
March 1st, 2014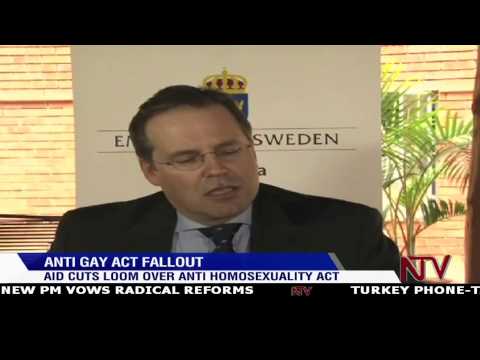 According to this report from NTV Uganda, Sweden's Finance Minister Andes Borg was in Uganda on a visit to highlight Swedish investment oportunities in East Africa. While there, he addressed the problems that Uganda's Anti-Homosexuality Act posed for Sweden's foreign aid and investment in Uganda:
We are reviewing our own aid program with Uganda, and obviously this is a factor that has to be taken in to account. It is not a posative factor but a major problem that we will have to deal with. But there is also in the Swedish aid to Uganda very important areas supporting the civil society, improving health care and the research and development that are important. So we see this as a Swedish long term commitment to a partnership with Uganda. But this is a political issue that is quite problemantic in the medium and short term, I must say.

…The problems that we have from a Swedish human right perspective on this issue, and the legislation is very problematic from our perspective. And I do think that there are also some broader economic risks, not only when it comes to aid cooperation but also when it comes to tourism and investment where this is a reputation risk for Uganda.
Sweden provides about US$10 million in aid to Uganda. Shortly after the Anti-Homosexuality Bill was proposed in 2009, Sweden warned Uganda that the bill was placing Sweden's foreign aid at risk. In 2012 Sweden suspended a portion of its aid to Uganda, as did Ireland, Norway, Denmark and Britain, following revelations that  $15 million in aid from those countries had been diverted to private bank accounts of officials in Prime Minister Patrick Amama Mbabazi's office. Britian's cut in foreign aid was later extended to the entire Ugandan government. On Thursday, Uganda's Parliament cleared Mbabazi of wrongdoing despite lingering questions about the scandal.
Norway, Demark and the Netherlands, which collectively had provided $27 million in aid to Uganda, have announced that they are cutting aid to the Ugandan government. On Friday, the  World Bank announced that it was putting on hold a $90 million loan to Uganda's health service. U.S. Secretary of State John Kerry has said that the State Department is reviewing its relationship with Uganda. The U.S. currently gives more that $486 million in bilateral aid. On Wednesday, the U.S. Ambassador to Kampala said that the U.S. would deny visas to Ugandans who "incite violence, people who propagate hate, (and) who have used political violence."
Comments