The Daily Agenda for Friday, May 9
Jim Burroway
May 9th, 2014
TODAY'S AGENDA:
Pride Celebrations This Weekend: Darwin, NT; Kraków, Poland; New Hope, PA; São Paulo, Brazil; Tallahassee, FL.
AIDS Walks This Weekend: Buffalo, NY; Des Moines, IA.
Other Events This Weekend: Purple Party, Dallas, TX; BeachBear Weekend, Ft. Lauderdale, FL; Houston Splash, Houston, TX; Big Horn Rodeo, Las Vegas, NV; Miami Gay and Lesbian Film Festival, Miami, FL.
TODAY'S AGENDA is brought to you by:

There was a rather tight cluster of gay bars in Los Angeles' Silver Lake neighborhood, where Santa Monica Blvd joins up with Sunset. Connie's Place was just up the block a little ways (see the ad for Mar 26), and several other gay bars extended for at least two blocks down Sunset. I haven't been able to find anything about the Joker Inn — when it opened, when it closed, or what kind of clientele it attracted. The bar is gone, but gay men are still turning up at the address which is part of the larger adult bookstore Circus of Books.
TODAY IN HISTORY:
Three Hanged for Sodomy: 1726. In July of 1725, Gabriel Lawrence, 43 and "a Papist" — that alone was also a crime in 18th century England — was indicted "for committing, with Thomas Newton, aged 30 years, the heinous and detestable sin of Sodomy, not to be named among Christians." He was among 40 who were arrested at the famous "molly house" of Margaret Clap, a "place of rendezvous for Sodomites." Newton, who testified against the defendants in exchange for immunity, described the place: "For the more convenient establishment of her customers, she had provided beds in every room of the house. She usually had 30 or 40 of such Persons there every Night, but more especially on a Sunday. I was conducted up one pair of Stairs, and by the Perswasions of Bavidge (who was present all the Time) I suffer'd the Prisoner to commit the said Crime. He has attempted the same since that Time, but I never would permit him any more." Newton testified against Lawrence, taking upon himself the role of innocent victim even though he, too, was at the "molly house" and arrested.
Newton claimed that he didn't know that Claps's establishment was a molly house. He must have been pretty dumb, because he apparently spent a lot of time there. He not only testified against Lawrence, but also against two others at the house: William Griffin, 43, and Thomas Wright, 32, who "often fetched me to oblige company that way." All three defendants were found guilty and sentenced to death. On May 9, 1726, Lawrence, Griffin, and Wright were hanged at the infamous gallows known as "the Tyburn Tree," not far from the present-day location of the Marble Arch. Margaret Clapp was fined, made to stand at the pillory at Smithfield, and sent to prison for two years.
[Sources: Ian McCormick. Secret Sexualities: A Sourcebook of 17th and 18th Century Writings
 (London: Routledge, 1977): 72-74.
"Trial of Gabriel Lawrence." Old Bailey Proceedings Online (April 1726): record t17260420-64.
Historian Rictor Norton has also posted trial records for Lawrence, Griffin and Wright at his web site.]
Ignorance Is Bliss: 1870. Dressed as Lady Stella Clinton and Miss Fanny Winifred Park, Ernest Boulton, 22, and Frederick William Park, 23 both scandalized and titillated Londoners when they attended a performance at the Strand Theatre and were arrested by police. A search of their homes turned up more than a dozen dresses, petticoats, bodices and bonnets. Their landlady described their dresses as very extreme. They were charged with conspiracy to commit sodomy.
The two defendants appeared in court in drag. The whole thing baffled the Attorney General, who testified on May 9, 1871 that the lack of detailed British knowledge on the topic was actually one of the country's virtues. He thought it "fortunate [that] there is little learning or knowledge upon this subject in this country; there are other countries in which I am told learned treatises are written as to the appearance to be expected in such cases. Fortunately Doctors in England know very little about these matters." Ignorance reigned, and it was to Boulton and Park's benefit. Sure, they dressed funny, engaged in "disgraceful behaviour," and wrote piles of letters describing their exploits — an entire day was spent reading them into the record — but none of that counted as evidence of a conspiracy to commit sodomy. And since wearing dresses itself wasn't against the law, the jury found them not guilty.
[Source: Ivan Crozier. "Nineteenth-Century British psychiatric writings about homosexuality before Havelock Ellis: The missing story." Journal of the History of Medicine and Allied Sciences 68, no. 1 (Jan 2008): 65-102.]
Wichita Voters Repeal Gay Rights Ordinance: 1978. Anita Bryant's success in defeating a gay rights ordinance in Miami at the ballot box the year before (see Jun 7) inspired voters in St. Paul to repeal their ordinance the following spring by more than a two-to-one margin (see Apr 25). Two weeks later, the fight moved to Wichita, Kansas, where an ordinance banning discrimination in housing, employment and public accommodations due to "sexual or affectional preferences" was the subject of a special repeal election. After Miami voters repealed their anti-discrimination ordinance, Wichita organizers quickly gathered 31,000 signatures, more than three times the needed number, to place the ordinance up for a vote. The City Council decided to short-cut the process, and in a 3-2 vote agreed to place the issue on the ballot for a special May 9 election.
Rev. Richard A. Angwin, who headed the St. Paul repeal effort, traveled to Wichita fresh off of his St. Paul victory and told a Wichita audience that the Minnesota vote proved that "from the conservative Bible-belt of Dade County, Florida, to the liberal progressive north of Minnesota, that the American people are not willing to accept homosexuality as a legitimate intrusion into human rights ordinances." He also argued that gay people were second-class citizens. "I think anyone who is immoral is a second-class citizen," he said. "But I don't say it out of hatred. I love the murderer, but I'm still going to limit his behavior in society."
Wichita voters apparently agreed. They repealed Wichita's anti-discrimination ordinance by a nearly five-to-one margin: 47,246 to 10,005. Forty-four percent of the city's 128,888 registered voters turned out, making it the largest turnout for a city election in a decade. Rev. Ron Adrian, president of Concerned Citizens for Community Standards which campaigned for the repeal, was elated. He had only expected a two-to-one victory margin. "I think God's using this vote to openly rebuke the pro-homosexual forces," he said.
Robert Lewis, co-director of the Homophile Alliance, was initially bitter about the results. "Obviously there are a lot of bigots in Wichita," he told reporters. But later, after cooling off at a local gay bar, Lewis put a better face on the defeat. "It's like a New Year's Eve party here. You would never know gay rights had been defeated. Gay people in Wichita are feeling much better about themselves as a result of this campaign."
Two days later, it was revealed that Miami-based Protect America's Children, which was linked to another tax exempt organization called "Anita Bryant Ministries," had poured $20,000 into the Wichita and St. Paul battles. At $74,000 in today's dollars, it represented big money for city elections in 1978. Their next target was a special election in Eugene, Oregon, to repeal its gay rights ordinance, scheduled for May 23.
Dana Goes International: 1998. The music world is shocked when judges at that year's Eurovision Song Contest in Birmingham, England choose openly MtF Dana International as their champion. Ultra-Orthodox Jews and Israeli conservatives were shocked and demanded that next year's telecast not be held in the winning country, as tradition holds, due to the "shame" of her being transsexual. Dana countered, "My victory proves God is on my side. I want to send my critics a message of forgiveness and say to them: try to accept me and the kind of life I lead. I am what I am and this does not mean I don't believe in God, and I am part of the Jewish Nation."
Here is how Dana International's win looked on German television: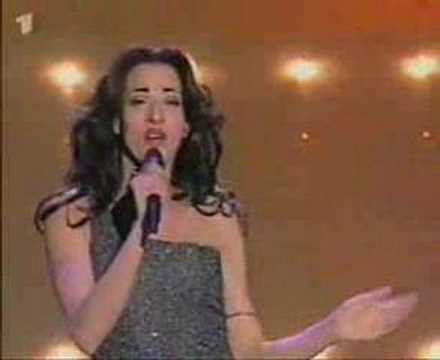 President Barack Obama Announces Support for Marriage Equality: 2012. Through much of his presidency, Barack Obama had long opposed the abolition of same-sex marriages via state and federal constitutional amendments, and during his 2008 primary campaign against then-Sen. Hillary Clinton, he distinguished his position from hers by calling for the full repeal of the Defense of Marriage Act in its entirety. (Her position was to repeal the provision barring federal recognition of same-sex marriages while keeping Section 2, which allows states to ignore other states' marriages.) In 2011, his Justice Department announced that they would no longer defend DOMA in Federal Court, arguing that heightened scrutiny was called for in examining the law's constitutionality, and that DOMA fails under that standard. But on the critical question of whether Obama supported same-sex marriage itself, he famously said that he was "still evolving" on the issue.
That evolution was completed when, during an interview with ABC News, Obama revealed that he now supported the rights of same-sex couples to marry"
I have to tell you that over the course of several years as I have talked to friends and family and neighbors when I think about members of my own staff who are in incredibly committed monogamous relationships, same-sex relationships, who are raising kids together, when I think about those soldiers or airmen or marines or sailors who are out there fighting on my behalf and yet feel constrained, even now that Don't Ask Don't Tell is gone, because they are not able to commit themselves in a marriage, at a certain point I've just concluded that for me personally it is important for me to go ahead and affirm that I think same sex couples should be able to get married.
Obama's announcement came three days after Vice President Joe Biden told David Gregory on NBC's Meet the Press that he was "absolutely comfortable with the fact that men marrying men, women marrying women and heterosexual men and women marrying one another are entitled to the same exact rights."
Obama's announcement made him the first sitting President to announce his support for marriage equality for same-sex couples. Conventional wisdom had held that such a position would be political suicide for national office, but Obama proved that wrong in November when he became the first presidential candidate to win an election on a platform calling for marriage equality. That same election also saw voters in three states — Maryland, Maine and Washington — make history by approving same-sex marriage at the ballot box, and voters in Minnesota turned back an attempt to write discrimination into its state constitution for only the second time in history. In the year following Obama's announcement, the number of states providing marriage equality nearly doubled from six to eleven, after legislators in Rhode Island and Delaware passed legislation legalizing same-sex marriages.
TODAY'S BIRTHDAY:
80 YEARS AGO: Alan Bennett: 1934. The English performer and playwright is best known for The Madness of George III and the film adaptation, The Madness of King George. He received an Academy Award nomination for the screenplay. In August 1960, he achieved instant fame as a comedy actor at the Edinburgh Festival by appearing in a satirical review with Dudley Moore, Jonathan Miller and Peter Cook. His first play, Forty Years On, debuted in 1968. His critically acclaimed The History Boys won three Lawrence Olivier Awards in 2005 and Six Tony Awards on Broadway in 2006. His memoir, Untold Stories
, appeared in 2005. He thought it would be published posthumously because he was undergoing treatment for cancer when he wrote it. The cancer went into remission, but the book went ahead anyway. In the biographical sketches, Bennett wrote openly for the first time about his homosexuality, although he said that he was "reluctant to be enrolled in the ranks of gay martyrdom, reluctant, if the truth be told, to be enrolled in any ranks whatsoever."
If you know of something that belongs on the agenda, please send it here. Don't forget to include the basics: who, what, when, where, and URL (if available).
And feel free to consider this your open thread for the day. What's happening in your world?
Comments