Election Liveblog
Jim Burroway
November 6th, 2012
2:00 EST: One more thing:
Iowa Supreme Court Justice Retention Vote:
David Wiggins:
Yes (retain): 54% √
No: 46%
83% reporting.
NOM is having a very bad night. A historically bad night. I'm going to bed now and I will sleep very, very soundly.
1:39 EST: President Obama is now giving his victory speech. And with that, I'm going to sign off for the night. I will provide an update with the latest results again tomorrow morning.
1:30 EST: Here is a rundown of all of the LGBT-related races I've been following:
BALLOT MEASURES:
Maine, Question 1: Allow same-sex marriage.
Yes: 54.2% √
No: 45.8%
58.1% reporting.
Maryland, Question 6: Allow same-sex marriage.
Yes: 51.2% √
No: 48.1%
96.8% reporting.
Minnesota, Amendment 1: Same-sex marriage ban.
No: 49.2.5%
Blanks: 1.5%
Yes: 49.2%
67.4% reporting.
Remember: The Amendment needs to pass by more than half of all ballots cast. Blanks will be added to the "no" vote for the final tally.
Washington, Referendum 74: Allow same-sex marriage.
Yes: 51.8.9%
No: 48.2%
49.9% reporting.
SENATE RACE:
Wisconsin:
Tammy Baldwin (D, openly lesbian): 51.2% √
Tommy Thompson (R): 46.2.%
86.8% reporting.
CONGRESSIONAL RACES:
Arizona:
Kyrsten Sinema (D, openly bi): 47.4%
Vernon Parker (R): 46.3%
86% reporting.
California:
Mark Takano (D, openly gay): 54.4%
John Tavaglione (R): 45.6%
13% reporting.
Colorado:
Jared Polis (D, openly gay): 54.6% √
Kevin Lundberg (R): 40.4%
45.3% reporting.
Massachusetts:
Richard Tisei (R, openly gay): 47.1%
John Tierney (D) 48.4% √
98.3% reporting.
New York:
Sean Patrick Maloney (D, openly gay): 51.7% √
Nan Hayworth (R): 48.3%
96.7% reporting.
Rhode Island:
David Cicilline (D, openly gay): 53.1% √
Brendan Dohert (R): 40.7%
97.0% reporting
Wisconsin:
Mark Pocan (D, openly gay): 67.4% √
Chad Lee (R): 32.6%
90.5% reporting.
12:55 EST: Gov. Mitt Romney is now giving a very classy consession speech, congratulating President Obama for his win.
12:50 EST: Here is a rundown of the ballot measures addressing same-sex marriage. Voters in two states have approved marriage equality. Voters in Washington are on their way to approving marriage equality, and Minnesota voters look poised to turn down a proposal to write a permanent ban on same-sex marriage in the state's constitution. After voters in 30 states have written marriage equality bans into their state constitutions, we now have a remarkable turnaround in 2012. Remember this day.
Maine, Question 1: Allow same-sex marriage.
Yes: 54% √
No: 46%
51% Reporting
Maryland, Question 6: Allow same-sex marriage.
Yes: 52% √
No: 48%
93% Reporting
Minnesota, Amendment 1: Same-sex marriage ban.
No: 48.5%
Blanks: 3.7%
Yes: 47.9%
53% reporting.
Remember: The Amendment needs to pass by more than half of all ballots cast. Blanks will be added to the "no" vote for the final tally.
Washington, Referendum 74: Allow same-sex marriage.
Yes: 52%
No: 48%
50% reporting.
12:40 EST: Tammy Baldwin has now given her victory speech. With 79% reporting, she has defeated Gov. Tommy Thompson 51-47%, making her the first openly gay Senator in American history.
12:38 EST: Now I'm ready to call Maryland's Question 6 a win for equality! With 92% reporting, Question 6 has passed 1,126,598 to 1,050,179 (52-48%) Maryland voters have joined those in Maine to approve marriage equality at the ballot box. I don't know about you, but this really feels like a truly historic turning point.
12:30 EST: Colorado has now gone to Obama, bringing his lead to 290-201. There's a lot of talk about whether Ohio was prematurely declared, but even if Ohio went red, this would still be Obama's victory. An ugly one, especially if he doesn't win the popular vote, but it is a win.
12:28 EST: Another gay congressman is headed to Washington. Sean Patrick Maloney (D) has defeated Rep. Nan Hayworth (R), 52%-48%.
12:15 EST: Believe it or not, Politico has had the results swapped between Question 6 and the "Illegal immigrant tuition" question all night long. For the love of god!!!  Question 6 is up, but only 52-48%, way too early to call.
12:00 EST: With 44.1% reporting in Maine, Question 1 is projected to win!
Maine, Question 1: Allow same-sex marriage.
Yes: 54.4%
No: 45.6%
44.1% Reporting
11:45 EST: With 81% reporting in Maryland, Question 6 is projected to win!
Maryland, Question 6: Allow same-sex marriage.
Yes: 58%
No: 42%
81% Reporting
11:31 EST: Remember James Hartline?
I took my Bible with me today and proudly honored God with my decisions. I refused to vote for the demonized Mormon Cultist Mitt Romney or Obama. Instead, like nearly two million other voters, I marked other and wrote in Jesus.
11:30 EST: Has Tammy Baldwin won her Senate race? Reuters called it, but right now with 53% reporting, she is only up 49-48%. She may yet win, but it looks like a lot of folks might have jumped the gun a bit.
11:23 EST: CNN has given Ohio to Obama. President Barack Obama, the most pro-gay president in American history, has been re-elected.
11:05 EST: A slew of new projections has put Obama on top 243-191. Ohio continues to lean toward Romney, but CNN is now mapping out multiple possibilities for Obama to win even without Ohio.
Here are the state marriage ballot measures. All of them are still looking good so far.
Maine, Question 1: Allow same-sex marriage.
Yes: 53%
No: 47%
30% Reporting
Maryland, Question 6: Allow same-sex marriage.
Yes: 58%
No: 42%
55% Reporting
Minnesota: Amendment 1: Same-sex marriage ban.
No: 52%
Blanks: 3.8%
Yes: 45%
19% Reporting
Remember: The Amendment needs to pass by more than half of all ballots cast. Blanks will be added to the "no" vote for the final tally.
10:55 EST: Obama is now tied with Romney, 172-172. Ohio is leaning toward Obama, and FLorida and Virginia are very nearly tied so far. It's going to be a long night.
10:35 EST: Great news so far in the three states with marriage on the ballot that are reporting:
Maine, Question 1: Allow same-sex marriage.
Yes: 55%
No: 45%
16% Reporting
Maryland, Question 6: Allow same-sex marriage.
Yes: 60%
No: 40%
41% Reporting
Minnesota: Amendment 1: Same-sex marriage ban.
No: 57%
Blanks: 1.5%
Yes: 42%
7% Reporting
Remember: The Amendment needs to pass by more than half of all ballots cast. Blanks will be added to the "no" vote for the final tally.
10:25 EST. In Rhode Island, it looks like openly gay Rep. David Cicilline has defeated Republican challenger Brendan Doherty. With 82% reporting, Cicilline is ahead 50-44%.
In Massachusetts, Richard Tisei is trailing in his question to become the first openly gay Republican congressman. Rep. John Tierney is leading 49-47% with 58% reporting.
10:15 EST: We can celebrate Tammy Baldwin's win now. Fox News is projecting that she will be the new fabulously openly lesbian Senator from Wisconsin. History is made!
Question 1 in Maine is now tightening. With 11% reporting, it is now up 53-47%.
10:00 EST: Mitt Romney has won his home state of Utah. But he lost New Hampshire
With 7% reporting, Question 1 is passing in Maine, 55-45%.
With 23% reporting, Question 6 is passing in Maryland, 61-39%.
With only 3% reporting, Amendment 1 is trailing in Minnesota. 61-38%, with about 1.5% of the ballots blank for the proposed amendment. Blank ballots are will be counted as no votes.
9:45 EST: CNN Projects Elizabeth Warren (D) has unseated Scott Brown (R) in Massachusetts, and JOe Donnelly (D) has defeated Richard Mourdock (R) in Indiana. God's will, you know. These are both pick-ups for Dems.
9:42 EST: NBC and Fox have given Wisconsin to Obama. CNN has finally given Pennsylvania to Obama also.
9:35 EST: The Associated Press has declared Rep. Tammy Baldwin (D) the winner in her Senate race against former Gov. Tommy Thompson (R), making Baldwin the first openly gay Senator in U.S. history. Oops, take that back. The AP has NOT called for Baldwin.
9:20 EST: Fox called Pennsylvania for Obama. I'll take it.
9:15 EST: Vote counts for Maryland's Question 6 and Maine's Question 1 are excruciatingly slow. With 3% counted in Maine, Question 1 is trailing 4,253-5,362. In Maryland, Question 6 is passing 192,860-157,767 with only 1% of the vote counted. Obviously with vote tallies this low, it's way to early to see any trends.
9:00 EST: Polls close in Arizona, Colorado, Louisiana, Minnesota, New Mexico, New York, Wisconsin, Wyoming. Last polls close in Kansas, Michigan, Nebraska, South Dakota, and Texas. And with it, a whole slew of new projecitons, mostly lining up with expectations. So far, it looks like the red states are going heavily red, while the blue states are slower to come in. Right now, Romney is up 152-123.
CNN says that the Republicans will hold on to the House. Obama is getting a lot of grief for not campaigning in key House races on behalf of Democratic candidates.
8:50 EST: Alabama is red. Romney is up 82-64.
People are still in line in Florida and Virginia, even as polls have officially closed. Those who are in line will get to vote. Twitter hashtag #stayinline is now trending upward. It sure would have been nice if someone had mentioned to Florida and Virginia election officials that they were supposed to be ready for an election today.
8:30 EST: Polls just closed in Arkansas, which CNN has called for Romney. CNN has also called Tennessee as well, putting Romney ahead 73-64.
So far, only about 1% of the results are in for Maryland's Question 6 and Maine's Question 1, which means that there aren't enough results to talk about yet.
8:25 EST: In the Senate races, it looks like the Angus King, the independent candidate for Maine's Senator to replace Sen. Olympia Snowe (R) is headed to Washington. He hasn't said which party he will caucus with, but most observers expect that he will caucus with the Dems. Another possible pickup for the Dems might be Joe Donnelly, who is leading Richard Mourdock by 50-44% with 30% of the votes counted. Mourdock, you may recall, got in trouble during the debate when he said that when a child is born as a result of rape, it's God's will.
8:16 EST: Georgia now goes to Romney, bringing the EC count to 64-56 for Obama.
8:00 EST: Polls have now closed in Alabama, Connecticut, Delaware, District of Columbia, Florida, Illinois, Maine, Maryland, Massachusetts, Michigan, Mississippi, Missouri, New Hampshire, New Jersey, Oklahoma, Pennsylvania, Rhode Island, and Tennessee.
CNN has called a Delaware, DC, Illinois, Maine, Maryland, Massachusetts and Rhode Island for Obama, and Oklahoma for Romney. This puts Obama up 64-40 in the Electoral College, with Maine splitting its vote 3-1 for Obama. (Nebraska is the only other state that is not winner-take-all in the Electoral College.)
Virginia officially closed but:
Polls closed in Virginia at 7 p.m. ET, but with long lines at polling places around the state — and those in line still able to vote — the state is delaying counting votes so as not to unduly influence those still waiting in line. Smart move.
7:43 EST: CNN has now called South Carolina and West Virginia for Romney. Not much of a surprise. It's now Romney, 33-3 in the electoral count.
Polls close in Maryland and Maine at 8:00. Hopefully we'll start to get an early look at the marriage ballot measures in those states soon after.
7:30 EST: Polls have now closed in North Carolina, Ohio, and West Virginia. CNN's exit poll has Obama up by 3 in Ohio and tied in North Carolina.
7:19 EST: CNN has called Kentucky for Romney, and Vermont for Obama, which means that Romney leads the electoral college count 8-3. And we're off!
7:00 EST: Polls have closed in Georgia, Indiana, Kentucky, South Carolina, Vermont, and Virginia. First results will probably begin within the half hour. Here are the races I'll be watching, in addition to the presidential election and any others you think I should keep an eye out for.
Consider the comments thread for this post an open thread, which I'll be watching for whatever tips you have. And jokes. We may need some jokes. Or videos of cute kittens. Whatever you got. You can also email them by hitting the Contact Us link on the sidebar.
No Supreme Court Action on Prop 8, DOMA Cases; NOM's Finance Disclosure Appeal Denied (Again)
Jim Burroway
October 1st, 2012
The orders page is out for today, with no mention of the Prop 8 case (Hollingsworth v. Perry) or the Defense of Marriage Act Challenge (Windsor v. US). Which means that the court has neither denied nor granted cert to review the cases. There is increasing speculation that the court may not take action on these cases until November when at least three more cases challenging DOMA will be available for review by the Justices.
There are two other LGBT related cases before the court. Diaz v. Brewer, challenging Arizona Gov. Jan Brewer's attempt to withdraw domestic partner benefits from state employees. The court has taken no action on that case yet
But in National Organization for Marriage v. McKee, in which NOM is again trying to get the Supreme Court's attention in its efforts to circumvent Maine's finance disclosure laws, the supreme court denied NOM's request for certiorari. The Supreme Court refused to hear an earlier similar challenge from NOM in February.
Supreme Court Declines Prop 8, DOMA Cases For Now
Jim Burroway
September 25th, 2012
The U.S. Supreme Court has issued its Orders List (PDF: 136KB/10 pages) following yesterday's conference session in which it was scheduled to consider whether to hear four LGBT-related cases. Today's Order list indicates that the Supreme Court has agreed to accept six pending case, but the appeal of Hollingsworth v. Perry — the new name for Perry v. Brown, which itself was previously Perry v. Schwarzenegger, challenging the constitutionality of California's Proposition 8 — was not on the list.
It's not clear yet though that this means that the Prop 8 case was rejected by the court. We won't learn that until next Monday, when the Supreme Court will issue a list of cases it has decided not to hear this term. If Hollingsworth v. Perry is on that list, then the Ninth Circuit Court of Appeals' decision striking down Proposition 8 as unconstitutional will stand and California's same-sex couples will have their marriage rights restored. But if Hollingsworth v. Perry is not on that list, then it means that the Supreme Court is still weighing whether to accept the case. It takes four justices to agree on hearing a case before it is accepted by the court.
The court also held off accepting the appeal of Windsor v. USA, which challenges the constitutionality of Section 3 of the Defense of Marriage Act. This case was brought by the American Civil Liberties Union on behal of Edie Windsor, who is required to pay $363,000 in federal estate taxes following the death of her legally-wedded wife in 2007. If she had been in an opposite-sex marriage, her estate tax bill would have been zero. Four other DOMA challenges are making their way through the Appeals courts, and the U.S. Department of Justice has asked the Supreme Court to hear three of those cases along with Windsor for a more comprehensive look at DOMA's constitutionality.
The court has also, so far, declined to accept two other LGBT-related cases. In Diaz v. Brewer, the Ninth Circuit Court of Appeals decided that Arizona's Republican Gov. Jan Brewer cannot withdraw domestic parner benefits from state employees without violating the Constitution's Equal Protection clause. And in National Organization for Marriage v. McKee, NOM is again trying to get the Supreme Court's attention in its efforts to circumvent Maine's finance disclosure laws. The Supreme Court refused to hear an earlier challenge from NOM in February.
Babeu wins sheriff nomination
Timothy Kincaid
August 29th, 2012
Three months ago Paul Babeu dropped out of the race for Congress amidst a bit of a media circus. It went something like this:
The Phoenix New Times ran a story claiming that Babeu, as Sheriff of Pinal County, threatened to have a former boyfriend deported to Mexico if he disclosed their relationship. The paper demanding an investigation. Babeu responded by announcing that he is indeed gay but that the rest of their charges were false.
After a few more stories it became clear that the New Times was under the impression that by outing Babeu they could end his political career and that the boyfriend story was a vehicle to that end.
Especially disconcerting was an article ran by the New Times which consisted, frankly, of homophobic gay baiting. They ran a shirtless picture of Babeu from a dating website (calling it "sexually explicit") and posted a picture of him in his underwear which was not on the site (provided by his former boyfriend – a man whose identity they and other media sought to shield). They insinuated that membership in a gay dating site should result in his being fired, equating it to porn production.
The New Times also sought quotes from his primary opponents, particularly State Senator Ron Gould, who ran an ad saying that Washington needs "a straight shooter". They finally lost all credibility (with me, anyway) when they started running "caption that photo" contests with the pictures given to them by Babeu's ex-beau.
Additional allegations arose about him dating a former student in Massachusetts. And a panel was assigned the task of looking at the whole mess. On May 11, he dropped out of the congressional race. I pretty much thought at that point that the Phoenix New Times had accomplished their goal and that Paul Babeu's life in politics was over.
But to their surprise – and mine – his very conservative constituents did not denounce him. Instead, many seemed to rally around him and offer support. Rather than give up on public life, Babeu seems to have decided to broker for even stronger power in Pinal County. Choosing to run again for the office of Sheriff, he formed an alliance with a fellow Republican running for county attorney and a few county supervisor candidates.
And it seems that the Republican voters of Pinal County didn't much care that Babeu is gay, supports marriage equality, and has a hook-up site membership. They overwhelmingly nominated him for reelection, giving him over 60% of the vote against three opponents. His political allies had mixed results, and "straight shooter" Gould lost the primary, so – depending on how the vote goes in November – it appears that Babeu has come out of the situation with increased influence.
The New Times is plenty bitter about Babeu's win.
Babeu banks on conservative support
Timothy Kincaid
February 27th, 2012
The Washington Blade has interviewed Paul Babeu, recently outed conservative sheriff of Penal County, AZ:
In an exclusive interview with the Washington Blade, Paul Babeu, who's running to represent Arizona's 4th congressional district in Congress, said his election would be "very impactful and helpful" in changing "the views, perceptions, beliefs about who we are."

"If they know me first as a sheriff, as a police officer who has responded to, literally, thousands and thousands of emergencies, has fought criminals, has actually saved lives and served our country in the military for 20-plus years … and when regular people see those accomplishments and those results first, then understand at a later point that I am gay, it changes people's beliefs and perceptions and understanding," Babeu said.
While this may seem a bit like wishful hoping, it is possible that we are watching a social shifting right before our eyes.
When this story broke, I expected the usual. Babeu would bluster and slink off, Republican leaders would be "hurt by his deception" and the everyone, right and left, would agree that his presumed guilt over the abuse of power allegations was what they found objectionable.
But to my surprise, the revelation about his orientation and accusations of abuse of power did not result in broad rejection from the right. Even with the charge of abuse as a handy cover for homophobia, the Republican Party leadership didn't jump.
When the Phoenix New Times looked for quotes from those calling for Babeu's resignation or investigation, they were limited to his primary opponents and pro-immigrant activists. In contrast, on Saturday night, the California Rifle and Pistol Association honored him with their Defender of Freedom Award.
For me, this is a story that is difficult to process. As much as I long for the day in which one's orientation plays no role in evaluation one's worth, I do not see that day as here. Like the first poll that reported a majority support for equality, I do not accept one instance as compelling evidence.
But I do think I may be seeing an interesting political development. For some, Paul Babeu may have become an opportunity to jab at The Liberals and take them on at their own issue. For some, this could be seen as an opportunity to, in effect, say, "see, we aren't homophobic. We aren't attacking this gay man, you are!"
But for perhaps more, Babeu's outing has done the unexpected. He may be right. As unlikely as it sounds, Babeu may be changing the minds of his constituents.
At a meeting of the Yavapai Tea Party, the discussion about the sheriff did not play by script. (Arizona Daily Star)
Yet voters, Republican voters in particular, are also asking some questions of themselves, about acceptance and identity and values, about what really matters most to them.

Said Bill Halpin, a 64-year-old ex-Air Force pilot who serves on the local tea party board: "I care less. I just care less. Don't preach it on me. Don't push it on me and, by golly, I respect your rights."

Mona Patton, the 60-year-old real estate agent who is the group's president, put it this way: "I'm a Christian, but who am I to make a judgment about somebody else?

"I still believe in him. I still back him."
It is impossible to tell at this point to what extent the perception of Paul Babeu as "our guy" will outweigh long-held beliefs about homosexuality. And the answer to that question may never be known.
Because there is another twist to the story. An Arizona ABC affiliate is claiming that a private school for troubled youth that Paul Babeu ran from 1999 to 2001 had abusive correction policies. That's not the issue; frankly, getting tough with troubled teens is not going to be seen as a negative by Babeu's constituents.
But sleeping with them will be. And Babue's sister Lucy is claiming that he had a relationship with a 17 year old student while he was headmaster of The DeSisto School.
This could be the final straw. This could sink his campaign. Even though a 17 year old is above the age of consent in Massachusetts, sex with teenagers – especially those under your supervision – is not acceptable to rural Arizona voters.
But it is still possible that this could be taken differently. If Babeu denies the charge and can reasonably paint his sister as having suspect motivations, there is a remote chance that it may actually help him. If conservative voters see this as an aggressive witch hunt by the Liberal Media, it could position him as a symbol around which to rally.
Regardless of how this all turns out, it is fascinating to watch. I am truly amazed.
UPDATE: AZCapitalTimes has fuller coverage of the Yavapai meeting. It will leave you wondering if this is an anomaly or if while we were busy battling the professional anti-gays, the world shrugged and decided to take a giant step forward.
Legal Uncertainties Increase For Orosco, Babeu
Jim Burroway
February 23rd, 2012
The Arizona Daily Star looked into the 10-year tourist visa that Jose Orosco holds:
Tucson immigration attorney Mo Goldman explained to me that no 10-year visa would permit a visaholder to stay in the country longer than six months at a time.

A border-crossing card is valid for 10 years but permits a holder to stay in the country only up to 30 days. The holder must remain in the border zone, which does not stretch as far north Phoenix, Goldman said. If the person fills out an I-94 form and is permitted into the country with a 10-year tourist visa, the holder can stay up to six months at a time but then must return to their country of origin. Neither visa permits the holder to work while in the country.

There is a way for a person to extend his stay beyond six months, but even that extension only allows six additional months, Goldman said.
All of this raises some serious questions about whether Orosco is in this country legally. It is also raising questions about whether Babeu, who made a huge splash as an anti-illigal immigration spokesperson, harbored an illegal immigrant:
"I think the sheriff's got a problem if that's what was going on. He's got a big problem," (immigration attorney David) Leopold said. "If they indicted him and charged him, there might be some meat to it."

It's possible that Babeu could say that the subject never came up or that he was fooled by his ex-boyfriend. But even that might be a hard sell, given Babeu's expertise on immigration matters and his role as an investigator.

Plus, Leopold said, the subject almost always comes up. "Based on my experience with families with people that don't have documents, it comes up pretty quickly," he said. "It's rare that it doesn't. And especially if you're involved in an intimate relationship."
The "staying over" text message
Timothy Kincaid
February 22nd, 2012
Presented without commentary
Panel to investigate Babeu
Timothy Kincaid
February 22nd, 2012
According to AZCentral.com, a special panel will investigate whether Sheriff Paul Babeu violated his public trust by threatening to have ex-boyfriend Jose Orozco deported. Interestingly, it is at Babeu's request.
The local county prosecutor is a political ally of Babeu so rather than conduct an investigation that will be seen as tainted, they are turning instead to the Public Integrity Task Force, a non-partisan committee of neighboring county prosecutors.
In addition, Babeu has requested that the Arizona State Attorney General Tom Horne open a separate investigation into whether he has abused his power. But because Horne and Babeu have also supported each other in the past, the Solicitor General, Dave Cole, will investigate.
That Babeu is requesting investigation may reflect his confidence in the eventual conclusions (or the conclusion makers). Alternately, it may be a step taken to ensure that the investigators not focus solely on Babeu's behavior to the exclusion of that of Orozco. He requested that the scope include "allegations of human-rights violations, threatening and intimidating, misuse of public resources, theft of property, theft of identity, fraud and impersonation."
The latter relates to counter-charges made by Babeu's attorney
Babeu, who said he had a romantic relationship with Orozco that went sour, accused Orozco of taking control of his campaign websites and Twitter account without permission in September and posting unflattering messages.

Chris DeRose, Babeu's attorney and campaign manager, sent Orozco a cease-and-desist letter vowing to sue if the messages were not removed and the accounts turned back over. Orozco complied, Babeu said, and the matter was dropped.
A Question Asked Only Of Gay Guys
Jim Burroway
February 22nd, 2012
When the news about Pinal County, Arizona Sheriff Paul Babeu broke over the weekend, the Phoenix News Times ended its story with this item:
Openly gay Tucson state Representative Matt Heinz was one of two Democratic lawmakers who broke ranks with the party in March 2011 and voted to give Babeu $5 million to combat border violence. Other lawmakers opposed the measure, in part, because Babeu's county is at least 70 miles from the U.S.-Mexico border. The measure finally was pared down to $1.7 million and passed by the Legislature.

About a week after Heinz's nod to Babeu, the sheriff spent the night at Heinz's home, text messages that Jose shared with New Times show.

"I'm at Mat Heinz and his boyfriend for dinner & ice cream… we are going out to bar and …. to their house. [Am] staying over," Babeu texted to Jose at 1:04 a.m. last April 2.
The Village Voice's Steven Thrasher took that and ran with it, posing this question on Heinz's Facebook page:
Rep. Heinz, Steven Thrasher, Village Voice staff writer here. My colleagues at the Phoenix New Times have implied that you and your boyfriend had three-way sex with Sheriff Paul Babeu. Is this true? I am gay and do not think consensual acts of gay sex (or three-way sex) are unethical, wrong, or frankly anyone's business beyond the parties involved. However, it looks bad for an elected official to have a "sleepover" with a government employee after helping steer $1.7 million in funds their way. As one of just a few openly gay people running for congress at a time of great trial for LGBT Americans, how do you think this looks?
Since when is reporting about an overnight sleepover tantamount to implying thee-way sex? If it is, then somebody's changed the definition. I don't recall anyone asking President Obama if he and Michelle had group sex with any of their overnight guests. Maybe democrats get a pass from the lib'ral press.
But wait. I don't recall President Bush getting the same question about any of their overnight guests either. Not a peep about George, Laura and Sharon Dodson.
And when New York mayor Rudy Giuliani sought refuge in the home of Howard Koppel and Mark Hsiao when his marriage was falling apart, I don't recall Thrasher asking them whether they had three-way sex either.
So what makes the sleep-over with Babeu, Heinz and Heinz's boyfriend different? Could it be that all three are gay, and if three gay guys get together, all kinds of freaky sex is guaranteed to break out?
Thrasher excuses his question by saying that he is gay, which just goes to show that not all homophobia is external.
Gay Man Running
A commentary
Jim Burroway
February 21st, 2012
Josh Marshall sees a silver lining in the Paul Bebau story:
But one thing shines through to me as perhaps the most significant part of the whole media storm: You have a hard-right Republican, with intense political ambitions outed as gay and accused of serious abuse of office. He vigorously denies the charges but says, Yeah, I'm gay. And by the way, I support gay marriage and I also think that gays should be able to serve openly in the US military.

Given what was contained in the original story, it's not like Babeu had a great deal of choice about disclosing his sexuality. But then that hasn't stopped others from trying. No comical denials (a la Larry Craig), no slinking off into a shamed obscurity (a la too many sad stories to mention). Just, yeah, I'm gay. And I'm still running for office.
That's a rather slim sliver of a lining. Unlike with Craig, there are photos and screengrabs floating around which blocked the option of comical denials. And so we're left with Babeu's temperment which keeps him from "slinking off into a shamed obscurity." That much is worthy of admiration, but it's more an act of bravado than a calculated assessment of the political landscape he finds himself in now.
There is a reason Babeu didn't talk about his personal life before. When a man runs for public office in the most conservative parts of a state that ranks as one of the most conservative states in the country, the assumption will be that the Republican candidate who calls himself a staunch conservative would naturally be against any sort of gay equality. And that assumed position would naturally be a very popular one in a conservative district in a conservative state. It's true that Babeu hadn't yet raised any of these issues in either his nascent congressional campaign or in his runs for sheriff (where LGBT issues typically don't come up). But as long as he doesn't say anything to the contrary, the default position, as Dan Savage put it, is that "Conservative voters will assume he holds anti-gay political beliefs and they will expect him to vote anti-gay should he be elected to office."
So when a candidate speaks at CPAC — which this year excluded GOProud because their brand of conservatism can no longer countenance openly gay people supporting gay marriage — and calls himself the only true conservative in a three-man GOP primary, then the assumption, without any explanation to the contrary, is that he naturally holds his audience's definition of conservatism. Particularly where the audience's definition of conservatism is not at all difficult to ascertain. Until now, Babeu was running with those assumptions and he did nothing to disabuse them.
Until now, and Babeu's campaign chair put on a brave face and said these revelations won't "make a bit of difference" with voters in Congressional District 4. The Boston Herald agrees, and is all kinds of excited that Babeu's candidacy makes him the fourth openly gay or bi candidate running for Congress in Arizona. They attribute it to Arizona's "deep libertarian roots," which I guess writers in Boston might find significant, but Arizona's "libertarian roots" are highly localized, and they just happen to include the two congressional districts the other three candidates (all Democrats) are running in. (Two are vying for Reps. Jim Kolbe and Garbrielle Giffords' old seat. The other encompasses Tempe, Chandler, ASU and the gayborhood of North Central Phoenix.)
But the Libertarian swath however doesn't include CD4. The redrawn map for CD 4 (PDF: 1 pages, 2MB) now starts in the heavily Mormon districts of the East Valley and Gila County, wraps around northwestward to deeply conservative Yavapai County before spreading out west to Yuma, La Paz, and Mohave Counties. The central Arizona districts of CD4 are heavily Mormon and Evangelical. The three western counties, culturally and politically, have much more in common Bakersfield and California's Imperial Valley than they do with any romantic Western libertarian ideals of live-and-let-live. And all of the counties which make up CD4 are very anti-gay. In 2008, those counties collectively approved Prop 102, Arizona's constitutional ban on same-sex marriage, with yes vote tallies of about two-thirds verses around one-third against. Something tells me that one-third isn't made up of very many Republican primary voters.
I'm glad that Babeu's out and running as a gay Republican who supports marriage equality. I wish he had come out under his own steam and not because he had no other choice. As it is, it's hard to know whether he would have held these positions anyway or if, like the pre-outing Rep. Jim Kolbe who voted in favor of DOMA, he would have maintained anti-gay stances to protect his political closet. But you have what you have, and he's probably making the best of the cards that have been dealt him. Unfortunately with the Republican base in central and western Arizona, you also have the voters that you have. And in the game they're playing Babeu's playing a dead hand.
AZ Sheriff, Ex-Boyfriend Appear On CNN
Jim Burroway
February 20th, 2012
Pinal County, Arizona, Sheriff Paul Babeu appeared with CNN's Wolfe Blitzer today for an extensive interivew. In this clip, he says he supports marriage equality as an issue that should be left up to the states. I haven't been able to find any position he might have taken on Arizona' Prop 102 in 2008. (Gay rights, it should be noted, is not a topic that comes up very often in sheriff races.)
With his outing over the weekend and this statement to the press, I really have my doubts that Babeu will win his primary. The Congressional seat he's running for in south-central/western AZ is very, very different from the one Jim Kolbe, the last openly-gay Republican in Congress, held in Southestern Arizona and East Tucson. Kolbe's seat was a swing seat alongside the border. which, ironically, is not as upset over immigration issues as other districts further away. (In Arizona, it seems the further north you go from the border, the more freaked out people get over immigration, with the notable exception of Flagstaff which is generally pretty easy-going.) The seat Babeu's running for is much, much more like Imperial Valley in its politics, and frankly I'm not even sure he could win as Sheriff of Pinal County again, at least for the time being.
In the next statement, he denies threatening "Jose" with reporting him to INS.
UPDATE: "Jose" appeared on CNN and stands by his allegations. He also says his immigration status is current and he has a 10-year, US tourist visa that allows him to cross the border. That's a very common visa for Mexicans living along the border to hold.
AZ Sheriff Outed, Mexican Ex-Boyfriend Says He Threatened Him With Deportation
Jim Burroway
February 18th, 2012
Jeez, I live in a God-forsaken freakshow of a state.
Pinal County, Arizona Sheriff Paul Babeu, who made national headlines for his strident anti-immigration stance, threatened his Mexican male lover with deportation when the ex refused to promise never to disclose their long-term relationship. The details were provided in an article published in the Phoenix New Times this week. Today, Babeu acknowledged that he is, in fact, gay, but denied all of the other allegations published in the Phoenix paper.
He (Babeu's ex-lover) says lawyer Chris DeRose demanded he sign an agreement that he would never breathe a word about the affair. But Jose (New Times is withholding his last name because Babeu and his attorney have challenged his legal status) refused.

The 34-year-old from central Mexico charges that the sheriff's lawyer warned against mentioning the affair with Babeu. DeRose said gossip about Babeu would focus attention on Jose, attention that could result in his deportation, Jose says.

Melissa Weiss-Riner, Jose's attorney, confirms her client's account.

She says she spoke directly to the sheriff's lawyer, DeRose, about the Babeu camp's threats that Jose could be deported if he "revealed the relationship." She says DeRose falsely claimed that Jose's visa had expired.

"Jose came to our firm because he felt he was being intimidated, and he was in fear for his life," Weiss-Riner says. "He wanted his legal rights protected."
"Jose" says he and Babeu met in 2006 on gay.com. As the relationship grew, Jose created and maintained Babeu's campaign websites and social media. New Times published text messages and voice mail exchanged between Jose and Babeu in 2011 soon after the relationship soured. The relationship fell apart when Jose found Babeu's profile on adam4adam.com. Jose created a fake profile posing as "Matt" and soon Babeu began sending him explicit photos and messages. New Times provides the details of those messages and photos here.
In 2010, the Pinal County Sheriff's office gained national attention when Deputy Louie Puroll claimed that he was ambushed in the desert by Mexican drug runners. Babeu became a regular feature on Fox News and other right-wing media outlets, stoking anti-immigrant hysteria that had, by then, led to Arizona's passage of Senate Bill 1070, the so-called "show me your papers" bill. He also appeared in a commercial with Sen. John McCain (R-AZ) demanding that the feds "build the danged fence." Babeu continued to stand behind his deputy even after the story began falling apart. When Puroll later told a reporter that a drug smuggler threatened to kill the reporter, Babeu fired his deputy because the alleged incident hadn't been reported to superiors. Just last week, Babeu gave a rabble-rousing speech at the right-wing CPAC conference.
In a news conference today, Babeu admitted that he was gay, and said that he was stepping down as Arizona co-chair of Mitt Romney's presidential campaign. Babeu also admitted to having had a personal relationship with Jose, and also did not deny the text messages or photos that were published in New Times, which include some of the threats he made to Jose.
According to the Arizona Republic, a reporter was meeting with Babeu Friday just as the New Times story went online. With the reporter present, Babeu read the story on his smartphone, "shaking his head as he read. Afterward, his face appeared to strain with emotion."
Babeu is currently running for Congress against fellow Republicans Rep. Paul Gosar and State Sen. Ron Gould for Arizona's new 4th Congressional District in central and western Arizona. Pinal County is located between Tucson and Phoenix. Babeu and his DeRose say that they don't think the story will impact his campaign. Babeu said, "My personal life is exactly that."
The fallout from this scandal may spread far beyond Babeu and Jose. Openly gay state Rep. Matt Heinz (D-Tucson), who is running to fill the recently-vacated Congressional seat of Rep. Gabrielle Giffords, was one of just two Democratic lawmakers to vote to give the Pinal County Sheriff's office $5 million to combat "border violence," even though Pinal County is more than 70 miles from the border. The legislature later scaled back the appropriation to $1.7 million. A week after Heinz's vote, the Babeu spent the night at Heinz's home:
"I'm at Mat Heinz and his boyfriend for dinner & ice cream… we are going out to bar and … to their house. [Am] staying over," Babeu texted to Jose at 1:04 a.m. last April 2.
Gay, Pro-Gay Candidates Win Big
Jim Burroway
November 9th, 2011
Yesterday was a very good day for gay and -pro-gay candidates throughout the country. Here is a wrap-up. Please let me know what else is out there in the comments.
NOM Loses Big: Same-sex marriage remains secure in Iowa as Liz Mathis won big, 56-44%, over her NOM-backed opponent, Cindy Golding, in a special election for the Iowa state Senate. The National Organization for Marriage threw about $40,000 toward their failed attempt to elect Golding by making same-sex marriage an issue in the race. But soon after it was clear Golding lost, NOM's cultural director Thomas Peters tweeted: "That's what happens when a state GOP nominates a weak candidate." Wow. Talk about your fair weather friends.
Virginia's First: Adam Ebbin became the first openly gay state senator in Virginia after defeating his Republican challenger by a margin of 64-35%. His district, which is solidly Democratic, includes parts of Alexandria, Arlington, and Fairfax counties.
First Openly Gay, African-American Republican Mayor: At least that's what we think happened when Bruce Harris was elected mayor of Chatham Borough, New Jersey.
Charlotte's First: LaWana Mayfield became the first openly gay city council member as part of a Democratic landslide in North Carolina's largest city. North Carolina, which will see a marriage amendment on the ballot next year, saw a number of other LGBT victories:
Chapel Hill Mayor Mark Kleinschmidt won re-election with 78% of the vote.
Lee Storrow, a gay 22-year-old UNC grad won his race for a seat on the Chapel Hill city council.
Carrboro incumbent Alderwoman Lydia Lavelle was re-elected to another term for city council.
Cincinnati's First: Chis Seelbach became the first openly gay city council member. He worked in 2004 to help defeat Article XII in the city charter which banned anti-discrimination ordinances for gay people.
Indianapolis's First: Zach Adamson became the first openly gay city council member. S
Missoula's First: Caitlin Copple became the first openly gay city council member. She defeated one of only two city council members who voted against the city's anti-discrimination ordinance in 2010, which made Missoula the first city in Montana to provide discrimination protections in housing and employment regardless of sexual orientation or gender identity.
Youngest Mayor: Alex Morse, 22, beat incumbent mayor Mary Pluta in Holyoke, Massachusetts, to become the nation's youngest mayor.
Houston Re-elects: Mayor Annise Parker was re-elected with more than 50% of the vote, a margin which allows her to avoid a run-off. Mike Laster also became the first openly gay member of Houston's city council.
Traverse City Supports Anti-Discrimination Ordinance: Voters in Traverse City, Michigan voted by a 2-to-1 margin to keep an anti-discrimination ordinance.  The vote came more than a year after Traverse City adopted the ordinance to prevent discrimination against gays in employment, housing and other areas. Opponents of the measure collected signatures to place a referendum for repeal on the ballot.
And on a final note, there were a number of gains in school board elections around the country which I didn't cover, but I would like to point one out anyway: Daniel Hernandez, Jr., Rep. Gabrielle Gifford's openly gay intern, was elected to as seat on the board of the Sunnyside Unified School District in Tuscon's south side. Hernandez was one of the recognized heros during the January shooting at a Northwest side Safeway which killed  six and critically injured Rep. Giffords. And on a more personal note, I couldn't be happier about the stunning news that Arizona Senate President Russell Pearce, architect of infamous anti-immigrant S.B. 1070 which was later found unconstitutional, was ousted by voters in favor of a political newcomer in Mesa.
The Daily Agenda for Tuesday, August 30
Jim Burroway
August 30th, 2011
TODAY'S AGENDA:
I don't have anything on the calendar for today. Instead, I'll point you to a story that appeared in Tucson's local paper last Friday. The Arizona Daily Star reported on the local angle of the William's Institute's latest study of the gayest cities in America, as measured according to the number of same-sex households counted by the U.S. Census in 2010. The top city in Arizona by that measure was not Phoenix, nor Tucson nor Flagstaff, nor Sedona. The gay friendliest city in Arizona is tiny Bisbee (pop. 6,000). According to the Williams Institute, 20.9 for every 1,000 households there was made up of same-sex couples:
So why Bisbee?

"It's kind of a little bit of a liberal spot in a conservative oasis," said Kathy Sowden. She and her partner, Deborah Grier, own and operate Finders Keepers, an antique and jewelry shop on Main Street in Old Bisbee.

How liberal?

"I'm always surprised to see a Republican bumper sticker here," she said.

The couple, who moved to Arizona six years ago from California, also said there's a kind of live-and-let-live attitude in the community. Sowden said part of that is strictly economics.

"It's a lot of people trying to make a living in a small tourist town," she said. "A lot of times the mutual goal kind of erases any cultural differences, especially now with the economy the way it is."
Bisbee is only ninety miles from Tucson, a distance which counts as "local" in the Southwest. And so whenever we have out of town guests, we always figure out how to make a trip to Bisbee for an afternoon. It's one of my favorite places to hang out in Arizona on the weekends.
Bisbee began life as a very wild and rough copper mining camp in 1880. The "streets," such as they were, were haphazard and were better suited for drainage down Tombstone Canyon in the craggy Mule Mountains than they were for traffic. Over the next few years, simple miners' cabins and businesses eventually replaced the tents, paved streets replaced the muddy paths, and something resembling law and order finally, over the course of twenty years or so, replaced the prostitution, gambling and gunfights in Bisbee's many saloons along Brewery Gulch. Bisbee's reputation was never as bad as it's northern neighbor Tombstone though, and so in 1929, the citizens of Cochise County voted to move the county seat 23 miles to the south and place it in a brand new art deco courthouse north of downtown. The Copper Queen Hotel provided first class lodgings for businessmen and tourists, and the Copper Queen Hospital provided medical care for Bisbee's denizens.
Prohibition calmed things down considerably, but the mines kept the town busy. But the switch from subterranean mining to one massive open pit meant the loss of thousands of jobs. But by 1975, even the Lavender Pit Mine was no longer economically viable, and the Phelps Dodge Corporation shut it down for good. That decision very nearly spelled the end of the town. It looked like Bisbee was about to become yet another of the many ghost towns tucked into the mountains in the southwest.
But just housing prices collapsed, hippie refugees and artists quickly discovered that they could afford to purchase a tiny minor's cabin for the price of the grocery tab. By the 1980′s Bisbee became known for the live-and-let-live attitudes these new residents brought to the community. By the 1990′s hip retirees discovered that they could afford to indulge their passions for glass art and painting while living off of their Social Security checks whether they ever sold anything or not. And by the turn of the millennium, gay couples looking to flee the ghettos of L.A. and San Francisco found Bisbee to be a more affordable, less pretentious, friendlier, and much more walkable retirement destination than Palm Springs. (In fact, because much of Bisbee is built on the sides of the canyons, many homes can't be reached by car; thousands of concrete stairs over several dozen stairways serve as replacements for streets and sidewalks.)
Bisbee (unofficial motto: "Keep Bisbee freaky") is home to several fine restaurants, coffee roasters, dive bars, art galleries and antique stores (at least one of which, based on my experience, is generous with "family" discounts). It is also home to the stately and restored Copper Queen Hotel, along with several other historic hotels and B&B's. If you want to stay somewhere funkier, you can book a night in a restored 1950s' travel trailer at the Shade Dell. And if you happen to be there in mid-June, you can check out Bisbee's Gay Pride celebration, complete with a lingerie pub crawl, a drag race and bull run up Brewery Gulch, and a Miners and Madames Street Dance. In 2007, Out magazine listed it among the top five rural Pride events in the country. Or you can come in mid-October for Great Bisbee Stair Climb, which is a run up one of Bisbee's 1,000-step staircases.
If you know of something that belongs on the agenda, please send it here. PLEASE, don't forget to include the basics: who, what, when, where, and URL (if available).
Petition Calls On Southern Baptists To Apologize
Jim Burroway
June 13th, 2011
A large group of Southern Baptists will gather in Phoenix this week for their annual convention. As leading proponents of ex-gay ministries, they have been front and center of a larger anti-gay political movement. Several LGBT advocacy groups plan to greet the convention with a gathering of their own. Faith in America, Soulforce, Truth Wins Out, Get Equal, and the Association of Affirming and Welcoming Baptists will join a local group of Phoenix-area clergy known as Believe Out Loud for a demonstration calling on the Southern Baptist Convention to apologize for the harm its teachings have caused the LGBT community, particularly to the youth. There is an online petition which will be hand-delivered following a protest outside the SBC's annual meeting in Phoenix on Wednesday, a day that marks the religious group's historic apology to African Americans for supporting slavery and Jim Crow laws.
So far, more than 5,000 people have signed the petition calling on the SBC to apologize. You can add your name to the petition here.
Welcome Out, Rick Welts
Jim Burroway
May 15th, 2011
Who's Rick Welts, you ask? He's the President of the NBA's Phoenix Suns. And in the sports pages of today's New York Times — which I totally would never have read otherwise — there is a lengthy and touching profile of his decision to come out in an industry that is not at all known for its welcoming attitude towards LGBT acceptance.
…Mr. Welts explained that he wants to pierce the silence that envelops the subject of homosexuality in men's team sports. He wants to be a mentor to gay people who harbor doubts about a sports career, whether on the court or in the front office. Most of all, he wants to feel whole, authentic.

"This is one of the last industries where the subject is off limits," said Mr. Welts, who stands now as a true rarity, a man prominently employed in professional men's team sports, willing to declare his homosexuality. "Nobody's comfortable in engaging in a conversation."
In 1984 Welts helped to raise the NBA's profile by creating the NBA All-Star Weekend, and in 1997 he helped to establish the Women's National Basketball Association. He became President of the Phoenix Suns in 2002.
Two Dads, Twelve Kids in Arizona
Jim Burroway
May 4th, 2011
The Arizona Republic on Monday profiled the family of Steven and Roger Ham, the two gay dads who are the fathers of twelve children who were adopted from foster care in Arizona, where two men can't marry or adopt children together. Last month, Gov. Jan Brewer signed into law a bill that gives preferential treatment to married couples in state and private adoptions. Even before that law went into effect, Steven and Roger's quest to bring these children into their home wasn't an easy one.
"We had to fight to get them," Roger says. "We had to fight to get them all," Steven says.
They started out only wanting one child, but when they saw that there were so many kids in the foster care system needing a home — there are 10,514 children in the state's care presently — they couldn't stop at one. And besides, their first adopted child, Michael, had four younger brothers and sisters in foster care that he endlessly worried about. Through much legal wrangling, they finally reunited the children in 2004.
"I immediately fell in love with them," says Heather Shew-Plummer, the caseworker at Aid to the Adoption of Special Kids in Phoenix who handled the Hams' first nine adoptions. Up to that point, she had worked with 10 or so same-sex couples.

Shew-Plummer felt Steven and Roger were ideal prospective parents – patient, loving, fun and ceaseless advocates for the kids who would come into their care. But she worried they might face extra obstacles in adopting because they were gay.

"They never tried to hide it, but they never made a big deal out of it, either," Shew-Plummer says. "They didn't want to change the world. They just wanted to raise their kids."
The Hams also served as foster parents for 42 children over ten years. Some stayed for just a few days, while others stayed for months.
Two of the Ham's children were adopted in Washington state, which allows both parents' names to appear on the birth certificates. The ten adopted in Arizona are legally Steven's, because Arizona does not allow same-sex couples to adopt, nor does it allow second-parent adoptions. To cover the legal gaps, the couple have drawn up medical powers of attorney and guardianship papers. But even with that, the ten children adopted in Arizona are not entitled to health and Social Security benefits, inheritance rights or, if the parents were to split up, child support from Roger.
And yet the obstacles seem minor compared to the Ham's determination to care for the children who had such great needs. But it's not all about the needs. It's also about the love and support, which is abundant in the Ham household. Sen. Rick Santorum this week denounced adoption and foster parenting by gay couples, saying adoption was a privilege and not a right. The thing is though, I suspect the Hams would agree: it is an enormous privilege, a blessing even. And one that all children deserve, regardless of how their parents are configured.
Heterosexual Menace: Mother and Daughter Caught in Heterosexual Recruitment Ring
Jim Burroway
February 17th, 2011
Susan Brock, 48, of Chandler, AZ, pleaded guilty to three counts of attempted sexual conduct with a minor on Monday in connection with a four-year affair she had with a boy that started when he was thirteen. Unbeknownst to her, her daughter, Rachel Brock, was also arrested for molesting the boy when he was 14 and she was 18. Rachel hasn't been formally charged yet since that investigation is ongoing.  Mama Brock was quite generous to the young boy, with more than just her attentions:
Brock was indicted on 15 counts in connection with more than 30 acts she was accused of committing with the boy in her home, her mother's home, her car, his car, a laundry room and in secluded places in Chandler. None of the acts included intercourse.

…According to police, Susan Brock and the boy communicated through their e-mail accounts. She was accused of giving him an iPod, iPod Touch and two iPhones, and coached him to say he was jogging so she could pick him for the liaisons.
The elder Brock is soon to become the ex-wife of Republican Maricoopa County Supervisor Fulton Brock. Another political activist, Chrisian Weems, was also arrested. She was accused of breaking into the victim's Yahoo mail account and deleting incriminating evidence. Police released a recorded phone conversation between Brock and Weems when Weems offered to help destroy the evidence:
In the recording, Weems asks Brock … if she remembers the password to a beach house that they once visited in California. Investigators said Weems was trying to talk in code, but Brock wasn't following, so Weems cut to the chase and asked her for the password to an e-mail account which Brock shared with the teenage boy she's accused of having a sexual relationship with. Investigators said Brock and the boy would leave messages for each other in the draft folder, so that they never sent an actual e-mail.
More evidence of what the heterosexuals have in store for society and your children here and here.
Shooting Victim Threatens Tucson Tea Party Leader
Jim Burroway
January 16th, 2011
James Eric Fuller, 63, a naval air veteran who was shot in the knee and had bullet fragments in his back as a the result of last week's shooting at Rep. Gabrielle Gifford's meet-and-greet at a Tucson Safeway, was involuntarily committed for a mental-health evaluation after allegedly threatening a Tucson Tea Party leader during a local town hall meeting:
The theme of the event was "An American Conversation Continued" –  the idea being to continue the conversation that a madman's brutal rampage had interrupted.  So it was inevitable that the conversation would eventually turn to politics. It did, toward the end, with (ABC News Anchor Christiane) Amanpour leading a discussion on a very touchy but obvious topic:  gun control.

That's where the atmosphere turned tense. When Tucson Tea Party founder Trent Humphries rose to suggest that any conversation about gun control should be put off until after the funerals for all the victims, witnesses say Fuller became agitated.  Two told KGUN9 News that finally, Fuller took a picture of Humphries, and said, "You're dead."

When State Rep. Terri Proud (R-Tucson) rose to explain and clarify current and proposed gun legislation in the state, several people groaned or booed her.  One of those booing, according to several witnesses, was Fuller. Witnesses sitting near Fuller told KGUN9 News that Fuller was making them feel very uncomfortable.

The event wrapped up a short time later.  Deputies then escorted Fuller from the room. As he was being led off, Fuller shouted loudly to the room at large. Several witnesses said that what they thought they heard him shout was, "You're all whores!"
Sheriffs deputies detained Fuller and charged him with one count of threats and intimidation, and said they plan to charge him with at least one count of disorderly conduct.  Humphries said that he plans to press those charges. The Associated Press reports that Fuller was taken to a local mental health facility for evaluation.
The town hall meeting at St. Odilia Catholic Church was organized by ABC-TV to discuss the shooting which killed six people and wounded thirteen, including U.S. Rep. Gabrielle Giffords. Many Tucsonans were outraged when Humphries tried to blame the shooting on Gabrielle Giffords for not providing security at the event held at a Safeway parking lot. He also tried to cast the Tea Party as an additional victim in the tragedy.
St. Odilia had been the host of a community memorial service on January 11. Two of the six killed were Catholic, including nine-year-old Christina Taylor-Green who attended St. Odilia and sang in the parish's children's choir. Meanwhile, the Safeway where the shooting took place reopened yesterday morning following a moment of silence. Across town, a gun show opened at the Pima County Fairgrounds as originally planned and with nary a peep of protest. Things really are starting to get back to normal around here.
Update: Fuller apologizes:
Fuller apologized through his girlfriend, Dorothy Deruyter. He has been in a hospital since being involuntarily committed Saturday for a mental health evaluation but wrote a statement and called Deruyter.

Fuller apologized for his "misplaced outrage." Deruyter said Fuller has no family or children, and was coping with the shooting almost entirely on his own and lost his temper.
Fuller is still undergoing psychological evaluation and treatment. Based on this New York Times profile, it looks like Fuller was combative before the shooting.
Memorial And Rally? Very Well: A Memorial and Rally
Jim Burroway
January 13th, 2011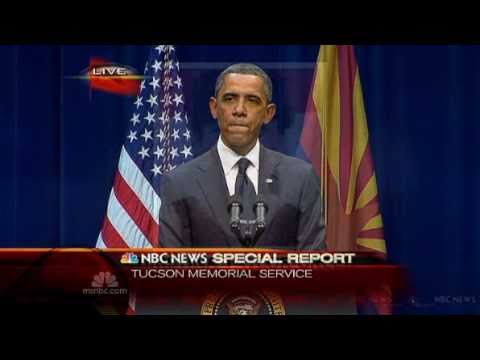 The memorial was nothing short of magnificent, and it was exactly what this city needed. It was, at turns, somber and celebratory. Tucsonans have been in a severely depressed funk, dazed and stunned that something like this could happen here.
I hear some small-minded grumbling that the event was somehow too "raucous" or a "rally." Well you know what? A rally is just what we needed. Those who sit in judgment in their comfortable offices and studios on the coasts tut-tutting last night's memorial haven't had to drive by the still-closed Safeway every morning and every evening to and from work. They haven't been within a thousand miles of the nightly vigils at UMC and at Gabrielle Giffords's congressional office. They haven't turned on television to see their own neighbors grieving in wall-to-wall coverage. They haven't picked up their local newspapers to read the dozens of stories about the tragedy and then turn the page, thinking perhaps that they were finished with those heartbreaking stories, only to be confronted by the same familiar names and photos in the obituaries. They haven't made plans to attend some of the funerals which begin today. They won't pull over to the side of the road as the funeral processions pass on the way to the cemetery. They haven't seen their beloved town turned into something unrecognizable. When they have experienced all of this, maybe then they can legitimately criticize our desire last night to tentatively shake off our sack cloths and wash away the ashes, if only for a moment. But not until then.
Tucsonans have undergone a stunned mourning for five solid days now. It's about time we also celebrate, and yes, cheer, our community's coming together and move toward the future. It is time to rally our wounded community, and to resolve to build a better, kinder, and more civilized world.
When tragedies like this strike, we expect the President to come grieve among the people. And yet, Tucsonans appeared genuinely surprised and touched when the President announced he was coming here. I had wanted to take a half-day off work and get in line for the memorial, but when I got up yesterday morning I learned that a long line had already formed the night before. By noon it was already clear that there was no way anyone who wasn't already there would get into the McKale Center. So my partner and I saw it on television at home. I don't know how the major networks carried the event. We chose to watch it on local TV, which simply carried the live feed and ditched the voiceovers, pundits and real-time crawls.
I thought Arizona Governor Jan Brewer's address was splendid. She was kind, wonderfully gracious, and very generous. The blessing at the beginning was touching, given by someone whose ancestry in Tchuk Shoon predates the arrival of "Americans" and reminds us of the timelessness of this valley that has drawn so many to the Old Pueblo, as we like to call our city. We celebrated our heros who ran toward the gunfire, and we learned for the first time that Gabby Giffords had opened her eyes. And with that, it is my hope that President Barack Obama's exceptional speech opens all of our eyes, so that we, too, can build a society worthy of Christina Taylor-Green's spirit.