We Are All Mexicans
This commentary reflects the opinion of the author and does not necessarily reflect those of other authors at Box Turtle Bulletin.
Jim Burroway
April 27th, 2010
I've always loved Tucson, but I have to say that Arizona is under a veritable reign of terror now that the tea party has taken over state government. Do you think I'm exaggerating? Maybe a little, but where else can you expect to hear police arbitrarily demanding to "see your papers" but in Apartheid-era South Africa, present-day Burma and the Grand Canyon state? I'm proud to be a Tucsonan — if only Pima County could be its own state! — but Arizona is a mess. A vindictive, angry, spiteful, punitive and broken mess.
This is also the same state that banned same-sex marriage and rescinded domestic partnership benefits among state government employees. First they went for the gays, then the brown-skinned…
Riding Horses
Jim Burroway
March 15th, 2010
My beloved Arizona never disappoints when it comes to extreme looniness. Sen. John McCain is facing a primary challenge from former Arizona congressman and Phoenix right-wing radio host J.D. Hayworth, who told an Orlando, Florida radio audience that Massachusetts' marriage equality law could lead to marriages between man and horse:
"You see, the Massachusetts Supreme Court, when it started this move toward same-sex marriage, actually defined marriage — now get this — it defined marriage as simply, 'the establishment of intimacy,'" Hayworth said. "Now how dangerous is that? I mean, I don't mean to be absurd about it, but I guess I can make the point of absurdity with an absurd point — I guess that would mean if you really had affection for your horse, I guess you could marry your horse. It's just the wrong way to go, and the only way to protect the institution of marriage is with that federal marriage amendment that I support."
Sen. McCain opposed the Federal Marriage Amendment because he felt that it violated the principles of federalism, not because he believed in equality for gay people. McCain supported Arizona's Prop 102, the state constitutional amendment banning same-sex marriage which passed in 2008.
Hayworth, who promoted tea party events on his radio program and gained the endorsement of national tea party leaders, is determined to run an extremely negative campaign. I wonder if the next whisper campaign against McCain will somehow imply that he enjoys "riding horses."
AZ Senator Jack Harper discusses the details of a gay soldier's life (without permission) in order to advance his anti-gay agenda
Timothy Kincaid
February 5th, 2010
Arizona's anti-gay State Senator Jack Harper felt it necessary to go to the floor of the statehouse on an issue over which that body has no say: the open service of gay military personnel. He had to warn everyone of just what would happen if, gasp, gay people were allowed to tell the truth.
They'll smoke pot, go AWOL and infect their roommates with HIV. Because gay people are individualists and can't "come together for the good of the unit" (a rather unfortunate choice of words).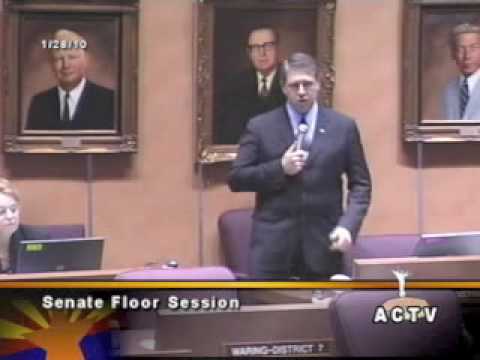 The text of Senator Harper's monologue.
I'd like to tell a story about one of my experiences in the Military and how it um, how it related to the President's speech last night. I understand the President will be making a um, a push to allow gays to openly serve in the military. And, uh, from my experience this is, uh, this is a mistake.

Back in 1989 when I was in the first infantry division, I got there in 1988, and we were in old barracks and we were moving into new barracks and went from bays to two-man rooms. And, um, sergeant first class of my platoon wanted me to room with a person that we all knew was a homosexual.

And I said, "Sergeant, if I have to room with him I'm going to turn him in." So he ended up assigning another soldier to serve, um to room with this person.

Specialist Rollins was the individual. Specialist Rollins was quite an individualist. I think that might have been the biggest problem cuz when you're in the military you're about, you're supposed to be about putting your personality aside and coming together as a unit for the good of the unit, for the good of the country. And being an individualist there is not room for in the Military.

Specialist Rollins at the time, one time tested positive for THC which means he was smoking pot. He got an Article 15, lost a stripe, and had to do seven days of extra duty. Another time PFC Rolling went AWOL for a number of days. Our platoon had to go down and inventory his stuff including his personal effects which were very evident that he was openly homosexual.

After PFC Rollins was eventually captured he was court-martialed out, not because he was homosexual but because he had gone AWOL.

Um, being an individualist does not match well with being in the Military. You're supposed to conform to the standards and come together as a unit for the good of the unit and for the good of the country.

Now, after Rollins had been court-martialed out of the military, his roommate had PCS, Permanent Change of Station, gone on to another thing. About a month later, cuz I was the uh, the battalion sid burse clerk which means I ran the computer that kept the database of the grade changes, positions, things like that, rank. Uh, the uh, medics came to me and said we have a person that tested positive for, uh, for HIV and we only have the last four of his social security number and we need to look him up. It was the person who had roomed with PFC Rollins. Now this was a promiscuous soldier so it might not have been that he had a relationship with Rollins.

But, ah, we had problems from the beginning because we decided that we would not turn in someone who was openly serving in the military that was a homosexual, that we knew to be a homosexual. We tried to be tolerant, but it didn't work. It didn't work for our platoon, it didn't work for the first infantry division, and it will not work for the United States of America.

Thank you
I can't even begin to discuss how inappropriate it is for a state senator to go to the floor of the senate and discuss the military career and life of another person. By name.
This is beyond foul, and he should be censured.
Maurice Grossman (1927-2010)
Jim Burroway
January 22nd, 2010
The world is full of cheerful, unsung heroes. One of them passed away this morning and Tucson is a bit less cheerful for his passing.
Maurice Grossman, a former University of Arizona art professor, died this morning following heart valve replacement surgery. He was 82.
Born in Detroit, Michigan in 1927, he became an educator and ceramic artist in Arizona. He studied at Wayne State University and earned an MFA at Ohio State University. From 1955 to 1988, he was Professor of Ceramics at the University of Arizona in Tucson after founding their ceramics program. I came to know him during the campaign to try to defeat Arizona's Prop 102. He was just one of those guys who seemed to know just about everyone, and no one he knew could ever be an enemy.
Last October, he was selected to be the Grand Marshal for Tucson's Pride parade. (Tucson holds its parade in October as a concession to the typically scorching 105+ degree summer temperatures.) The UofA's Arizona Daily Wildcat featured Maurice's honor with a good description of his  journey:
Grossman was a UA professor from 1955 to 1989 and started the three-dimensional arts program in the Art Department during that time. "I'm very proud of what I accomplished and am still acknowledged when I'm on campus," Grossman said. "I loved my students; I love teaching. In a way I'm still teaching."

Grossman said he lived the first part of his life trying to determine who he was. He got married in his 20s, and had two children with his wife, who died in 1978.

"Like most gay men, I was trying to understand more about myself," Grossman said. "At that time, in my 20s, I met a very beautiful and lovely woman and we fell in love."

Though he was married and in love with his wife until she died, Grossman said he knew he was gay before then. In 1978 Grossman became more politically active in the gay community. He volunteered with Wingspan and Stonewall Democrats in Tucson. He waited a few years before he told anyone he was gay.

"When I told (my children), they knew; they said, 'we've known for years,'" Grossman said.

Grossman said there was no real fallout or loss of friendships because of his revelation.
If you had the pleasure of knowing Maurice, you'd understand why.
The thing that impressed me about him is that he didn't think to bother about slowing down. Age was an occasional nuisance but never a hindrance. And nothing was going to get in the way of his good cheer. He remained very active in the LGBT community and in the local arts scene. The Dinnerware Gallery in 2007 threw a fifty-year retrospective for him to coincide with Maurice's 80th birthday.
There are a lot of sad people here in Tucson today.
Lambda Legal Sues Arizona To Block Elimination of Domestic Partner Benefits.
Jim Burroway
November 17th, 2009
During last year's battle to place a ban on same-sex marriage into Arizona's constitution, proponents for Proposition 102 argued that their efforts had nothing to do with Domestic Partner Benefits. Nope. Not one bit. Except that the ink was barely dry on the election results when the same lawmakers who put the proposition on the ballot turned right around and moved to strip domestic partner benefits from gay and lesbian state employees.
Today, Lambda Legal has announced a lawsuit in Federal Court in Tucson on behalf of ten state employees seeking to block the elimination of DP benefits. According to a press release from Lambda Legal (no link yet):
"This is an issue of equal pay for equal work," said Tara Borelli, staff attorney for Lambda Legal. "By stripping away these vital benefits from loyal state employees, the state isn't just paying them less for the same work than their heterosexual colleagues — it's pulling away a vital lifeline that all workers need. This is simply cruel and saves the state next to nothing."

…"This discriminatory elimination of vital health benefits denies equal pay for equal work to a small, politically vulnerable group of dedicated public workers who perform valuable services and pay equal taxes. By stripping gay and lesbian state employees of health coverage for a domestic partner, the new law unfairly and unconstitutionally inflicts severe hardship upon a targeted group of Arizona families," added Borelli.
Sunday Driver: El Tiradito
Jim Burroway
September 27th, 2009
Tucked away south of downtown Tucson lie the last remnants of the old Barrio Historico. The Barrio is the original Mexican neighborhood that was established at about the time of the Gadsden Purchase, when the entire area changed hands from Mexico to the United States. Tucson's original barrio was decimated by the short-sighted urban renewal wave of the 1960s, but what remains is still the largest and best preserved collection of old adobe Sonoran-style building in the U.S.
It is said that the Barrio is inhabited by countless ghosts from its violent past. I don't know if that's true or not, but there is one legend from the old Barrio that is worth mentioning. The details of that legend are very sketchy, but it goes like this: sometime
before the turn of the twentieth century there was an illicit love affair between a man and a married woman. It was an affair that was kept hidden for a very long time, but at some point the woman's husband found out about it and murdered the man.
Because the murdered man was a sinner in the eyes of the Church when he died, he was denied a Catholic burial at the church's cemetery. His body was barred from consecrated ground. So he was instead buried underneath his home somewhere. Today, that legend holds, he lies there still, somewhere within the crumbling walls of that old adobe home.
Whatever happened, one thing we know. The community took pity on the young man and today the brick walls which stand in for his unconsecrated grave have been consecrated by popular acclaim as a makeshift shrine known as El Tiradito ("the little castaway" or "the little discarded one").  Over the years, people have come from all over to pray at the shrine, both for the murdered lover and for others who have become lost to them.
They leave small photographs, milagros, and other small tokens representing their prayer requests around the old fireplace which is now a revered nicho, and sometimes they'll write their prayers down on small scraps of paper and leave them in the cracks of the crumbling adobe walls. And always they leave behind lit candles, typically those candles that you'll find in Mexican grocery stores in South Tucson with images of saints printed on the sides. It is said that if you leave a lit candle at nightfall and the candle is still burning in the morning, then your prayers will be answered.
Legends have a way of growing out of small kernels of facts while ignoring other facts. My friend Homer, an archeologist and local historian tells me that he remembers reading newspaper accounts from around the 1920s in which the shrine was moved a short distance to its present location. He also says that nobody has been able to uncover historical records to verify the legend. But he also says that territorial newspaper accounts from the 1800s are full of stories about husbands murdering the paramours of their wives. Arizona was especially violent in those days and living was hard. As many as a quarter of the people who died in the 1870s met a violent end. And even today, the remains of dead bodies turn up every few years or so in unexpected places underneath streets and sidewalks whenever a reconstruction project is taking place.
But whatever the actual facts may be, legends and myths have a way of speaking to greater truths that register in the hearts of those who hold them as true. Legends lift us from the world of the mundane and carry us to the plane of aspirations and ideals. And it's those greater ideals embodied by El Tiradito which fascinates me. This shrine, which is listed on the National Register of Historic Places, is reputed to be the only known shrine in America dedicated to a sinner buried in unconsecrated ground. Whether that is true or not, a shrine dedicated to the memory of a sinner is a very odd thing. Shrines are the sorts of thing we're more erect for reserve to heroes.
By all traditional understandings of morality of the day, the husband should be seen as the victim. He was the one who was wronged by his wife and her lover. And according to the frontier mores of the day, he was entirely within his rights to shoot the interloper. In fact, frontier justice demanded such an honor killing. By all rights, the man commemorated by this site would be looked upon as the villain. He's the one who messed around with another man's wife. But here, it's the wife's husband who is reviled. Why is that?
Clearly those who first carried the memory of the murdered lover knew more than we do today. What was it about the love between the murdered man and the married woman that touched their hearts? Was the woman's husband cruel to her? Malicious to others? Was he a drunk all the time? Did he beat her? Cheat on her?
And what of the poor soul who was murdered? We can safely say he was a poor soul, otherwise his memory wouldn't have been so lovingly tended. He clearly is the sympathetic one in the story. Why is that? Was he particularly kind? Generous of spirit? More to the point, was he the one she was meant to love and be loved by in return?
Who knows? All that we do know is that this man, the one who was reviled by the proper authorities of the day — he is now the folk hero, the one who is the beneficiary of generations of prayers and tender thoughts.
We are all familiar with the "love that dares not speak its name," but here we have a man whose name is no longer spoken and is therefore unknown to us.
And so we arrive at the greater thing which, I think, this legend represents and which no factual historical record can touch. In his anonymity, an unknown man is remembered, and he is loved because he dared to pursue a love that was prohibited to him. Yet in his pursuit of a forbidden love, his love achieved a sort of immortality that has long outlived him.
Many times love cannot be constrained by the rigid boundaries of what is considered proper, nor by the limits of a premature death. This love broke through all of those boundaries and its effects have endured beyond death and memory. It has pushed forward through the centuries and burns still today, flickering tentatively like the candles at El Tiradito, precisely because others have carefully tended it through the night so that it may greet the dawn once more.
Arizona Cancels Health Care For Thousands
Jim Burroway
September 8th, 2009
It was just last year when proponents of Prop 102, Arizona's constitutional ban on same-sex marriage promised — pretty please promised — that unlike their earlier unsuccessful effort in 2006, this time they learned their lesson and have no intention of going after domestic partnership benefits in order to get the gays fully discriminated in the state constitution. Crossed their heart and hoped to die, in fact.
Well Arizona's new budget is in, and it proves the lie. Gov. Jan Brewer (R) has signed the budget bill that strips health insurance from the families of approximately 800 Arizona state employees, along with other domestic partnership benefits. Now how's that for pro-family politics?
Jack E. Jett Interview: Anderson Reiterates "All Gays Are Predators", Bible Was Written In English
Jim Burroway
August 31st, 2009
It's in three parts. The interview starts out with Anderson's complaints about President Barack Obama, whom  Anderson has been asking God to smite and send to hell. He's not too fond of Bush and Cheney either. Anderson also discusses why men should pisseth standing up.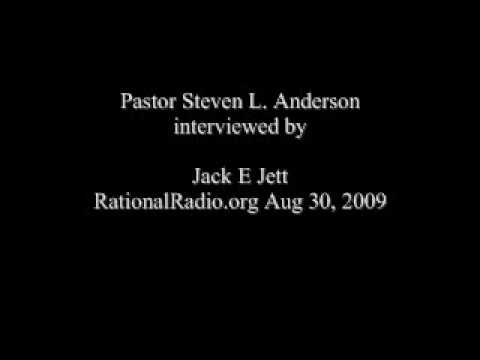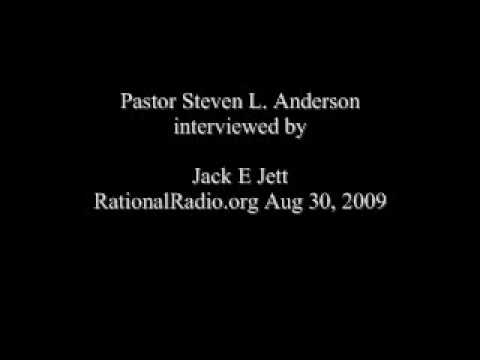 Toward the end of part one (at about 8:40), the conversation turns to Anderson's statement that all gay people are predators and molesters.
Jack E. Jett: You think that all gay people are child molesters and predators. Is that correct?

Steven Anderson: Yes.

Jett: Okay. And you say this because all the gay people you had come in contact with have tried to either seduce your or seduce your children?

Anderson: No, no that's not really the right quote. Here's where I get that belief. First of all, Leviticus 20:13 says that if man also lies with mankind as he lies with a woman, even both of them have committed an abomination, their blood shall be upon them. So God put the death penalty on homosexuality in Leviticus 20:13. It's reiterated again in Romans chapter one in the New Testament.

And as far as believing that they're all pedophiles and predators, it's not… obviously I've come in contact with gay people constantly, and I didn't… obviously every single one of them I came in contact with I didn't witness them trying to molest or trying to rape. But what I said was that there are three stories in the Bible that involve homosexuals, and in all three stories they're trying to rape and abuse people against their will. Also there are other verses in the Bible like Habakkuk 2:!5 … [Begin part 2] … where the Bible insinuates that the gays will try to use alcohol to molest or rape someone against their will. And then I said that the gays I've known, like that I actually knew as far as some that were in my extended family for example, or that I went to school with, were always trying to molest or recruit others to their lifestyle.

Obviously I've come into contact briefly with people out in public. Obviously every single one of them I didn't witness doing this, because they're doing it behind closed doors. But I'm saying I've been exposed to a lot of it. I've seen…

Jett: Have you ever had a gay man come on to you?

Anderson: Well you know I actually have. When I was a teenager, I remember there were actually gays in the Christian school, believe it or not. And they would try to come on to everybody. And you know they were in the closet, but it was real obvious what they were doing . Later on they came out of the closet. And I've seen it in my personal life. I've seen it in the news — and you've got to admit that in the news it's constantly little boys being molested. I mean, it's every day in Phoenix, it's in the news, let alone nationwide.
After returning from a commercial break, Jack E. Jett gave a shout out to BTB readers acknowledging the questions you left for him to ask.They got into interpretation at about 8:00 in part 2:
Jett: How do you know it's not you that's out of synch instead of the rest of the world that's out of synch?

Anderson: I know for a fact that I'm not the only person who believes this way. Give me a break. There are tons of people who believe. I"m just the one who's vocal about it. And the thing is, the way that I know is because that's what the Bible says, people talk all about interpreting the bible. You know, if I'm speaking a foreign language, I"m going to call an interpreter. But you know the Bible's written in English and it's pretty clear what it says. I don't know how else you can interpret it when God says that if a man sleeps with another man, he should be put to death in Leviticus 20:13. I'm not sure how anyone else can interpret that any differently.

Jett: It also says you shouldn't be eating shellfish. We've got a question from someone who went to Red Lobster last night and said that they had a lot of shrimp and should they be put to death? It also says in the Bible you shouldn't be eating figs. There's three quotes in the Bible about eating figs. Now here's a little bit of history for you and if you read your Bible you should know. Did you know that King James himself was gay?

Hello?
The interview continues in Part 3: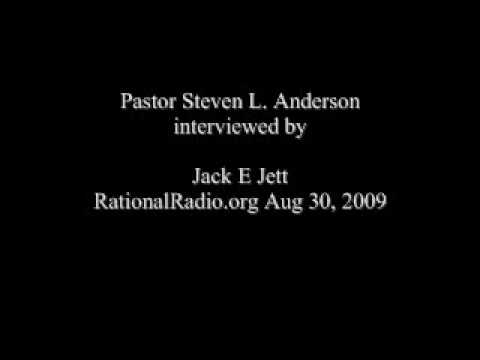 Anderson: Yes, I'm sorry, you cut out on me again. But I heard you talk about the different… the food restrictions…  It's so clear in the Bible, if people don't understand the Bible, that's not my fault. The Bible makes it very clear in Genesis chapter nine that every single animal was okay for people to eat in Genesis nine, no matter what the animal. During the time of Moses and the tabernacle and the Mosaic Law, God gave them dietary restrictions that ended with the coming of Jesus Christ and that's described in Hebrews chapter nine. And so those were the symbolic things that were …. the food, the washing, the animal sacrifices, that were very clearly stated in the Bible that were for a temporary time.

That doesn't mean we can just take out all of God's laws and just throw them out just because they come from the Old Testament. Plus, Romans chapter one and the book of Jude reiterate, and also Second Peter chapter two, reiterate the death penalty for homosexuals and reiterate that it's an abomination in the New Testament.

Jett: Did you know King James himself was gay?

Anderson: That's not true. That's the propaganda that's been stated. There are historians who try to say he was. I've read many biographies of King James where they had whole chapters disproving the fact that he was gay, and it was not even a Christian historian. It was just a secular historian.

Jett: Why would it be necessary for a Bible to disprove someone was gay, if he wasn't gay? Why do you need to disprove it?

Anderson: Do you want to try to call me back because I can't hear a word you're saying. I'm really sorry.
And so he hung up. Jack and the others in the studio noted that no one else was having problems with the phone system. (I'd have to confirm that when I was on the program a few weeks ago, their phones were exceptionally clear — more clear than many other radio interviews I've done over the phone.)
What's Wrong With America: Too Many Men Pee While Sitting Down
Jim Burroway
August 30th, 2009
So says Pastor Steven Anderson: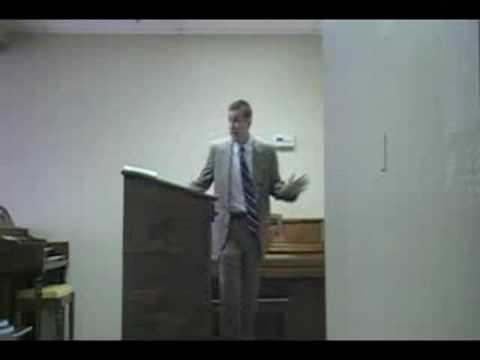 Sunday Driver: Coffee In Arivaca
Jim Burroway
August 30th, 2009
Coffee shops have been springing up all over the world, with Starbucks leading the way in the commodification of the beverage. But there are still plenty of coffee shops which offer a uniquely enjoyable experience, either by their service, flavor or setting.
One such coffee shop is in a most unlikely location, on a little-traveled road in the middle of the nowhere. The Gadsen Coffee Company's Cafe Aribac, just outside of Arivaca AZ, is one of our favorite places to spend an afternoon, although we rarely get to go there because it's so far out of the way from where we live in Tucson. To get there, you leave the city far behind and head south toward the Mexican border, get off the Interstate at Amado, and go west on Arivaca road, a winding country road that dips and swerves through the hills and brush of the Sonoran Desert.
It's a winding, 25-mile drive from Amado that takes close just under an hour, but the result is worth it. I can guarantee that there is no more peaceful, restful place in the world to enjoy a cup of joe and homemade desert than on Cafe Aribac's front porch. The Buddhist prayer banners flutter in the breeze, hummingbirds buzzing around the feeders, and the peaceful desert vistas and mountains rising all around.
My partner and I found the coffee shop quite by accident, and we came to it from the opposite direction. We were taking one of our many wandering weekend drives one day alongside the Baboquivari mountains just to the west, when we decided it would be nice to find a way to cut across the San Luis mountains to the east in order to catch I-19 home. The only road going through was Arivaca Road, so off we went.
When we reached the road's namesake less than halfway across to the interstate, we found a village caught in a time warp. The town itself is barely a couple of blocks long, and some of it looks little changed from the days of the Gadsden Purchase. There didn't seem to be a whole lot to do there, so we continued on our journey. And that's where we found the coffee shop, not even a mile outside of the other side of town.
That's where we learned that there's a whole lot more to Arivaca than meets the eye. It was originally a Pima Indian settlement, then a Mexican Land Grant ranch know as La Aribac. After the Gadsden Purchase, it was an outpost for the Buffalo Soldiers, and then a small settlement for European and Mexican miners and ranch hands. The late 1960's saw the arrival of several bands of hippies. I don't know how they fit in with the more traditionally-minded ranching culture, but they stayed and started a few small businesses in the area.
Arivaca is typically very tranquil, but tranquility is not synonymous with boredom. Arivaca has found itself caught up with an influx immigration and drug smuggling activities, along with a larger Border Patrol presence. That has everyone just a little bit on edge. To add to their worries, a family was attacked just last May by an offshoot of the nativist Minutemen hate group. The father and his nine-year-old daughter were killed. The mother and another daughter escaped.
But before you worry about whether Arivaca is changing, just remember where it came from. It's been here long before the latest troubles edged their way in from outside, and it'll still be here long after those troubles recede. Just sit back and sip some coffee, and take in the expansive view at that little cafe, and you'll rediscover that truth all over again.
Like I said, we rarely go there because it's so out of the way. Locals like to say "If you found Arivaca, then you're really lost." But if you want to get lost, it's probably as good a place as any. Sometimes losing yourself is the best way to find yourself in this fast-paced right-this-instant-messaging world we've made for ourselves. Some retreat to sanctuaries or monasteries. Chris and I, when we are particularly stressed, are more likely to say, "How about a coffee in Arivaca?"
And why not? Whatever you're looking for in a sanctuary or monastery is right there in Arivaca. There, you will see both permanence and impermanence existing side by side. You'll see delicate beauty in a harsh landscape, harsh strength in a delicate people, and unassailable truths in a confusing world. Arivaca is barely a blink on a windy desert road, but it is a blink that has outlasted generations, centuries and nations. In that way, Arivaca is both different and indifferent: it can take us or leave us. We could all go to Arivaca only to leave it behind again, but it will always be there. One way or another, it will always be there.
What Would You Ask Steven Anderson?
Jim Burroway
August 27th, 2009
The more we hear from LaBarbera Award winner Pastor Seven Anderson, the nuttier he sounds. Not only did he say that gays "should be taken out and killed," but now he's saying that every homosexual in the world is a deviant and a predator. That's right: every single homosexual in the whole wide world. That's what he told Phoenix radio talk show host Alan Colmes:
"Do you believe that every gay person in the world is a predator?" asked Colmes.

"That's what I believe," replied Anderson. "And every gay person that I've ever known personally has been a predator."

"Define `predator,'" insisted Colmes. "What do you mean by `predator'?"

"A predator as in someone who tries to molest other people," answered Anderson, "to force people into things that they don't want to do."
Anderson also seemed to agree that Leviticus allows you to kill your children if they curse you, and that adulterers should be stoned.
His nuttiness doesn't end there. He also says that President Barack Obama deserves to die.No wonder one of his parishioners showed up at Obama's Phoenix appearance carrying an AR-15.
Dallas radio host Jack E. Jett is scheduled to have Anderson on his program on Sunday, August 30. The program airs from 1:00 to 3:00 CST, and you can listen online at Rational Radio's web site. This should be a great program. If you've ever heard Jack E. Jett, you'll know that he's rarely at a loss for words, but I wonder if Anderson may have left him a little speechless. He wrote in and asked, "I want to have some really clever questions to ask this dude and would like to invite your readers to submit questions."
I have one. My brother and sister-in-law just had a beautiful baby girl. If times get tough, can they sell her?
What about you? What do you want to ask the good Pastor? Comments are open…
LaBarbera Award: Steven L. Anderson
Jim Burroway
August 21st, 2009
It's been a while since we've given one of these awards out. Maybe I've become so jaded that nothing much shocks me anymore. But then something like this comes around and all I can do is shake my head. The latest LaBarbera Award winner comes from just up the road from where I live. Meet pastor Steven L. Anderson of Faithful Word Baptist church in Tempe, AZ:
You want to know who the biggest hypocrite in the world is? The biggest hypocrite in the world is the person who believes in the death penalty for murderers and not for homosexuals. Hypocrite. The same God who instituted the death penalty for murderers is the same God who instituted the death penalty for rapists and for homosexuals – sodomites, queers! That's what it was instituted for, okay? That's God, he hasn't changed. Oh, God doesn't feel that way in the New Testament … God never "felt" anything about it, he commanded it and said they should be taken out and killed.
And why should all of these sodomites and queers be killed? Because they're recruiting:
How are they multiplying? Do you not see that they're multiplying? Are you that blind? Have you noticed that there's more than there were last year and the year before, and the year before that? How are they multiplying? They're reproducing right? No, here's a biology lesson: they're not reproducers, they're recruiters! And you know who they're after? Your children… They're being molested by the sodomites. I can tell you so many stories about people that I know being molested and recruited by the sodomites.

They recruit through rape. They recruit through molestation. They recruit through violation. They are infecting our society. They are spreading their disease. It's not a physical disease, it's a sin disease , it's a wicked, filthy sin disease and it's spreading on a rampage. Can't you see that it's spreading on a rampage? I mean, can you not see that? Can you not see that it's just exploding in growth? Why? Because each sodomite recruits far more than one other sodomite because his whole life is about recruiting other sodomites, his whole life is about violating and hurting people and molesting 'em.

So how many sodomites is one sodomite going to produce? A lot, and that's why it's just exploding. The only way to stop it, you say "how do we stop it?" … You want to know why sodomites are recruiting? Because they have no natural predators.
Jeremy Hooper found the audio, and Right Wing Watch has a transcript. There are more bon mots from this guy at Pam's House Blend.
Extremist Watch: Minutemen In Arizona
Jim Burroway
June 14th, 2009
Dr. George Tiller, an abortion provider in Wichita, Kansas was shot and killed in his church by a right-wing extremist on May 31. The murderer, Scott Roeder, had extensive ties with militant anti-abortion groups, some of whom see Roeder as a hero. Stephen T Johns, a security guard at the Holocaust museum was gunned down on June 11 by James von Brunn, an avowed racist and Holocaust denier. Von Brunn is being lauded as "a hero and a martyr" by many who share his beliefs.
I saw yesterday in the Arizona Daily Star that an arrest was made in a May 30 home invasion in Arivaca, Arizona, a picturesque little village south of Tucson barely ten miles from the border with Mexico. It's a rough-and-tumble place populated by aging hippies, artists, and Mexican-American families who trace their deep roots in the region from before the Gadsden Purchase in 1853. Entering the town is like simultaneously crossing the border and a couple of centuries. It is so out of the way, the locals have a saying: "When you've found Arivaca, you know you're lost."
My partner and I have enjoyed spending a few afternoons at a small rural coffee shop just outside of town, sitting outside on the porch with the stray dogs and the hummingbirds. The idea that a home invasion could occur there is quite unsettling. One in which father and nine-year-old daughter were killed is even more out of place in such a tiny little place. As rough as Arivaca may be, this is the sort of thing that happens in Tucson and Phoenix, not in an out-of-the-way village in the Sonoran desert.
So who would pull off such a thing? Well, it turns out that the ringleader of the three-person assault force was Shawna Forde, the leader of tghe Washington-based Minutemen American Defense. Also participating was Jason Eugene Bush, who serves as operations director for the group. (There are at least three different groups operating in the area calling themselves Minutemen.) This gang of extremists allegedly targeted the home on the suspicion that the father, Raul Flores, was dealing in drugs.
Regardless of whether Flores was dealing in drugs or not (news reports are ambiguous on that), this is just one more example of right-wing extremists not just taking the law into their own hands, but seeking to become a law unto themselves. And just as there are racist extremists, anti-immigrant extremists, and anti-abortion extremists, there are anti-LGBT extremists out there as well. And some of them may well be goaded by some of the more inflammatory rhetoric among more well-known opponents to LGBT equality.
This country has changed in many remarkable ways in the past decade, and the changes that LGBT people have experienced have been especially significant in the last five years. In just this year alone, five new states have added marriage equality, while more than a third of all Americans live in states allowing at least some form of recognition for same-sex couples. This must be galling to many of our more extreme opponents.
There are crackpots out there who would do us harm, and they are becoming increasingly desperate. This is a time for vigilance and a time for all of us to be very careful about our personal safety. But our prudence must not come at the expense of squelching our voices or halting our steps.
Let's be careful out there.
AZ Legislature Moves To Strip Domestic Partner Benefits
Jim Burroway
June 6th, 2009
Here's a story that goes to show that marriage opponents will lie, cheat and steal to have their way.
Last summer, Arizona lawmakers broke Senate rules in order to place an anti-marriage amendment on the 2008 ballot. At the time, they said that Prop 102 would not endanger domestic partnerships, and that all they wanted to do was "define marriage" in the state constitution. Marriage opponents went on to make this a key centerpiece on their Prop 102 campaign, that they had no interest in denying anyone's domestic partnership benefits.
Well now we know that was yet another bold-faced lie:
State lawmakers are moving to strip the domestic partners of state and university employees of the health insurance coverage they gained just a year ago.

A provision in the state budget would legally define "dependents" of state employees who are entitled to coverage as a spouse or a child younger than 19 — or younger than 23 if a full-time student. Changing the law would override regulations adopted last year that added domestic partners and their children to the list.

The state Department of Administration says about 750 workers who have signed up for the benefits would be affected.
The measure passed the House last night and is now on the governor's desk. Gov. Jan Brewer (R), who became governor when Janet Napolitano (D) became Homeland Security secretary for the Obama administration, was on record in 2006 for opposing domestic partner benefits for state employees.
Equality Arizona is urging state residents to call Governor's office (602-542-4331 or toll free at 1-800-253-0883) or email the Governor here.
BREAKING: Lesbian Couple Obtain Marriage License In Arizona
Jim Burroway
February 12th, 2009
In what was supposed to be a demonstration on National Freedom to Marry day yielded a surprising turn of events for one Tucson couple (KGUN9):
A demonstration to make a point about same sex marriage led to a surprise at the Pima County Courthouse Thursday.  As part of what's called Freedom to Marry day, same sex couples around the country attempted to get marriage licenses. Two men say the clerks turned them down after they crossed out female on the forms and replaced it with male, but two women walked out with license in hand.  The couple says they made it clear they were both women but did not try to cross out the word male.  Superior Court Clerk Patti Noland says she doesn't ask clerks to verify gender. She says she regards the couple's application as a fraud.
Arizona voters passed Proposition 102 last November, which added a constitutional amendment which restricts marriage to a man and a woman.
Here's some amateur video of the some reactions of disbelief: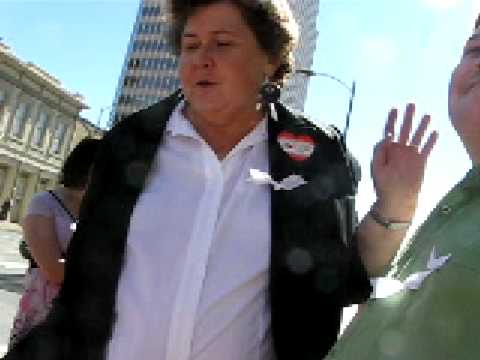 The couple have been identified only as Theresa and Sheri. They have been together for two years. According to Rainbow Footsoldiers:
Clerk of Court claims that the couple lied about both being women and that the license was issued as a result of  "fraud." This is not true. Michael and I were being denied a license at the same time two windows away. Originally the couple filled out a form with the same information we did by scratching out the gender portion. Then they returned for a second form that they filled out without the scratch out. Neither appear to be a man and they clearly told the clerk they were both female and she issued the license with her supervisor watching.

Also, Marriage Equality USA has consulted a local family lawyer who says that the license application in Pima County is not legal as the statute does not require someone to swear to their gender. Therefore, the license should be valid because the form exceeds the statute laying out how the form should be worded.
I'm no lawyer, but I doubt that "local family lawyer's" reasoning will get very far in court.