Memorial And Rally? Very Well: A Memorial and Rally
Jim Burroway
January 13th, 2011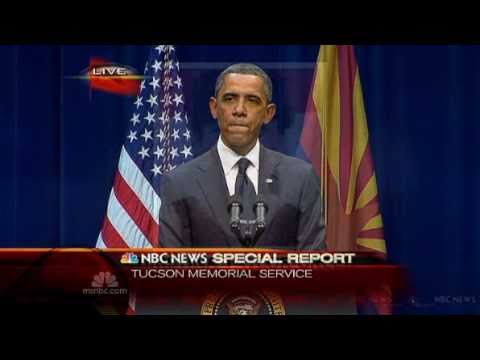 The memorial was nothing short of magnificent, and it was exactly what this city needed. It was, at turns, somber and celebratory. Tucsonans have been in a severely depressed funk, dazed and stunned that something like this could happen here.
I hear some small–minded grumbling that the event was somehow too "raucous" or a "rally." Well you know what? A rally is just what we needed. Those who sit in judgment in their comfortable offices and studios on the coasts tut-tutting last night's memorial haven't had to drive by the still-closed Safeway every morning and every evening to and from work. They haven't been within a thousand miles of the nightly vigils at UMC and at Gabrielle Giffords's congressional office. They haven't turned on television to see their own neighbors grieving in wall-to-wall coverage. They haven't picked up their local newspapers to read the dozens of stories about the tragedy and then turn the page, thinking perhaps that they were finished with those heartbreaking stories, only to be confronted by the same familiar names and photos in the obituaries. They haven't made plans to attend some of the funerals which begin today. They won't pull over to the side of the road as the funeral processions pass on the way to the cemetery. They haven't seen their beloved town turned into something unrecognizable. When they have experienced all of this, maybe then they can legitimately criticize our desire last night to tentatively shake off our sack cloths and wash away the ashes, if only for a moment. But not until then.
Tucsonans have undergone a stunned mourning for five solid days now. It's about time we also celebrate, and yes, cheer, our community's coming together and move toward the future. It is time to rally our wounded community, and to resolve to build a better, kinder, and more civilized world.
When tragedies like this strike, we expect the President to come grieve among the people. And yet, Tucsonans appeared genuinely surprised and touched when the President announced he was coming here. I had wanted to take a half-day off work and get in line for the memorial, but when I got up yesterday morning I learned that a long line had already formed the night before. By noon it was already clear that there was no way anyone who wasn't already there would get into the McKale Center. So my partner and I saw it on television at home. I don't know how the major networks carried the event. We chose to watch it on local TV, which simply carried the live feed and ditched the voiceovers, pundits and real-time crawls.
I thought Arizona Governor Jan Brewer's address was splendid. She was kind, wonderfully gracious, and very generous. The blessing at the beginning was touching, given by someone whose ancestry in Tchuk Shoon predates the arrival of "Americans" and reminds us of the timelessness of this valley that has drawn so many to the Old Pueblo, as we like to call our city. We celebrated our heros who ran toward the gunfire, and we learned for the first time that Gabby Giffords had opened her eyes. And with that, it is my hope that President Barack Obama's exceptional speech opens all of our eyes, so that we, too, can build a society worthy of Christina Taylor-Green's spirit.
Click here to read a transcript of President Obama's speech
AZ GOP Party Officials Resign Over Tea Party Threats
Jim Burroway
January 12th, 2011
More madness in the culture war. The Arizona Republic reports that Arizona Legislative District 20 Chairman Anthony Miller and several others in the Phoenix suburb of Ahwatukee have resigned their party posts hours after Rep. Gabrielle Giffords's shooting over fears for their lives and their families' safety:
Miller, a 43-year-old Ahwatukee Foothills resident and former campaign worker for U.S. Sen. John McCain, was re-elected to a second one-year term last month. He said constant verbal attacks after that election and Internet blog posts by some local members with Tea Party ties made him worry about his family's safety.

In an e-mail sent a few hours after Saturday's massacre in Tucson that killed six and injured 13, including U.S. Rep. Gabrielle Giffords, Miller told state Republican Party Chairman Randy Pullen he was quitting: "Today my wife of 20 yrs ask (sic) me do I think that my PCs (Precinct Committee members) will shoot at our home? So with this being said I am stepping down from LD20GOP Chairman…I will make a full statement on Monday."

…The newly-elected Dist. 20 Republican secretary, Sophia Johnson of Ahwatukee, first vice chairman Roger Dickinson of Tempe and Jeff Kolb, the former district spokesman from Ahwatukee, also quit. "This singular focus on 'getting' Anthony (Miller) was one of the main reasons I chose to resign," Kolb said in an e-mail to another party activist. Kolb confirmed the contents of the e-mail to the Republic.

…a series of accusatory e-mails was exchanged among party members. Some blasted Miller's support of McCain, called him a "McCainiac with a penchant for violating the rules" and a "McCain hack." … 
Miller said he hadn't intended to resign, but changed his mind after Saturday's shooting. "I love the Republican Party," he said, "but I don't want to take a bullet for anyone.
AZ Lawmakers Move to Limit Westboro Baptist Protests at Funerals
Jim Burroway
January 11th, 2011
Soon after Saturday's heinous massacre of six Tucsonans and the injuring of fourteen others including Rep. Gabrielle Giffords, Westboro Baptist's Fred Phelps announced via video that the shooter, Jared Loughner, was appointed by Phelps's god to do the evil deed and that the Westboro clan would protest the funerals. Arizona state Sen. Kirsten Sinema (D-Phoenix) swung into action:
Arizona Gov. Jan Brewer has signed into law emergency legislation to head off picketing by a Topeka, Kan., church near the funeral service for a 9-year-old girl who was killed during Saturday's shooting in Tucson. Unanimous votes by the House and Senate on Tuesday sent the bill to Brewer. It took effect immediately with her signature Tuesday night. The new law prohibits protests within 300 feet of a funeral or burial service.

…Arizona State Representative Kyrsten Sinema said when she heard of the plans, she got downright angry and decided to take action.  Sinema sponsored Senate Bill 1101 and got some help from fellow legislators.  "We patterned legislation after Ohio's law which is constitutional, it's been upheld in court, and I got permission from the speaker and the senate president to wave the rules," Sinema said.

…"The bill requires them to be at least 300 feet away from the funeral from an hour before the funeral starts to an hour after it ends and that way people can grieve and love in peace," Sinema said.
The bill passed the Arizona House and Senate in record time, and was signed into law at 3:00pm by Governor Brewer. The first funerals will take place on Thursday. The Boston-based Phelps-A-Thon has pledged to make a donation to Wingspan's Anti-Violence Project of Southern Arizona for every funeral the Phelps clan protests. Wingspan is the LGBT community center for Tucson and southern Arizona. You can also donate directly to Wingspan here.
Meanwhile President Barack Obama has announced that he will speak at a community memorial service scheduled for tomorrow evening. The memorial begins at 6:00pm MST at the McKale Center on the University of Arizona campus.
The State of Our Union
Jim Burroway
January 10th, 2011
A senior Republican senator, speaking anonymously in order to freely discuss the tragedy, told POLITICO that the Giffords shooting should be taken as a "cautionary tale" by Republicans. "There is a need for some reflection here – what is too far now?" said the senator. "What was too far when Oklahoma City happened is accepted now. There's been a desensitizing. These town halls and cable TV and talk radio, everybody's trying to outdo each other."

The vast majority of tea party activists, this senator said, ought not be impugned. "They're talking about things most mainstream Americans are talking about, like spending and debt," the Republican said, before adding that politicians of all stripes need to emphasize in the coming days that "tone matters."

"And the Republican Party in particular needs to reinforce that," the senator said.
In case you missed it, that's a senior Republican senator who had to remain anonymous so he or she could "freely discuss" this.
If It Can Happen Here, It Can Happen Anywhere
A commentary
Jim Burroway
January 9th, 2011
As my partner and I were out running errands this afternoon, I snapped this photo along I-10 just south of the Ina Road exit. If you go about three miles to the east from I-10 on Ina, you will encounter the fateful Safeway that is, as we speak, still roped off with police tape and crawling with investigators. The billboard is for Rush Limbaugh's radio program on local Clear Channel KNST, and it appears on a Clear Channel billboard. Limbaugh's "Straight Shooter" billboard is festooned with six or seven bullet holes. Given the political climate of the past few years — and especially after yesterday's events — it's a damning indictment of what so many on the far right find acceptable in political discourse.
I mean, really. What's a few bullet holes anyway?
But as we were driving around town, we heard on the radio that the second person of interest turned out to be Jared Loughner's taxicab driver. The driver accompanied Loughner into the Safeway while Loughner got change to pay the driver. He had nothing to do with the shooting. And with that, the most promising immediate link that may have tied the shooting to extremist right-wing rhetoric has vanished once again.
Let me emphasize: it's not to say that there is no link. But if there is one, no evidence has been disclosed for it yet. So if someone wants to claim that there is one, they better come up with some sort of hard facts for it. So far, none has surfaced. And believe me, if it does, I will be among the most eager to put that evidence right here.
That's because, setting aside whatever Loughner's motivations may be, I firmly believe that because of the political climate exemplified by that billboard, we are living in extremely dangerous times. And whatever demonization taking place on the far left pales, in terms of  both the scope and the influence,  to the far greater demonization from the far right that is amplified daily on Fox News and Clear Channel. I believe that as strongly as I do that the sun will rise tomorrow morning.
Over the past two years, we have seen border militia members kill Arizona citizens. We've seen Arizona citizens demand that other Arizona citizens — whose ancestors have been here far longer than the suspicious newcomers — prove their innocence and right to walk down a street. We've seen a governor shrieking about completely imaginary headless bodies in the desert and a state government that has decided that poor Arizonans' lives aren't worth life-saving transplant surgeries. People who need a heart won't find one here. We see a political climate where our president is not only accused of being un-American, but — against all the overwhelming evidence to the contrary — a non-American. We see a cultural climate where "real Americans" can build a house of worship wherever they please, but American Muslims can't. We've seen hysteria over "death panels" coming to kill grandma.
And so, acting on that outrage, a Tennessee man shot up a church because he was angry at liberals, wierdos and homos, and someone in Maryland is mailing explosive packages addressed to Homeland Security Secretary Janet Napolitano. We've seen people carrying automatic weapons to rallies and congressional meet-and-greets (another man was arrested at a Giffords meeting last August when his concealed pistol fell to the floor). And we saw literal gun-sight targets drawn over congressional districts, including Rep. Giffords's.
And so we shouldn't we be surprised if some nutcase — and not a literal schizophrenic nutcase that Loughner appears to be — decides to take a weapon and perform his "patriotic duty."
Based on what investigators have disclosed so far, that has not literally happened — yet. Authorities are investigating several angles, but so far what some see as ties to far-right fringe groups remain highly speculative at best. As of this evening it still appears more likely that Loughner was acting at the behest of his own demons rather than of those on the demonizing edges of the far right.  This could still change — being mentally ill does not preclude one from being influenced by extreme rhetoric, and may actually enhance the possibility for some — but right now the assertion that our poisonous political culture had anything to do with yesterday's rampage is still very much unproven, but not extinguished. We may learn more about what was going through Loughner's shattered mind in the days and months to come. But the more I learn about Loughner's behavior, the more I'm convinced that he is suffering from the same mental illness that took my best friend in high school and two of my cousins. The symptoms are too specific and too familiar. (Update: I should add that I have no insight into the severity of Loughner's condition. Being mentally ill with schizophrenia does not automatically make one criminally insane.)
Which means that this is an excellent opportunity for everyone to step back and reaffirm to ourselves and to each other that we are all fellow citizens and patriots of a pretty damn amazing country. If we don't, I'm afraid — literally afraid — that we will soon fall into an abyss that we may not be able to crawl out of.
Given what we know today, I see no reason why those of us who consider ourselves progressives can't concede that Palin, Limbaugh, and the others got lucky (if you can call it that) and that they probably aren't responsible this time. Maybe we can even let them off the hook — IF they can agree that we all need to come together as Americans who all love our country equally, whether we're on the left, the right or anywhere in between. Because we all need to acknowledge that none of us has a monopoly on loving America. None of us wants to see our nation destroyed. Maybe this can be an opportunity for everyone can drop their torches and pitchforks, and instead resolve to disperse the poisonous fumes that have very nearly ruined us as a people. I see no reason why the right shouldn't be able to agree to that and change its behavior accordingly, just as I see no reason why the left needs to insist, with hardly a smidgen of proof, that a schizophrenic young man is somehow the far right's creation. The energy expended pursuing those accusations can be better spent addressing the daunting needs of the severely mentally ill.
My hope is that somehow we can find a way to do that. My fear, though, is that we have already crossed the Rubicon and there is no turning back. And if it does turn out that Loughner's shattered mind was nudged by either the right or the left, then all bets are truly off.
It Happened Here
A commentary.
Jim Burroway
January 9th, 2011
My city is reeling this morning. Six dead, fourteen injured. Dorwan and Mavanell Stoddard, a retired couple in their seventies, were standing in line at Rep. Gabrielle Gifford's meet-and-greet at a Northwest side Safeway when the shooting started. He's dead; she was shot in the legs and is expected to recover, physically. Two more retirees, Phyllis Schneck, 79; and Dorothy Morris, 76; are also dead. Third-grader Christina-Taylor Green had recently been elected to student council at Mesa Verde Elementary and went to learn more about government. She, too, is dead. U.S. District Judge John Roll had just said hi when the shooting started. He's dead. So is a Giffords aide, thirty-year-old Gabe Zimmerman, who was engaged to be married.
Thirteen others, besides Giffords, are wounded. Five, including Giffords, are in critical condition and five are in serious condition. The Red Cross put out a call for blood donations. The area in front of University Medical Center was the site of a candlelight vigil. The flickering flames struggled to remain visible in the glare of television cameras. The intersection of Ina and Oracle, Northwest Tucson's busiest intersection and site of the shooting, is now open, but the shopping center itself remains sealed off.
Everyone says this sort of thing doesn't happen here. People say that everywhere this sort of thing happens.
There's more focus this morning on local media on Jared Loughner's mental state. The picture that emerges from people who knew him confirms what I noticed yesterday; the man had struggled with serious mental problems. He had been expelled from Pima Community College, and barred from coming back unless he underwent psychological evaluation and obtained certification that he was not a threat to others. Obviously, he never obtained that certification.
There are a lot of blogs trying to pin this on tea party politics. I do believe that the rhetoric that animates the tea party and now infects Fox News and much of mainstream Republicanism is extremely dangerous and is quite capable of stoking violence like this. But the more we learn about Loughner, the more it appears that this hateful rhetoric had little influence on Loughner's motive. None of his rambling writings reference conservative or tea party politics. Instead, he accuses the government of mind control and brainwashing by controlling grammar. As I wrote yesterday, he is clearly struggling to make sense of reality, a common problem with people with schizophrenia.
There is, however, a second person of interest. Police are looking for a 40- to 50- year old man who is believed to have been at that Safeway with Loughner. So that part of the story clearly isn't a closed book. And it still doesn't diminish what Pima County sheriff Clarence Dupnik said at yesterday's news conference.
When you look at unbalanced people, how they respond to the vitriol that comes out of certain mouths about tearing down the government. The anger, the hatred, the bigotry that goes on in this country is getting to be outrageous. And, unfortunately, Arizona I think has become sort of the capital. We have become the Mecca for prejudice and bigotry.

"It's not unusual for all public officials to get threats constantly, myself included. And that's the sad thing of what's going on in America. Pretty soon, we're not going to be able to find reasonable, decent people who are willing to subject themselves to serve in public office.
Whatever may or may not have motivate Loughner, I think Dupnic has it right: Arizona has become a "sort of the capital" for prejudice and bigotry. I have never seen a more rapid decline in the political climate anywhere. State politics here is turning resident against resident, citizen against citizen. Hours after Giffords's health care vote, her office was vandalized. At a similar Giffords meet-and-greet last August, police carted away someone whose pistol had fallen out of his holster before he was able to approach Giffords. Private Minutemen militias kill American citizens near the border, and suspicious white powder shows up at Rep. Raul Grijalva's office. I've never seen anything like this in my life.
Yesterday, as my partner and I were leaving a Home Depot about a mile south of the shooting, we overheard a man on a cell phone telling someone to stay indoors because someone is shooting. We hadn't heard anything and just assumed he was talking about something happening somewhere else. Things like that don't happen here. But now we know it does. And unless we all examine our consciences, worse will happen, not by someone who is mentally ill but by someone who has his wits about him and is capable of doing even more harm.
Rep. Giffords's Shooter's YouTube Channel
Jim Burroway
January 8th, 2011
Twenty-two year old Jared Lee Loughner was identified by police as Rep. Gabrielle Giffords's shooter. He is now in custody. From the looks of his YouTube channel, I believe he exhibits  the classic signs of schizophrenia.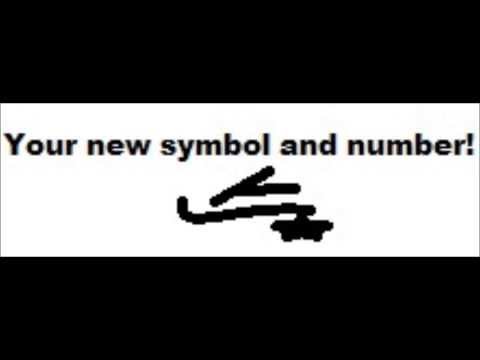 Mental illness and a grievance. A deadly combination.
Update: Let me explain myself. I am not a mental health professional, but my best friend in high school succumbed to schizophrenia. I also have two cousins with the disorder, although I have not been in contact with them in decades. These videos, to me, look hauntingly familiar, as soon as I saw the first one. don't think so. Look at some of the other videos. He uses the same kind of language and "grammar." In effect, he thinks he's inventing his own language and currency.
I know there are a lot of people tempted to indict the Tea Party. About an hour ago, I would have been first in line with the pitchfork and torches. But I don't think that's what's going on here.  Yes, Loughner's talk of language, currency, unconstitutional police actions — these are all topics that are favorites of tea-partiers, but the concepts that the tea party is pushing are utterly absent in Loughner's videos. Instead, what clear to me is that he is trying to do what a lot of people with the most serious cases of schizophrenia are trying to do. He is trying to create some sort of ordered structure out of the chaotic shards of his perceptions. And failing. I've seen this too many times before.
Rep Gabrielle Giffords Shot In Tucson
Jim Burroway
January 8th, 2011
This is shocking news. Barely one mile from where I am right now, Rep. Gabriel Giffords (D-AZ) was shot in the head at point-blank range while hosting a "Congress On Your Corner" meet and greet event at a Safeway supermarket. Early reports said that she was killed, but latest reports have her undergoing surgery at University Medical Center, the only Level I trauma center in Southern Arizona.
It is not clear right now whether the gunman is still at large or not. One report has it that the gunman, apparently in his mid-20's, shot off 20 rounds with an automated weapon. Channel 13 is reporting that at least five people were killed, and six were injured.
Last March, her Tucson office was vandalized a few hours after the House vote overhauling the nation's health care system, the authorities said.
Update: 1:41 MST: A suspect is in custody. He has not been identified. Nine people were brought to the hospital, including a child. All of them are in either serious or critical condition and are undergoing surgery.
Update: 1:47 MST: The Pima County sheriff's office now says that six people have died and 18 were injured.
Update: 1:50 MST: Channel 4 spoke with Tucson City Manager Richard Miranda, who says that that Rep. Giffords is expected to pull through. This is a promising, if unconfirmed report.
Update: 1:53 MST: A press conference is scheduled for 2:00 at University Medical Center.
Update: 2:06 MST: The gunman, who still has not been identified, is said to be 22 years old and with  "limited law enforcement experience." He walked up behind Giffords and started firing. He tried to escape on foot but was tackled and held until police arrived. Giffords had reportedly received numerous threats.
This may not have been the first attempt on Giffords's life. Last August, protester showed up at another supermarket event was apprehended by police when a pistol he holstered slipped and fell to the floor. And then, there's this:
During the fall campaign, Sarah Palin, the former Republican vice-presidential candidate, posted a controversial map on her Facebook page depicting spots where Democrats were running for re-election; those Democrats were noted by crosshairs symbols like those seen through the scope of a gun. Ms. Giffords was among those on Ms. Palin's map.
Update: 2:13 MST: The Sheriff's office says that the suspect used "a pistol with an extended magazine." Sheriff deputies are currently executing multiple search warrants at multiple locations. They have not ruled out a second suspect.
Update: 2:15 MST: From the news conference at UMC:
Trauma surgeon Peter Rhee called the situation a catastrophe. He said UMC received 10 patients and one child who is dead. Five are in critical condition and five are in surgery, he said.

The congresswoman is in critical condition. Neurosurgeons have finished operating on her after she was shot through the head one time. Rhee is optimistic about her condition because she was able to follow commands.
Rep. Giffords is in intensive care.
Update: 2:19 MST: The suspect has been identified as 22-year-old Jared Lee Loughner. Five are dead, including a nine-year-old child. Thirteen have been injured. In addition to the victims taken to UMC, four were also taken to St. Mary's Hospital, three with gunshot wounds.
Update: 2:24 MST: The death toll now stands at six. Among the dead: a nine-year-old girl, an aide to Rep. Giffords, and U.S. District Judge John Roll.
Update: 3:29 MST: From UMC:
Rhee says 10 patients were delivered to UMC – of those, 1 young girl is dead, 5 people are critical condition and 5 people are in surgery. Rhee says the deceased girl was about 9 years old.
Update: 3:27 MST. Here is the shooter's YouTube channel.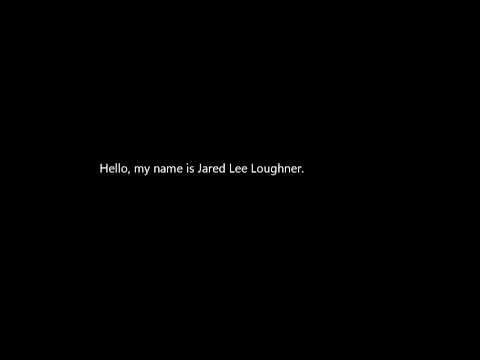 Four other videos here. This is looking more and more like a case of mental illness: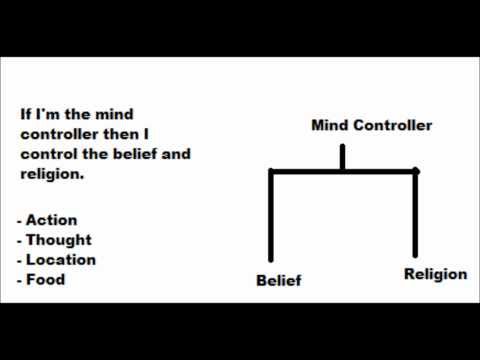 Mentally ill, and with a grievance: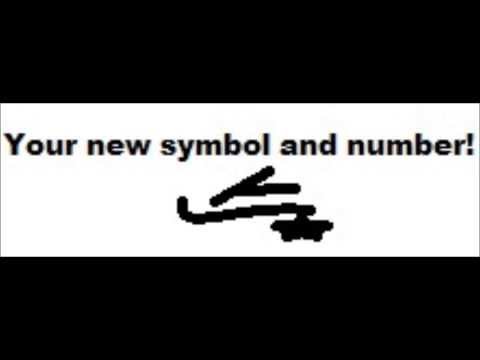 Gay Navajo Man Elected To Arizona Senate
Jim Burroway
August 25th, 2010
Former state representative Jack Jackson Jr. has won the Democratic party's primary for nomination to the Arizona state Senate. According to the Victory Fund:
In 2005, Jackson was appointed by Arizona Governor Janet Napolitano as the Executive Director of the Arizona Commission of Indian Affairs. In April 2000, he was appointed by Secretary Donna Shalala to serve on President Clinton's Advisory Council on HIV/AIDS. Jack serves on the Navajo Nation Gaming Enterprise Board and the Obama Administration has selected him to once again serve on the President's Advisory Council on HIV/AIDS.
There are no Republican challengers in the race to represent the Northern Arizona district covering the Navajo Nation and Flagstaff.
Prop 8 Rallies Planned
Jim Burroway
August 4th, 2010
As Timothy mentioned yesterday afternoon, we received word that a decision in Perry v. Schwarzenegger is expected this afternoon between 1:00 and 3:00 pm (PDT). Already, Prop 8 supporters have already filed a request for stay of judgment pending appeal, in case Judge Walker strikes down Prop 8. If granted, this would prevent any marriages taking until the Court of Appeals hears the case.
Meanwhile, a large number of rallies are planned in California and across the U.S., forty so far and counting. Rex Wockner is keeping up to date with the latest additions.
Judge Blocks Arizona's Termination of Domestic Partner Benefits
Jim Burroway
July 24th, 2010
Among the first policy changes pushed by Arizona's legislature as soon as Republican Janet Brewer succeeded Janet Napolitano (D) as governor was to pass House Bill 2013, which changed the definition of "dependent" to specifically exclude domestic partners and adopted children of gay individuals, effectively ending insurance coverage for the families of gay state employees. This move came despite denials from Arizona's Prop 102 promoters that they would seek to remove domestic partner benefits if the amendment banning same-sex marriage was added to the constitution. Prop 102 was approved by Arizona voters in 2008.
This week, U.S. District Judge John Sedwick granted a temporary injunction against the state of Arizona from implementing the new law:
"Because employees involved in same-sex partnerships do not have the same right to marry as their heterosexual counterparts, Section O has the effect of completely barring lesbians and gays from receiving family benefits," Sedwick wrote. "Consequently, the spousal limitation in Section O burdens state employees with same-sex domestic partners more than state employees with opposite-sex domestic partners."

Sedwick dismissed the state's argument that exempting gay employees would make the benefits program "much easier to administer" and that "scarce funds for employee benefits are better spent on employees and dependents as defined in the new statute."
Gov. Brewer claims that the state cannot afford to provide domestic partner benefits. But the annual cost of domestic partner benefits make up only about $3 million, or less than one-half of one percent of the $625 million spent on benefits for all employees. The elimination of domestic partner benefits would affect more straight families than gay. Gay and lesbian couples are believed to comprise a small fraction of the 893 domestic partners who have signed up with the state. The injunction against the elimination of domestic partner benefits applies only to families of gay- and lesbian-led employees because, as Judge Sedwick noted, heterosexual couples have the option of marrying.
Phoenix gay group accuses HRC of putting "coalition" interests ahead of gay businesses
Timothy Kincaid
June 29th, 2010
The Greater Phoenix Gay and Lesbian Chamber of Commerce is not pleased that the Human Rights Campaign is discouraging gay individuals and couples from traveling to Arizona or doing business with Arizona gay businesses. And they have been frustrated in their attempts to get HRC to consider their concerns. (FoxNews)
"They haven't even read SB 1070. … They don't even really know what's going on around here," Joseph Gesullo, chairman of the Phoenix gay chamber, said of the organizations calling for boycotts. "It's really just hurting the people of Arizona."
Gesullo has been able to negotiate with another group, the National Gay and Lesbian Chamber, who has expressed support for Arizona's gay business operators.
But Gesullo said the Human Rights Campaign has "absolutely" resisted requests to tone down the boycott. He accused the group of kowtowing to Latino advocacy groups as well as the Service Employees International Union and expressed concern that the move would discourage gay and lesbian couples from visiting Arizona. That, in turn, hurts the hundreds of Phoenix businesses that count themselves as chamber members, he said.
And Gesullo may not be completely incorrect.
[Human Rights Campaign spokesman Fred Sainz] denied that the Human Rights Campaign launched the boycott just because the SEIU wanted it, but said there's nothing wrong with working as a "coalition." He said there's a strong connection between those who support Arizona's immigration law and those "who would bring similar harm" to the gay, lesbian, bisexual and transgender community.
While I'm not sure a boycott will have any effect on businesses or interests that oppose gay equality, it is likely to keep away many who might shop in a gay business or contribute to a gay cause.
It is always fascinating when gay organizations put the interests of outside members of a coalition ahead of the interests of gay individuals and organizations. I wonder if those coalition partners would do the same?
Heterosexual Menace: Hot for Students
Jim Burroway
May 18th, 2010
I just happened to come across this story during my lunchtime reading of the dead-tree version of the Arizona Daily Star:
Christie Elliot, 25, who coached the cheer squad and taught English at Empire High School, 10701 E. Mary Ann Cleveland Way, for about a year, turned herself in to Tucson police as a result of a three-week investigation into her relationship with a 15-year-old boy.

…Police began investigating April 19 at the behest of the Vail School District after a parent told the Empire High principal that Elliot had been exchanging inappropriate text messages with his son via his iPod Touch. Some of the messages referred to kissing and the "need to be more careful," according to court documents filed by police.

During the district's initial investigation, laptop computers issued by the school to staffers and students were confiscated from Elliot and the student, court documents state. Elliot's computer was found to contain topless pictures of the teacher. It is undetermined whether she sent those photos to students, according to court documents.
Now imagine a different but very similar story, with almost all of the details being identical — a hot 25-year-old teacher sending inappropriate text messages to a 15-year-old male student, the teacher's school-issued laptop containing topless photos, yadda, yadda, yadda, — except the teacher were a strapping male baseball coach and science teacher.
Do you suppose, as I do, that such a story would more likely appear on the paper's front page above the fold, instead of being buried deep inside the inner recesses of the local news section like this one was?
This can only mean one thing: Our local newspapers are in collusion with the heterosexual conspiracy. You can learn more about this vast conspiracy in our report, "The Heterosexual Agenda: Exposing the Myths."
Fact Check: FAIR's 2,555,000 Dimes For "Ethno-Separatist"
Jim Burroway
April 29th, 2010
Rachel Maddow interviewed Dan Stein of the Federation of American Immigration Reform (FAIR), the group that claims credit for writing Arzona's anti-immigration law which critics charge is a open invitation to racial profiling. In particular, Maddow drills Stein over FAIR's extensive associations with White Supremacists.
Brutal. So who's the more credible party: Maddow or Stein?
Well, we don't have the wherewithal to fact check everything in this interview, but I knew I could easily fact-check Stein's denial that FAIR donated any money or had any connections with an "ethno-separatist" during a 2004 Arizona ballot initiative. Protect Arizona Now (PAN), with "ethno-separatist" Virginia Abernathy chairing its national advisory board, was the prime force behind Arizona's Prop 200 in 2004. At 19:33 in the interview, Stein said:
First of all, we never gave that organization a dime. And secondly, even if we were going to give them the dime, we wouldn't have given the dime with Virginia Abernathy associated with it.
Unfortunately for Stein, donations for ballot initiatives are reportable to the Secretary of State and posted online. According to the Arizona Secretary of State's Web Site:
On April 1, 2004, FAIR gave Virginia Abernathy's PAN $50,000, and the FAIR Congressional Task Force gave them another $50,000 more.
On May 11, 2004, FAIR gave PAN $25,500, and the  FAIR Congressional Task Force gave PAN another $25,000.
On June 11, 2004, FAIR gave PAN $50,000, and the FAIR Congressional Task Force gave PAN another $55,000.
After Abernathy exploded publicly with her ethno-separatist views, FAIR did denounce Abernathy's views. and on September 24, FAIR shifted its support to a new group that arose from those ashes, Yes on Proposition 200, with a $60,865 donation. But yes, despite Stein's claim, FAIR provided Abernathy's PAN with $255,500 out of $370,000 of reportable donations altogether.
In case you're counting, that's 2,555,000 dimes.
We Are All Mexicans, Part 2
This commentary reflects the opinion of the author and does not necessarily reflect those of other authors at Box Turtle Bulletin.
Jim Burroway
April 28th, 2010
Some more data points to consider in reference to Arizona's law which is an open invitation for racial profiling and harrassment of its legal citizens in the name of clamping down on undocumented immigrants. From the Southern Poverty Law Center:
Arizona's controversial anti-immigrant law was written by a lawyer at the legal arm of the Federation for American Immigration Reform (FAIR), which the Southern Poverty Law Center has listed as an anti-immigrant hate group since 2007. The law, a recipe for racial profiling, would make the failure to carry immigration documents a crime and give the police broad power to detain anyone suspected of being in the country illegally.
Want more? How about this:
The principal sponsor of the Arizona law, state Sen. Russell Pearce, has his own history of hate. In 2006, Pearce forwarded an email to his supporters from the neo-Nazi National Alliance titled "Who Rules America?" The article criticized the media for promoting multiculturalism and racial equality, and for presenting the Holocaust as fact. More recently, Pearce has been photographed hugging J.T. Ready, a Phoenix-area resident who is a member of the neo-Nazi National Socialist Movement.
Still think race has nothing to do with this? Pima County (Tucson) Sheriff  Clarrence Dupnik calls the law "racist," "digusting," and "unnecessary". He announced that while he will not release any illegal immigrants who happens to come into his custody (standard practice is to turn them over to Border Patrol), he won't enforce the new law.
The sheriff acknowledged that this course of action could get him hauled into court. SB 1070 allows citizens to sue any law enforcement official who doesn't comply with the law. But Dupnik told Nunez that SB 1070 would force his deputies to adopt racial profiling as an enforcement tactic, which Dupnik says could also get him sued. "So we're kind of in a damned if we do, damned if we don't situation. It's just a stupid law."

Dupnik had harsh words for anyone who thinks SB 1070 will not lead to racial profiling. "If I tell my people to go out and look for A, B, and C, they're going to do it. They'll find some flimsy excuse like a tail light that's not working as a basis for a stop, which is a bunch of baloney."
Like I said, Oh how I wish Pima County were its own state. (By the way, Pima County was also the only one among Arizona's 15 counties to vote down Prop 102 in 2008. Viva Tucson!)