It Gets Better: A Farmboy From Ohio
Jim Burroway
October 3rd, 2010
Brian is from my neck of the woods, perhaps 20 miles from where I grew up.
You can contribute your message of encouragement and support here.
Tyler Clementi On Violin
Jim Burroway
October 2nd, 2010
A small glimpse of what was lost: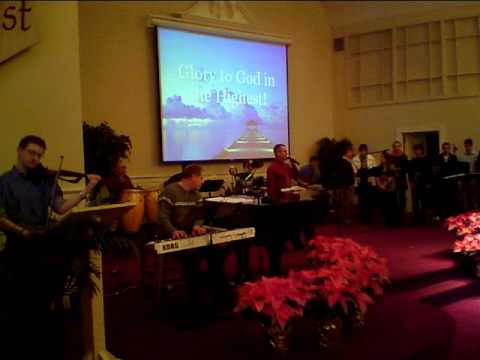 It doesn't have to end this way. This straight guy has a message: it gets better: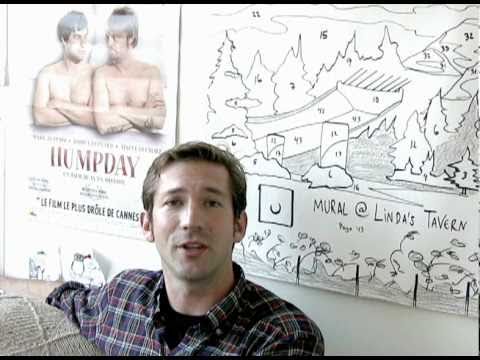 You can contribute to Dan Savage's It Gets Better project with your message of support here.
It Gets Better: With An Apology From An Adult
Jim Burroway
October 2nd, 2010
You can contribute your message of support here.
U.S. Secretary of Education Says "No More" "This Must Stop" to Anti-Gay Bullying, But Legislation Speaks Louder Than Words
Jason Cianciotto
October 1st, 2010
Today Arne Duncan, U.S. Secretary of Education, released the following statement in response to recent tragic incidents of youth committing suicide as a result of pervasive anti-LGBT harassment and bullying in schools and college campuses across the country:
"This week, we sadly lost two young men who took their own lives for one unacceptable reason: they were being bullied and harassed because they were openly gay or believed to be gay. These unnecessary tragedies come on the heels of at least three other young people taking their own lives because the trauma of being bullied and harassed for their actual or perceived sexual orientation was too much to bear.

"This is a moment where every one of us – parents, teachers, students, elected officials, and all people of conscience – needs to stand up and speak out against intolerance in all its forms. Whether it's students harassing other students because of ethnicity, disability or religion; or an adult, public official harassing the President of the University of Michigan student body because he is gay, it is time we as a country said enough. No more. This must stop."
Actually, it's time for the Obama administration and our national LGBT advocacy organizations to actively push for the passage of  the Student Nondiscrimination Act (SNDA) and the Safe Schools Improvement Act (SSIA).
The SSIA, first introduced in the House in 2007, is currently locked up in the House Subcommittees on Early Childhood, Elementary and Secondary Education and Healthy Families and Communities. It amends the Safe and Drug-Free Schools and Communities Act (Title IV of the Elementary and Secondary Education Act as amended by the No Child Left Behind Act) to require schools and districts receiving federal funds to adopt codes of conduct that specifically prohibit bullying and harassment, including on the basis of sexual orientation and gender identity. It also requires states to collect and report data on bullying and harassment to the Department of Education.
On July 8, 2009, Sirdeaner Walker, mother of 11-year-old Carl Joseph Walker-Hoover, testified before that committee in support of SNDA's passage just a few months after Carl committed suicide after experiencing pervasive anti-gay harassment at school. A YouTube clip of her testimony is below and GLSEN provided a transcript here.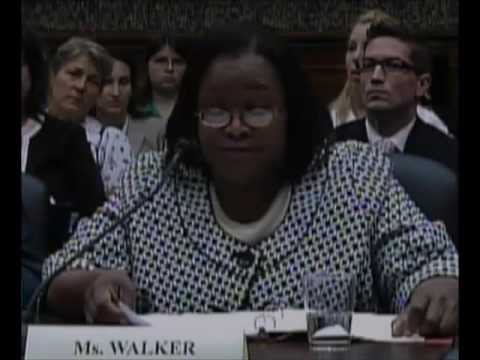 Introduced for the first time in the House and Senate in 2010, SNDA prohibits school programs or activities that receive federal funding from discriminating against any public school student based on actual or perceived sexual orientation or gender identity. SNDA also prohibits discrimination against any public school student because of the actual or perceived sexual orientation or gender identity of a person with whom a student associates or has associated. Discrimination, as defined by SNDA, also includes harassment of a student. SNDA also prohibits retaliation based on an individual's opposition to conduct made illegal by the bill, and it affirms the right of any individual who believes he or she has been harmed under its provisions to pursue legal recourse.
SNDA is currently locked up in the Senate Committee on Health, Education, Labor, and Pensions.
As an undergraduate, my first class on public policy included a variety of theories on how policy becomes law despite a U.S. system of government designed to be slow and deliberate. The theories of John Kingdon reigned supreme and focused, among other things, on a "window of opportunity" opening that creates an often singular opportunity for legislation to be passed, usually due to the convergence of unexpected events that capture the public's and politician's attention.
My broken hear over the rash of suicides in the past month would never reduce those tragedies to political "windows of opportunity." Still, we all have to wonder the proverbial, "if not now, when?" as these two major pieces of legislation languish in a Congress focused on the mid-term election.
We need leadership in Congress, the White House, and in our movement's national organizations to stand up and demand attention to anti-LGBT bullying in more than just words.
It's time to pass SNDA and the SSIA. Period.
It Gets Better
Jim Burroway
October 1st, 2010
You can contribute your message of hope here.
ABC News: New Jersey Prosecuters Considering Hate Crime Charges
Jim Burroway
October 1st, 2010
ABC's Good Morning America is reporting that New Jersey prosecutors investigating Tyler Clementi's suicide are considering adding hate crime charges against Dharun Ravi and Molly Wei, who have been charged with violating Tyler's privacy after livestreaming video of Tyler's sexual encounter with another male without his knowledge.
According to ABC News, New Jersey's state law against "bias intimidation" makes it a criminal offense to invade someone's privacy because of sexual orientation. The word "because" may be the sticking point. The publicly released information available so far can easily point to this crime being motivated by other factors. Motivations of personal animus toward Tyler fit the evidence just as easily. So does the motivation to simply pull an idiotic and appalling "prank."
Either way, invasions of privacy are felony offenses. While references to Tyler's sexuality appear on tweets that Ravi posted to his Twitter account, none of them use anti-gay epithets or indicate overt hostility toward Tyler's sexuality — at least what we know so far of Ravi's postings so far. Demonstrating that Tyler was singled out specifically because of his sexuality in a court of law may prove difficult, unless prosecutors have found further evidence that they haven't made public yet.
Body Pulled From Hudson Identified As Tyler Clementi
Jim Burroway
September 30th, 2010
The New York Medical Examiner's office has confirmed that a body that was pulled from the Hudson River above the George Washington Bridge is that of Tyler Clementi:
Ellen Borakove, a spokeswoman for the New York City Medical Examiner's office, said the death was ruled a suicide, with the cause listed as drowning, with blunt impact injuries.
Tyler, an eitheen-year-old Rutgers freshman, jumped off the George Washington Bridge after his sexual encounter with another male student was livestreamed on the Internet without his knowledge by his roommate. Police have charged the roommate, Dharan Ravi, and another freshman, Molly Wei with several counts of violating Tyler's privacy. They face up to five years' imprisonment for each count.
Asher Brown's School District To Hold Candidate Forum Oct 19
Jim Burroway
September 30th, 2010
A reader sent me this via email:
Jim, you may be aware that on Oct. 19 the Cypress-Fairbanks ISD is holding a candidate's forum for the people running for their Board of Trustees?  I live too far away to attend, but someone should be there to ask the candidates some questions.  Do you know of any plans?
I wasn't aware, but I am now. School Board Trustees are the ones who set policy and are ultimately responsible for the actions of the school district. In Cy-Fair's case, the district had been ignoring what now appears to be a long-running problem with bullying, long before thirteen-year-old Asher Brown took his life earlier this week. School officials claimed not to know anything about Asher's tormentors. Now they are trying to shift the blame for Asher's death to his parents.
It might be a good thing to clear out the entire Board of Trustees in November, but it only makes sense to do so if those who are running against the incumbents are actually any better. This candidates' forumwould be an excellent time to ask some very hard questions. Mark your calendars for Tuesday, Oct. 19 from 7 to 9 p.m., in the Board Room of the Instructional Support Center (10300 Jones Road). The forum will also be posted on the web the following day.
Michigan AG Defends Employee's Cyber-bullying
Jim Burroway
September 30th, 2010
Michigan Attorney General Mike Cox says state Assistant AG Andrew Shirvell is only expressing his opinions, which has nothing to do with his job defending crime victims — including, presumably, victims of cyber-bullying: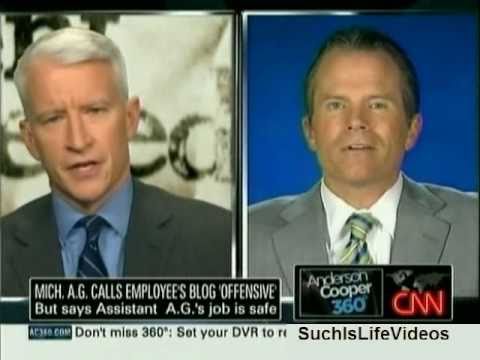 Campus Pride has re-issued its 2010 survey of American college students, which found that 33% of gay and 30% of transgender students, faculty, and staff have seriously considered leaving their institution due to the challenging anti-LGBT climate. Thirteen percent of gay students, faculty and staff and 43% of transgender students, faculty and staff fear for their own physical safety. A 2006 poll by Harris Interactive found that 43% of all teens regardless of sexual orientation have experienced cyber-bullying over the prior year. An Iowa State University study found that LGBT youth are hit especially hard by cyber-bullying.
But AG Cox sees nothing wrong with cyber-bullying this particular college student. After all, what could possibly go wrong?
Oh, by the way — Shirvell served as Cox's campaign manager back in 2006.
Parade Commodore to 14-year-old Girl: "Go To A Country Where They Hang People Like You"
Jim Burroway
September 30th, 2010
The reigning "Riverfest commodore" for a La Crosse, Wisconsin, annual festival reportedly shoved a 14-year-old girl who was carrying two rainbow flags just before a parade on Saturday.
According to the La Crosse Tribune, the girl was rollerblading and carring two gay pride flags as part of the Seven Rivers LGBT Resource Center's float when the ugly encounter occurred:
Commodore Mark Schneider, who was on a float nearby, approached the girl and put his hands on the flagpole, [the LGBT center's Executive Director Rosanne] St. Sauver said. St. Sauver walked over, placed her hands on the pole and told him, "Please stop, she's a 14-year-old child."

"He said, 'I do not care. Look what you are teaching them,'" St. Sauver said.

That's when, St. Sauver said, Schneider shoved the girl with his body.

St. Sauver said Schneider told the girl: "Go to a country where they will hang people like you."

The incident left the teen crying, and others upset, St. Sauver said. This is the first year the center has participated in the parade.
Schneider denies shoving the teen or making offensive comments. Schneider claimed that his objections were to the alterations to one of the two flags. One of the flags's design was based on the American flag with the red and white stripes substituted for rainbow stripes.
Schneider has been cited for disorderly conduct. He has since apologized for the confrontation. The Riverfest president, Mike Schieber, and the LGBT center president Kathryn Heitbrink have written a joint statement following a meeting yesterady evening:
Mark Schneider, Riverfest Commodore for 2010 offered his personal apology to Emily St. Sauver and others that might have been affected for events that happened that day. This apology was accepted with the understanding that both organizations will collaborate to promote La Crosse and the surrounding community as a safe place for all people, where all members of the community can be celebrated."
With all the craziness we've seen over the past two weeks, it's good to see at least one incident come to a satisfactory conclusion.
Tyler Clementi May Have Reached Out To Gay Website For Advice Before Committing Suicide
Jim Burroway
September 30th, 2010
Gawker has found some posts from a forum at justusboys.com (registration required) written by someone with the handle of "cit2mo," who describes a situation remarkably similar to Tyler Clementi, the Rutgers freshman who committed suicide after his roommate surreptitiously videoed him having sex with another man and broadcasted it on the Internet. The emails are dated September 21 through the early morning of September 22, the day Tyler jumped off the George Washington Bridge.
In the first email on the morning of September 21, "cit2mo" writes:
so the other night I had a guy over. I talked to my roommate that afternoon and he had said it would be fine w/him. I checked his twitter today. he tweeted that I was using the room (which is obnoxious enough), AND that he went into somebody else's room and remotely turned on his webcam and saw me makeing out with a guy. given the angle of the webcam I can be confident that that was all he could have seen.
A couple hours later, "cit2mo" comes back again:
and so I feel like it was "look at what a fag my roommate is"
–other people have commented on his profile with things like "how did you manage to go back in there?" are you okay?"

and the fact that the people he was with saw my making out with a guy as the scandal whereas i mean come on…he was SPYING ON ME….do they see nothing wrong with this?
In this post, "cit2mo" said that he decided to fill out a room change request form, but noted that changes were not guaranteed.  Later that evening "cit2mo" responds to a suggesting that the spying could be against school policy. "cit2mo confirms that he has found the policy and that anyone who violates it could be expelled. But he takes little comfort in that:
the only things is…there are too many 'could's ….the fact that he didn't ACTUALLY record me (to my knowledge) and the fact that the shool really prolly won't du much of anything…
"cit2mo" then says he will speak to his Residential Adviser. It appears at this time he hasn't actually spoken to anyone at the university yet. A few hours later, "cit2mo" posts again:
so I wanted to have the guy over again.

I texted roomie around 7 asking for the room later tonight and he said it was fine.

when I got back to the room I instantly noticed he had turned the webcam toward my bed. And he had posted online again….saying…."anyone want a free show just video chat me tonight"…or something similar to that….

soooo after that…..

I ran to the nearest RA and set this thing in motion…..
we'll see what happens……

I haven't even seen my roommate since sunday when i was asking for the room the first time…and him doing it gain just set me off….so talking to him just didn't seem like an option….

meanwhile I turned off and unplugged his computer, went crazt looking for the other hidden cams….and then had a great time.
All of this corresponds roughly to the tweets from Clementi's roommate, Dharun Ravi, who with Molly Wei, have been arrested and charged with invasion of privacy.
"cit2mo's" last post is early on the morning of September 22, after he had spoken to the RA:
he seemed to take it seriously…
he asked me to email him a written paragraph about what exactly happened…
I emailed it to him, and to two people above him….
That was early Wednesday morning. "cit2mo's" posts seemed very calm and rational.  Tyler jumped off the George Washington Bridge at about 9:00 that evening. If "cit2mo" is Tyler — and it seems very likely — then that still leaves an almost fifteen hour gap where we don't know what happened. Did he receive a message from the university that he interpreted as hopeless? Did the tauntings increase to an unbearable scale? I imagine police investigators will be looking into all of these possibilities and more.
Texas School Officials Suggest Parents To Blame for Asher Brown's Suicide
Jim Burroway
September 30th, 2010
After thirteen-year-old Asher Brown committed suicide after years of bullying at Hamilton Junior High in Cypress, Texas, school officials first claimed that they didn't know Asher was being bullied. Asher's parents however deny that. "That's absolutely inaccurate — it's completely false," Amy Truong said. "I did not hallucinate phone calls to counselors and assistant principals. We have no reason to make this up. … It's like they're calling us liars."
Now school officials are trying a new and far more loathsome and disgusting tactic:
In a statement released Wednesday afternoon, Cypress-Fairbanks ISD said the district's counseling and psychological teams would be expanding crisis services for students at Hamilton.

"The district, together with the Hamilton community, is saddened by the death of Asher Brown," the statement read. "A district administrative team is conducting a thorough and involved investigation into the allegations of bullying that have been made since the death of Asher Brown. Although the investigation is not completed, the initial findings indicate that Asher's personal and family histories were very complicated." [Emphasis mine]
Meanwhile seventeen-year-old student Jayron Martin has come forward again to remind everyone about the bullying he experienced in the very same school district just last November, when he was beaten with a metal pole. He suffered a concussion from those injuries. That attack occurred after Jayron reported that he had been threatened to two assistant principals, who did nothing to protect him.
How many red flags should administrators be allowed to ignore before they're held criminally liable?
Tyler Clementi's Circle of Abusers Widen
Jim Burroway
September 29th, 2010
The Daily Beast sheds some more light into the harassment that Rutgers University freshman Tyler Clementi likely suffered in the days leading to his suicide. Tyler committed suicide after his roommate broadcast video over the Internet of him having a sexual encounter with another man. Tyler's roommate, Dharun Ravi, announced those broadcasts via Twitter:
Three days before Clementi jumped off the George Washington Bridge, known by police as "surefire" for suicides, Ravi had tweeted, "Roommate asked for the room till midnight. I went into molly's room and turned on my webcam. I saw him making out with a dude. Yay." Although the feed has been deleted, caches turned up the roll. On Sept. 22, Ravi tweeted, "Anyone with iChat, I dare you to video chat me between the hours of 9:30 and 12. Yes it's happening again." That was the night Clementi was last heard from.

While Ravi and Wei purged their Twitter feeds, their friends did not. Ravi's friend from high school and fellow Rutgers student Nikhil Mashettiwar tweeted to his friend on Sept. 20, "we should get our roommates together." The day after Clementi apparently killed himself, Mashettiwar tweeted, "Gay kid in class: i hate when i like have to repeat myself." Mashettiwar did not respond to requests for comment about his tweets and deleted his Twitter feed within an hour of being contacted.
How many others were in on the "joke"? Ravi's Twitter feed reportedly had 150 followers.
Ravi and Molly Wei have been charged with invasion of privacy and face up to five years' imprisonment. Meanwhile, the body of a red-headed young man wearing an orange watch has been recovered from the Hudson River this afternoon. Authorities believe it to be Tyler's body, but are awaiting confirmation from the New York Medical Examiner.
ABC News Covers Recent Suicides
Jim Burroway
September 29th, 2010
Here is ABC New's extra web coverage of Dan Savage's YouTube project, "It Gets Better":
And speaking of "It Get's Better," here's another contribution from a Muslim gay teen. He grew up in a Shia Pakistani family, and he says to hang in there. It Gets Better:
Tyler Clementi's Final Facebook Status: "Jumping off the gw bridge sorry"
Jim Burroway
September 29th, 2010
Tyler Clementi, the eighteen-year-old Rutgers freshman who committed suicide after his roommate broadcast hidden camera videos on the Internet of Tyler having a sexual encounter in his dorm room, had changed his Facebook status to "Jumping off the gw bridge sorry" on Wednesday, September 22. Witnesses saw someone jump off of the George Washington Bridge on Wednesday evening at about 9:00 pm. Police found his wallet with his driver's license and Rutgers I.D. on the bridge's walkway, and his car, computer and cell phone were found nearby.
It has been a week since Tyler's suicide, and his body had not been found. The New York Times tonight however is reporting that police say they have found the body of a young man in the Hudson River north of the bridge and were trying to identify it.
Tyler's roommate, Dharun Ravi, and fellow Rutgers freshman, Molly Wei, have each been charged with two counts of invasion of privacy. Authorities charge that they used a hidden webcam to live stream a sexual encounter between Tyler and another man. Ravi had alerted people to the live stream via a Twitter post on September 19, saying "Roommate asked for the room till midnight. I went into molly's room and turned on my webcam. I saw him making out with a dude. Yay."
Ravi was charged with two additional counts of invasion of privacy for trying to set up another surreptitious broadcast on September 21, the day before Tyler's suicide. He announced that attempt again on his Twitter feed, saying ""Anyone with iChat, I dare you to video chat me between the hours of 9:30 and 12. Yes it's happening again." That second attempt was unsuccessful. Ravi's Twitter feed, which had 150 followers, has since been taken down.
Ravi surrendered to police on Tuesday and was released on $25,000 bail. Wei, who turned herself in on Monday, has been released on her own recognizance. Ravi and Wei both had been classmates together in high school. They now face up to five years imprisonment for each count.
The New York Times notes that Tyler's death, in addition to the horrendous tragedy that it is, also represents a cruel irony:
The timing of the news was almost uncanny, coinciding with the start of "Project Civility" at Rutgers, the state university of New Jersey. Long in the planning, the campaign will involve panel discussions, lectures, workshops and other events intended to raise awareness about the importance of respect, compassion and courtesy in everyday interactions.

Events scheduled for this fall include a workshop for students and administrators on residential life on campus, called "Respect Resides at Rutgers," and a panel discussion titled "Uncivil Gadgets? Changing Technologies and Civil Behavior."
Tyler was an accomplished violinist who was attending Rutgers on a college scholarship from the Ridgewood Symphony Orchestra for his musicianship and leadership. His family released a statement earlier today:
"Tyler was a fine young man, and a distinguished musician. The family is heartbroken beyond words. They respectfully request that they be given time to grieve their great loss and that their privacy at this painful time be respected by all."
A memorial page for Tyler has been set up on Facebook. Nearly 6,000 people have joined the page as of 9:30 EST this evening.
Michigan Assistant DA Andrew Shirvell: raging homophobe, stalker, dumb as a box of rocks
Timothy Kincaid
September 29th, 2010
When Thomas Monaghan, the founder of the Dominos Pizza Chain, sold his business for $1 billion in 1998, he decided to dedicate the rest of his life to advancing his faith.
Unfortunately his faith is Catholicism of the Papa Ratzi / Mel Gibson variety, strong on bronze age moralism and devoted to making you follow the rules that Monaghan is sure that God wants you to follow. He is passionate about abortion issues and believes that one of the best ways to achieve a nation that obeys the Church is to create an army of lawyers who will fight for the views of the Church.
So Monaghan founded the Thomas More Law Center, an anti-gay, anti-abortion activist organization. He also funded the Ave Maria School of Law, a Catholic law school with teachings that are "in fidelity to the Catholic Faith as expressed through Sacred Tradition, Sacred Scripture, and the teaching authority of the Church" and which would send out graduates "equipped for leading positions in law firms, corporate legal offices, the judiciary, and national, state, and local government."
As Ave Maria is fairly young and is among what is generously referred to as "second tier law schools", I haven't learned that much about them. While I knew that they included as friends and supporters Justices Antonin Scalia and Clarence Thomas, I've not yet had much opportunity to see what caliber of person they are unleashing on the nation. Until now.
The public has recently been introduced to what must be among Ave Maria's highest profile alumni, Michigan Assistant Attorney General Andrew Shirvell. Now how Shirvell came to be qualified for his position can be debated, but as Attorney General Mike Cox is also a conservative Republican Catholic, I suspect that Shirvell's hard-core extremist Catholic ideology did not count as a liability.
And Shirvell has made his mark, though for work performed outside of his job qualification. And quite a mark it is.
You see, Andrew Shirvell has been, in his off time, writing a blog. And this blog is dedicated to one subject: exposing the "radical homosexual agenda" of the University of Michigan student body president Chris Armstrong. And let me tell ya, it's quite the blog.
Welcome to "Chris Armstrong Watch." This is a site for concerned University of Michigan alumni, students, and others who oppose the recent election of Chris Armstrong – a RADICAL HOMOSEXUAL ACTIVIST, RACIST, ELITIST, & LIAR – as the new head of student government.

Prior to Armstrong's March, 2010, election as president of the Michigan Student Assembly (MSA), Armstrong served as chairman of MSA's LGBT commission – a commission that solely focused on utilizing the student government to promote the radical homosexual agenda, including gay "marriage" and adoption "rights." As chair, Armstrong also succeeded in lobbying for the annual Midwest LGBT College Conference to take place at U of M in 2011. This conference has a notorious reputation for promoting decadence, including illegal drug use and public sex acts.
Andrew Shirvell is like Peter LaBarbera, but with a real job. A very powerful job. And one that his boss, Mike Cox, seems to have no interest in rethinking. (Detroit Free Press)
"All state employees have a right to free speech outside working hours," Cox said in a statement today. "But Mr. Shirvell's immaturity and lack of judgment outside the office are clear."
But this goes beyond "lack of judgment". It is obsessive, abusive, and perhaps illegal – though when you work for the state Attorney General, "illegal" is a subjective term.
But while Cox's lack of judgment in hiring an extremist wackadoodle is disconcerting, it is also troubling that he hired – with taxpayer funds – a bumbling fool. Now having been exposed to just what kind of lawyer that Monaghan is making, we can see that his business model hasn't changed: put out the lowest quality in town.
I mean, if Shirvell was a pizza, there would be no detectable meat-product in his pepperoni. I'm talking cheese so processed that Shirvell was willing to go on Anderson Cooper's 360 and show the world just what kind of sauceless crust he is: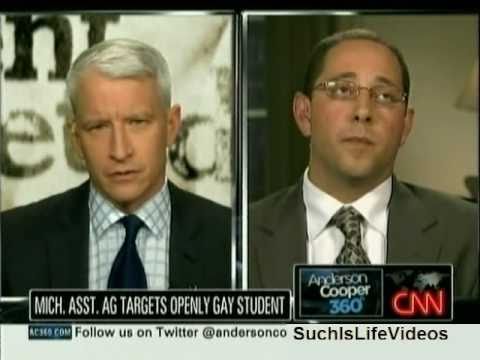 Well I guess the good news is that we have less to fear from an army of idiots.
Ohio Boy Cheerleader's Arm Broken; Still Getting Threats, Still Cheerleading
Jim Burroway
September 29th, 2010
Eleven-year-old Tyler Wilson of Findlay, Ohio, loves gymnastics and tumbling, which is why he decided to join a youth football cheerleading squad over the summer. He's been catching hell over it since then. It started with teasing, but it quickly escalated:
According to the mother and the police report filed on the incident, Tyler was walking home from school when two of his alleged tormentors approached him and punched him. As Tyler continued his walk home from school, the two boys continued to follow him, the police report said. Several small skirmishes broke out between Tyler and the two boys, according to the police report, and eventually one of the boys allegedly picked Tyler up and slammed him on the ground, breaking his arm.
Kristy Wilson filed a police report and went to Glenwood Middle School. That's when she was shocked to learn that school officials already knew about the harassment but hadn't called her to discuss it:
When I went to the school, about two days after it happened to discuss Tyler's story, the principal said there was an incident Monday and the Friday before, that the boy who started the fight had jumped on Tyler's back and tried to start a fight," she said.

Kristy Wilson said if she had known that Tyler was being physically targeted said she would have certainly stepped in to stop the situation, going as far as removing him from the school.

"I really wish the school would have let me know a lot sooner, so I could have dealt with it sooner," she said.
Meanwhile, Findlay police have arrested the two attackers and have charged them in youth court. The lead attacker was charged with felonious assault, and the other was charged with simple assault. Their names are being withheld because they are juveniles.
Meanwhile, Tyler continues to receive threats:
It's been bumpy," Ohio 11-year-old Tyler Wilson said of his return to school in a morning television exclusive interview with "Good Morning America." "People are threatening me to break my other arm because I told on them."

…But neither the injury nor the threats is stopping Tyler from pursuing his passion for cheering, the boy said.

"It feels horrible that they can't accept me for who I am," Tyler told ABC News' Ohio affiliate WTVG. "It's my choice. If I want to be a cheerleader, I'm going to be a cheerleader."
Rutgers Student Commits Suicide Following Anti-Gay Harrassment
Jim Burroway
September 29th, 2010
It's not just high school kids being bullied and humiliated to their deaths:
A Rutgers University freshman killed himself after two classmates used a hidden dorm room camera to splash his sex life across the internet, sources told the Daily News.

A distraught Tyler Clementi, 18, left his wallet on the George Washington Bridge before plunging to his death in the Hudson River last Wednesday, sources said.

A Twitter post from one of the students accused of streaming the sexual encounter live on the internet indicated Clementi, a renowned high school violinist, was with another man.

"Roommate asked for the room till midnight," read the post from Dharun Ravi, 18. "I went into Molly's room and turned on my webcam. I saw him making out with a dude. Yay."

The Twitter post went up Sept. 19 – three days before Clementi's suicide.
Ravi and another accomplice, Molly Wei, also 18, were charged with two counts each of invasion of privacy for the Sept. 19 livesreaming broadcast. Ravi was charged with two more counts for trying to arrange a second livestreamign session. New Jersey's privacy laws make it a crime to transmit or view images of nudity or sexual contact with an individual without that person's consent. Ravi and Wei both face up to five years' imprisonment for each count.
Bakersfield-Area Teen Dies After Suicide Attempt; No Charges Will Be Filed
Jim Burroway
September 29th, 2010
Another day, another gay teen is dead:
Seth Walsh, the Tehachapi 13-year-old who hanged himself from a tree in his back yard after years of being bullied, died Tuesday afternoon after nine days on life support.

Tehachapi police investigators interviewed some of the young people who taunted Seth the day he hanged himself and determined despite the tragic outcome of their ridicule, their actions do not constitute a crime.

"Several of the kids that we talked to broke down into tears," Jeff Kermode, Tehachapi Police Chief, said. "They had never expected an outcome such as this."
Seth had been picked on for years because he was gay, but fellow classmates said that the staff at Jacobsen Middle School offered Seth no help or protection. People run red lights without expecting anyone to die in a horrific traffic accident, but they are charged with manslaughter or negligent homicide. Red lights were flashing at Tehachapi just as brightly and a child is dead because of the direct actions of his peers and the negligence of school officials. But they get a pass because, well heck, nobody meant nuttin' by it. It was all just harmless fun. It just goes to show how seriously too many school administrators take the lives of gay students in 2010.
Just another dead gay kid, age 13
Timothy Kincaid
September 28th, 2010
On another website I've been having a conversation with some folk who "do not perceive homosexuality to be a normal or healthy human variation or way of living." And they support Focus on the Family in their opposition to targeted anti-bullying programs because such programs are all just a cover to "pass off pro-gay political fluff as curriculum in the guise of bullying prevention."
And because they support the cultivation and continuance of a culture of disapproval towards homosexuality, they oppose anything that might suggest to kids that it's ok to be gay. They even fear that telling kids not to pick on others due to sexual orientation might make some vulnerable questioning kid identify with being gay and send him on a path to sin and misery.
I could understand such fears if we were talking in the abstract. I could consider the fear and ignorance behind their concerns and try and find a way to assure them that just because a school accepts gay kids does not mean that it rejects those who believe that sexuality outside of the confines of a bronze age morality code is sinful.
But then I read stories like this one. (Houston Chronicle)
Asher Brown's worn-out tennis shoes still sit in the living room of his Cypress-area home while his student progress report — filled with straight A's — rests on the coffee table.

The eighth-grader killed himself last week. He shot himself in the head after enduring what his mother and stepfather say was constant harassment from four other students at Hamilton Middle School in the Cypress-Fairbanks Independent School District.

Brown, his family said, was "bullied to death" — picked on for his small size, his religion and because he did not wear designer clothes and shoes. Kids also accused him of being gay, some of them performing mock gay acts on him in his physical education class, his mother and stepfather said.
I am so f*cking sick of this. This little boy, 13 years old, was trying to come to terms with his sexuality (he had just come out to his family). His parents were trying their hardest to help. But they could not get his school to support them.
School district spokeswoman Kelli Durham said no students, school employees or the boy's parents ever reported that he was being bullied.

That statement infuriated the Truongs, who accused the school district of protecting the bullies and their parents.

"That's absolutely inaccurate — it's completely false," Amy Truong said. "I did not hallucinate phone calls to counselors and assistant principals. We have no reason to make this up. … It's like they're calling us liars."
And this just makes me insane.
On the last week of his life he was kicked down a flight of stairs. When he tried to retrieve his book bag, other students kicked his books away. The school "turned up no witnesses."
But is isn't just the administrators that are morally responsible for Asher's death. It is also all of those "good Christian people" who support Focus on the Family and their campaign to prevent schools from protecting gay kids.
I can understand how someone might not want a program that "promotes homosexuality." But I cannot for the life of me understand their priorities. Is it really all that important to them that no one at Asher Brown's school tell him that he's okay and stop other students from tormenting him?
Because what we are seeing is the alternative. And I cannot fathom how you could possibly decide that it's better for small gay children to die than support them.
UPDATE: reader tobyk reminds us that this is the same school district whose administrators refused to help Jayron Martin, a gay kid who was left with a concussion after being beaten with a metal pole.