More Fallout from Paladino's Anti-Gay Remarks
Jim Burroway
October 14th, 2010
Fallout over Tea Party-backed Republican candidate for New York Governor Carl P. Paladino's anti-gay remarks continue to roil the campaign. Last weekend, Paladino said that gay people were "perverts who seek to target our children and destroy their lives," by "brainwash[ing them] into thinking that homosexuality is an equally valid or successful option." After trying to excuse his remark — and following pointed distancing from fellow Republicans — he finally issued a letter of apology.
But that doesn't seem to be doing much the close the issue. Yesterday, Paladino's nephew, who Paladino pointed to as proof that he's not anti-gay, told reporters that he was "very offended" by his uncle's remarks and campaign staff say that he hasn't shown up for work since last weekend's remarks became public.
Meanwhile, Rabbi Yehuda Levin, who reportedly wrote the offending speech that Paladino delivered last weekend, blamed Paladino's nephew for the apology. Levin is also withdrawing his support for Paladino:
"Mazel tov. We'll have a coming out party. But when he came to me three days ago, he didn't know that? I find this to be condescending," said Levin, who is now withdrawing his support for Paladino.
The latest uproar has heightened scrutiny into Paladino's dealings with the gay community. Yesterday, we learned that Paladino, who condemned Gay Pride parades because men wear "little Speedos and they grind against each other," was the landlord for two gay nightclubs in Buffalo. This morning, there are allegations that Paladino's son, William Paladino, ran Cobalt, one of the two gay bars. When the younger Paladino decided to convert the club into a straight bar, he fired every single gay bartender in the joint while retaining the three straight bartenders:
Ex-Cobalt bartender Kevin Van Wagner told The News the management unceremoniously "got rid of" the gay workers. "We were watched," he remembered. "You could tell there was a vibe that they got rid of us and didn't want us back."
GOP Gubernatorial Candidate Apologizes for Anti-Gay Remarks
Jim Burroway
October 13th, 2010
Tea Party-backed Republican candidate Carl P. Paladino, whose anti-gay remarks to Orthodox Jewish leaders sparked outcry in New York and embarrassment among fellow state Republicans, has finally issued a letter of apology for his outburst.
In remarks delivered to Orthodox Jewish rabbis, Paladino called gay people "perverts who seek to target our children and destroy their lives," and said that gays were trying to "brainwash [them] into thinking that homosexuality is an equally valid or successful option."
The following morning, Paladino appeared on ABC's Good Morning America, where, incredibly, he tried to paint his remarks as being empathetic to LGBT people who experience discrimination. He also insisted that he was not anti-gay and would hire gay people in his administration.
Later, in Paladino's letter of apology, he wrote, "I sincerely apologize for any comment that may have offended the Gay and Lesbian Community or their family members." He also said that he was a "live and let live person," and that "I am 100% against discrimination of any group. I oppose discrimination of any kind in housing, credit, insurance benefits or visitation."
Elsewhere, Paladino has said that he would veto a marriage equality bill if it should reach his desk as governor and has called for a statewide referendum on the subject.
The most incredible admission in his letter is this:
Yesterday I was handed a script. I redacted some contents that were unacceptable. I did also say some things for which I should have chosen better words.
We know that one redacted content was the line, "There is nothing to be proud of in being a dysfunctional homosexual." The Jewish Week reports that it was Rabbi Yehoda Levin who prepared the remarks. Which, if true, means that Paladino will mostly read whatever words anyone thrusts in front of him.
Meanwhile, the laws of unintended consequences continue to hold sway. In reaction to the backlash against Paladino's comments, New York state Senate GOP leader Dean Skelos said that if the Republicans win control of the chamber, he would bring the marriage equality bill to the floor again for an up-or-down vote, although he remains opposed to the bill.
Also, the New York Daily News reports that Paladino has made quite a lot of money off of gay people as the landlord of a couple of Buffalo gay clubs.
Paladino's letter of apology after the jump
New York Republicans denounce Palidino's anti-gay remarks
Timothy Kincaid
October 12th, 2010
Earlier this week, Republican nominee for New York Governor, Carl Paladino, called gays "perverts" and said they "seek to target our children and destroy their lives." While that sort of language may seem normal for Republicans in Oklahoma, New Yorkers are a different breed. (Boston Herald)
Former Mayor Rudy Giuliani Monday called on Paladino to apologize for his "highly offensive remarks." Paladino's opponent in the GOP primary, Rick Lazio, said the speech was "counterproductive and an embarrassment."

Dan Donovan, the GOP candidate for attorney general, and Harry Wilson, the Republican running for comptroller, both issued statements denouncing Paladino's comments.
Meanwhile Paladino thinks that he deserves an apology from the media for including a line that was in the draft but which he didn't say. And he attempted to hide behind a gay nephew (which seems to be the latest trend in "some of my best friends are…") (CBS)
"I want to clearly define myself. I have of no reservations about gay people at all, none, except for one thing, their desire to get married. … I feel that marriage is only between a man and a woman. Very clearly, I wanted to state that.

"Now, in addition, I have a nephew and … I have people working for me who are gay. Never had a problem with any of them, never had a problem in any sense with their lifestyle and we've talked about it often. … I talk to them about the discrimination that they suffer and I'm sensitive to it.

He went on to say that homosexuality was "not an easy life."

"It's a very, very difficult life. Most of them don't choose it. … The discrimination that they suffer is very, very difficult and I'm totally sensitive to it.
No, Mr. Paladino, it's not a "difficult life." Or, at least, it wouldn't be without the interference of individuals such as yourself.
NY GOP Gubernatorial Candidate: Gays "Seek To Target Our Children And Destroy Their Lives"
Jim Burroway
October 10th, 2010
The race for New York's governorship took a particularly nasty turn when the Tea Party-backed Republican candidate Carl P. Paladino spoke to Orthodox Jewish leaders in Brooklyn, saying that gays (or "perverts," as he referred to them) "seek to target our children and destroy their lives."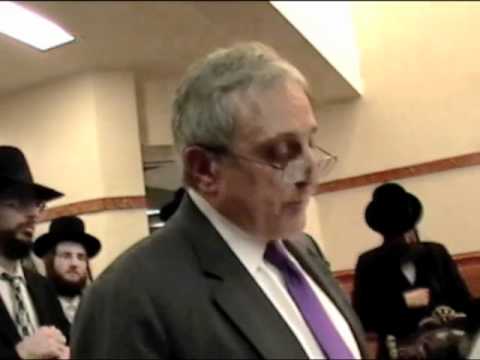 We must stop pandering to the pornographers and the perverts who seek to target our children and destroy their lives. I didn't march in the gay parade this year, the Gay Pride parade this year. My opponent did. And that's not the example we should be showing our children, and certainly not in our schools.

And don't misquote me as wanting to hurt homosexual people in any way. That would be a dastardly lie. My approach is live and let live. I just think my children and your children would be much better off and much more successful in getting married and raising a family. And I don't want them to be brainwashed into thinking that homosexuality is an equally valid or successful option. It isn't.
According to the New York Times, Paladino's prepared remarks also included the sentence, "There is nothing to be proud of in being a dysfunctional homosexual," but he omitted that line during his talk.
Following those remarks, Paladino's campaign manager had the audacity to deny that Paldino is anti-gay, saying that Paladino employed a gay man on his campaign staff.
No, he's not anti-gay. He just thinks that gays are a bunch of perverts who are targeting children to destroy their lives.
Paladino's vicious remarks came on the heels of several teen suicides, including that of Tyler Clementi, who jumped off the George Washington Bridge last week. It also accompanies fresh reports of horrific anti-gay attacks by nine gang members against three gay individuals in the Bronx last week.