New York Republicans denounce Palidino's anti-gay remarks
Timothy Kincaid
October 12th, 2010
Earlier this week, Republican nominee for New York Governor, Carl Paladino, called gays "perverts" and said they "seek to target our children and destroy their lives." While that sort of language may seem normal for Republicans in Oklahoma, New Yorkers are a different breed. (Boston Herald)
Former Mayor Rudy Giuliani Monday called on Paladino to apologize for his "highly offensive remarks." Paladino's opponent in the GOP primary, Rick Lazio, said the speech was "counterproductive and an embarrassment."

Dan Donovan, the GOP candidate for attorney general, and Harry Wilson, the Republican running for comptroller, both issued statements denouncing Paladino's comments.
Meanwhile Paladino thinks that he deserves an apology from the media for including a line that was in the draft but which he didn't say. And he attempted to hide behind a gay nephew (which seems to be the latest trend in "some of my best friends are…") (CBS)
"I want to clearly define myself. I have of no reservations about gay people at all, none, except for one thing, their desire to get married. … I feel that marriage is only between a man and a woman. Very clearly, I wanted to state that.

"Now, in addition, I have a nephew and … I have people working for me who are gay. Never had a problem with any of them, never had a problem in any sense with their lifestyle and we've talked about it often. … I talk to them about the discrimination that they suffer and I'm sensitive to it.

He went on to say that homosexuality was "not an easy life."

"It's a very, very difficult life. Most of them don't choose it. … The discrimination that they suffer is very, very difficult and I'm totally sensitive to it.
No, Mr. Paladino, it's not a "difficult life." Or, at least, it wouldn't be without the interference of individuals such as yourself.
How Anti-Gay Activists Keep Their Gay Friends (hint: they don't)
Timothy Kincaid
April 10th, 2009
In World Magazine, a conservative evangelical Protestant Christian publication, columnist Tony Woodlief laments that he can't follow his instincts and be decent to his gay friends.
As the campaign for gay marriage continues its relentless march toward a place where even Rome in its deepest debauchery didn\'t tread, I\'m tempted, when I think about this issue, to capitulate. I want my gay friends to be happy, after all. And who am I to interfere with their desire to form a legally sanctioned relationship?
Oh, but don't worry. Tony is no compromiser nor one to put individual rights or self-determination ahead of conformity to the demands of religious orthodoxy. He is, after all, one of those Protestant voices that demanded that the Catholic Church excommunicate Catholics that are not adequately socially conservative.
He quite easily got over his temptation.
Because, like most anti-gay activists, Woodlief justifies his behavior with contorted definitions and assigns to himself motivations of love where others would likely find other labels:
But I can\'t, because supporting gay marriage is false compassion. It affirms the lie that men and women in open rebellion against God can inherit the kingdom of Heaven. I wish they could. I wish everyone could be saved. But the teaching of the one holy, catholic, and apostolic Church is, and has always been, that homosexual practice is sin and that willfully unrepentant sinners imperil their very souls.

So what does love say? Assent to the farce in order that my friends will know my earthly, temporal, selfish affection? Or alienate myself from them by holding to the teaching of the Church out of a desire not to add to the lie they have been told by a world already gone so far astray that secular humanism is its default morality?
Because, of course, to allow civil recognition would "lead our gay brothers and sisters further down a path of lies". So, like children, he needs to decide what is best for them. It's the "loving" thing to do.
Now this essay is not so different from most anti-gay screeds. And it would not require us to step far from familiar phrases to discuss the arrogance of one ignorantly (and inaccurately) speaking for the history of Christendom, the self-righteousness of insisting that one's own theology should dictate social mores, or even what Christ, the founder of his faith, would have to say to those who acknowledge that their policies cause pain and make people feel like outcasts yet justify them by appealing to doctrine and tradition.
But something else struck me, something that we hear repeatedly from anti-gay activists who feel shame about the consequences of their actions: "my gay friends".
Woodlief is not alone. Over and over we hear from those who advocate for denying hospital visitation and wresting children from their parents and disallowing public service and unequally applying tax codes and banning adoption and refusing health care and a myriad other positions that cause tangible and measurable harm to gay people. And quite often they say, "my gay friends and I disagree" or "we just don't talk about it".
They feel it lends credibility to their positions if they can show that they are not "haters" or "bigots". And it makes them seem like they themselves are making personal sacrifices ("I want my gay friends to be happy") rather than harshly imposing their demands on strangers. So out come the "gay friends", whom they love love love.
And then they define their "gay friends" in terms such as "debauched" "unrepentant sinners" "in open rebellion against God" who have been "lead down a path of lies".
Considering the unfiltered contempt they have toward gay people, how then do they have and keep gay friends?
The answer is: they don't.
Take a close look at how Tony Woodlief describes his relationship with "his gay friends":
They remain friends with someone who believes what I believe about what they do because we don\'t talk about it. Perhaps that\'s their choice, or mine, or something in between, but we\'ve steered clear of it—so far.
I have friends and I know what that word means. Friends are those you rely on, those you know deeply, and those with whom you communicate.
Friends talk about dating, spouses, children, family, social life, work, concerns about those who like or dislike them, difficulties in personal relationships with others, slights real and imagined, dreams, goals, desires. Heck, friends even talk about who they think is hot.
But all of that is off the table with Tony and his "gay friends". They "don't talk about it".
No. Tony Woodlief doesn't have gay friends at all; he has acquaintances with whom he is cordial whom are gay but who have enough sense not to have any discussions of importance with him and who choose not to share with him any personal aspects of their life. He has gay associates who out of politeness do not tell him exactly what they think about his activism and efforts to harm their lives.
So to Tony Woodlief – and Sarah Palin and Rick Warren and Donny Osmond and all the others who think that having "gay friends" justifies cruel treatment – I give this challenge: Produce these "gay friends". Have a real and genuine talk with them. And if after you make it perfectly clear that you believe that your heterosexuality entitles you to preferential treatment and gives you the right to make determinations about their lives, rights, and freedoms – because your God told you so – then we'll see just how close of a friend they consider you to be.
Some of Prince's Best Friends Are Gay…
Jim Burroway
January 3rd, 2009
Last November, Prince was quoted in The New Yorker with saying a few things which were somewhat disappointing to his many gay fans. When asked about his opinions on same-sex marriage, he said, "God came to earth and saw people sticking it wherever and doing it with whatever, and he just cleared it all out. He was, like, 'Enough.' "
Rumors circulated that Prince was upset that he had been "misquoted," but there were no clarifying remarks from neither him nor his publicist. More recent comments to the LA Times don't exactly clarify things, but they may provide just an ever-so-slight insight into what Prince thinks of "his friends that are gay:"
He did not vote for Proposition 8. In fact, he didn't vote at all. "I didn't vote for Obama either," he explained. "Jehovah's Witnesses haven't voted for their whole inception." The controversy over a recent New Yorker "Talk of the Town" item, which Prince feels implied he supported the gay-marriage ban, has upset him. It's the first thing he wanted to discuss when the Web geeks had gone and we were alone. "I have friends that are gay and we study the Bible together," he said. He added that two sides fighting "only benefit the third person" who instigated the fight.
Some of Rick Warren's Best Friends Are Gay…
Jim Burroway
December 16th, 2008
— and he's even eaten dinner in their homes! — but Rick Warren views their marriages as being equivalent to incest, child rape and polygamy:
Rick Warren: But the issue to me is, I'm not opposed to that as much as I'm opposed to the redefinition of a 5,000-year definition of marriage. I'm opposed to having a brother and sister be together and call that marriage. I'm opposed to an older guy marrying a child and calling that a marriage. I'm opposed to one guy having multiple wives and calling that marriage.

Steven Waldman: Do you think, though, that they are equivalent to having gays getting married?

Rick Warren: Oh I do.  …

… Most people, you know… I have many gay friends, I've eaten dinner in gay homes, no church has probably done more for people with AIDS than Saddleback Church. Kay and I have given millions of dollars out of "A Purpose-Driven Life" helping people who got AIDS through gay relationships. So they can't accuse me of homophobia. I just don't beleive in the re-definition of marriage.
Rev. Warren used his pretext of "many gay friends" and the work that Saddleback Church has done for "people who got AID through gay relationships" to say, "they can't accuse me of homophobia."
But it seems to me that if a friend of mine said that my relationship was no different than having sex with my brother or sister or a young child, that person would no longer be my friend. And I'd most likely call him a homophobe.
I wonder what Rick Warren's "many gay friends" think?
Click here to read the full transcript
All Of Those Gay Friends You Say You Have? They Are No Longer Your Friends
Jim Burroway
November 13th, 2008
Yesterday, Timothy Kincaid provided a first-hand account of the meeting at LA's El Coyote Cafe to listen to Marjorie Christoffersen explain her decision to contribute to the Yes on 8 campaign. This decision was particularly painful to El Coyote's mix of loyal gay and straight customers. Now, via Queerty, we have video of the event.
The first video is of Marjorie Christoffersen's talk before the crowd.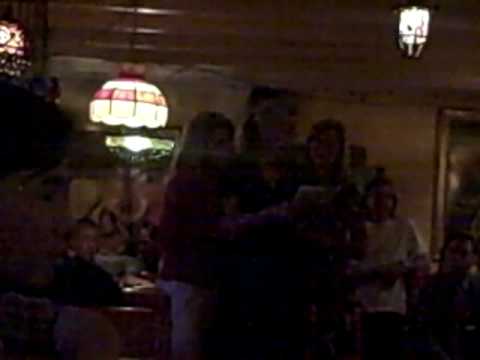 So far, so good.
That is, until they decided to take questions from the audience: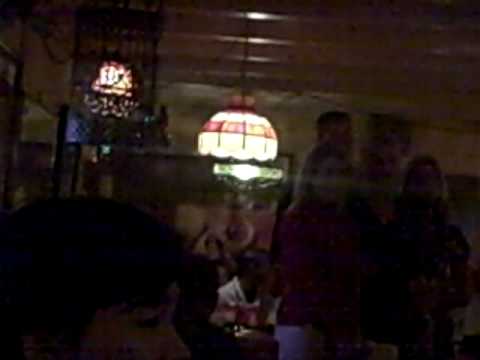 Those who voted to disenfranchise their gay and lesbian neighbors have been stunned at the outpouring of anger over the passage of Propositions 8, 102 and 2 (in California, Arizona and Florida, respectively).
It's mystifying to me, but they seemed genuinely surprised that people that they thought they knew and loved would be angry to see their rights put up to a vote and defeated. It mystifies me because I wonder how many straight people would put up with the idea that their right to marry should be subject to a vote — and they lose that vote? How would they react?
And now many of those people who voted against us and who gave money to a cause to render us second-class citizens, they fall back on the defense that "many of my best friends are gay."
Well, that doesn't work anymore. Here's a news flash: All those gay friends you have? If you supported Prop 8 (or Prop 102 or Amendment 2), they are no longer your friends. You can safely drop that line of defense.