Where There's History, There's a Tumblr
Jim Burroway
May 9th, 2012
Hillary Approves
Jim Burroway
April 10th, 2012
From the Facebook page of the instantly popular Tumblr Texts from Hillary, Secretary of State Clinton's favorite new web site.
Republicans respond to divine message
Timothy Kincaid
March 21st, 2012
[inspired by a comment from Priya Lynn; and further proof that accountants are not artists]
This Iowan Is Tired of the Bad Press
Jim Burroway
January 3rd, 2012
Don't let the focus on the GOP caucuses affect what you think about Iowa. (NSFW, so get your earphones.)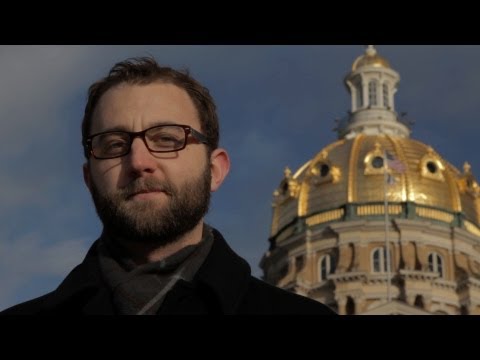 Friday Fun: what number are you?
Timothy Kincaid
December 9th, 2011
The New Yorker's Paul Rudnick has decided that Kinsey's sexuality scale is just too limited and so he's come up with his own. And, it being Friday, I won't rant about stereotypes or make much of his presumption that there is no life (worth noticing) outside Manhattan.
Though I couldn't pick Mandy Patinkin out of a lineup, I'm a 20 (but only because I've never seen Follies).
Bobblehead Bigot
Rob Tisinai
December 9th, 2011
Sometimes we toss around the b-word too easily. But after seeing this desperate anti-gay ad from Rick Perry…
…I'll say the man's one big, bobbleheaded bigot.
[Feel free to right-click on the bobbler, save the image, and share it if you like.]
Armenian "Bad Romance"
Jim Burroway
November 9th, 2011
Responding to today's Daily Agenda, a friend of mine sent me this video. He says it begins with a traditional Armenian dirge accompanied by a duduk, a traditional wind instrument, for about the first minute and forty-five seconds. And then suddenly….
I have a feeling there are a million of these out there.
We Don't Have Homosexuals On Grindr
Jim Burroway
September 20th, 2011
A BTB reader sent this in:
Look who I ran into last night on GRINDER.

found him under "Iranian Lover" – Ahmadinijad – Iran's President.

I couldn't resist myself and talked to him. He is in town for the UN general assembly.

"he" was very funny.
The real Mahmoud Ahmadinejad really is in New York this week to attend the United Nations General Assembly. In 2007, the Iranian President gave a talk at Columbia University, saying, "In Iran we don't have homosexuals like in your country."
Today In Naked Golf
Jim Burroway
August 25th, 2011
All fifteen members of the men's golf team at Bethany College (Go Swedes!) in Lindsborg, Kansas, were suspended because of the photo you see above. Coach Jon Daniels suspended the team from three tournaments over the men's failure in "upholding the reputation of the Lutheran college." I suspect the reputation was harmed because the men were able to hide their privates behind the heads of their golf clubs. Team captain Jack Hiscock — yes, that's his name — said it was just a bit of fun that got blown out of proportion. He also says they are appealing, and I happen to agree with him.
[Via Band of Thebes]
5.8 Magnitude Earthquake Wipes Out East Coast
Jim Burroway
August 23rd, 2011
TPM surveys the devastation. The US Geological Survey says the earthquake was centered in rural Virginia about midway between Charlottesville and Richmond. But of course residents of Washington D.C. and New York immediately began arguing over which of their two cities was the epicenter. Meanwhile, rumors are swirling that Standard & Poor is threatening to downgrade the earthquake to 5.7.
Anyone got anything else to add?
Maybe It Was The Line "Galileo Figaro"
Jim Burroway
May 13th, 2011
Dateline Wasilla:
The Mat-Su Valley Frontiersman reports today that the principal of Wasilla High School told members of the school's symphonic jazz choir that they would not be allowed to perform the 1975 Queen song "Bohemian Rhapsody" because Freddy Mercury, who wrote it, was gay.

In the face of student protests, and fearing ACLU involvement, the principal backed down–to a point.

The choir will be allowed to perform the song, but only in a censored version, without lyrics the principal deems objectionable.
In a lame face-saving move, principal Dwight Probasco decided to compromise by banning the lyrics about the singer having "just killed a man." No word on whether "We Will Rock You" and "We Are The Champions" are allowed at hockey games. Joe McGinniss is having a field day on his blog, including a "separated at birth" photo of Probasco alongside Elton John that you absolutely have to see. His commenters are also getting in the spirit, including one Sandra Tompkins who re-wrote the lyrics of "Bohemian Rhapsody" just for Wasilla and its favorite daughter. It totally needs to go viral:
Click here to sing along to "Wasillian Rhapsody."
All My Children cancelled
Timothy Kincaid
April 14th, 2011
The era of the soap opera is closing. And one of the longest running 'daytime dramas' is calling it quits. (NYTimes)
The demise of one of broadcasting's oldest institutions, the daytime soap opera, crept closer Thursday as ABC announced it would end two of its long-running daily serial dramas, "All My Children" and "One Life to Live."
At some point in the late 80's I found myself subjected to All My Children and was won over by the campiness of the histrionic dialogue and wacky plotlines (though it did not survive the breakup). But AMC was not just a the mid-West housewife's vicariously lived decadent tromp though heterosexual fantasy and lust. It also addressed social issues and conflicts that were going on in the real world.
And although the show had in the 80's introduced a brief gay plot arc, in 2000 it took a step that was at the time rather risky. They decided to include a major lesbian character, choosing Bianca Montgomery, the daughter of the show's leading star, Erica Kane. Although Bianca had not been before this time a daily recurring character, her string of appearances since 1988 had made her a part of the AMC family and lore and a risky asset to gamble with.
The gamble proved to be a winner. Portrayed by Eden Riegel, who used the example of her lesbian sister to avoid one-note stereotypes, Bianca was embraced by AMC's followers. Her contributions to the drama lasted far beyond that of coming out to the never-understated Erica Kane and became an unqualified success with a 'controversial' daytime kiss, rape (and resulting pregnancy), kidnapping, killing her rapist, marriage (which reminded viewers that people like their friend Bianca had to travel out of state to marry), romance with a transgender character, and the usual entangled confusion and general wackiness.
And, predictably, anti-gay activists overplayed their hand. Rather than reach a demographic that might have shared their uneasiness with a lesbian plotline, their vitriol towards the show backfired and viewers become defensive of Bianca. The drama surrounding the kidnapping of her child had middle-America tremendously invested in Bianca getting her kid back. (NYTimes)
Megan McTavish, the show's head writer, said she was most astonished that fans elevated Bianca into one of the serial's "tent poles" – soap parlance for characters who hold enormous sway with viewers.

"If a character is nice to Bianca, the audience tends to like that character, and if he is mean to Bianca the audience knows he's a bad guy," Ms. McTavish said. "It's stunning. The lesbian girl became the moral tent pole of our show."
But perhaps not all that surprising for a genre that in which deception, adultery, murder and evil twins are the staples on which all plot lines revolve.
All My Children's final episode in September will also bring to an end the story of Erica Kane Martin Brent Cudahay Chandler (Roy Montgomery) Marick Montgomery, probably the best known of all soap characters. And with it the reign of Susan Lucci as queen of soaps.
Most actors consider soaps to be a stepping stone. But Lucci, who appears to be a genuinely decent person, chose to stay in the genre because her priority was to be home every night to have dinner with her family. And the soap world rewarded her loyalty. A 41 year run and 21 Emmy nominations (with, famously, 20 losses) is not bad for a woman with no discernible acting ability.
And that may be an asset. What makes Erica Kane bearable, even adored, is that behind all of Kane's scheming and conniving is Lucci, whose niceness can't help bleeding through. Asked last year about her "favorite moments" Lucci said,
I'm so proud to have been part of the storyline where Bianca came out to her mother, Erica. There are gay kids in this country who commit suicide rather than tell their parents who they really are. They feel their parents won't love them anymore.

In this medium, we could tell the story from everybody's point of view with respect to people actually going through this. And I felt very proud to be a part of that.
And we should not fail to recognize the value of many Americans who shared in the experience. Some had known Erica all of their lives and their daily hour in Pine Valley was a relationship more enduring and constant than any other. Erica's journey to acceptance and support was their own.
It does seem odd to me that AMC will be gone. It's one of those constants you never think about but are surprised and saddened when it's gone. It reminds you that the world is changing and making room for newer generations who don't have as much use for daring attempts at prison breakouts dangling from a helicopter in a wedding dress and heels.
In the announcement, ABC included the promise that to honor the passionate fans of each show, they will "conclude in a manner that respects their legacies and the longstanding hopes of many of their viewers."
Personally, my hope is that in a moment of inspired insanity Erica manages to kill the entire population of Pine Valley by poisoning her makeup line – before walking giggling into the sunset. It is a soap opera, you know.
"My high school boyfriend was gay"
Jim Burroway
March 31st, 2011
A Tumblr of photos submitted by women of their former dates.
Assaults on Straight Marriages Have Begun
Jim Burroway
February 28th, 2011
"It was just awful—they smashed through our living room window, one of them said 'I've had my eye on you, Roger,' and then they dragged my husband off kicking and screaming," said Cleveland-area homemaker Rita Ellington, one of the latest victims whose defenseless marriage was overrun by the hordes of battle-ready gays…
The Onion has the scoop.
A Cure for Homophobia
Jim Burroway
February 23rd, 2011
The Onion, naturally, has the scoop:
 "Rather than avoid one's fear of homosexual men, we believe it's crucial to face it head on," behavioral psychologist Dr. Dolph Kleineman told reporters, explaining how homophobic subjects are hooked up to a harness and lowered into a room containing bare-chested men dancing suggestively to the latest club hits, kissing, and feeding one another strawberries.