300 Employers Urge SCOTUS to Declare DOMA Unconstitutional
Jim Burroway
February 27th, 2013
More than 200 businesses, a couple score of law firms, sixteen civic, professional and trade groups, seventeen cities and counties and the United States Conference of mayors — the short list of signatories runs six pages alone — have signed on to an Amicus brief urging the U.S. Supreme Court to declare Section 3 of the Defense of Marriage Act unconstitutional. The brief, filed in support of Edith Windsor in Windsor v. U.S. (which is now available online), argues that DOMA "impairs employer/employee relations and other business interests":
Federal law provides to the working family many benefits and protections relating to health care, pro-tected leave, and retirement. These protections provide security and support to an employee grappling with sickness, disability, childcare, family crisis, or retirement, allowing the employee to devote more focus and attention to his work.

DOMA thwarts these employee expectations, to the direct detriment of some married employees of amici , and, by extension, of amici ourselves. As set forth below, DOMA forces amici to consider the gender of the spouses of our lawfully married employees when determining the scope and manner of benefits that may be extended to those spouses (and the chil-dren of those spouses). DOMA enforces discriminatory tax treatment of spousal retirement and health care benefits. In many other benefit-related matters,amici may incur the cost and administrative burden of "workarounds" (employer-created benefit structures attempting to compensate for the discriminatory effects of DOMA), or leave the married workforce in separate castes.
Having states recognizing same-sex marriages while the Federal government willfully ignores those legal marriage produces a costly burden to employers:
These dual regimes have spawned an industry of costly compliance specialists. Some amici have had to pay vendors to reprogram benefits and payroll systems, to add coding to reconcile different tax and benefit treatments, to reconfigure at every benefit and coverage level, and to revisit all of these modifications with every change in tax or ERISA laws for potential DOMA impact. Attorneys and ERISA advisors must be consulted. Human resources, benefits,and payroll personnel must be trained and retrained as tax or ERISA laws change. Plan documents, enrollment forms, and administrative procedures must be scoured for the word "spouse," and amendments and disclosures drafted to try to explain the numerous implications and consequences of a given benefits decision on the personal tax situation of an employee with a same-sex spouse. Enrollment systems must be reprogrammed to account for different spousal circumstances, and linked to provider records to ensure the providers extend appropriate coverage. Benefits and human resources departments, facing questions from employees with same-sex spouses regarding workplace benefit selections and coverage, must be adequately trained and prepared to explain the disparate treatment to employees who may later realize (perhaps too late) that their benefits choices and decisions carried unanticipated and significant financial implications. The complexity and uncertainty saps critical time, focus, and energy from the human resources and benefits administration function.
The second part of the brief goes the heart of the matter, that DOMA forces employers to "become the face of its mandate that two separate castes of married persons be identified and separately treated.":
In the modern workplace, the employer becomes the face of DOMA's discriminatory treatment, and is placed in the role of intrusive inquisitor, imputer of taxable income, and withholder of benefits. The employer is thus forced by DOMA to participate in the injury of its own workforce morale. Yale University's error in administering DOMA, and its implementation of unexpected tax withholding against employees married to same-sex spouses in 2011, cast the university as the antagonist to its own employees. Many amici, as employers, provide certain workarounds that attempt to address some of the disparate treatment of same-sex couples that DOMA requires. Many amici that are cities and counties have gone even farther, making substantial efforts to prevent discrimination against same-sex couples, up to and including passing anti-discrimination ordinances and amending city charters to outlaw discrimination against same-sex couples. Administering and implementing DOMA subverts efforts to eliminate obstacles to full legal recognition for employees who have lawfully entered into committed relationships with persons of the same sex.

…For many employers, DOMA does violence to the morale of the institution itself. Like other persons, legal and natural, amici are motivated by core principles. As of December 2012, 88% of Fortune 500 companies provided nondiscrimination protection for their gay and lesbian employees. …These principles spring from hard experience. Our organizations are engaged in national and international competition — for talent, customers, and business. That competition demands teamwork, and teamwork thrives when the organization minimizes distracting differences, and focuses on a common mission. DOMA's core mandate — that we single out some of our married colleagues and treat them as a lesser class — upsets this imperative.

Our principles are not platitudes. Our mission statements are not simply plaques in the lobby. Statements of principle are our agenda for success: born of experience, tested in laboratory, factory, and office, attuned to competition. Our principles reflect, in the truest sense, our business judgment. By force of law, DOMA rescinds that judgment and directs that we renounce these principles or, worse yet, betray them.
Earlier today, it was announced that more than sixty businesses have submitted a brief to the U.S. Supreme Court urging it to declare California's Prop 8 unconstitutional. While I haven't been able to find the full text of that brief, it appears that at least some of the arguments made there are repeated here. That brief argued that Prop 8 "leave(s) companies in the untenable position of being compelled implicitly to endorse the second-class status to which their gay and lesbian employees, clients, customers, and business associates are relegated. …Until the law no longer relegates same-sex couples to second-class status as inferior "domestic partnerships," our adherence to the law compels us to abide by a distinction that stigmatizes and dehumanizes gay men and lesbians."
Signatories to the Windsor brief includes many of America's top companies and brands, including Aetna, Alaska Airlines, Amazon.com, AIG, Apple, A|X Armani Exchange, BNY Mellon, Bankers Trust, BlackRock, Caesars Entertainment, CBS, Cisco, Citigroup, The Corcoran Group, Coupons.com, Deutche Bank, eBay, Earnst & Young, Facebook, Goldman Sachs, Google, Horizon Air, Intel, Intuit, JetBlue, the Jim Henson Company, Johnson & Johnson, Levi Strauss, Liberty Mutual, Marriot International, Mars, McGraw-Hill, Microsoft, Moody's, Morgan Stanley, New York Life, Nike, Oracle, Orbitz, Pfizer, Qualcomm, REI, salesforce.com, Starbucks, Thomson Reuters, Twitter, Viacom, Walt Disney, and Xerox. That is just a short list of the big names. There are about 300 more. I look forward to the American Family Association's next boycott announcement.
Tags:
Amazon.com
,
Apple
,
Defense of Marriage Act
,
Disney
,
Facebook
,
Google
,
Levi's
,
Marriot
,
Microsoft
,
Orbitz
,
Starbucks
,
Twitter
,
Windsor v US
COMMENT (1)
|
LINK
NOM's takes 'dump' nationwide
Timothy Kincaid
July 2nd, 2012
The National Organization for Marriage has exciting news about their very successful "dump" campaigns. Although it may have about 20,000 stores, Starbucks will soon be feeling the bite of NOM's reach and influence. In addition to the 45,342 people who have pledged not to buy Starbucks are the grandchildren and bingo partners of these dedicated souls who will not receive Starbucks giftcards this Christmas. And with press coverage in many newspapers and Sunday inserts, their dump efforts have gotten tremendous visibility.


In a move that is certain to severely cut into the profits of Starbucks, NOM has announced an alternative to the ubiquitous coffee house: Jitters and Bliss coffee. Now when you feel an urge for a caramel macchiato, instead of dropping in to a Starbuck you can instead go online and order a tin of coffee (comparably priced to Starbucks), wait for it to be delivered (shipping free with $50 purchase), brew it up, and enjoy a delicious cup of coffee free from the guilt of supporting the homosexual agenda. And best of all, that cup of coffee will taste twice as blissful after a week or two of no-caffeine jitters.
More recently, NOM is now charging at the front of a vast cavalcade of boycotters who have vowed to go without General Mills products. That's right, no Haagen-Dazs, Pillsbury, or Green Giant for them. (Star Tribune)
Minnesota for Marriage leaders are heading into the summer months with a dogged focus on keeping supporters energized and pushing back hard if other Minnesota businesses surface to oppose the amendment.

When General Mills stepped into the fray, Minnesota for Marriage immediately issued news releases that said "the Green Giant, Lucky Charms, Cinnamon Toast Crunch, Kix and Trix have all declared war on Marriage" and that the company was promoting "genderless marriage."
Not limiting itself to Minnesota, NOM now has 17,764 signatures on the pledge (up from 14,714 on the 28th) and the Fortune 500 company is no doubt seriously regretting its decision to pander to same-sex marriage activists and support that radical social agenda. These true marriage defenders have sworn to 'look for alternatives' to the General Mills products, whenever convenient and economically feasible (families are hurting in this Obamaconomy). And although more than 80,000 have signed a petition thanking General Mills for their position, it is strongly suspected that some of those signers are not traditional families anyway, and are not really the food company's target market.
And the campaign is growing daily. With more and more businesses pledging their endorsement of immorality, NOM has an ever increasing opportunity to stand for righteousness. In fact, just today NOM has been apprised of an opportunity that cannot be missed. Finally, NOM has irrefutable evidence that Microsoft's profits fund the radical redefinition of marriage. (Seattle Times)
Microsoft Corp. CEO Steve Ballmer and co-founder Bill Gates have each donated $100,000 to the campaign supporting the state's new gay marriage law, which faces a referendum vote in November.

Zach Silk, campaign manager for Washington United for Marriage, said Monday that the checks were cut Friday and are being reported to the state Public Disclosure Commission on Monday afternoon.

"It's going to make a tremendous difference," Silk said. "It's very important for us to have that broad support from business leaders and companies themselves."
We are confident that NOM will soon announce a full-on boycott of all of Microsoft's products. But they will not be reactionary – recognizing that Apple gave money to oppose Proposition 8, NOM will boldly stand against these both of these two empires of evil and cease using any products or software from either of these companies.
Perhaps as early as today. Or tomorrow. Or maybe next week (strategery takes time), next month, or the second Tuesday in August of 2028. But definitely sometime very very soon they will stand up and show Microsoft and Apple just what happens when you dare to stand against those who fight for marriage, family, and blind obedience to Catholic teaching.
Thank You, Microsoft
Timothy Kincaid
October 6th, 2009
Microsoft Corp. has donated $100,000 to Washington Families Standing Together, the campaign seeking through Referendum 71 to retain the latest expansion of the state's domestic partnership law, up for a public vote on Nov. 3. The domestic partnership law extends marriage-like state benefits to gay and some senior couples.
Ken Hutcherson must be having a conniption.
Hutcherson Reboots His Microsoft Project
Jim Burroway
January 7th, 2008
When last we checked in on this strange saga, Watchmen On the Walls co-founder Ken Hutcherson appeared before a Microsoft shareholders meeting threatening that if they didn't drop their support for equal treatment of LGBT employees, he'd become their "worst nightmare." Soon after, we learned that Hutcherson plans to pack Microsoft shareholders with like-minded investors. Today, the Seattle Post-Intelligencer reports that Hutcherson has a new financial venture to support this effort:
Hutcherson, joined by some of the country's most influential Christian leaders, has created a new organization, AGN Financial Network, to finance the effort. The worldwide venture asks people to buy three shares of company stock, and donate one to AGN. Its Web site tells visitors, "You have the power to change the world," and contains tips on how to open a brokerage account. Among the listed supporters are Richard Land of the Southern Baptist Convention and religious pundit Gary Bauer.

"We're not trying to hurt Microsoft or their shareholders, nor are we calling for a boycott of their products," volunteer spokesman Dennis Sullivan said. "We are trying to get Christians to buy their shares."
When we first reported on this plan, we did the math on what it would require to take over a $318 billion company. Not an easy did thing to do. The Post-Intelligencer also ran the numbers:
It would be difficult to influence company direction — just to gain a 1 percent stake in Microsoft, about 31 million people would each have to spend $104 to buy three shares. Microsoft has about 9.36 billion outstanding shares, and its largest holder is Chairman Bill Gates, with 858 million shares, or 9 percent of the total. Capital Research and Management Co. follows with nearly 557 million shares, or 6 percent.
Interestingly, Hutcherson thinks that Microsoft should confine its policies to "within its four walls," and that they should have no voice in public policy whatsoever. Hutcherson also thinks he is exempt from that same principle:
Hutcherson said it's not Microsoft's job to influence the public agenda, and that it should be left to others, like him.

"That's what my job is," he said. "I'm a pastor."
Some people seem to think the First Amendment doesn't apply to everyone.
Hutcherson's Plan For Microsoft: A Hostile "Christian" Takeover
Jim Burroway
November 16th, 2007
So we already told you about Pastor Ken Hutcherson's bluster before Microsoft shareholders last Tuesday, where he threatened the company with a "firestorm" if they don't change their nondiscrimination policies. Hutcherson was later reminded hat Microsoft's policies were affirmed by 97 percent of the shareholders last year. So what's a Watchman to do?
Well it looks like Hutcherson wants to take over Microsoft by packing it with new shareholders who will vote Hutcherson's way. So let's see… There are about 9.35 billion shares of Microsoft stock outstanding. And since stock is hovering around $34 per share, that represents a market capitalization of some $318 billion. For a man who can't even collect enough signatures in two attempts to get an innitiative placed on the Washington state ballot to overturn that state's anti-discrimination laws, that looks like a pretty tall order.
Hutcherson Threatens Microsoft; Microsoft Not Impressed
Jim Burroway
November 16th, 2007
Rev. Ken Hutcherson, pastor of Antioch Bible Church and one of the founders of Watchmen On the Walls, decided to drag his bullying pulpit to Mircosoft's annual shareholder meeting. You may recall that in Hutcherson persuaded Microsoft to withdraw its an employment anti-discrimination bill that was before the Washington state legislature which would have made it illegal to fire an employee due to their sexual orientation.  Without Microsoft's support, the bill was narrowly defeated.
A few weeks later, after furious protests from LGBT people from around the world and by Microsoft's own LGBT employee group, the company reversed itself and promised to support anti-discrimination legislation in the future. In January 2006, the bill came up again in the Washington legislature. This time it passed both houses of the legislature and was signed into law on January 31, 2006.
Hutcherson has been taking this defeat very personally since then. He twice tried to place a referrendum on the ballot to overturn the anti-discrimination law. Both time he failed to gather the required number of signatures. He has also threatened to launch a boycott of Microsoft, but so far talk of boycotts have been just that: talk.
And so to keep the bluster going, Hutcherson went to Tuesday's Microsoft shareholder's meeting where he issued another empty threat: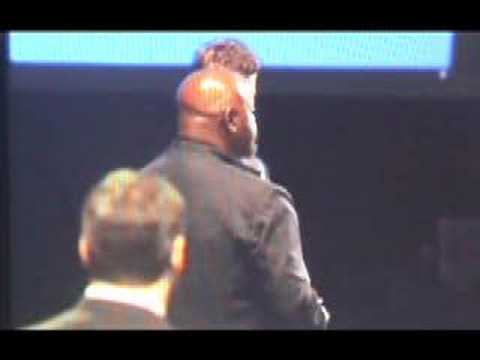 QUESTION: Good morning. My name is Ken Hutcherson. I want to ask a couple of brief questions, no answers necessary. This is really letting you know, that do you know the greatest firestorm as stockholders is coming towards the corporations for the cost of taking up the fight that Christians, Evangelicals, Catholics, Jews, and Muslims have stood against for years, and the second thing is the reason why this firestorm is coming is because I came to Brad Smith and Stafford Mays, who works in Diversity. We had worked out a plan to work together to improve our community. Thank you, Brad, for that opportunity. Thank you, Stafford, for that opportunity. And Mr. Steve Ballmer, CEO, stood and called me a liar. Thus, we are putting together one of the largest, one of the most powerful groups to come to deal with Microsoft on issues that we believe is hurting our society. And the reason why we are excited about this is because we know that we have the power behind us.

And as I close, I would like to let you know that sometimes our love to work with you as a partner to improve our community, that fails; thus, we have to come another way, and I am probably one of the worst nightmares that this corporation can have. I'm a black man with a righteous cause, with a great deal and a whole host of powerful white people behind me. I hope to hear from you so we can work together. If not, you will be hearing from me again. Thank you.

CHRIS LIDDELL: Thank you, Mr. Hutchison. I'll ask if there are any other questions from the floor. I believe there's one over there. Someone can you take a microphone there. Number three, thank you.
In the official company video at about the 51:42 mark (unfortunately the YouTube video above cuts off well before then), another shareholder rose to speak:
QUESTION: I own over 1,000 shares, and I also represent an investment club with many more shares. My question is for any particular person, it doesn't matter. What can shareholders do to support the corporation in opposition against hurtful, and hateful constituent actions, particularly and specifically Reverend Hutcherson? (Applause.)

BRAD SMITH: As a company we've had a clear policy with respect to the way we treat our people. And we believe in that policy. It's a policy that's founded on non-discrimination. It's a policy that we believe has served our employees well, it's served our shareholders well, and I think that reflected last year when all of our shareholders were asked to vote on that policy, and over 97 percent of you, and all of our other shareholders, stood up and agreed with us. I think that it is precisely in that form that shareholders had the opportunity to continue to make their views known, and we very much appreciate that support.
Hutcherson's bluster seems to have fallen with a hard thud. What do you think his next move will be? Switch his support to Apple?
Update: No, his next move is even more outlandish. He actually thinks he can take over Microsoft.