Hutcherson Threatens Microsoft; Microsoft Not Impressed
Jim Burroway
November 16th, 2007
Rev. Ken Hutcherson, pastor of Antioch Bible Church and one of the founders of Watchmen On the Walls, decided to drag his bullying pulpit to Mircosoft's annual shareholder meeting. You may recall that in Hutcherson persuaded Microsoft to withdraw its an employment anti-discrimination bill that was before the Washington state legislature which would have made it illegal to fire an employee due to their sexual orientation.  Without Microsoft's support, the bill was narrowly defeated.
A few weeks later, after furious protests from LGBT people from around the world and by Microsoft's own LGBT employee group, the company reversed itself and promised to support anti-discrimination legislation in the future. In January 2006, the bill came up again in the Washington legislature. This time it passed both houses of the legislature and was signed into law on January 31, 2006.
Hutcherson has been taking this defeat very personally since then. He twice tried to place a referrendum on the ballot to overturn the anti-discrimination law. Both time he failed to gather the required number of signatures. He has also threatened to launch a boycott of Microsoft, but so far talk of boycotts have been just that: talk.
And so to keep the bluster going, Hutcherson went to Tuesday's Microsoft shareholder's meeting where he issued another empty threat: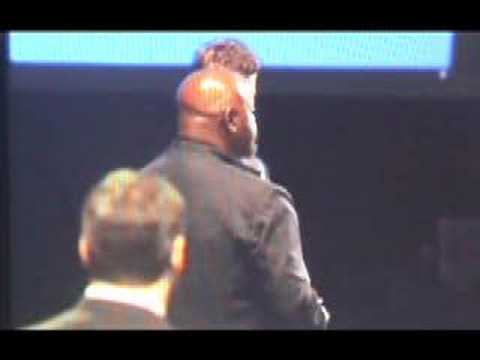 QUESTION: Good morning. My name is Ken Hutcherson. I want to ask a couple of brief questions, no answers necessary. This is really letting you know, that do you know the greatest firestorm as stockholders is coming towards the corporations for the cost of taking up the fight that Christians, Evangelicals, Catholics, Jews, and Muslims have stood against for years, and the second thing is the reason why this firestorm is coming is because I came to Brad Smith and Stafford Mays, who works in Diversity. We had worked out a plan to work together to improve our community. Thank you, Brad, for that opportunity. Thank you, Stafford, for that opportunity. And Mr. Steve Ballmer, CEO, stood and called me a liar. Thus, we are putting together one of the largest, one of the most powerful groups to come to deal with Microsoft on issues that we believe is hurting our society. And the reason why we are excited about this is because we know that we have the power behind us.

And as I close, I would like to let you know that sometimes our love to work with you as a partner to improve our community, that fails; thus, we have to come another way, and I am probably one of the worst nightmares that this corporation can have. I'm a black man with a righteous cause, with a great deal and a whole host of powerful white people behind me. I hope to hear from you so we can work together. If not, you will be hearing from me again. Thank you.

CHRIS LIDDELL: Thank you, Mr. Hutchison. I'll ask if there are any other questions from the floor. I believe there's one over there. Someone can you take a microphone there. Number three, thank you.
In the official company video at about the 51:42 mark (unfortunately the YouTube video above cuts off well before then), another shareholder rose to speak:
QUESTION: I own over 1,000 shares, and I also represent an investment club with many more shares. My question is for any particular person, it doesn't matter. What can shareholders do to support the corporation in opposition against hurtful, and hateful constituent actions, particularly and specifically Reverend Hutcherson? (Applause.)

BRAD SMITH: As a company we've had a clear policy with respect to the way we treat our people. And we believe in that policy. It's a policy that's founded on non-discrimination. It's a policy that we believe has served our employees well, it's served our shareholders well, and I think that reflected last year when all of our shareholders were asked to vote on that policy, and over 97 percent of you, and all of our other shareholders, stood up and agreed with us. I think that it is precisely in that form that shareholders had the opportunity to continue to make their views known, and we very much appreciate that support.
Hutcherson's bluster seems to have fallen with a hard thud. What do you think his next move will be? Switch his support to Apple?
Update: No, his next move is even more outlandish. He actually thinks he can take over Microsoft.
Comments