Follow the Money: Catholic Groups Emerge As Largest Donors In Marriage Battles
Jim Burroway
October 18th, 2012
Simultaneous to Equally Blessed's report on the Knights of Columbus' extensive donations against marriage equality since 2005, the Human Rights Campaign released its tabulations of contributions to the four 2012 battleground states in which marriage proposals are on the ballot. According to the HRC's calculations, the Catholic Church and its affiliate organizations are providing more than half of the funds that have been raised so far against marriage equality in each of the four battleground states.
The major sources of funding include various dioceses and parishes of the Catholic Church itself, the Catholic charitable organization the Knights of Columbus, and the National Organization for Marriage, which has extensive ties to the Catholic hierarchy. The breakdown of Catholic spending against marriage equality in 2012 goes like this:
Minnesota: Of the nearly $1.2 million raised so far, $600,000 has come from the Minnesota Catholic Conference Marriage Defense fund, $135,000 from the Knights of Columbus and its local chapters, $188,200 from Catholic dioceses and parishes across the nation, and $23,000 from NOM. Nearly 78% of Minnesota's anti-marriage funding has come from Catholic sources.
Maryland: Of the $855,00 raised so far, $250,000 has come from the Knights of Columbus, $400,000 from NOM, and $12,000 from the Maryland Catholic Conference. About 77% of Maryland's anti-marriage funding has come from Catholic sources.
Washington: Of the 1.6 million raised so far, $675,939 has come from NOM, $250,000 from the Knights of Columbus, another $4,000 from a local Knights chapter, $5,000 from St. Monica Parish. About 58% of Washington's anti-marriage funding has come from Catholic sources.
Maine: Of the $446,317 raised so far, $263,324 has come from NOM, and $1,135 from the Knights of Columbus. About 59% of Maine's anti-marriage funding has come from those two sources.
These activities contrast sharply to public opinion polls which show that Roman Catholics increasingly support marriage quality for gays and lesbians. A Public Religion Research Poll in 2011 showed that nearly three quarters of self-identified Roman Catholics support civil recognition of marriage or civil unions, with 64% of weekly churchgoing Catholics holding that same opinion. In 2012, Catholic support for marriage equality has risen noticeably, particularly when the question is framed in terms of civil marriage. When same-sex marriage is defined as a civil marriage "like you get at city hall," Catholic support for allowing gay couples to marry increases by 28 points, from 43% to 71%. (This large jump is undoubtedly due to the fact that Catholics — divorced Catholics in particular — are very attuned to the distinction between a civil marriage and a church marriage.) This latest data demonstrates a growing divide between lay Catholics and the actions of the Catholic Church and its affiliated institutions.
NOM is DESPERATE for small donors
Timothy Kincaid
October 8th, 2012
We have long known that the National Organization for Marriage has been funded by a small handful of very significant donors. What I suspect is that once the nature of these donors is known and affiliates eliminated, it may turn out to just be one or two entities.
Whether it is the case that NOM is nothing other than a front for the Roman Catholic Church or it turns out that the few donors are all unrelated, they most definitely want to keep their identity secret. They have been fighting tooth and toenail to fund anti-gay campaigns without the public finding out who is behind their facade.
But they may be recognizing that their deception is about to come to an end. Although they are blustering and making absurd claims about the ruling, it seems that the State of Maine is going to finally be able to identify who has been dumping money into their state in hopes of denying gay Mainers their civil rights.
And NOM is running scared. They need to dilute their donor base as quickly as possible with as many small donors and individuals as possible.
The first indication of this effort was their oddly named Keep the Republic and Marriage website. They appealed to the pride of "traditional marriage" supporters and called for them to add their name (and make a donation). But in the week since launching the effort, they have 138 names. If you back out two blank names, Danilo Ramirez (who put his name down five times), and the employees/board of NOM, you end up with only maybe 125 donors. Not good.
So now they've doubled down. Literally.
I'm familiar with "matching grants", where a donor agrees to match every dollar that is pledged during a set period. But I don't think I've ever seen a double-matching grant, where for every dollar given a single donor gives two. But that's what NOM is doing.
That's right! Your gift of $50 will result in $150 to NOM. $100 becomes $300. $500 turns into $1,500. And if we reach our goal of $1,000,000, NOM will receive a total of $3,000,000 to protect marriage from Obama and his friends in the homosexual lobby!
They have a grand total of less than $80,000 in small donor dollars. And they have multi-millions to spend. They are desperate to say "we have thousands of donors and the average gift is $150″. And it doesn't look like they are going to be able to do anything close to that.
NOM has 112 supporters
Timothy Kincaid
October 1st, 2012
The National Organization for Marriage has launched a new website for the purpose of, well I have no idea what the purpose of this endeavor might be. They say that it has something to do with intimidation and threat and is the result of Dan Cathy being criticized for his vile comments:
Therefore, we seek the courageous affirmation of your beliefs regarding both marriage and liberty. With our signatures below and personal contributions to the National Organization for Marriage, we commit ourselves to stopping the downward spiral of intimidation and fear threatening hard-won American liberties and the institution of marriage. We hope our widening base of public and financial support will embolden many fellow Americans to join us in the campaign to preserve both our form of government and the institution of marriage.
For some reason they've decided on the rather awkward "Keep the Republic and Marriage" as the name of their latest endeavor. I wonder if they intentionally went with something that sounds like "keep the Republican marriage"? In any case, I think it's an odd choice for an odd venture.
It's a bit difficult to figure out just what they are trying to do here. I guess that having lost all attempts at keeping their donors hidden, they thought they'd try and confuse the fact that they are an organization almost entirely funded by a tiny handful of very wealthy donors. So they are encouraging people to "widen their base of financial support" in order to change the subject.
"Even though donors to NOM are not subject to public disclosure [a flatly false statement], a number of our donors wanted to show that they would not be bullied and were not afraid to publicly proclaim their support for NOM as a way of encouraging others to publicly stand up to support marriage," said Brian Brown, NOM's president. "These key donors were inspired by the courage of Dan Cathy, CEO of Chick-Fil-A, who resolutely told Americans that he unabashedly believed in God's design for marriage as the union of one man and one woman."
I doubt the wisdom in the decision to make this site a listing of their supporters (other than the ones whom they have been fighting tooth and toenail to hide). Their "dump" programs didn't go so well, with neither boycott reaching 50,000. I can't imagine that this one, requiring a donation, will do much better. And ultimately they will only succeed in putting an upper-end number on their total support base.
Right now, they've done nothing more with the site than give me the opportunity to note that NOM has 112 supporters.
No Supreme Court Action on Prop 8, DOMA Cases; NOM's Finance Disclosure Appeal Denied (Again)
Jim Burroway
October 1st, 2012
The orders page is out for today, with no mention of the Prop 8 case (Hollingsworth v. Perry) or the Defense of Marriage Act Challenge (Windsor v. US). Which means that the court has neither denied nor granted cert to review the cases. There is increasing speculation that the court may not take action on these cases until November when at least three more cases challenging DOMA will be available for review by the Justices.
There are two other LGBT related cases before the court. Diaz v. Brewer, challenging Arizona Gov. Jan Brewer's attempt to withdraw domestic partner benefits from state employees. The court has taken no action on that case yet
But in National Organization for Marriage v. McKee, in which NOM is again trying to get the Supreme Court's attention in its efforts to circumvent Maine's finance disclosure laws, the supreme court denied NOM's request for certiorari. The Supreme Court refused to hear an earlier similar challenge from NOM in February.
NOM Bears False Witness
Rob Tisinai
September 28th, 2012
Just a quick one today. NOM reports that:
In Minnesota, the people's continued success in fighting for marriage is provoking some among the opposition to vandalize churches. Yes, sad—but true, as the media reports: "Police are searching for the person responsible for vandalizing multiple churches in Buffalo, Minn., over the weekend."
That link leads to a story about a man who vandalized churches and left messages depicting Jesus as gay. But NOM fails, of course, to tell its followers this statement from Chief of Police Mitchell Weinzetl:
"The suspect explained that he was motivated to commit these acts due to his anger with God over personal issues; there was no mention of, nor any indication of, political motivations to the suspect's actions," Weinzetl said Wednesday night. [NOM posted its message Friday afternoon.]
And also this:
Weinzetl declined to give specific examples of what the messages contained, other than to characterize them as "inflammatory" and add that "the word gay is mentioned, and there are other terms mentioned that would be derogatory to people of a homosexual nature. … And it probably doesn't take a genius to figure out what those words may be."
So a man who hates God attacked a bunch of churches for opposing gay marriage, even though he hates gays? How is NOM going to reconcile that contradiction to its readers?
Wait, I covered that above: NOM simply won't tell them.
You might wonder why I keep debunking these. NOM lies so much, can't we just take that for granted? No. Because every time NOM does this — every time it falsely claims religious persecution — they're demonstrating their paucity of genuine evidence. Every time they do this, they prove that they are wrong.
And finally there's this: the email version of their message contains two DONATE NOW buttons. At some point, perhaps, we can hold them accountable for repeatedly defrauding their donors.
Supreme Court Declines Prop 8, DOMA Cases For Now
Jim Burroway
September 25th, 2012
The U.S. Supreme Court has issued its Orders List (PDF: 136KB/10 pages) following yesterday's conference session in which it was scheduled to consider whether to hear four LGBT-related cases. Today's Order list indicates that the Supreme Court has agreed to accept six pending case, but the appeal of Hollingsworth v. Perry — the new name for Perry v. Brown, which itself was previously Perry v. Schwarzenegger, challenging the constitutionality of California's Proposition 8 — was not on the list.
It's not clear yet though that this means that the Prop 8 case was rejected by the court. We won't learn that until next Monday, when the Supreme Court will issue a list of cases it has decided not to hear this term. If Hollingsworth v. Perry is on that list, then the Ninth Circuit Court of Appeals' decision striking down Proposition 8 as unconstitutional will stand and California's same-sex couples will have their marriage rights restored. But if Hollingsworth v. Perry is not on that list, then it means that the Supreme Court is still weighing whether to accept the case. It takes four justices to agree on hearing a case before it is accepted by the court.
The court also held off accepting the appeal of Windsor v. USA, which challenges the constitutionality of Section 3 of the Defense of Marriage Act. This case was brought by the American Civil Liberties Union on behal of Edie Windsor, who is required to pay $363,000 in federal estate taxes following the death of her legally-wedded wife in 2007. If she had been in an opposite-sex marriage, her estate tax bill would have been zero. Four other DOMA challenges are making their way through the Appeals courts, and the U.S. Department of Justice has asked the Supreme Court to hear three of those cases along with Windsor for a more comprehensive look at DOMA's constitutionality.
The court has also, so far, declined to accept two other LGBT-related cases. In Diaz v. Brewer, the Ninth Circuit Court of Appeals decided that Arizona's Republican Gov. Jan Brewer cannot withdraw domestic parner benefits from state employees without violating the Constitution's Equal Protection clause. And in National Organization for Marriage v. McKee, NOM is again trying to get the Supreme Court's attention in its efforts to circumvent Maine's finance disclosure laws. The Supreme Court refused to hear an earlier challenge from NOM in February.
Klassy klassy NOM removes list of endorsed candidates
Timothy Kincaid
September 14th, 2012
Earlier tonight the National Organization for Marriage had a posted list of candidates in New York whom they encouraged their followers to support. I went to double check to see if NOM was as much the kiss of death as they usually are … but just like magic that list had disappeared. Poof.
Oh NOM, you're so klassy, you must be a Kardashian.
NY primaries pit anti-gay Republicans against pro-gay incumbents
Timothy Kincaid
September 13th, 2012
There's nothing that angers an anti-gay more than a pro-gay Republican. They consider it traitorous for someone who runs as a conservative or a Republican to vote for equality and they vow revenge.
The National Organization for Marriage has, for example, made it a high priority to "punish" those Republican legislators that voted for marriage equality. The top article in the NOM blog today is:
We promised that we would hold accountable all the politicians in Albany who betrayed us on marriage. We have delivered on our promise to not let the actions of those who flip-flopped and voted against the will of the people be forgotten.

We have fought the good fight, in the name of honor and integrity across New York State—but today we need your help to finish the job!

Today is Primary Day in New York.
But NOM is not alone. Primary opponents too have taken up marriage as an Alamo cause. Though perhaps not exactly wisely.
One rabble rouser who wants to see Sen. Grisanti replaced decided that the smart way to attract people to his arguments is to email them gay porn. Matthew Ricchiazzi, some bisexual dude who unsuccessfully ran for Buffalo mayor (and who evidently opposes equality) sent out this:
Yeah, that wouldn't have been my first choice of campaign literature but I get the impression that he's not very bright.
And then there was Juan Reyes who decided that Republican NY city councilman Eric Ulrich was too friendly with gay people. So he sent out this:
That didn't exactly go as planned. As a result, Rudy Guiliani, who had stayed out of the race, endorsed Elrich.
After seeing what his campaign has done, which is disgusting, Juan doesn't belong in politics. I don't know where he belongs, but he belongs someplace else… I find these attacks, the gay-bashing attacks, childish, silly, and a real indication you don't belong in public service.
It will be interesting to see how the primary goes.
UPDATE: Both Grisanti And Ulrich won their primary races tonight.
"Two gay guys walk into a mosque… they were never heard from again!" Ha, ha ha! (Undercover at NOM)
Rob Tisinai
August 28th, 2012
Carlos Maza attended a weekend conference on defending "natural marriage" sponsored by NOM. It's a sad, infuriating, and frightening account, giving the lie to NOM's claim that they aren't anti-gay, just pro-tradition.
Maza includes a wealth of links, as well, creating a great compendium of NOM's general egregiousness.
Email of the Day
Jim Burroway
August 23rd, 2012
Let's be clear about something: the homosexual lobby and their puppet politicians' assault on Chick-fil-A is just the beginning.

You see, wealthy homosexual activists, such as the so-called Gay & Lesbian Alliance Against Defamation, are not merely threatening, bullying, and attempting to destroy a great American business—they are declaring war on anyone who disagrees with their radical agenda.

And why? To bully and intimidate the media and enough politicians and activist judges to force homosexual marriage as the law of the land—thereby destroying the time-tested, God ordained, traditional institution of marriage.
Wait a minute…. who wrote this?
Dan Savage and Brian Brown's Dinner Conversation
Jim Burroway
August 22nd, 2012
The video you've been waiting for has been posted online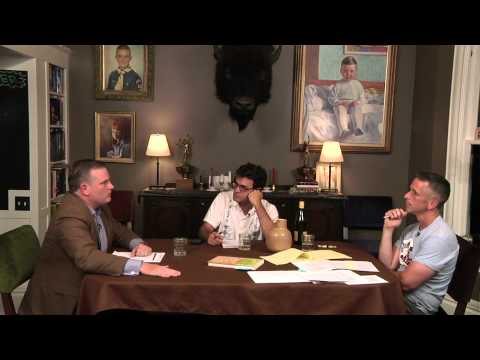 T-Mobile endorses marriage equality
Timothy Kincaid
August 20th, 2012
Today, T-Mobile USA announced the company's endorsement of Referendum 74 by donating to, and supporting the efforts of, Washington United for Marriage, the broad, bipartisan statewide coalition working to defend the state's marriage law.

"T-Mobile has a long-standing focus on creating an inclusive workplace environment for our employees," said Jim Alling, interim chief executive officer and chief operating officer. "Our support of this issue is a reflection of our culture, how we do business, and our belief in the fair and equitable treatment of all employees."
In related news, Brian Brown just declared Godzilla has risen from the sea to stomp on the T-Mobile headquarters.
Brian Brown's MSU strategy
Timothy Kincaid
August 20th, 2012
I've enjoyed poking fun at the National Organization for Marriage boycotts of Starbucks and General Mills. The absurdity of Starbucks' customer base suddenly deciding to forgo a mocha frappuchino because Brian Brown asked them to is laughable. So far they've not been able to get fifty thousand signatures on their Dump Starbucks site and their Dump General Mills is only half that.
But wacky conservatives play by a funny rule book. When their boycotts achieve nothing (which is always) they just Make Sh!t Up. After hearing from the American Family Association about their Disney boycott (is it still on?), you'd think that Walt's frozen head is somewhere weeping. And the handful of men who call themselves One Million Moms insist that they are the reason that Playboy Club and GCB were not renewed for another season.
So why shouldn't Brian follow suit?
Today, the National Organization for Marriage (NOM) announced that their protest of Starbucks is achieving results. "Starbucks supported same-sex marriage, saw their support from Republicans dwindle, missed sales projections, and watched the company lose $4.4 billion overnight and over $10 billion from their 2012 high," said Brian Brown, NOM's president. "While executives of publicly traded companies have had a wonderful time claiming that not supporting same-sex marriage hurts their employee recruitment and retention efforts, we now have a case study in how alienating millions of customers can directly affect the bottom line of a public company and damage shareholder value."
Now I'm not exactly sure what Brian means. I think he is basing this claim on the publicly traded stock value on one day (I assume August 2); but if so it makes no sense to say that the company lost $4.4 billion or that this says anything about "the bottom line". Of course, Brian could just be so astonishingly unaware of the difference between stock trading price and financial statements that he truly thinks that a drop in stock literally means that the company lost income.
As for Starbucks and the boycott, well there actually is some info on how that is going. Starbucks has released their quarter three results which pretty closely cover the period since NOM started their boycott:
Starbucks Corporation (NASDAQ: SBUX) today reported financial results for its 13-week fiscal third quarter ended July 1, 2012.
Fiscal Third Quarter 2012 Highlights:

Total net revenues increased 13% to $3.3 billion
U.S. comparable store sales increased 7%; Global comparable store sales increased 6%
Channel Development revenues increased 45% to $316 million
Operating income increased 22% to $492 million; operating margin expanded 120 basis points to 14.9%
EPS increased 19% to $0.43 per share, compared to $0.36 per share in Q3 FY11
Starbucks opened 231 net new stores globally, including its 600th store in mainland China, and its first stores in Finland and Costa Rica.
If those results reflect NOM's boycott, maybe Lowe's should consider renaming itself The We-Love-Gay-Marriage Company and send NOM a press release.
NOM's Long and Profitable History of Deceit
Rob Tisinai
August 20th, 2012
When Floyd Corkins shot a guard at the Family Research Council, some people focused on the injured hero; others on the disturbed shooter. Some decried our nation's fraying discourse; others worried over rhetoric vs. reality.
The National Organization for Marriage, it seems, is focusing on dollar $igns$. I wouldn't begrudge them even that, if they weren't using deception — lies, plain and simple — to con money from their supporters. I got an email from them today, containing a DONATE TODAY button. It read:
The Southern Poverty Law Center, a once-proud civil rights group that is now nothing more than a hard-left attack machine, has also tagged the FRC with this [hate groups] epithet, and they've threatened to do so with NOM as well. Our hateful crime? Opposing homosexual "marriage."
This is a lie. This is a lie. This is a lie. This is a lie. And you know what else?
This is a lie.
In late 2010, the SPLC explained it drops the "hate group" label on organizations that propagate known, scientifically discredited falsehoods:
By "known falsehoods," we mean such things as asserting that gays and lesbians are more disposed to molesting children than heterosexuals…Nowhere in our report do we equate taking a position against same-sex marriage with hate speech.

…We analyzed in detail each of 18 organizations we cite as purveyors of anti-gay rhetoric, and determined that the activities of five of them – including the National Organization for Marriage – did not meet the above-stated hate-group criteria despite their opposition to same-sex marriage.
Also from 2010:
Viewing homosexuality as unbiblical does not qualify organizations for listing as hate groups.
NOM lies. We take that for granted, but their supporters do not. And to be honest, I find this fleecing of their own somehow more disturbing than their war on us. Treating your enemies fairly is always a challenge (and they do consider us enemies — this same email refers to "gay 'marriage' thugs"). But to take money from your friends? That requires a complete lack of scruple.
This isn't new. NOM's been lying for years. Sometimes as part of a direct fundraising appeal; other times just to build up their base. Here's a sampling:
NOM's unintentional self-parody
Timothy Kincaid
August 20th, 2012
Apparently someone didn't take their irony supplements this morning. Because the National Organization for Marriage posted this:
"Bachelorette" star Ryan Bowers tweeted his support for Chick-fil-A and the "sanctity of marriage" on the Appreciation Day:

"Everyone is eating at chik fil-a today to support the Kathy family and their stand for the sanctity of marriage!!! Lv it!"
(For those who are not familiar with the series, Bachelorette is a television show on which a couple dozen men compete for the privilege of marrying a woman. A potential husband is eliminated each episode and drama is enhanced by showing viewers the general sleaziness and underhanded tactics of the competitors. Much of the show is reportedly scripted and edited to create a storyline.
Of the eight seasons, only the first bachelorette is currently married to the winner. Ah, sanctity.)
Dear Brian Brown: When it comes to violence and vilification, NOM is there.
Rob Tisinai
August 16th, 2012
Dear Brian Brown,
After Wednesday's shooting at the Family Research Council, you quickly leveraged the event into a self-serving denunciation of the Southern Poverty Law Center. I can't fault you for that. After all, in the wake of Gabrielle Giffords' shooting, I denounced Sarah Palin for lacking the decency to take down her "target map" with its Giffords crosshairs as the Congresswoman struggled through intensive care. However…
However, you'd be more persuasive if you didn't exploit this crime to lie about yourself and your organization.
NOMblog reports your statement:
Today's attack is the clearest sign we've seen that labeling pro-marriage groups as 'hateful' must end. The Southern Poverty Law Center has labeled the Family Research Council a 'hate group' for its pro-marriage views, and less than a day ago the Human Rights Campaign issued a statement calling FRC a 'hate group'—they even specified that FRC hosts events in Washington, DC, where today's attack took place.

NOM has always condemned all violence and vilification connected to our ongoing national debate about the meaning and definition of marriage.
Please, Brian, this event is too important for casual deception. NOM has long, long history, not just of failing to condemn violence and vilification, but of promoting it.
Just a Quick Laugh
Rob Tisinai
August 15th, 2012
The National Organization for Marriage is pushing an article in the Washington Examiner, which tells us not to put too much stock in a Maryland poll showing support for marriage equality:
Hart Research Associates recently reported a big polling shift toward support for same-sex marriage in Maryland, 54 percent to 40 percent.

Gleeful bloggers and news editors from Maryland Juice to the New York Times created celebratory headlines.

But it may be too early for media's same-sex marriage proponents to start popping champagne corks.

Last spring, just prior to a similar vote in North Carolina, highly regarded Public Policy Polling [PPP] reported 55 percent – 41 percent in favor. Same sex marriage went down in flames there, 61 percent to 39 percent — a huge 16 point discrepancy between polling and balloting.
Wow — you mean polling had support for marriage equality at 55%, but actually voting only came to 39%? What an embarrassment…
…for the Washington Examiner. PPP's 55% polling figure represented opposition to marriage equality. Yes, there's still a difference when it comes to the actual vote, but there's no "huge 16 point discrepancy." Looks like they'll need to find a new way of dismissing the recent Maryland poll.
Look, everyone can make a mistake. This is just a delightfully dumb one, compounded by the credulous editors at NOM who apparently don't bother to check the accuracy of the information they pass on.
BTW — NOM is using the article to decry misleading polls, which is hypocrisy on the scale of hilarity.
NOM's dumps are flattening out
Timothy Kincaid
July 30th, 2012
For a while it was really exciting to see just how far National Organization for Marriage's big dumps were going to run. But now things are flattening out and fewer and fewer people are joining the NOM dump parade.
Since the 5th of July, the National Organization for Marriage has added 1,178 new signatories to its Dump Starbucks project and since the 13th an additional 861 have promised to look for alternatives to General Mills products, bringing the totals to 46,624 and 23,915 respectively. And that's something to be proud of.
Okay, it's not all roses and spilt coffee. Yes, we have to admit that the 40 Eagle Scouts who have returned their badges to the Boy Scouts of America (about 0.07% of all living Eagle Scouts) are about 10 times the ratio of dumpers to US General Mills customers (about 0.007%). But, by golly, we're sure the numbers would be much higher if our Big Dump supporters were not boycotting Apple and Microsoft and their local library and the US Postal Service and the local tribe's smoke signals and not cowering under their beds eating deep fried chicken sandwiches.
SERIOUSLY?
Rob Tisinai
July 18th, 2012
The National Organization for Marriage has alerted us to an egregious bullying case. It's this:
Seriously.
NOM's promoting a bizarre screed by one Anne Sorock as if it made sense. Anne writes:
Is it inclusive to introduce a highly politicized debate into a cookie's branding, thereby opening up the opportunity to alienate a huge–if not majority–portion of your consumers? No, it is selective inclusion, a negation in terms, or as I call it, "Bully Marketing."
I'm tempted to think this is a poe, an attempt to parody those who too easily accuse others of bullying. Or perhaps it's a feeble attempt to hijack pro-equality language (as our opponents have tried with "bigotry" and "intolerance" and "hate") and render it meaningless. But Anne Sorock seems to mean it in full:
…a small, relentless group of leftist activists intimidate large companies into embracing the carefully calculated leftist narrative of inclusiveness and tolerance, which really just means, promote their politics.

…what Kraft and others are doing is making the "facilitating payment" that allows them to continue to operate their storefronts. It's the money in the envelope that allows them to be left them alone–for now.
And then she directs readers to the US government's anti-bullying site.  So once again, but this time as a question: Seriously?
I wonder if she imagines a late-night scene in a underground parking lot, with the Kraft Foods CEO cornered by a half a dozen menacing gay activists, all of them chanting, "Make the cookie! Make the cookie! MAKE THE COOKIE!!!" Until the poor CEO weeps a bit, falls to the ground, and gives in.
So listen, all you anti-marriage folk. I know you're upset that you're losing in court. You're demoralized that state legislatures are turning against you. You're seriously freaked out that voter referendums are no longer an automatic win. I know that your next strategy is set up a legal case that marriage equality threatens your most basic Constitutional liberties. But (last time) seriously, if you want the nation's great undecided middle to accept your claims of intimidation and persecution, you might want to invoke something more terrifying than a $70 billion company extorted into releasing picture of a cookie.
NOM's breakfast dump heaps up
Timothy Kincaid
July 17th, 2012
It's been a week since I brought you the exciting news of how the National Organization for Marriage's big Dump General Mills project just keeps going on and on. And in that time the number of those dedicated souls who vow that they will "look for substitutes" has grown by a colossal 18%, all the way to 23,054.
Much of the growth can be attributed to support by the American Family Association, whose followers number at least ten thousand. And one thing you can say about the AFA supporters, when it comes to the cause of protecting the family from the militant homosexual lobby, they are committed. Or, at least, if they are not yet committed, they certainly should be.