GOP Gubernatorial Candidate Apologizes for Anti-Gay Remarks
Jim Burroway
October 13th, 2010
Tea Party-backed Republican candidate Carl P. Paladino, whose anti-gay remarks to Orthodox Jewish leaders sparked outcry in New York and embarrassment among fellow state Republicans, has finally issued a letter of apology for his outburst.
In remarks delivered to Orthodox Jewish rabbis, Paladino called gay people "perverts who seek to target our children and destroy their lives," and said that gays were trying to "brainwash [them] into thinking that homosexuality is an equally valid or successful option."
The following morning, Paladino appeared on ABC's Good Morning America, where, incredibly, he tried to paint his remarks as being empathetic to LGBT people who experience discrimination. He also insisted that he was not anti-gay and would hire gay people in his administration.
Later, in Paladino's letter of apology, he wrote, "I sincerely apologize for any comment that may have offended the Gay and Lesbian Community or their family members." He also said that he was a "live and let live person," and that "I am 100% against discrimination of any group. I oppose discrimination of any kind in housing, credit, insurance benefits or visitation."
Elsewhere, Paladino has said that he would veto a marriage equality bill if it should reach his desk as governor and has called for a statewide referendum on the subject.
The most incredible admission in his letter is this:
Yesterday I was handed a script. I redacted some contents that were unacceptable. I did also say some things for which I should have chosen better words.
We know that one redacted content was the line, "There is nothing to be proud of in being a dysfunctional homosexual." The Jewish Week reports that it was Rabbi Yehoda Levin who prepared the remarks. Which, if true, means that Paladino will mostly read whatever words anyone thrusts in front of him.
Meanwhile, the laws of unintended consequences continue to hold sway. In reaction to the backlash against Paladino's comments, New York state Senate GOP leader Dean Skelos said that if the Republicans win control of the chamber, he would bring the marriage equality bill to the floor again for an up-or-down vote, although he remains opposed to the bill.
Also, the New York Daily News reports that Paladino has made quite a lot of money off of gay people as the landlord of a couple of Buffalo gay clubs.
Paladino's letter of apology after the jump
Tenth "Wolf Pack" Suspect Arrested As Victim Describes Ordeal
Jim Burroway
October 13th, 2010
One of the seventeen-year-old victims of the vicious "Wolf Pack" attacks has spoken about his ordeal to New York reporters on Monday. He told reporters at ABC7:
They put me in the middle of the chair. They asked me "are you gay?" I was like "nah", They was like "you did this?" I said "yea." "You did this with the gay guy?" I was like "yea." That's when they started hitting me. Like beating me up. I was there for like an hour.

…They said, "You a faggot or something?" What's wrong with you? You crazy?
Surprisingly, the gang members told the victim, who had been a recruit into the gang, not to take the assault personally. They told him that he could still remain a member of the gang.
Meanwhile, a tenth suspect, José Dominguez, 22, was arrested yesterday. He will face charges of assault, unlawful imprisonment and aggravated assault, all as hate crimes.
New York Republicans denounce Palidino's anti-gay remarks
Timothy Kincaid
October 12th, 2010
Earlier this week, Republican nominee for New York Governor, Carl Paladino, called gays "perverts" and said they "seek to target our children and destroy their lives." While that sort of language may seem normal for Republicans in Oklahoma, New Yorkers are a different breed. (Boston Herald)
Former Mayor Rudy Giuliani Monday called on Paladino to apologize for his "highly offensive remarks." Paladino's opponent in the GOP primary, Rick Lazio, said the speech was "counterproductive and an embarrassment."

Dan Donovan, the GOP candidate for attorney general, and Harry Wilson, the Republican running for comptroller, both issued statements denouncing Paladino's comments.
Meanwhile Paladino thinks that he deserves an apology from the media for including a line that was in the draft but which he didn't say. And he attempted to hide behind a gay nephew (which seems to be the latest trend in "some of my best friends are…") (CBS)
"I want to clearly define myself. I have of no reservations about gay people at all, none, except for one thing, their desire to get married. … I feel that marriage is only between a man and a woman. Very clearly, I wanted to state that.

"Now, in addition, I have a nephew and … I have people working for me who are gay. Never had a problem with any of them, never had a problem in any sense with their lifestyle and we've talked about it often. … I talk to them about the discrimination that they suffer and I'm sensitive to it.

He went on to say that homosexuality was "not an easy life."

"It's a very, very difficult life. Most of them don't choose it. … The discrimination that they suffer is very, very difficult and I'm totally sensitive to it.
No, Mr. Paladino, it's not a "difficult life." Or, at least, it wouldn't be without the interference of individuals such as yourself.
Staten Island Teens Arrested For Bullying
Jim Burroway
October 12th, 2010
At least some local authorities are starting to take bullying seriously:
A Muslim boy says four bullies made his life a living hell in the halls of a Staten Island public school, calling him a "terrorist" and beating him every chance they got.

The victim, a 16-year-old high school freshman, told his father and the police of the constant abuse he endured, prompting the arrests Sunday of his teen tormenters on suspicion of hate crimes.

"[They] punched me in my groin, and I fell to the floor. They started kicking me, and calling me 'You f—in' terrorist,' 'You f—in' Muslim,'" the victim, Kristian, told the Daily News. …"I think I can't go through a year like this again," said the soft-spoken victim.
Ninth Bronx Assault Suspect Arrested
Jim Burroway
October 11th, 2010
The New York Daily News reports that the ninth suspect in the vicious "wolf pack" assault against three gay men in the Bronx has been arrested. Rudy Vargas-Perez, 22, was captured by New York Police today and taken to the Bronx. Details of his arrest have not been released. He had been expected to turn himself in over the weekend, but reneged on the promise.
Bronx "Wolf Pack" Attackers Arraigned
Jim Burroway
October 10th, 2010
Eight of nine suspects in last week's brutal attack on three gay men in the Bronx were arraigned on Sunday morning in Bronx Criminal Court on several criminal charges, including gang assault, sexual abuse and unlawful imprisonment, all as hate crimes. As part of the hearing, more gruesome details of the attacks came to light:
After he had been punched, kicked and stripped of his clothes and jewelry, the 17-year-old man was given a choice: the bat or the pipe.

… Before the night was out, the victims would be tortured with burning cigarettes, box cutter blades, plunger handles and more, prosecutors charged. But first, the 17-year-old had to make his selection.

"I guess the bat," he said.
The court-appointed lawyer for one of the defendants, seventeen-year-old Denis Peitars, said that his client agreed to testify before the grand jury. A ninth suspect, Rudy Vargas-Perez, 22, is still at large.
NY GOP Gubernatorial Candidate: Gays "Seek To Target Our Children And Destroy Their Lives"
Jim Burroway
October 10th, 2010
The race for New York's governorship took a particularly nasty turn when the Tea Party-backed Republican candidate Carl P. Paladino spoke to Orthodox Jewish leaders in Brooklyn, saying that gays (or "perverts," as he referred to them) "seek to target our children and destroy their lives."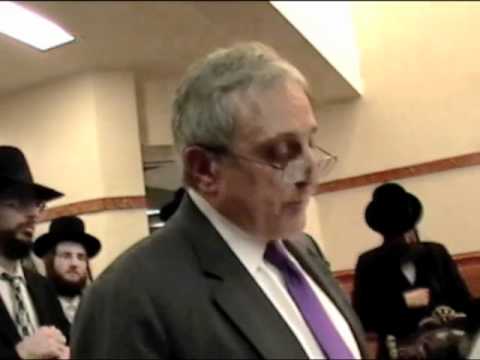 We must stop pandering to the pornographers and the perverts who seek to target our children and destroy their lives. I didn't march in the gay parade this year, the Gay Pride parade this year. My opponent did. And that's not the example we should be showing our children, and certainly not in our schools.

And don't misquote me as wanting to hurt homosexual people in any way. That would be a dastardly lie. My approach is live and let live. I just think my children and your children would be much better off and much more successful in getting married and raising a family. And I don't want them to be brainwashed into thinking that homosexuality is an equally valid or successful option. It isn't.
According to the New York Times, Paladino's prepared remarks also included the sentence, "There is nothing to be proud of in being a dysfunctional homosexual," but he omitted that line during his talk.
Following those remarks, Paladino's campaign manager had the audacity to deny that Paldino is anti-gay, saying that Paladino employed a gay man on his campaign staff.
No, he's not anti-gay. He just thinks that gays are a bunch of perverts who are targeting children to destroy their lives.
Paladino's vicious remarks came on the heels of several teen suicides, including that of Tyler Clementi, who jumped off the George Washington Bridge last week. It also accompanies fresh reports of horrific anti-gay attacks by nine gang members against three gay individuals in the Bronx last week.
Eighth Suspect Arrested in Bronx "Wolf Pack" Assaults
Jim Burroway
October 10th, 2010
The New York Times reports that an eighth suspect in what police described as a brutal "wolf pack" style attack against three gay men in the Bronx last weekend has turned himself in to police. Elmer Confresi, 23, turned himself in on Saturday night, while a ninth suspect, Rudy Vargas-Perez, 22, reneged on a promise he made through his lawyer to turn himself in. Vargas-Perez remains at large.
The Times included that information in a larger article about the shock and sadness that is reverberating through the Bronx neighborhood where the attacks took place.
The most severely brutalized victim was a gay 30-year-old Hispanic immigrant known in his Bronx neighborhood as "la Reina," Spanish for "the Queen." He was playful, flirty and always ready for a party, neighbors said.

…Every day, he stopped by El Tio grocery, the bodega on the ground floor of his building, for juices, sandwiches and small talk, according to the manager, Xavier Peña. "He was a good friend," Mr. Peña said. "He's a very, very nice guy. He called me Papi, Papi."

Many in the neighborhood used female pronouns to refer to the man, though they said he dressed in men's clothes. "She's gay, she's like a woman, we think of her like a woman," explained one neighbor, speaking on the condition that he not be named for fear of reprisals.

"She's a very good person," he added. "If you were ever hungry or thirsty, you could go to Reina, and she would help you."
Meanwhile, the New York Daily News says that several of the arrested gang members are pinning the blame for the attacks on the gang's leader, Ildefonso (Cheto) Mendez, who they say threatened them if they refused to participate.
Bronx Gang Tortures Two Teens, Man For Being Gay
Jim Burroway
October 9th, 2010
Nine men ranging from ages 16 to 23 years old abducted two teenage boys, and took them to an abandoned apartment in the Bronx, where they beat them and sodomized one until the boys admitted having sex with a 30-year-old man.They then lured the 30-year-old man to the same apartment, by telling him there was a house party going on and instructed him to bring plenty of liquor. Once the man arrived:
The attackers forced the man to strip to his underwear and tied him to a chair, the police said. One of the teenage victims was still there, and the "Goonies" ordered him to attack the man. The teenager hit him in the face and burned him with a cigarette on his nipple and penis as the others jeered and shouted gay slurs, the police said. Then the attackers whipped the man with a chain and sodomized him with a small baseball bat.

The beatings and robberies went on for hours. They were followed by a remarkably thorough attempt to sanitize the house — including pouring bleach down drains, the police said, as little by little word of the attacks trickled to the police. A crucial clue to the attackers was provided by someone who slipped a note to a police officer outside the crime scene, at 1910 Osborne Place in Morris Heights, near Bronx Community College.
Police commissioner Raymond W. Kelly said, ""These suspects deployed terrible, wolf-pack odds of nine against one, which revealed them as predators whose crimes were as cowardly as they were despicable." Police say that that attacks were motivated by hatred towards the homosexuality of the victims, and was not a part of an initiation.
Seven suspects have been arrested on Thursday an Friday, and two are still being sought by police. According to the New York Times, the group were not part of a formal gang, but adopted the nickname of Latin King Goonies. They hatched the plan last Saturday after one member of the group saw the 30-year-old man, who was known as being gay, with a 17-year-old who wanted to join the group. (The age of consent in New York is seventeen).
That first 17-year-old was abducted at about 3:30 am on Sunday morning, taken to an abandoned apartment, made to strip naked, beaten, slashed with a box cutter, and sodomized with the wooden handle of a plunger, and hit in the head with a can of bear. After the teen admitted having sex with the 30-year-old, the gang let him loose and warned him not to say anything. The teen walked to a hospital for treatment, where he said he had been jumped by strangers and robbed.
Later on Sunday evening, the gang abducted a second 17-year-old and beat him until he admitted to having sex with the 30-year-old. They held him while they lured the older man to what they said was a party. He brought with him ten large cans of Four Loko malt liquor. As soon as he arrived he was seized, stripped to his underwear, and tied to a chair opposite the teen. The gang then ordered the second teen to beat him and burn him with a cigarette. The gang joined in the beating using fists and chains. The beating reportedly lasted for hours as the attackers forced the man to drink all ten cans of malt liquor.The man was also sodomized with a baseball bat.
During that ordeal, five of the gang members went to the man's house which he shared with his 40-year-old brother. They got inside using a key they got from the 30-year-old, where they found his brother in bed. They put a blanket over his head, beat him, and demanded money. The man complied when they put a cell phone to the his ear and he heard his younger brother on the line who pleaded, "Give them the money." The brother was then tied with rope and tape.
About three hours later, he was able to free himself and call police, but he left out the fact that his brother was being held. As detectives were later leaving the older brother's home on Monday morning, they saw the 30-year-old brother on the landing where he  had been dumped. He was passed out from the alcohol, and police say he was unable to tell them what had happened to him. It wasn't until later on Monday that he began to remember what had happened.
It wasn't until Tuesday when the second teen went to a Bronx police station to describe a version of what happened. Like the others, he wasn't fully forthcoming with the details our of fear of reprisal and wanting to keep his sexuality a secret. But the second seen gave the address of the abandoned apartment. Police found an immaculate apartment that had been freshly painted and washed with bleach. One detective called it "the cleanest crime scene I've ever seen." Despite the elaborate attempt to conceal the crime, police were still able to find cans of alcohol and hair at the scene.
The plot fell apart on Wednesday night when someone in the crowd of onlookers provided the name of the man believed to be the group's ringleader. Later, all three victims gave full statements of the attack. Arrested were Ildefonzo Mendez, 23; David Rivera, 21; Nelson Falu, 18; Steven Carballo, 17; Denis Peitars, 17; Bryan Almonte, 17; and Brian Cepeda, 16. Two others, Elmer Confessor, 23, and Ruddy Vargas-Perez, 22, are still being sought. They all face charges of unlawful imprisonment, abduction, assault, robbery, sodomy and menacing, all as hate crimes.
Prop 8 Rallies Planned
Jim Burroway
August 4th, 2010
As Timothy mentioned yesterday afternoon, we received word that a decision in Perry v. Schwarzenegger is expected this afternoon between 1:00 and 3:00 pm (PDT). Already, Prop 8 supporters have already filed a request for stay of judgment pending appeal, in case Judge Walker strikes down Prop 8. If granted, this would prevent any marriages taking until the Court of Appeals hears the case.
Meanwhile, a large number of rallies are planned in California and across the U.S., forty so far and counting. Rex Wockner is keeping up to date with the latest additions.
God hates jointly filed tax returns?
Timothy Kincaid
June 29th, 2010
The New York Democratic leadership is at war. With itself. Again.
This time Governor Paterson and the legislature are battling over control of the state's budget. Paterson, a Democrat, is vetoing spending and tax hikes while the House and Senate, led by Democrats, fear that Paterson's methods will set a precedent that will shift power to future governors. And as the Democratic Party holds a very narrow majority in the Senate, any defections can turn the whole thing over to Republicans in the Senate to advance their spending priorities.
So Ruben Diaz, one of the less ethical players in Albany, has taken opportunity of the situation and threatened to deny his vote to Democrats in the legislature unless he be allowed to dictate tax policy for gay couples.
Same-sex marriages conducted in New York State are not recognized. However, if another state allows same-sex marriage, then New York will honor and recognize that marriage. Thus, those who marry in Connecticut, Vermont, Massachusetts, New Hampshire, Washington D.C., or Iowa can return home as a happily married couple.
But that doesn't mean that all things are equal. For example, couples do not have the right in the State of New York to file a joint tax return. The state says, in effect, "Yes, we recognize that you are a married couple, but lie and tick the "single" box and pay the higher tax rate."
So Assemblyman Daniel O'Donnell proposed an amendment to the appropriations bill to allow legally recognized same-sex married couples to file their state income taxes in exactly the same manner as opposite sex couples. Well that was just too much for Senator Diaz.
Because Diaz answers to his God. Or his ego… which might be the same thing. But anyway, his theocratic impulses tell him that God wants gay people to pay higher taxes.
"That's something I'm not comfortable with and we are working on it," said Sen. Ruben Diaz Sr., concerned about a provision allowing married same-sex couples to file joint tax returns. "Right now we are working something out….we have 32 Democratic senators. Next year we may have 34. We might have 30. Next year things might change. As long as we have 32, as long as we have 32, each member should be respected."

Earlier, Diaz Sr. stormed out of conference saying "stupid, stupid, stupid." A few minutes after saying the above, he said he had the provision excised from the budget bill.
As usual, the leadership caved to Diaz.
NY Catholics March Despite Ban
Jim Burroway
June 28th, 2010
Marchers from St. Francis Xavier, a gay-welcoming Catholic church which had been participating in New York City's Gay Pride parade for several years, were forbidden by NYC Archbishop Timothy Dolan from marching with a banner identifying their parish's name in last weekends parade. Their response? They marched with a blank banner. Here's CNN's coverage: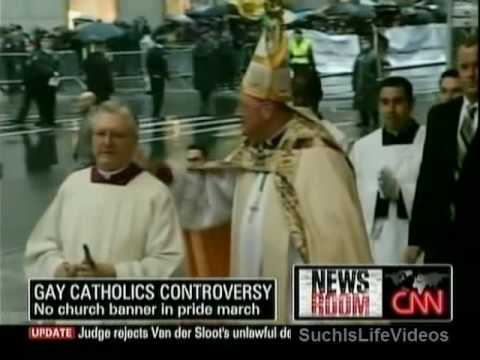 New York passes LGBT anti-bullying bill
Timothy Kincaid
June 23rd, 2010
From the Gothamist
In a 53-3 vote last night, the state Senate passed the Dignity for All Students Act, which prohibits harassment in school based on "actual or perceived race, color, weight, national origin, ethnic group, religion, religious practice, disability, sexual orientation, gender or sex."
"Perceived… gender" is understood to include transgender students. Such a strong bipartisan support is a sign of strong support and gives encouragement for future advances in the state Senate.
The Assembly has already passed the bill and the Governor is expected to sign it into law.
"Not Equal" Flag Debuted in New York DADT Protest
Jim Burroway
March 19th, 2010
Protesters carried this banner at a small protest in New York City's Times Square today against "Don't Ask, Don't Tell".  I don't know if this one will catch on, but given the rising anti-HRC sentiment I wouldn't be surprised if this starts to become the new rainbow flag, especially given the new flag's lineage:
Rainbow flag creator Gilbert Baker, himself a Vietnam-era veteran, was on hand with a yellow "is not equal to" symbol he had sewn onto a blue banner. The new flag was commentary on the logo long used by HRC, whose efforts to get Don't Ask, Don't Tell repealed and advance other goals are viewed as inadequate by direct action groups emerging nationwide. "HRC isn't pressing the issue or demanding equality," Dillon said. "It's not working."
Three members of Queer Rising tried to gain access to the Midtown Manhattan Armed Service Career Center, but were blocked. About 20 protesters were on hand altogether.
Queens chose gay marriage
Timothy Kincaid
March 17th, 2010
Last year, New York State Senator Hiram Monserrate slashed the face of his girlfriend and dragged her through the building lobby before driving her to a distant hospital. This behavior was too much even for the New York Senate, so they booted him from his Senate seat.
However, Monserrate's ouster was at least in part due to internal Democratic Party annoyance with him. He had aligned himself with a handful of other Senators and sought to use the tiny party majority as a bargaining point to advance his own personal power and profile. This coup attempt resulted in months of deadlock and confusion with the leadership changing hands at least twice, the doors of the Senate being locked to one faction, and other nonsense. So when it came time for the Party to rally behind a member in need and to overlook his "accident", he found few willing.
Adding to the discontent was his vote against marriage equality. When Hiram Monserrate ran for the Senate, he portrayed himself as an ally of the gay community and a certain vote for marriage. But instead, he was one of eight Democrats who voted for discrimination and for reserving special rights and privileges for heterosexuals.


And it was on this vote that Monserrate ran a campaign to be re-elected to the seat from which he had just been removed. He was endorsed by, the Queens Hispanic Clergy Association, a collection of pastors and other religious leaders whose sole focus was on opposing gay equality. (YourNabe.com)
The Rev. Ricardo Reyes of El Elyon Christian Church in Corona said he represented 612 churches in Queens that oppose same-sex marriage and praised Monserrate for his record of supporting community groups.

"I have seen a generation sunk down by the gay community," Reyes said. "If we vote for a gay marriage situation … we are sending our children to practice something against the Bible."
The other candidate in the race was Jose Peralta. While Peralt received the support and endorsement of the Party structure and the unions, much of his financial and grassroots support came from gay individuals and groups who sought to punish Monserrate for his vote and for his newly-adopted anti-gay activism.
While Peralta ran on the scandal, Monserrate and his Queens Hispanic Clergy Association tried to make this a referendum on marriage. Surely, the people of the 13th Senate District in Queens would rather have a man who "accidentally" harmed his girlfriend – who has forgiven him – than the scourge of gay marriage! Right?
No. Yesterday, Jose Peralta became the new Senator-elect. It wasn't close. (Newsday)
With 81 percent of the precincts reporting, Assemb. Jose Peralta (D-Corona) beat Hiram Monserrate with 66 percent of the vote. Monserrate had 27 percent.
The voters took a look at Monserrate, and Queens chose gay marriage.
Nearly half of all Americans live where there is some recognition of same-sex couples
Timothy Kincaid
March 3rd, 2010
About 5.1% of Americans (15.5 million) live in areas in which same-sex marriages are legal and equal to opposite-sex marriages: Massachusetts, Connecticut, Iowa, Vermont, New Hampshire, and the District of Columbia.
Another 58.4 million (19.2%) live in states which have either civil unions or domestic partnerships that offer all the rights and protections of marriage without the name: California, New Jersey, Oregon, Nevada, and Washington. To that we can add two more states (New York and Maryland) in which the local state government will honor marriage occurring elsewhere and we have a total of 32.6% of Americans living with the rights and responsibilities of marriage available to their family.
There are also five states which recognize same-sex couples and offer them limited itemized rights. They are Hawaii, Colorado, Wisconsin, Maine, and Rhode Island and they add an additional 14.2 million Americans (4.7%).
But recognition does not stop there. There are dozens more counties and cities who provide what local recognition and benefits as they can, adding another 14.2 million local residents (4.7% of Americans) who can appreciate that their city officials see them as a couple. Local municipalities include the populations of Salt Lake City, UT; Phoeniz AZ; Tuscon AZ; Duluth, MN; Minneapolis, MN; St. Paul, MN; Lawrence, KS; Columbia, MO; Kansas City, MO; St. Lewis, MO; Ann Arbor, MI; Cook County, IL (Chicago); Urbana, IL; Cleveland, OH; Cleveland Heights, OH; Toledo, OH; Philadelphia, PA; Pittsburgh, PA; Harrisburg, PA; El Paso, TX; Travis County, TX (Austin); Eureka Springs, AK; New Orleans, LA; Carrboro, NC; Chapel Hill, NC; Clarke County, GA (Athens); Fulton County, GA (Atlanta); Broward County, FL (Fort Lauderdale); Key West, FL; Miami-Dade County, FL; and West Palm Beach, FL.
In total about 140 million Americans – about 46% of the nation's population – live where there is some form of official notice of same-sex couples. So NOM can proclaim "victory" when they have an election in California or Maine, but this ball is rolling and the momentum is in the direction of recognition.
New Yorkers disappointed by marriage vote
Timothy Kincaid
December 15th, 2009
The Siena Research Institute has released a survey that shows that a plurality of New Yorkers were displeased that the NY Senate voted for anti-gay discrimination.
* Forty-seven percent of voters were disappointed that the Senate rejected the bill to legalize same sex marriages in New York, compared to 41 percent who were pleased by the Senate's vote. In August, 50 percent of voters told Siena that they supported the Senate passing the same sex marriage bill, with 44 percent then opposing Senate passage.

* Liberals, young voters, Democrats and Jewish voters were most disappointed. Conservatives, Republicans, older, and African American voters were most pleased with the Senate vote.
I find this a bit surprising. I figured for the most part the general public doesn't really experience either much disappointment or much pleasure with legislation that primarily impacts our lives.
"Overall, 40 percent of voters – 42 percent of those who were disappointed in the Senate action and 47 percent of those who were pleased – said that their Senator's vote on the issue would be a deciding factor in their vote for State Senator next years."
While that may be of some advantage to Republicans in conservative districts, it cannot be good news to the eight Democratic "no" votes that at least some of their constituents will be looking for an alternative in the primary.
Sen. Diane Sevino's testimony
Timothy Kincaid
December 3rd, 2009
You must listen to Sen. Diane Sevino talk of the reasons she supports marriage equality.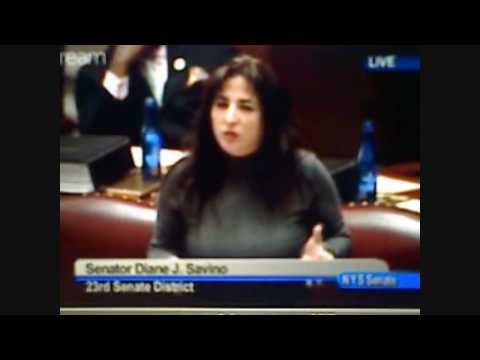 Unlike their Senators, New Yorkers want marriage equality
Timothy Kincaid
December 3rd, 2009
NY Senators who voted against equality thinking that they were doing "the will of the people" may find themselves trying to make stuttering explanations in future debates. Cuz "the people" certainly didn't ask for marriage to be denied to their gay neighbors.
A Marist Poll released yesterday:
Do you favor or oppose legalizing same-sex marriage in New York State?

Total:
Favor – 51%
Oppose – 42%

NYC:
Favor – 61%
Oppose – 33%

Suburbs:
Favor – 47%
Oppose – 47%

Upstate:
Favor – 48%
Oppose – 44%
Primary elections may be key to NY equality
Timothy Kincaid
December 2nd, 2009
I am not particularly receptive to the argument that a representative can be excused at times for voting in a way that might not reflect their own views, but which is required to keep their seat. I think that equality is worth defending even if it requires personal sacrifice.
However, I have nothing but contempt for those who elect to endorse discrimination and bias even when there is no downside to siding with decency and equality.
And of the eight Democrats who voted to deny equal civil rights to their fellow New Yorkers, five were elected in 2008 with no organized opposition in the general election. They were either unopposed, or had only a token Republican opponent who received but a tiny percentage of the votes:
32nd • Ruben Diaz (D-Bronx)
10th • Shirley Huntley (D-Queens)
27th • Carl Kruger (D-Brooklyn)
13th • Hiram Monserrate (D-Queens)
12th • George Onorato (D-Queens)
These are definitely not elected officials who secretly support us but were fearful of Republicans using that support against us. No, these Senators voted against our equality because they believe that we are inferior to them and that we don't deserve the same rights that they enjoy.
The other three won by the following percentages:
15th • Joseph Addabbo (D-Queens) — 58%
48th • Darrel Aubertine (D- Cape Vincent) — 53%
58th • William Stachowski (D-Buffalo) — 53%
While these are not landslides, they are comfortable majorities.
All of which suggests to me that an organized primary fight in which a supporter of equality could prevail might be all that is necessary in most of these districts to bring about marriage equality in New York in the very near future.
As Joe Jarvis at Joe-My-God seems to be on the same page:
Remember all of these names. I will be coming back to you to help fund their opponents.