The Politician and the Statesman
Jim Burroway
June 26th, 2011
Two New York Senators who had previously opposed marriage equality in New York voted ended up voting for it when the chips were down Friday night. They both explained their change of votes during the roll call, and their explanations provide a textbook illustation of the difference between a politician and a statesman.
One was Sen. Carl Kruger (D-Kings Co) who had been one of three Senate Democrats who blocked a vote on same-sex marriage in 2009 when Democrats controlled the chamber. His change of heart, chronologically at least, came after he was accused last March of accepting $1 million in bribes in return for political favors. Along with that scandal came allegations from the The New York Post — and one must always consider the source whenever the Post is involved — that Kruger laundered at least some of that money through his reportedly unacknowledged gay lover with whom he shares a house with along with the identified lover's mother. Sidestepping the possible outing, The New York Times merely said, "The gay nephew of the woman he lives with, Dorothy Turano, was so furious at Mr. Kruger for opposing same-sex marriage two years ago that he had cut off contact with both of them, devastating Ms. Turano."
Whatever the truth may be, Kruger certainly had a change of heart by the time he cast his vote last Friday. And in explaining his vote before the Senate, Kruger defended himself by giving a long list of gay-rights legislation he had supported — hate crimes legislation, anti-dissemination bills, anti-bullying bills — and more incredibly, even tried to explain his change as not being a change at all. He was with us all along, he says. Except, of course, for when he wasn't.
Oh well, a yes vote is a yes vote, and every yes vote is vital when the margins are so thin like this. But Kruger's statement was especially memorable because moments before, freshman Senator Mark Grisanti (R-Erie and Niagara Co), who had campaigned against same-sex marriage leading up the the November 2011 elections, explained his vote this way: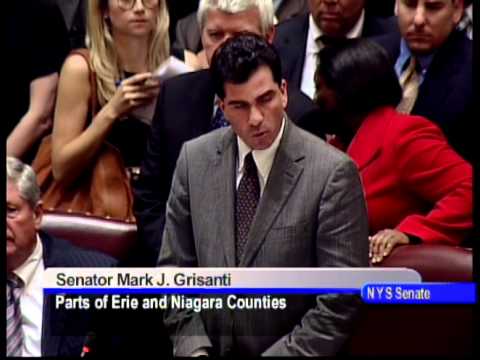 As you may know, prior to me coming here, it's only been about six months and the issue of same-sex marriage has never been a strong topic of discussion among family and friends. I simply opposed it in the Catholic sense of my upbringing. And I have stated that I have a problem with the term "marriage." But at the same time, I have also said that I have a problem with the rights that are involved that are being overlooked. I have never, in the past four months, researched an issue or met with so many people and groups on a single issue such as this. I have struggled with this immensely, I can tell you that. I have read numerous documents, independent studies, and talked with a lot of people on both sides of this issue. As a Catholic I was raised to believe that marriage is between a man and a woman.

I'm not here however as a Senator who is just Catholic. I'm also here with a background also as an attorney, to which I look at things and I apply reason. I know with this decision, many people who voted for me will question my integrity a short time ago. I tell you though that I have studied this issue. To those who know me, they know that I have struggled with it. To those whose support I may lose, please know that in the past what I was telling you and what I believed at that time was the truth. But by doing the research, and ultimately doing what I believe to be the right thing, to me, shows integrity. I would not respect myself if I didn't do the research with an open mind and make a decision, an informed decision, based on the information before me.

A man can be wiser today than yesterday, but there will be no respect for that man if he has failed in his duty to do the work. I cannot legally come up with an argument against same-sex marriage. Who am I to day that someone doesn't have the same rights that I have with my wife that I love, or have the thirteen hundred-plus rights that I share with her?

But there's another important point here that this bill brings up, and that's its religious protections. Because I am Catholic. Under this bill the religious aspects and belief are protected as well as for not-for-profits. There's no mandate that the Catholic Church or any other religious organization perform ceremonies or rent halls. There cannot be a civil claim or an action against the church. It protects benevolent organizations such as the Knights of Columbus and many others. And as a lawyer I feel confident that the religious organizations and the others are protected.

We in this state have recognized same-sex couples who are married in other states and are now in New York. I have read studies about civil unions that show that they do not work, and causes chaos. I believe this state needs to provide equal rights and protection to all of its residents.

I struggled with the word marriage as between a man and a woman — that's how I'm raised. But I also struggle with the rights that are lacking for same-sex couples, and I've stated this numerous times. I cannot deny that right or opportunity for someone nor stand in the way of allowing them to obtain the rights that I have.

I'm not going to get into the philosophical arguments, because I've heard them all. But for me, the issue boils down to this: I've done the research, and I believe that a person can be wiser today than yesterday. I apologize to those who feel offended, to those I have hurt with the votes that I had six months ago. But I believe you can be wiser today than yesterday when you do the work. I cannot deny a person, a human being, a taxpayer, a worker, of people of my district and across this state, the state of New York and those people who make this the great state that it is, the same rights that I have with my wife…
That is a long, long way from where Grisanti was just last March, when he told a Buffalo radio station, "To me, marriage is between a man and a woman. It's been a term, a term of ours for years that has been around for thousands of years. It's like calling a cat, a dog."
Like I said, every vote is important. Kruger's "yes" vote, however it came about and however he tried to explain away his prior opposition, is every bit as important as Grisanti's. But in the end, the events of Friday night clearly showed that there is a huge difference between political posturing and statesmanship.
True Colors
Jim Burroway
June 26th, 2011
The Empire State building was already set to light up in rainbow colors last night in honor of the city's Pride celebration this weekend, but given that it was the same night on which marriage equality became the law of the state, the new color scheme was given greater significance. And why not light up the night? New York Freedom to Marry notes that the New York victory represents several historic firsts:
For the first time, a Republican-led chamber, the New York State Senate, joined the Democrat-led Assembly in passing marriage legislation;
The marriage bill was strongly championed by a governor who ran for office on his pledge to pass a bill and then campaigned steadily for it, making it one of his top priorities and committing political capital to its passage;
A large number of America's most prominent businesses including Xerox Corporation, Alcoa, and McGraw-Hill, and the heads of Morgan Stanley, Goldman Sachs, and Citigroup, along with New York's most important labor unions, urged passage of the bill;
And numerous professional athletes, including NBA star Steve Nash, New York Rangers star Sean Avery, and New York Giants great Michael Strahan, joined the chairman of the New York Giants and owner of the New Jersey Nets in speaking out for the bill.
While Republican support was neither broad nor deep — only four GOP state Senators voted for the marriage equality bill — it was nevertheless critical and historic. The Republican caucus easily could have blocked the measure from coming to the floor but didn't. Sen. Dean Skelos, the majority leader of the Republican-controlled chamber who personally voted against the bill, could have refused to allow the bill to come forward, but didn't. A lot of those GOP Senators who voted against the bill could have prevented its passage in several critical stages along the way, but chose to allow it to pass without their fingerprints on it.
Say what you will about their votes against equality — I'm sure their grandchildren in future decades won't look at those votes with pride — but I think it bears remembering that marriage equality ended up being the work of the entire chamber, and not just those who voted yes. It's true that the those who voted yes are the ones who today and in the future deserve to be wrapped in glory. They are the ones who actually made it happen. And those who worked feverishly to prevent marriage equality (I'm looking at you, Diaz) will be scorned by future generations the way we today regard the Dixiecrats of 1948. But the fact remains that sometimes just standing aside so that the rising tide of justice can sweep through is just as important as voting yes. Openly gay Sen. Thomas K. Duane said that everyone in the New York Senate was a hero last night regardless of their vote. I suspect that this is what he was talking about.
NOM's "Jesus" Is Crying
Jim Burroway
June 25th, 2011
This is what you'll find on the National Organization for Marriage's facebook page right now.
Also, "vengeance is mine," sayeth Maggie Gallagher.
[Via Alvin McEwen]
When Marriage Equality Was Announced
Jim Burroway
June 25th, 2011
This is what it looked like in front of New York's famous Stonewall Inn. (Video courtesy of Cathy Renna.)
New York Senate Passes Marriage Equality
Jim Burroway
June 24th, 2011
In a 33-29 vote, the New York Senate this evening passed the Marriage Equality Bill. Four Republican state senators joined 29 Democrats in voting for the measure. The bill, which had gained several amendments aimed at insulating religious institutions from the effects of the bill, passed the lower house earlier by a vote of 82-47 earlier today.
Those exemptions were very minor — they are already a matter of constitutional law under the U.S. First Amendment and the New York constitution's religious freedom clause, but having them spelled out in the bill itself gave a few Senators the needed cover so they could vote for the measure. LGBT advocacy groups supported the exemptions.
The bill now goes on to Gov. Andrew Cuomo for his signature, and will take effect thirty days after it is signed into law. With his signature, New York will become the seventh state to grant marriage equality to its citizens.
New York City's pride celebration is this weekend. LGBT New Yorkers definitely has a lot to be proud of today.
UPDATE: Gov. Cuomo signed the bill shortly before midnight, bypassing the normal ten day wait and fulfilling a pledge to sign it as soon as it reached his desk. Marriage equality will arrive in New York on July 24.
New York votes
Timothy Kincaid
June 24th, 2011
6:56: The Senate has reconvened.
They are discussing an education bill.
7:02: The education bill passed and they are now making speeches about why they voted for the bill. As best I could tell there was no controversy so this is basically just wasting time for the hope of being quoted in the local paper. (ooops.. still not voted on…. but so far they all seem to love this bill. I'm really not paying it much attention)
[gotta run for a moment… hope I get back before the marriage vote]
7:22: I'm back. They're still talking about the education bill.
"Thank you, Mr. Speaker. I stand to support/oppose this bill. I wish to repeat exactly what everyone else already said when they stood to get their words down for the papers. I especially want to thank you, Mr. Speaker for your patience in listening to everyone of us ramble on an on, as you and you alone are actually listening."
7:31 This appears to be Sen. Grisanti's bill. He is one of the "undecided" votes. I can't help but wonder …
7:37 And the SUNY bill passes 51 to 11
Moving right on to the Property Tax Cap
7:50: Rent control, property tax caps, and on an on… I know that this is of extreme importance to many New Yorkers so I should be less impatient.
8:08: Sen Diaz has finally said something with which I agree:
Mr. President, tonight is going to be long I believe. And you've already noted that some people never agree with me. (he was one of the 11 no votes on the education bill)
8:13: The Catholic Church has weighed in on the concessions that were made on their behalf and at their insistence. As expected, they are as arrogant as always.
"The Bishops of New York State oppose in the strongest possible terms any attempt to redefine the sacred institution of marriage. The matter of religious exemptions has been and continues to be a secondary issue that in no way negates the fact that this bill is bad for society. We urge all Senators to vote no on Governor Cuomo's bill. Marriage has always been, is now, and always will be the union of one man and one woman in a lifelong, life-giving union. Government does not have the authority to change this most basic of truths."
If those issues are so secondary, Bishops, what say we just remove them?
08:30: They are still talking about what the press is calling The Big Ugly. Everyone seems to be discussing it in terms of not being quite happy but seeing it as a step in the right direction. Which is a bit amusing as many of them seem to be stepping in different directions.
8:35: After all that talk bill passes 57 to 5 (Diaz voted no… let's hope he remains an albatross)
Moving right along to Livery car tax.
[I'm heading home… Jim will keep and eye on things… I very much doubt that the marriage bill will come up before I get back to you]
[Jim Burroway takes the helm]
9:43: I have no idea what happened to the Livery car tax. Maybe someone can catch us up with that vital bill in the comments. Right now, Sen. Stephen M Saland (R=Columbia County) is explaining the religious exemption provisions that have been added to the marriage bill. His is listed as "undescided."
9:47: Sen. Saland has just announced that he will vote for the bill! "I have to do the right thing by treating all persons with equality," including marriage. A very elequent message, and the needed thirty-second vote.
9:50: They are calling the role to accept the amendments, but Sen. Diaz has asked to explain his vote against the bill. He just read the Catholic vote, and calls on other Catholics to vote according to the church.
9:51: Sen. Hannon (R-Nassau Co.) is now explaining his vote. He had been listed as a no vote. But with the religious exemptions that were added along with the inseverability clause, he is also voting yes.
9.53: The amendments are passed! 36-26!
9:55: Now the roll is being called for the bill itself. Sen. Ruben Diaz (D-Bronx) is speaking against the bill, and is visibly angry with the direction things are going.
9:57: Diaz is "making the Republican party do what the Democrats failed to do when they were in the majority." The speaker is trying to get Sen. Diaz to hold to his two-minute limit, but Diaz is still speaking. Does he think he can run out the clock?
10:00: Blah, blah, blah… The house speaker is trying to rush him along, and Diaz is only getting more agitated.
10:01: Sen. Diaz is way over his two-minute time limit, and Diaz is still arguing the rule.
10:02: Finally, Sen. Diaz has stopped blabbering and sat down.
10:12: Sen. Thomas K. Duane (D-New York) is now speaking about coming out to his parents. "In the 1980s when people in my community and my neighborhood started of AIDS, if the surviving partner's name was not on the lease, they got evicted. And I remember going to legal organizations and said they needed help, but they said, no, families will never be recognized." That led to a state Supreme Court decision protecting non-traditional families. Republicans and Democrats joined together the pass hate crimes legislation and non-discrimination acts. He thanks Gov. Cuomo for his "truthful and strong leadership on this issue." He also thanks Majority leader Skelos and Minority leader Sampson, and most of all, his partner Lewis. "My nieces and nephews know us as a couple, and we are like married to them…. Marriage says that we are family, Lewis and I are family. And marriage strengthens my family and will strengthen all families."
10:17: Sen. Mark Grisanti (R-Erie and Niagara Co.) was originally listed as undecided. He was originally against same-sex marriage, but after studying the issue has decided to vote for the marriage equality bill. "By doing the research I believe shows integrity. I wouldn't respect myself if I didn't do the research and make an informed decision for the issue that is before me. … I cannot legally come up with an argument against same-sex marriage." He points to the religious protections in the bill, and feels confident as a Catholic and as a lawyer that the religious institutions are protected. "Civil unions are not equal and cause chaos." Marriage is the only way to guarantee the rights to same-sex couples that he has. "I apologize to to those who feel offended and were hurt by my votes six months ago, but I do believe someone can be wiser than they were six months ago."
10:17: They are going into a very brief recess, but right now it looks like that when the roll call results are announced, marriage equality in New York will be a done deal.
10:19: I'm seeing reports that a massive crowd in converging at the Stonewall Inn in New York. Police are trying to keep Christopher Street open to traffic, but it may soon become a lost cause.
10:21: Focus On the Family just now sent out a fundraising appeal to their email list:
While we pray for a resounding victory in New York, Focus on the Family remains committed to upholding marriage and urging men and women to engage the culture in its defense—just as we've seen 31 states already uphold marriage at the ballot box. Will you partner with us as we share the importance of protecting God's design for marriage as well as provide resources to ensure our own marriages—especially those of the household of faith—are healthy and well-rooted in Christ? Please make your gift today.
I guess they haven't been watching the live stream.
10:26: Senate is back in session. Sen. Carl Kruger (D-Kings Co) is explaining his yes vote. He was one of the no votes in 2009, but explains that the religious exemptions are why he is voting for marriage equality. He is now trying to burnish his pro-gay credentials despite that earlier vote. Oh, well, a yes vote is a yes vote, and when the votes are this close, every vote matters.
10:30: They have announced the results: 33-29. Marriage Equality passed in New York!
The bill will go into effect thirty days after signed by Gov. Cuomo.
[Timothy again]
When I decided to leave for home I assumed we were hours away yet. But traffic was LA Friday night traffic and then my computer decided that it needed to do updates. And then something went wrong and …. well, anyway, I'm here for the celebration.
Congratulations, New Yorkers
Agreement Reached for NY Marriage Equality
Jim Burroway
June 24th, 2011
[UPDATE: The New York state Senate will vote on same-sex marriage tonight:
The State Senate will vote on same-sex marriage, the Senate majority leader said Friday afternoon, setting the stage for a final decision on the most closely watched issue facing the Legislature as it wraps up its annual session. The exact timing was unclear, thought it was expected to occur Friday evening.]
We now have numerous reports that a consensus has been reached among the Republican Caucus of the New York state Senate on wording for religious exemptions that may allow the bill to move forward for a floor vote:
Senate Republicans were still discussing the marriage bill in a closed-door meeting on Friday afternoon; it remained unclear when — or if — they would permit a vote on the broader legislation. The State Assembly, which approved an earlier version of the same-sex marriage bill last week, would need to approve the new language before the full bill could become law.

Emerging from a meeting with Speaker Sheldon Silver, Assemblyman Daniel J. O'Donnell, a Manhattan Democrat who sponsored the Assembly version of the bill, said that there was an "agreement in principle" on the new language. He predicted that the Assembly would vote to adopt the new language on Friday.

Republicans have made no committment to bring the marriage measure to a floor vote. But a Senate spokesman said the decision would be announced sometime Friday night.
Marriage equality advocates have announced their support for the language. The entire bill has been posted online. The religious exemption appears as follows (text changed from all-caps to sentence case):
S 10-b. Religious Exception. 1. Notwithstanding any  state, local or municipal law, rule, regulation, ordinance, or other provision of law to the contrary, a religious entity as defined under the education law or section two of the religious corporations law, or a corporation incorporated under the benevolent orders law or described in the benevolent orders law but formed under any other  law of  this state, or a not-for-profit corporation operated, supervised, or controlled by a religious corporation, or any employee thereof, being managed, directed, or supervised by or in conjunction with a religious corporation, benevolent  order, or a not-for-profit corporation as described in this subdivision, shall not be required to provide services, accommodations, advantages, facilities, goods, or privileges for the solemnization or celebration of a marriage. Any such refusal to provide services, accommodations, advantages, facilities, goods, or privileges shall not create any  civil claim or cause of action or result in any state or local government action to penalize, withhold benefits, or discriminate against such religious corporation, benevolent order, a not-for-profit corporation operated, supervised, or controlled by a religious corporation, or any employee thereof being managed, directed, or supervised by or in conjunction with a religious corporation, benevolent order, or a not-for-profit corporation.

2. Notwithstanding any state, local or municipal law or rule, regulation, ordinance, or other provision of law to the contrary, nothing in this article shall limit or diminish the right, pursuant to  subdivision eleven of section two hundred ninety-six of the executive law, of any religious or denominational institution or organization, or any organization operated for charitable or educational purposes, which is operated, supervised or controlled by or in connection with  a  religious organization, to limit employment or sales or rental of housing accommodations or admission to or give preference to persons of the same religion or denomination or from taking such action as is calculated by such organization to promote the religious principles for which it is  established or maintained.

3.  Nothing  in this section shall be deemed or construed to limit the protections and exemptions otherwise provided to religious organizations under section three of article one of the constitution of the  state  of New York.
As I read it, section one exempts religious organizations from providing services or facilities for "for the solemnization or celebration of a marriage." Section two is somewhat less clear to me. It appears to exempt religious organizations and charities from fair housing and employment rules, nor would it require religious schools to open their admissions policies. Section three is simply a reiteration of the freedom of religion clause of the New York constitution. As I read it, these clauses do not give up very much at all, but merely reinforce religious prerogatives which already exist under existing law. Further, it should be noted that the language of these exemptions applies to all marriages, not just same-sex marriage.
Interestingly, there is also a nonseverability clause:
5-a. This act is to be construed as a whole, and all parts of it are to be read and construed together. If any part of this act shall be  adjudged by any court of  competent  jurisdiction to be invalid, the remainder of this act shall be invalidated. Nothing herein shall be construed to affect the parties' right to appeal the matter.
It would appear that this may have been intended to strengthen the religious exemption clause. If someone were to successfully challenge the constitutionality of religious exemption portion of the marriage law, then the entire marriage law would be struck down. But it's hard to imagine that the religious exemptions portion of the law could be challenged. They have been upheld before as being in accordance with the nonestablishment clause of the U.S constitution.
New York Marriage Equality NOT Likely Tonight
Jim Burroway
June 22nd, 2011
The Wall Street Journal reports that there doesn't even seem to be any agreement on the bill coming to the floor:
At the same time, Republicans in the Senate headed for an internal showdown over gay marriage. Most members in the conference expect to bring the bill to the floor in the next two days, but resistance on the bill has provoked frustration among a conference that prides itself on its unity.

"I see it coming to the floor," said a Republican senator. "People who don't understand the process are thinking, 'Don't bring it up and it will go away for a year.'"

If they block the bill and head home to their districts, the senator said, the governor would likely order them back to Albany for a special session and demand that they take up the measure.
NBC New York quotes a spokesperson for Senate Majority Leader Dean Skelos saying the vote will be "likely tomorrow," but negotiations are still continuing:
More protection for religious organizations such as adoption agencies and marriage counselors is sought by undecided Republican senators who are key to the vote.

Currently, the Senate appears to be one vote shy of making New York the sixth state where gay marriage is legal. It's viewed as a critical moment in the national gay rights movement.
New York marriage equality likely tonight
Timothy Kincaid
June 22nd, 2011
The Wall Street Journal reports
State legislative leaders said Wednesday afternoon there are no major obstacles to a vote on whether to legalize gay marriage.

Democrats and Republicans emerged from meetings with Democratic Gov. Andrew Cuomo and said there is progress toward proposed additional religious protections that could bring a gay marriage bill to the Senate floor for a vote as early as Wednesday night. No deal had been struck as of Wednesday afternoon.
Other contentious matters concerning rent control and property tax have been resolved. The only unaddressed item of business is the senate vote on marriage equality. And if both sides are announcing "progress", then the terms have been reached, the votes are counted, and all that is left is the orchestration of the waltz.
Here is how I predict the dance will flow:
At some point today, there will be an announcement that a deal has been reached. It will give "serious protections" to church operated marriage counselors, church affiliated adoption agencies, and maybe even church-owned campgrounds. This will be the justification given by the Republican Caucus to authorize Dean Skelos to bring a vote.
During debate, several Democrats will stand and speak of how proud they are to be part of this historic moment and how this is a grand day in equality. One Republican will stand to speak about basic equality and doing the right thing. And one Republican will stand and tearfully announce that this has been the most difficult vote in his life, how he has been torn by deeply held religious convictions but how finally it came down to the fact that he couldn't tell the gay person in his life (cousin, neighbor, sister) that they just weren't as good or as worthy as him and his wife.
One or two Republicans will speak about how they are torn and really love their gay friends and they are so so sorry but they just are not ready yet to change the definition of marriage. But no one (with the possible exception of Democrat Rubin Diaz) will quote the Bible or talk about "dangerous lifestyles" or utter a single anti-gay word.
Although marriage equality this year is truly the sole decision of Dean Skelos, the Republican Majority Leader, he will officially vote no. And although Skelos has framed his decision to call the vote as the decision of the Republican Caucus, the majority of Republicans will vote no on the bill. The Caucus has carefully decided who will be the votes to pass the bill and who is "not yet ready".
And while the bill won't actually become law until the revisions are approved by the House and the bill is signed by the governor, tonight's vote will be what counts. The final vote will be around 34 to 28.
Champagne corks will fly, tears will flow, and politicians will beam.
NY GOP Sen.: Not Just Yes To Marriage, But Hell Yes
Jim Burroway
June 20th, 2011
Andrew Sullivan sees New York state Senator Roy McDonald as the face of marriage equality — at least in New York:
In the wake of his announced "yes" vote for same-sex marriage, Sen. Roy McDonald has unveiled a facebook page called "Stand With Roy" and urges supporters to donate and sign a petition. The page itself has more than 10,000 "likes" Monday morning. A website, www.standwithroy.com, includes a spot for fundraising. …

The lawmakers' announcement, along with his blunt responses to questions about same-sex marriage, made him something of a star. He was featured on the gossip website TMZ over the weekend.
I'm not a Republican, but if I were a New Yorker I'd definitely show him some love.
No NY Marriage Vote Today
Jim Burroway
June 20th, 2011
The session in the New York state Senate isn't wrapping up quite as quickly as planned:
Senate Majority Leader Dean Skelos, R-Nassau County, emerged from a three-way meeting with Gov. Andrew Cuomo and Assembly Speaker Sheldon Silver, D-Manhattan, to say that discussions were continuing on working out the religious exemption language in a same-sex marriage bill. "We have staff people and members discussing with the governor religious protections. We're still working on them," Skelos said. "Once they're prepared we'll let you know what they are."
Will Dean Skelos allow New York to have marriage equality?
Timothy Kincaid
June 16th, 2011
Yesterday the New York Assembly voted 80 to 63 to give same-sex couples the same access to state rights, responsibilities, and obligations of marriage as it allows its citizens in opposite sex relationships (15 Democrats voted "no" and 3 Republicans voted "yes").
Currently there are 31 of the state's 62 senators who have pledged their support for the marriage equality bill. Only one Democrat (Pentecostal minister Ruben Diaz) is opposed, two Republicans have indicated support and at least four more are "undecided".
And the media is all ablaze with the entirely wrong question.
They are breathlessly wondering whether a necessary third Republican Senator can be found to vote for marriage equality. But those who seem most situated to know seem to agree that more than one of the "undecided" will vote favorably on the bill. That isn't the question, and none of the undecided will make the decision as to whether marriage equality will come to New York.
Senate Majority Leader Dean Skelos will be the person who decides if marriage equality will be achieved.
In the New York Senate, the Majority Leader holds tremendous power. He can singly block a piece of legislation by refusing to schedule a vote. The votes may be there, but they won't be counted unless he says so.
Skelos has said that he will defer to the will of the Republican caucus. If his Senators want a vote, he'll have one, if they don't he won't. And for the past two days they have been caucusing, only to announce that they have no decision. They will meet again tomorrow.
But this too is a bit less democratic than it might seem. A party leader can, in many circumstances, inform his caucus that they need to rally around and support his decision.
Much of the decision as to whether the New York State Senate will vote on, and pass, the marriage equality bill will be based on whether Skelos determines that allowing the bill will be less politically damaging than blocking the bill.
If he allows a vote, some of the Party's "base" will blame him and other senators for not serving the conservative cause. But in a state where marriage is popular, and rapidly becoming more so, blocking the vote could ring a sour note with the voters and leave them with the image of an obstructionist party. And a good many people who are not all that vested one way or the other are sympathetic to the complaint, "They wouldn't even let me vote!"
And to complicate matters more, the largest donors to Republicans in the State of New York are decidedly on the side of equality. Mayor Bloomberg, the single largest contributor to Republicans in the state, has been applying pressure, and other contributors have been showing where their alliances fall through financial support for the legal team seeking to overturn Proposition 8.
AT some point tomorrow Dean Skelos will announce the decision that he believes will best continue the Republican control of the Senate, and his leadership there.
It is, of course, only a guess but I think that the winds are blowing in our favor. Skelos can step out of a caucus tomorrow and announce that a majority felt the need to vote on the matter. No one will know who to blame, and each can say "but I voted no." The sophisticated contributor will know that this decision allowed marriage equality to come to pass, and the less so can be comforted by knowing that their own Senator stood for the good ol' values they sent him there to support.
Gaga's marriage push
Timothy Kincaid
June 16th, 2011
I don't tweet. Lady Gaga does.
Which means, if I understand this correctly, those of you who decide to check BTB will get my opinion when you get around to reading it, while 10,958,546 people get Gaga's opinion more-or-less immediately.
And here is what they have been reading today:
Paging George Orwell
Rob Tisinai
June 15th, 2011
Sometimes I'm just staggered by the sophistry coming from our opponents. Take these statements from New York Archbishop Timothy Dolan:
Last time I consulted an atlas, it is clear we are living in New York, in the United States of America – not in China or North Korea.  In those countries, government presumes daily to "redefine" rights, relationships, values, and natural law.  There, communiqués from the government can dictate the size of families, who lives and who dies, and what the very definition of "family" and "marriage" means.
Exactly!  Except…the archbishop misses his own point. Those communiqués in North Korea limit the choices made by its citizens, narrowing down what people are allowed to do with their own lives. And now, here, in America, which side is trying to do that? The side trying to ban same-sex marriage.
Dolan continues:
But, please, not here!  Our country's founding principles speak of rights given by God, not invented by government, and certain noble values – life, home, family, marriage, children, faith – that are protected, not re-defined, by a state presuming omnipotence.
Actually, our founding principles speak of citizens who are endowed by their Creator with certain inalienable rights — not by any specific sectarian God. Further, thank the Creator that the government has redefined marriage in the past, unless you believe we were better off when wives could not own property, when they could be legally beaten (gently) and raped (but only if they were uncooperative) by their husbands.
And as for the "omnipotent state"? Seriously? Which government is claiming more power? One that lets people marry adults of either gender, or one that issues a communiqué dictating that only opposite-sex marriages are allowed.
Dolan goes on:
Please, not here!  We cherish true freedom, not as the license to do whatever we want, but the liberty to do what we ought; we acknowledge that not every desire, urge, want, or chic cause is automatically a "right."  And, what about other rights, like that of a child to be raised in a family with a mom and a dad?
This is truly chilling. True freedom is the liberty to do what you ought? Every tyranny in history could call itself a free country by that definition. Even North Korea can say it gives its citizens the liberty to do what they ought.
I'll skip past his insult that my desire to build a committed life with my partner is nothing more than a random urge. Instead I'll marvel at this irony: a man who speaks of the right of a child to be raised in a family with a mom and dad represents a church whose adoption agencies would rather leave kids with no parents at all than place them with a same-sex couple.
Can we sum up this Orwellian manifesto?
The more a government restricts your choices, the more freedom it gives you.
A government that offers you more control over your personal life is presuming its own omnipotence.
True freedom lies in the liberty to do what the government believes you ought to do, and nothing more.
A child's right to a mother and father means some should grow up with neither a mother or a father.
Yeah. Just like war is peace, freedom is slavery, ignorance is strength.
And, apparently, 1984 is 2011.
Marriage bill introduced in New York
Timothy Kincaid
June 14th, 2011
Andrew Cuomo must be pretty confident with his vote count. He's introduced a marriage bill in the NY Senate.
In addition to providing for same-sex marriage, it has broad protections for "a corporation incorporated under the benevolent orders law or described in the benevolent orders law but formed under any other law of this state or a religious corporation incorporated under the education law or the religious corporations laws."
Some will no doubt be annoyed by this inclusion, but it appears that this will purchase safe passage in the Senate. And while there may be some religious universities that refuses to recognize a professor's spouse for insurance purposes, this exclusion will not impact very many. Catholic hospitals already have to recognize the patient's designation of who is "family", and we really have no interest in making some anti-gay church rent us their reception hall.
A second Republican has pledged support for the bill, leaving only one more to go (New York Post Daily News Courier Tribune Bulletin Times):
New York is within a single vote of legalizing gay marriage, after a second Republican state senator said on Tuesday that he would support the measure should it come to the floor this week.

The senator, Roy J. McDonald, from the capital region, made his comments to reporters amid growing indications that Republican leaders would bring the bill to an up or down vote on Thursday or Friday. Three other Republican state senators, speaking on condition of anonymity because their conference had not yet formally debated the measure, said they believed the bill was almost certain to come up for a vote and that it would likely pass, making New York the sixth and largest state in the nation to legalize same-sex marriage.
Earlier today, Sen. Alesi, the first Republican to pledge support, predicted that the bill will pass with 6 Republicans in support.