Group Presents Petition Against Anti-Gay Bill to Ugandan Parliament, Warns of More Pastor Wars
Jim Burroway
March 2nd, 2010
Here is NTV Uganda's coverage from last night's newscast: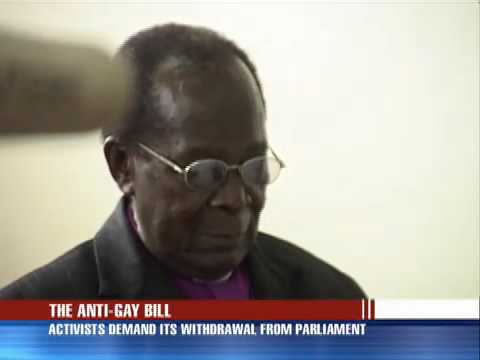 As we reported yesterday a group representing religious leaders, AIDS service providers and health care workers presented a petition with more than 450,000 signatures to Uganda's Parliament calling for the withdrawal or defeat of the proposed Anti-Homosexuality Bill. Led by Anglican Canon Gideon Byamugisha and retired bishop Christopher Senyonjyo, the group handed the petition over to Parliament Speaker Edward Ssekandi. Speaker Ssekandi said that it was "too late" to withdraw the Anti-Homosexuality Bill from Parliament, but said that Parliament would take the group's concerns under advisement.
Cannon Byamugisha warned of the bill's dangers:
This would obstruct religious leaders, doctors, counselors, and other service providers in their essential role, and will facilitate political and religious witch hunts and false accusations.
Uganda has a long history of political and religious witch hunts, in which rival pastors accuse each other of sodomy in order to increase their own standing among their followers. The most recent accusation has been levied by the notorious tabloid Red Pepper, which recently accused American televangelist Benny Hinn of having an affair with a prominent Ugandan pastor. This is seen as retaliation from last June, when several Kampala pastors were denied entrance to Hinn's "Fire Conference" revival in Kampala. Those pastors were denied entry after having falsely accused the pastor of the revival's host church of sodomy.
Since the Ugandan pastor has been cleared of charges following a police investigation, the Red Pepper has declined to name him in these latest charges, although virtually everyone in Uganda who knows of the very popular Hinn (His program is carried twice-daily on Kampala-based Lighthouse TV) also knows the pastor whose name is hinted in the "story."
An alert and helpful BTB reader has provided this scan of the kind of religious witch hunts which are a shamefully common practice between pentecostal pastors in Uganda. Given Uganda's religious climate, it would seem that perhaps those who should fear the Anti-Homosexuality Bill the most would be pastors who become prominent enough to become a threat to the prestige or finances of other pastors.
Last spring, the Red Pepper launched a public vigilante campaign in an attempt to "out" LGBT people in Uganda. In December, the tabloid published what it claimed were "city tycoons who bankroll Ugandan homos." Pastors Martin Ssempa and others are believed to be behind many of these campaigns.
Click here to see BTB's complete coverage of recent anti-gay developments in Uganda.
Comments