Santorum Supports Tenth Amendment Except When He Doesn't
Jim Burroway
August 12th, 2011
And in last night's GOP debate in Iowa, he carved out a HUGE exception for the Tenth Amendment when it comes to marriage equality: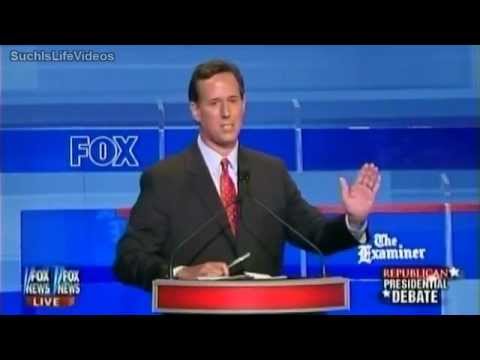 Chris Wallace: Sen. Santorum, I see you wanting to jump in, your thoughts about RomneyCare.

Rick Santorum: Well, first, I was the first author of medical savings accounts back in 1992 whith John Kasich in the House. But this is a very important argument here. This is the Tenth Amendment run amuck. Michele Bachmanm says that she would go in and fight health care being imposed by states mandatory-up, but she wouldn't go in and fight marriage being imposed by the states. That would be okay. We have Ron Paul saying, oh, whatever the states want to do under the Tenth Amendment's fine. So if the states want to pass polygamy, that's fine. If the states want to pass impose sterilization, that's fine. No, our country is based on moral laws, ladies and gentlemen. There are things the states can't do. Abraham Lincoln said, "the states do not have the right to do wrong." I respect the Tenth Amendment, but we are a nation that has values. We are a nation that was built on a moral enterprise. And states don't have the right to tramp over those because of the Tenth Amendment.
We are accustomed to seeing anti-gay extremists like Santorum lie unashamedly when it comes to gay people. And so it is a special treat to see him running amuck and lying about the positions of fellow Republicans right to their faces. Reagan must be rolling over in his grave. Bachmann has been an unwavering supporter of the Federal Marriage Amendment which would short-circuit the Tenth Amendment exactly as Santorum argues it should. She reiterated her support again last night.  And as for polygamy, Paul handed Santorum's head right back to him on a platter: "It's sort of like asking the question if the states wanted to legalize slavery or something like that, that is so past reality that no state is going to do that." But who ever said that Santorum was working with reality in the first place?
Comments