Mitt Romney Mildly Scolds Bryan Fischer
Jim Burroway
October 9th, 2011
The American Family Association's Bryan Fischer, who has stated that the First Amendment's religious freedoms should only apply to Evangelical Christians and not to Mormons or Muslims, was given a very visible speaking slot at yesterday's Values Voter Summit immediately following GOP presidential candidate and former Massachusetts Gov. Mitt Romney, Romney just happens to be one of those Mormons that Fischer believes isn't protected by the First Amendment. Romney took his turn at the podium to call out Fischer on his "poisonous language."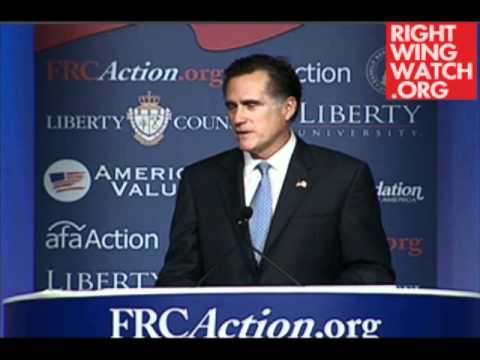 Our values ennoble the citizen and they strengthen the nation. We should remember that decency and civility are values too. One of the speakers who will follow me today, has crossed that line I think. Poisonous language does not advance our cause. It has never softened a single heart nor changed a single mind. The blessings of faith carry the responsibility of civil and respectful debate. The task before us is to focus on the conservative beliefs and the values that unite us. Let no agenda, narrow our vision or drive us apart. We have important work to accomplish.
A very mild rebuke, given to very mild applause — all of which serves to illustrate Romney's difficulties in retaining his frontrunner status in the Republican race for the nomination. But as timid as that rebuke was, it certainly elicited a howl from the bully who is now outraged of the "public attack," and like all bullies who get caught, he responds screaming that someone else started it:
Dr. Robert Jeffress started the fracas on Friday by referring to Mormonism as a "cult" in interviews with reporters after he introduced and endorsed Gov. Rick Perry on Friday.

According to MSNBC, Gov. Romney's people got in touch with Bill Bennett and they decided to tag team – Bennett would kneecap Dr. Jeffress first and then Mitt would kneecap me right before I took the podium after his speech.

Here's how Politico reported it:

"Rather than answering Jeffress directly, Romney came to the summit on Saturday and rebuked another hardline social conservative: Bryan Fischer, a controversial official at the American Family Association who has disparaged Mormonism, as well as homosexuality, Islam and more.
And there's this nice touch:
I spoke immediately after Romney, who apparently was goaded into attacking me by the New York Times, the Boston Globe and other media outlets who wrote eagerly about the anticipated brawl. Here's the breathless headline, for instance, from the Deseret News: "Mitt Romney vs. Mormon critic Bryan Fischer: Showdown Saturday?"
Ya see? The reference to The Deseret News conclusively proves that the Mormon Church put Romney up to the "attack."
Bullies typically scream the loudest when they are startled by their target rising up to defend themselves, no matter how tentatively. Romney mildly suggested that Fischer went too far in a timid half-dozen sentences. Fischer's cri de coeur goes on for more than nine hundred words. That means that Romney's mild slap stung Fischer pretty hard. And I have a feeling Fischer still isn't done crying.
Comments