Shirvell's lawyer had a fool for a client
Timothy Kincaid
August 15th, 2012
Do you remember Andrew Shirvell? He was the Michigan assistant attorney general who became obsessed with Chris Armstrong, the University of Michigan's student body president, and starting stalking him and ranting on a blog about him. Here's a reminder from September 2010: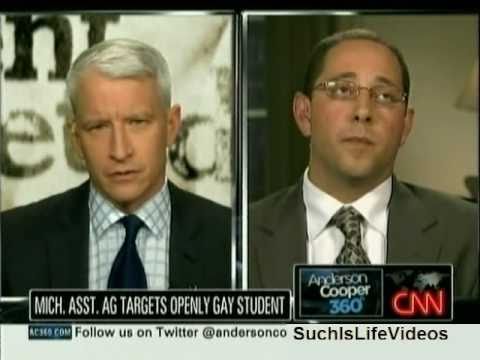 Of course eventually the Attorney General fired him and he was sued by Armstrong for inflicting intentional emotional harm.
Well finally Shirvell had his day in court.
And do you recall the old phrase about the lawyer who represents himself having a fool for a client? It turns out that it's true.
Shirvell, who is representing himself, questioned himself on the witness stand for more than an hour this morning, trying to convince the jury he was upset by Armstrong's push for gender-neutral housing at the school. Shirvell graduated from U-M in 2002.

"My blog was political speech," Shirvell testified. "I viewed my blog as a movement to get Mr. Armstrong to resign. I personally felt Mr. Armstrong was too radical for the position."
And though he rambled about Armstrong's "radical homosexual agenda", Mr. Armstrong's attorney got Shirvell to admit that he hadn't written about any of the others involved in pro-gay policies. Or lurked in their bushes. Or even complained to the school's administration.
I think we all can surmise why it is that Shirvell focused his attentions on the rather handsome Armstrong. In fact, I think the only person who Shirvell has fooled is himself.
Comments