The Daily Agenda for Friday, January 3
Jim Burroway
January 3rd, 2014
TODAY'S AGENDA is brought to you by:
THIS MONTH IN HISTORY:
Addressing "A Horror of Everything Related to the Homosexual Tendency": 1899. In 1897, British sexologist Havelock Ellis (see Feb 2) published the first installment of his six-volume Studies in the Psychology of Sex. Volume 1 was subtitled Sexual Inversion, as homosexuality was more often called in the English language at that time, with some of the material the product of a collaboration with early gay rights advocate John Addington Symonds (see Oct 5). Two years later, Sexual Inversion was still making waves for being the first scientific book to discuss homosexuality in a humane and nonjudgmental way. Ellis argued against the contemporary attitudes about homosexuality being abnormal, criminal, or immoral, and presented it instead as a variation in a broad spectrum of sexual expressions. Ellis concluded that it was useless to try to change sexual orientation, and he advocated for the abolishment of Britain's anti-gay laws like the "gross indecency" law under which Oscar Wilde was prosecuted in 1895.
Most books about homosexuality at the turn of the century were severely restricted in their distribution. Sexual Inversion was first published in German in 1896 because Ellis feared it would be censored in England. Since several other books on sexuality had already been published there, German had become the lingua franca, so to speak, of sexuality research. When the first English edition was published in London in 1897, its distribution was restricted to the professional trade. In the January 1899 edition of the International Journal of Ethics, a writer by the name of H. Sturt reviewed Ellis's book, calling it "a solid and valuable contribution to psychology" and commending Ellis for "give(ing) the impression that he is a genuine scientific man doing his best to illustrate an obscure… province of human nature."  Sturt, then argued that the restrictions placed on Sexual Inversion's distribution was a misguided policy:
There are some who would raise the general question whether a subject like the present can fitly be made the matter of a published treatise. Many excellent persons have a horror of everything related to the homosexual tendency. Their feelings command our respect, and yet it seems better to have the subject brought out publicly. That all sorts of immature and half-educated people should read Mr. Ellis's book is, of course, most undesirable. But in view of the prevalence of sexual inversion it is necessary that every schoolmaster, every criminal lawyer, we had almost said every head of a family, should be acquainted with its phenomena. Were the subject better understood, mistakes would be avoided that have ruined thousands of lives.
[Source; Jonathan Ned Katz. Gay/Lesbian Almanac: A New Documentary (New York: Harper & Row, 1983): pp 296-297.]
Phyllis Lyon Kills Ann Ferguson: 1957. When the Daughters of Bilitis began publishing The Ladder in October 1956, it's masthead identified its first editor as Ann Ferguson. In the second issue, Ferguson penned a short article addressing the first problem they encountered in publishing what would become the nation's first magazine for lesbians. As Ferguson explained it, too many people feared "that names on our mailing list may fall into the wrong hands, or that by indicating interest in this magazine a person will automatically be labeled a homosexual." She assured readers that subscribers included all kinds of people, including lawyers, social workers, psychiatrists, business, and other professionals. She also assured readers that "Daughters of Bilitis is not outside the law — we advocate no illegal actions by anyone."
Ferguson revealed that the organization had obtained legal council and would file for incorporation under the laws of California. She also explained a recent Supreme Court decision which upheld the rights of citizens to refuse to reveal to Congressional committees the names on subscription lists or lists of purchases. So in addition to the organization's own bylaws prohibiting the disclosure of The Ladder's subscription lists, "the decision also guarantees that your name is safe!"
Ferguson had been at the helm for only thee months when the January 1957 issue included this startling announcement:
ANN FERGUSON IS DEAD!
I confess. I killed Ann Ferguson. Premeditatedly and with malice aforethought. We ran an article in the November issue of THE LADDER entitled "Your Name is Safe"." Ann Ferguson wrote that article. Her words were true, her conclusions logical and documented — yet she was not practising what she preached.

Somehow it didn't seem right,

She spent some time considering the situation. Then came to a conclusion. At the November public discussion meeting of the Daughters of Bilitis we got up — Ann Ferguson and I — and did away with Ann. Now there is only Phyllis Lyon.

Seriously, my pseudonym was taken in the first place without much thought. Somehow, it seemed the thing to do. But all it did was create problems. If you're going to write under a pseudonym then you should go by that name in personal contacts. But everybody connected with the Daughters of Bilitis already knew me as Phyllis and the attempt to call me Ann confused everyone, including me.

I'm sure that I'm not placing myself in any jeopardy by using my real name — and I'm only simplifying matters and practising what I preach.
Phyllis Lyon (see Nov 10) with her partner Del Martin (see May 5) were among eight women who founded the Daughters of Bilitis in 1955 (see Oct 19). In 2008, they Phyllis and Del became the first same-sex couple to be legally married in the state of California. Del passed away later that year. At last report, Phyllis still lives in their home in San Francisco.
[Sources: Ann Ferguson. "Your Name Is Safe!" The Ladder, 1, no. 2 (November 1956): 10-12.
Phyllis Lyon. "Ann Ferguson Is Dead!" The Ladder, 1, no. 4 (January 1957): 7.]
TODAY'S BIRTHDAY:
Dorothy Arzner: 1897-1979. Hollywood was a man's world, but Dorothy Arzner managed to become a director despite the obstacles. When she first decided that her future lay in motion pictures after serving in the ambulance corps during World War I, she was hired right away by Paramount. As a stenographer. But she used that position to move on to script writer, then film editor. That's where her work in the 1922 classic Blood and Sand
 starring Rudolph Valentino won her praise for her editing style.
When Paramount refused to promote her to director, she threatened to move to Columbia Studios. Paramount relented and named her director for the successful silent comedy Fashions for Women. She directed the first talkie for "The It Girl," Clara Bow, in The Wild Party (1929). Arzner showed considerable ingenuity in making the film: She invented the boom mike when she had the sound crew suspend a microphone from a fishing rod so Bow could move uninhibited around the set. The Wild Party, set in a women's college, introduced coded references to lesbian themes. Similar themes would emerge in Anybody's Woman (1930) and Working Girls (1931). Arzner launched the careers of Katherine Hepburn in Christopher Strong
 (1933), Rosalind Russell in Craig's Wife (1936), and Lucille Ball in Dance, Girl, Dance
(1940). For that last film, Arzner collaborated with choreographer Marion Morgan, who had been Arzner's partner for at least ten years and would remain so until Morgan's death in 1971.
When World War II came along, Arzner directed several army training films. By 1943, Arzner stopped directing major studio feature films due to an illness. When she was ready to return after the war, she found that the workplace had grown impatient with women holding on to "men's" jobs now that men were returning from fighting overseas. Arzner turned to teaching instead, first at the Pasadena Playhouse and then at the newly-established film school at UCLA, where Francis Ford Coppola was one of her students. Meanwhile, her old friend (and rumored paramour) Joan Crawford, who had married the chairman of Pepsico, got Arzner hired to make more than 50 television commercials in the 1950s. In 1975, Aarzner was recognized with a special tribute by the Directors Guild of America, after having become the guild's first female member in 1936. She continued teaching until her death in 1979 at the age of 82.
Here are a couple of clips from The Wild Party: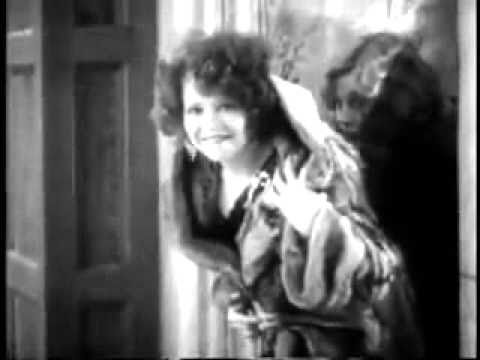 If you know of something that belongs on the agenda, please send it here. Don't forget to include the basics: who, what, when, where, and URL (if available).
And feel free to consider this your open thread for the day. What's happening in your world?
Comments